Monte Mare in Kaiserslautern seems to have the best of all worlds for fun and relaxation. I have to be honest, it was my teenage daughter that first introduced me to Monte Mare by creatively coercing (begging) me to take her to something called "Pool Night". She had lots of fun with her friends at this event and informed me that they also have a spa for "older people". LOL! Being that I am a big fan of spas, I decided to investigate.
Options at Monte Mare
I checked out Monte Mare's website and discovered that they do in fact have a wellness center. I decided to phone a friend and see if she would be interested in this particular excursion. I have cool friends, so of course, she was. I made a relatively easy appointment for a "Turkish Ceremony". I had no idea what this would be. When we arrived for our appointment, there was a bit of confusion at the front desk. Apparently, you can also pay just to use the facilities without having an appointment. And there are many options for your day at Monte Mare…you can visit the family pool with your children, spend the day at the "adult" sauna or enter the wellness spa for treatments. After we overcame a minor language barrier, we found our way to a very secure locker-room and then on to the wellness area.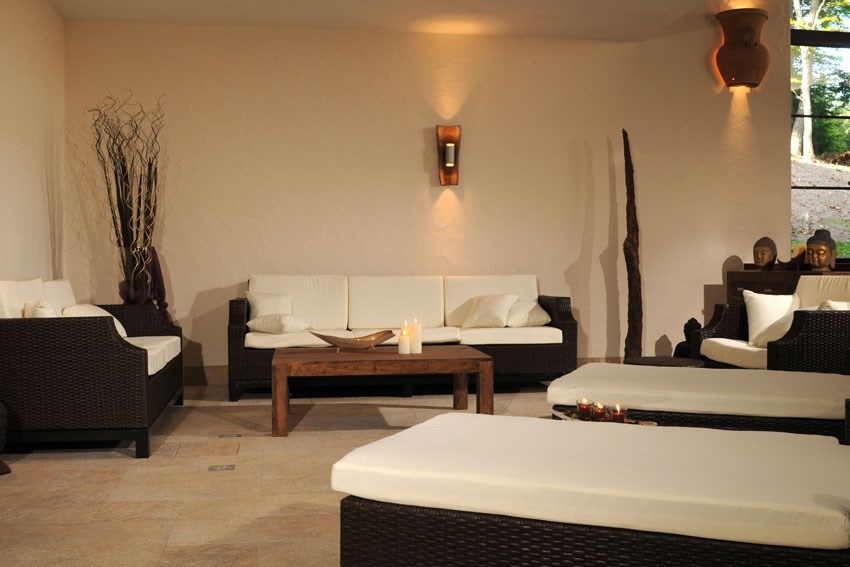 I will go ahead and warn you that if you are accustomed to spa treatments in the US, then this will be a bit risqué for you. We were brought to a communal sauna area. And even though clothes are "optional," it is very European…and there were NOT a lot of clothes. Enough said. They do have robes and towels (with a small deposit), but I would recommend that you bring your own. Fortunately, for two Southern girls, no one else was booked for this particular Turkish treatment and we were alone in a sauna that seats up to seven. I was unable to take pictures inside the wellness area and sauna (for obvious reasons), but I will tell you that it compares to the high-end Wellness Resorts that I became accustomed to in Florida.
A Slice of Heaven
I have to admit, it was a very liberating and enjoyable experience! Our first treat was a delicious mud paste that we were instructed to rub into our skin and then bask in the steam sauna for 15 minutes. That was followed by an equally delightful coffee and chocolate sugar scrub. After an additional 10 minutes of this small slice of heaven, the overhead showers began to rain down hot water. Once we were rinsed off, we exited the sauna and met our lovely attendant who gave us yet another luxury….lavender-mango body oil. She instructed us to cover ourselves in this beautiful scent and enjoy the hot tea that she had prepared for us. This treatment was perfect as we are trying to get ready for Spring Break and wanted to get our skin out of winter mode. Our attendant assured us that we would leave with skin as soft as a baby's. She was right! And the best news of all is that we got to enjoy this along with two hours in the sauna/pool area for 20 Euros.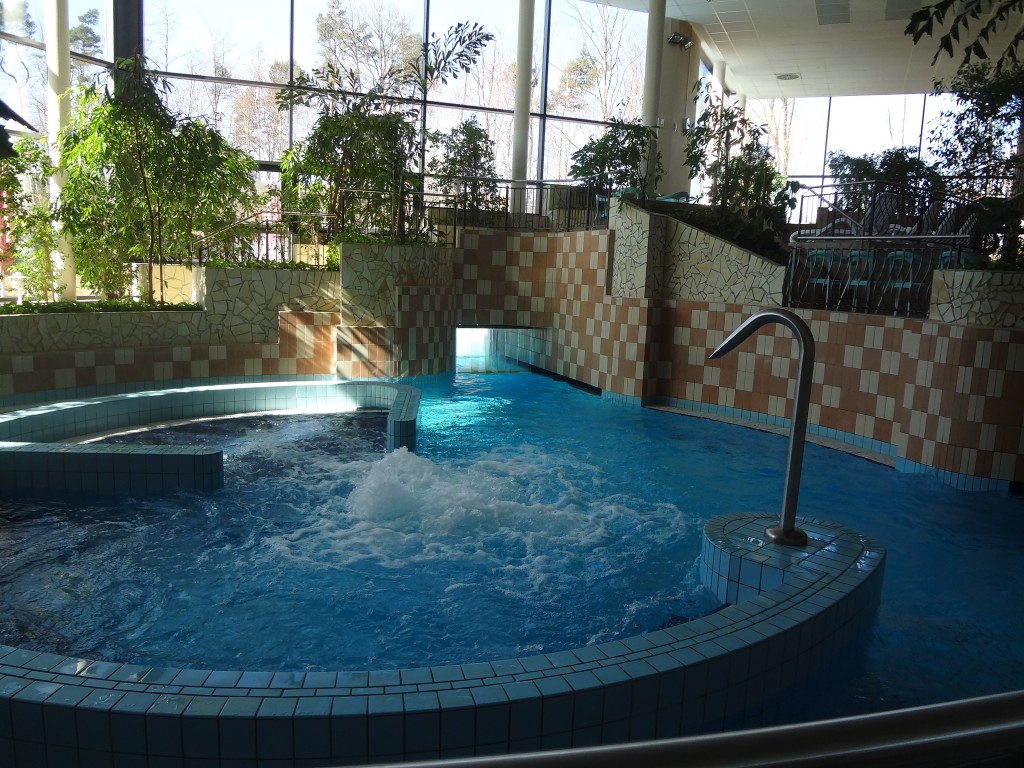 We were given another hour to wander around freely and enjoy the sauna area. There we discovered a couple of hot tubs, an indoor/outdoor pool, an entire outdoor patio, several lounge areas, thermal foot basins and a cold plunge pool to enjoy. Again, keep in mind that clothing is "optional" so it is a bit different than anything you will experience stateside. They also have a separate Tuscan Relaxation House with around one hundred recliners, a large lounge with a fireplace and a relaxation gallery.
Options
Our attendant was fluent in English and was able to show us all of the available options for massage and body treatments as well as their couple's room. They do have a brochure in English which made it much easier for us to understand exactly what options were available. And there are tons of options! Sauna creations, infusion ceremonies, his and her facials, mud bath and body peeling ceremonies, centuries old Hamam rituals and a variety of individual and couple's massages. They also have a full gourmet menu if you want to make it a spa day.
Family Area 
Following our treatment we decided to have a quick lunch in the Bistro, which was in the family area where we enjoyed a very tasty turkey burger and a glass of white wine. There is a great area for small children as well as a wave pool that looked like a lot of fun for the older kids. This is a completely separate area from the adults-only wellness area.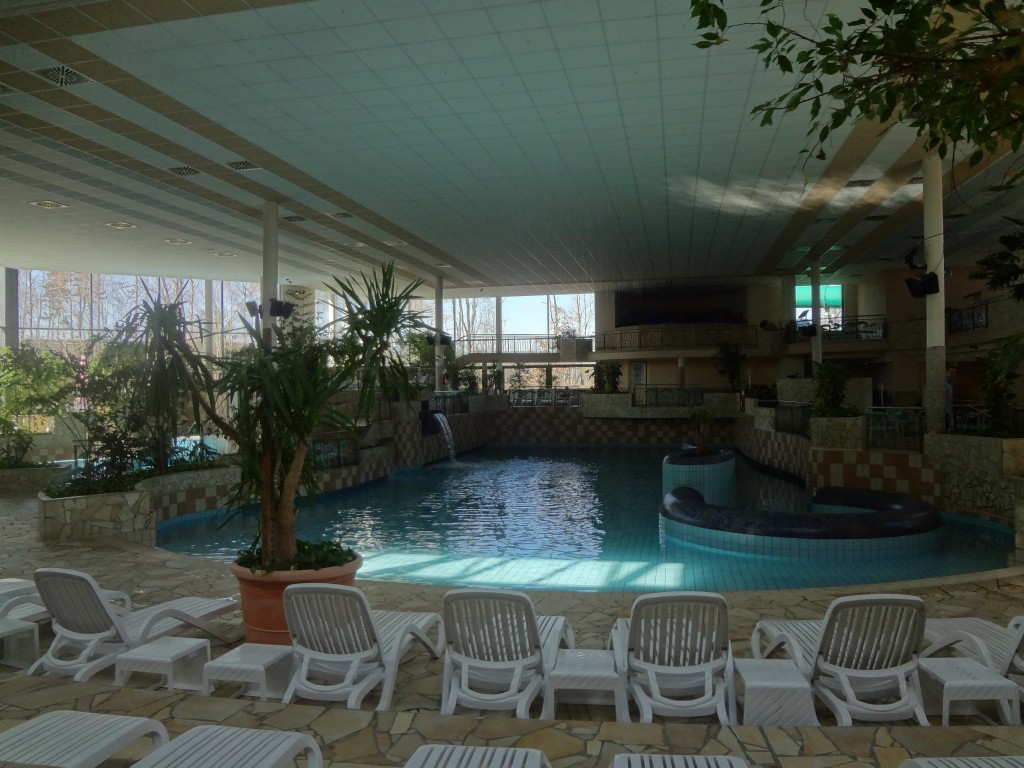 So, I think it's easy to see that Monte Mare really does have something for everyone. You can enjoy a family day at the waterpark or a getaway with someone special at the wellness spa.
The Monte Mare website has a complete menu of services along with pricing, booking information and opening hours. Or you can find them on Facebook. You can call them at +49 (0) 631 30380. They also have an English menu of services on site and the staff seems to go above and beyond to make your visit pleasurable. Monte Mare is located just behind Mobel Martin in Kaiserslautern.
Telephone: 0631 30380
Address: Mailander Strasse 6, Kaiserslautern 67657
How to Get There
Kaiserslautern is just over one hour south of Wiesbaden and two hours northwest of Stuttgart. Click on DB Bahn for train information.
Author's Profile: Cheryl Koller is a native of Georgia. She is a DOD spouse, mom of 4 daughters (2 adults, 2 teens), thrill-seeker, avid traveler, and lover of food and wine. She is a self-proclaimed Freedom-Prenuer and Blogger currently living in Ramstein with her family.