Corona update: the castles are open, masks are mandatory. Admission only with a guided tour- available in English or German so make sure to plan ahead.
I have lived in Germany all my life but it wasn't until I started writing about it that I realized how little I've actually seen of it. Neuschwanstein Castle is one of those things that I've practically driven past a hundred times but never got to see up close. So, naturally, I had to change that. Oh, the sacrifices we make for our jobs, am I right?
(Taking pictures is not allowed so let's keep this between us and our 20 thousand Facebook followers, shall we?)
History
König  Ludwig II was born in 1845 and died in 1886 after being declared mentally incompetent to be king. The castle's construction, situated in the same spot as medieval ruins he dreamed of rebuilding, started 16 years prior to his death and has not been resumed since. Only 14 rooms were finished during his lifetime. Large parts of the castle, including the entire second floor, are therefore empty. (If they're looking for tenants, I hereby volunteer.) He wanted a home that was not open to the public and explicitly said that he did not want any visitors up there so, naturally, 60 million people from all over the world have visited it since it was first opened as a museum only 6 weeks after his death.
His parents' castle 'Schloss Hohenschwangau' and another one of his palaces, the only one to be completed, 'Schloss Linderhof', are in close proximity and tickets for all three can be purchased at once. A fourth one should have been built in Falkenstein but the plans were never realized following his sudden death. His biography turns out to be very interesting and I highly recommend getting a little book on him at the museum shop as the tours are brief and there is much to learn.
The Castle
The first thought that came to my mind when we entered the castle was 'oh my God, this is so extra'. Its first drafts were not drawn by an architect but by a romantic stage painter, Christian Jank, and you will not be surprised at those news once you step closer. If you're into modern, minimalist architecture, you may need to wear sunglasses to take the edge off because that man was quite literally the king of kitsch. Inspired by medieval art and operas, the rooms are furnished with dark wood, bright colors and anything golden wherever they could find space.
His master bedroom is covered in paintings of Tristan und Isolde, his favorite opera. It looked kind of familiar, except I was 13 and my target of affection were the Jonas Brothers. To each his own, I guess. All jokes aside, though, the chamber is truly deserving of the term majestical.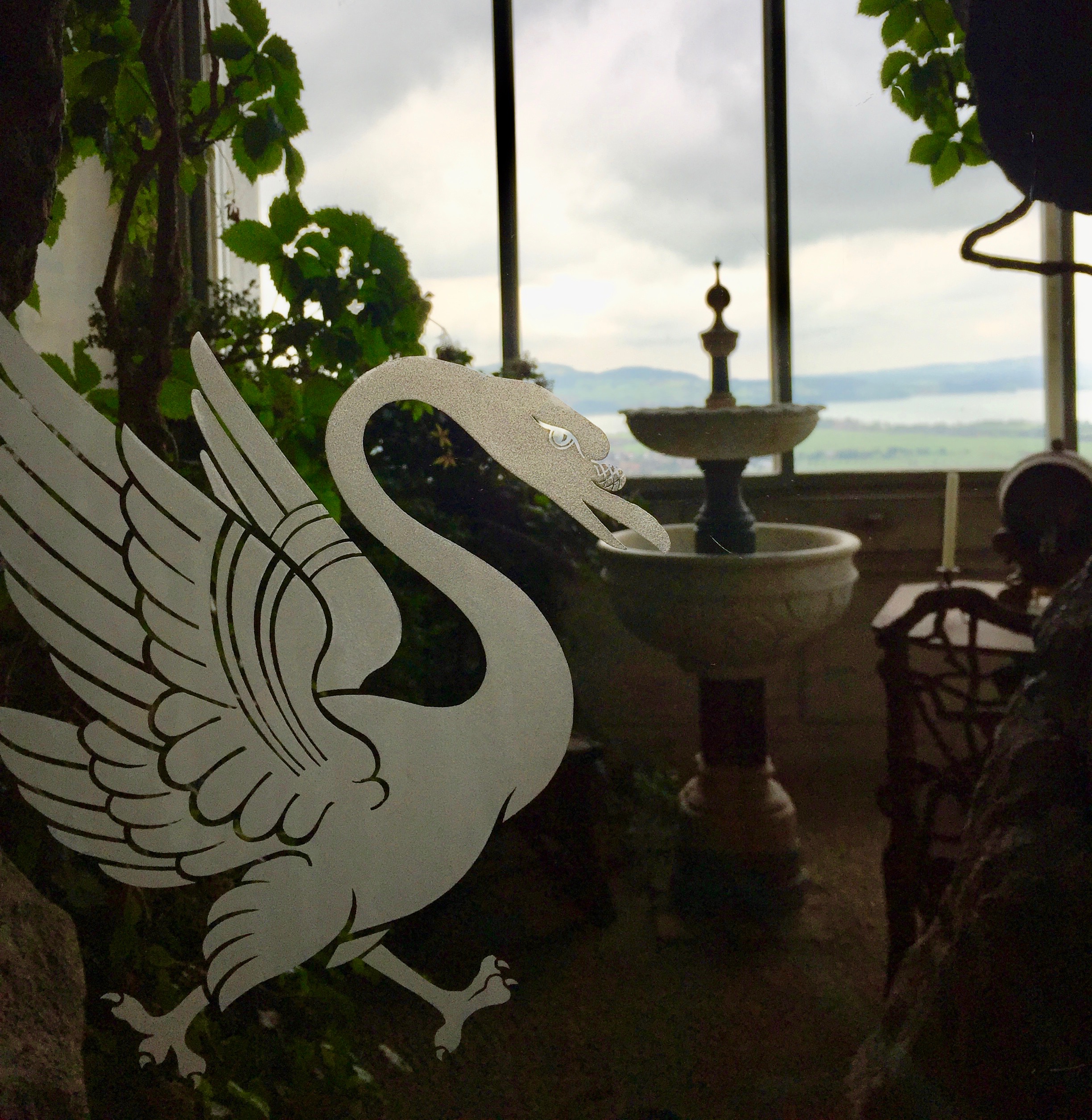 Leonie Milde
His winter garden. Swans were his favourite animals and the region's signature animals. They can be found in decorations and paintings all over the castle.
Ludwig was ahead of the times in many ways. His home included a telephone, with which he could only call his mother as the rest of the country did not have them yet, a winter garden, his own cave and running water. Legend has it that he dreamed of building a machine that could help him 'fly' and see his beloved mountains from above. This was one of the main reasons they declared him insane and not many years later the first airplane drafts were drawn.
My absolutely favorite thing was by far the view from every single window. You have the valley and lake on one side, mountains to another and yes, even waterfalls can be seen from some of the rooms. Honestly, that man sure knew what he was doing when he chose this spot. It's no surprise that it's called a fairytale castle. The setting is nothing short of breathtaking. Stop by the The Marienbrücke on your way back to get a fabulous look at the setting and take pictures your friends and family will go crazy over.
Pro tip
Being the single most famous castle on the entire continent, it comes as no surprise that the ticket counters are busy to say the least. We got there a few minutes after they opened at 8a.m. and waited a full 50 minutes. Reservations can be made in advance. The official statement says at least two days but we were told that it's often up to a month during holidays as only a limited amount is sold online. These tickets, too, have to be picked up an hour before the tour starts, which leads us to my next point: getting to the castle.
You buy your ticket for a certain time, either with a tour guide (English tours available every 30 minutes) or an audio guide. Your ticket will only get you through the gate during a 5 minute window before it's the next group's turn so it's very important that you make it up there in time. (Tickets are never sold later than an hour in advance, which is more than enough. No need to panic.)
The info office is conveniently located at the foot of the hill but Ludwig made absolutely sure that nobody in his right mind could bother him so the castle was built on top of it.
There are three ways to get up there. I, for some reason I might never recall, thought a six-hour hike was the perfect warm up on the day before (nope) so we took a horse-drawn carriage to get up there but my legs were far from getting the rest they deserved (and cried for).
The carriage costs between €4.50 and €6 per person, a bus costs between €1 and €2 per person and your feet take you all the way to the entrance gate in about forty minutes- for free. The road is paved but it's an uphill hike that children can conquer. However, both vehicles include a circa 10-15 minute walk uphill and if you decide against going at 8a.m. you will have difficulties getting a seat in either.
Whichever option you choose, make sure to wear proper footwear. Trust me, you will not regret having to take photos without your shoes in them as much as you would curse me for not telling you to wear those trainers, possibly even hiking boots, depending on the weather. Besides, it is way too crowded to take full body pictures anyway, so don't even bother dressing up (you'll be surprised how many chic skirts we saw despite the pouring rain) and go for the comfortable option instead.
Getting there
Driving is the most convenient way to get there.
It takes circa 4 hours from the KMC and Wiesbaden and only 2.5 hours from Stuttgart.
Parking is available on site for €6 per day.
Flixbus has a route to Schwangau but it takes around 11 hours each way.
Trains are available too, check the DB website for times and prices.
Admission
Admission costs €13 per adult. For €25, you get into Hohenschwangau as well. Children under 18 are free. Find more information at www.neuschwanstein.de
Author's profile: Leonie is a poetry-loving literature student with a passion for small towns, road trips, and breakfast food being served at all hours of the day. When she isn't hopping from one bargain flight to the next, she is making sure you're hanging with the locals and staying updated on events in your area.
Cover photo by Igor Plotnikov / shutterstock.com