Welcome to the rococo city Ansbach, an urban municipality in the Franconian region of Germany's largest state, Bavaria, only 24 miles from picturesque Nürnberg (Nuremberg). A rich and well-documented history precedes your stay and can still be traced thanks to medieval architectural gems, a museum featuring an extensive collections of historic remnants and a gorgeous residency castle to top it all off.
If you're looking for kid-friendly activities and attractions such as playgrounds, parks and public pools, check out this post. Of course, all of the activities below are suitable for families as well.
Below, you will find a list of attractions from museums and golf courses to hikes, castles and castle ruins.
Farmer's Market
Every Wednesday and Saturday, a Wochenmarkt (weekly market) takes place on Martin-Luther-Platz. Fresh, regional delicacies and produce is sold between 7:30 a.m. and 1 p.m. (Note: due to construction, the market currently takes place at Reitbahn.)
Golf Courses
Two gold courses can be found in the direct vicinity of Ansbach: Golfclub Ansbach – Schloss Colmberg and Golfclub Lichtenau-Weickershof e.V.
Hiking
The 'Franken' region is perfect for lovers of romantic hikes through vineyards, forests, quaint towns and other scenic views with approximately 317 signposted trails of different lengths and levels of difficulty starting in and around the city. A long distance hiking trail covering more than 60 miles, called Europäischer Wasserscheideweg, can be hiked bit by bit or as part of a five-day tour. Luggage services can be booked in advance to lighten your load during the respective day's stretch.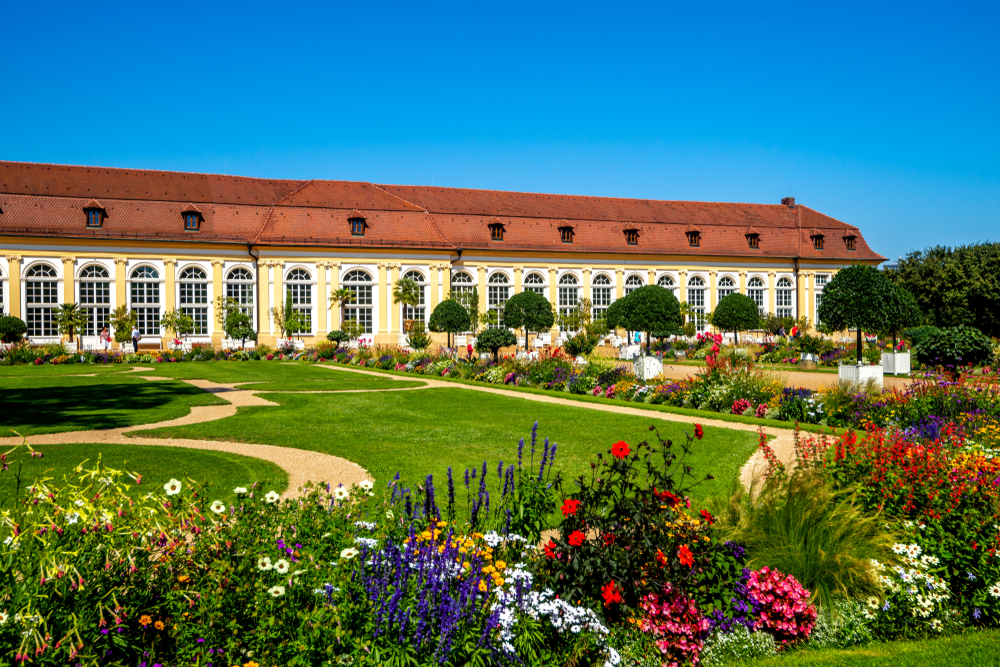 Sina Ettmer Photography / shutterstock.com
Margrave Residency
The Margrave Residency's appearance was last altered in the 18th century during the Rococo era, which made it into what we can admire today. Its roots, however, date back to the 1400 century, when a water tower was first built on the premises. The medieval history can still be seen nowadays as the remains of the Gothic Hall have been turned into a concert venue and exhibition parlor. 27 pompous rooms are open to the public year-round from Tuesday to Sunday. Click here for more information in German.
Orangery & Courtyard Garden
The baroque Orangery and courtyard garden dates back to the 18th century and features a café, a restaurant, concert venues and more. A simple stroll along the flowerbeds and lawns is sure to make you feel energised and relaxed whatever the season: a floral paradise in the heart of the city. The park is open year-round but opening hours vary depending on the month. Visit their German website for more information.
Margrave Museum
Follow the traces of the Margrave era in Ansbach and learn more about the city's famous faces at the Marktgrafenmuseum. The exhibition is designed to appeal to visitors and history enthusiasts of all ages and is open year-round; admission costs €3.50 per adult.  Click here for more information in German.
Featured image by Oleksiy Mark