I've heard it been said before that if something is great, you should say it twice. An example of this is New York, N.Y. I feel this way about Baden-Baden or as the Romans called it, Aqua Aurelia. Without hesitation I jumped at the chance to research this gorgeous town filled with day spas where kings and soldiers from all over Europe came to heal and rejuvenate.
It was obvious at the beginning of my  research that was not entirely prepared for all of the beauty, serenity and relaxation oases offered throughout this heavenly town. I will eventually write more about all the activities and secrets of Baden-Baden, but for now I am writing about ancient Roman Bath Ruins, Himalayan Sea Salt Grottos and walking through this calming city that welcomes in the Black Forest National Park.
The first thing we did was visit the information center. By visiting these friendly helpful stops, I always save myself a lot of headaches. They know things like where to park your car, what's open, the inside tips on where to eat and so much more. I highly recommend doing this as soon as you reach your destination. Despite information at our fingertips, websites are still slower than humans and circumstances are often fluid.
Carasana Spa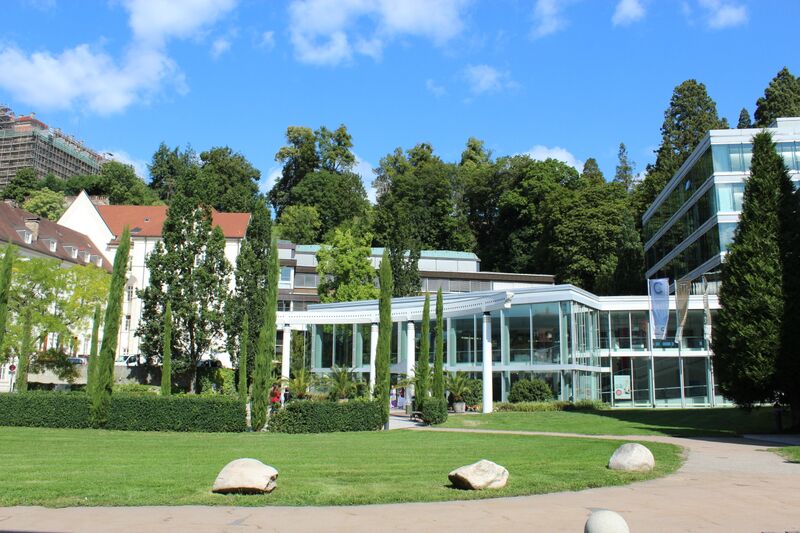 © Wendy Payne
Our tour helper Cosima led us to the very popular Carasana Spa, which consists of four spas in one. The spas are very close to each other and have different options to choose from. Cosima also gave us an invaluable walking tour map.
Friedrichsbad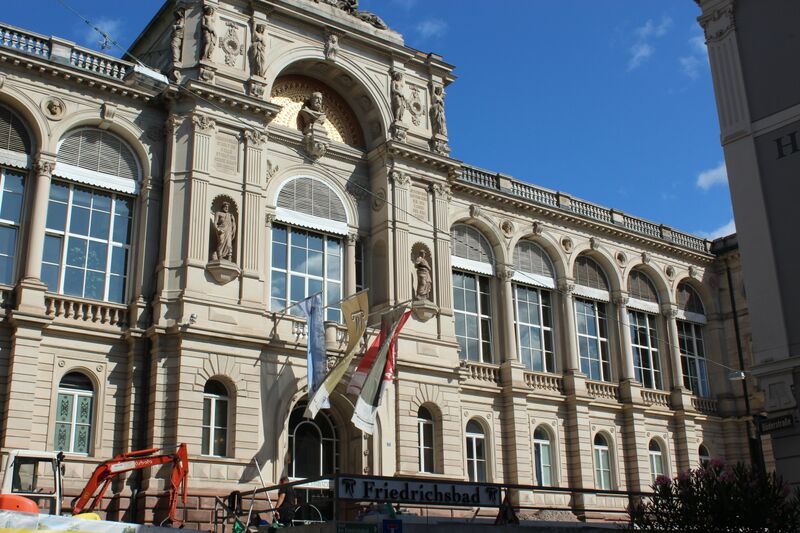 © Wendy Payne
The Friedrichsbad, which is one of the oldest baths, was closed the day we went due to construction. However, I did find out it's best to book your appointment about two weeks out. This bath is "a la natural" and more suitable for adults.
Ancient Roman Bath Ruins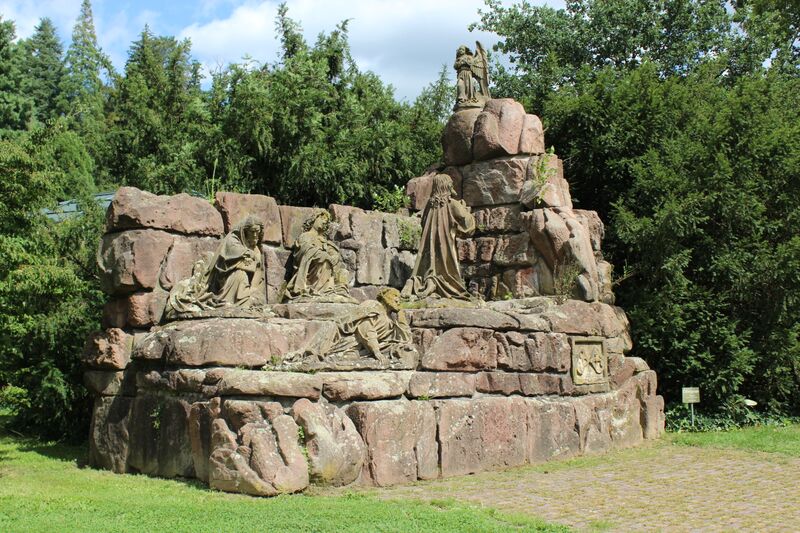 © Wendy Payne
Our first stop in town, after parking in an excellent recommended downtown parking garage, was the Ancient Roman Bath Ruins. Located underneath the Friedrichsbad, this original site was mind-blowing. With our tour costing €3.50 complete with (English) audio guide, it was worth every penny.
We were able to learn about a Hypocaustum system. The Roman system was built with quarry style pillars to transfer hot and cold water to a certain temperature and then pushed it through an aqueduct steam system. This bath house was believed to help soldiers and high ranking officers rehabilitate after a war injury. The foundation is mostly intact, although pictures were not allowed. The above hyperlink shows just how niceness of  the museum. We completed the tour in just under an hour.
Himalayan Sea Salt Caves and Grotto – Salina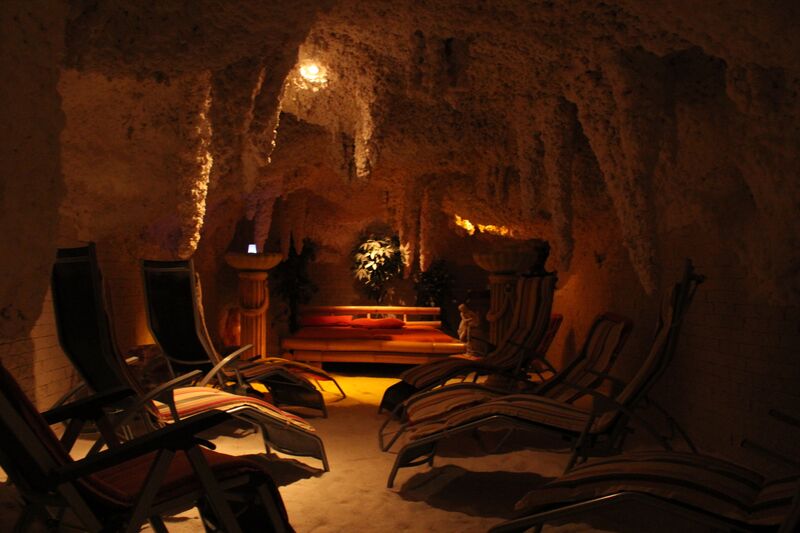 © Wendy Payne
My younger daughter had done some research prior to our trip and found the Salina Salt Cave and Grotto. This magical hour of relaxation and restoration was exactly what this lady needed. The lovely owner, Halil, led us to the Grotto where we completely relaxed (insert snoring sound effects here).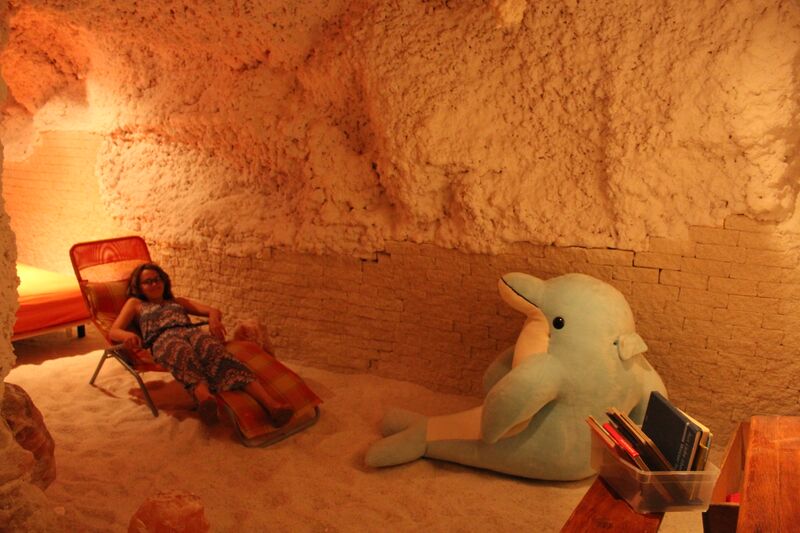 © Wendy Payne
This family-friendly paradise helps individuals recover from asthmatic, respiratory issues and what they called "burn-out syndrome." With our comfortable clothing on, we wrapped up in blankets and peacefully zoned out in comfy chairs. The sea salt content is 40 times higher than the salt of the North Sea. Built with salts from the Dead Sea and the Himalayas, the caves were a spectacular sight to see as well.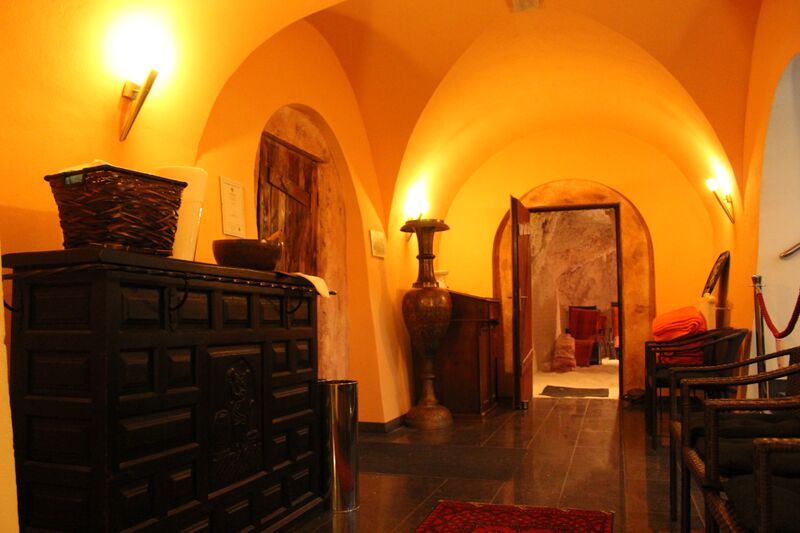 © Wendy Payne
As it is said that conditions improve with more visits, I will probably be making a pilgrimage to this calming haven at least once a month. One visit is €14.50/hour and with a child under 14, just add €3. Intake at the Salina Baden-Baden is on the hour, so plan your trip accordingly. Though the website is under construction, you can call Salina at ++49 (0) 7221 398 9590.
Walks Through Town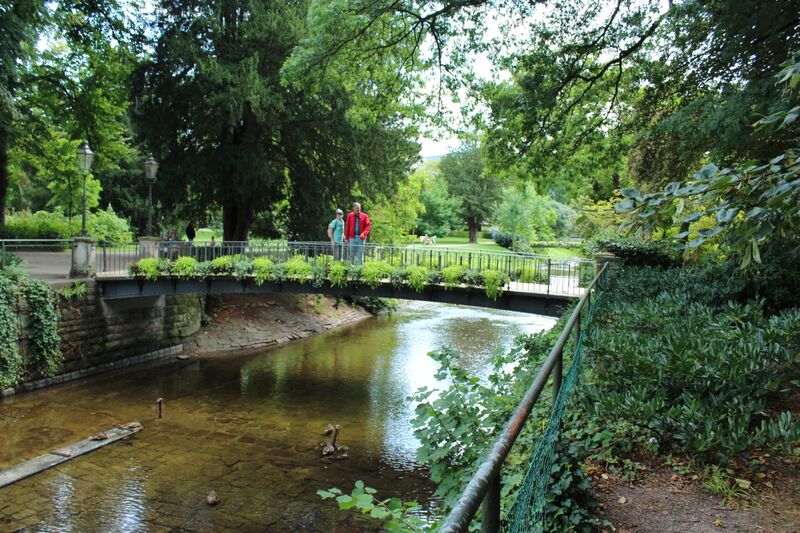 © Wendy Payne
After our sea salt mellow session, we walked through the town and found the Faberge Museum (watch for an Easter blog), the theatre, the Stadt Museum, the Kongresshaus and the Kurhaus.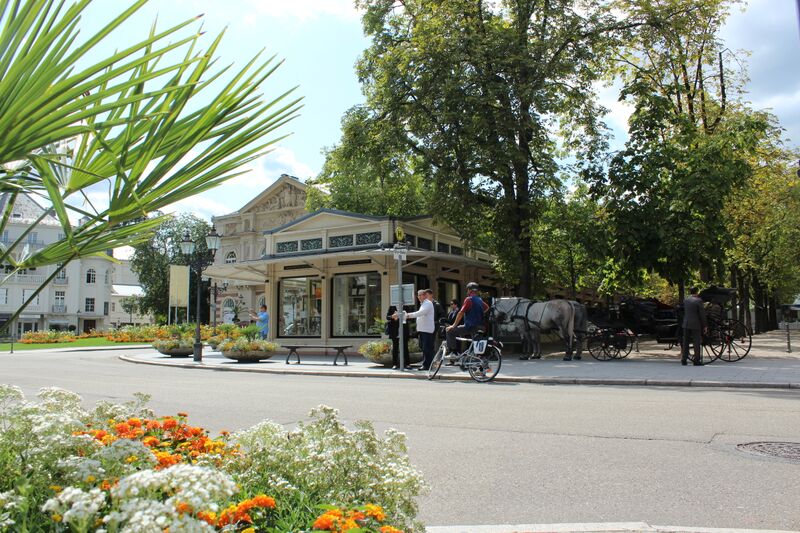 © Wendy Payne
The garden and park of the Kurhaus is where you can catch a horse and buggy historical tour of the city. It also has a lovely assortment of gift stores and shops that dot this magical garden.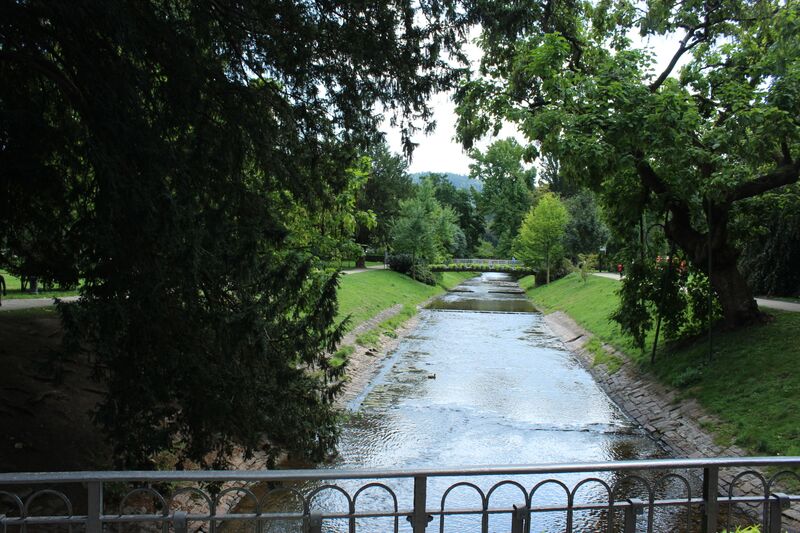 © Wendy Payne
Walking along Lichtentaller Allee was one of my favorite things to do.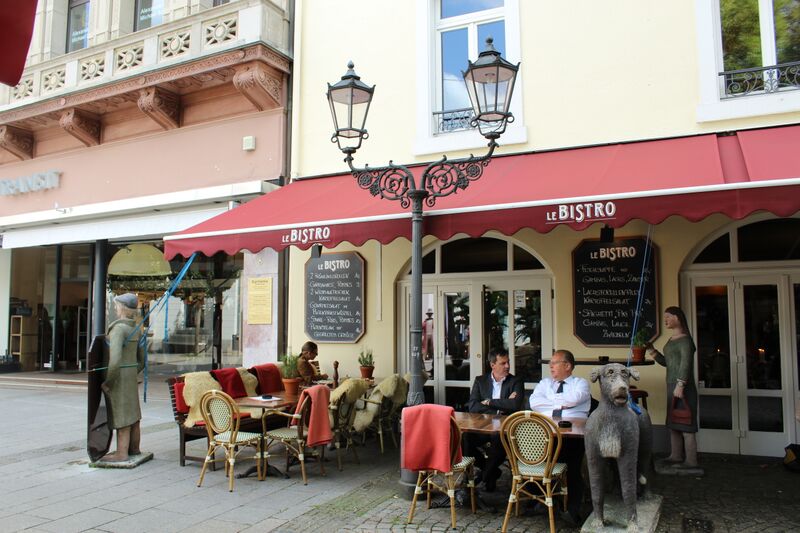 © Wendy Payne
After eating at Le Bistro and enjoying their €10 lunch menu complete with drinks, we headed out for a walk by the Oosbach River that runs through this amazing city.
For those who are a little lucky at cards, try your hand at the casino. I've never had any kind of lady luck with that, even with the slots, so I just buy shoes instead.
How to Get There
There is approximately 1 hour and 15 minutes west of Stuttgart, 1 hour and 45 minutes south of Kaiserslautern and just under 2 hours south of Wiesdaen.  And for train information, click on DB Bahn.
Travel Tips to Baden-Baden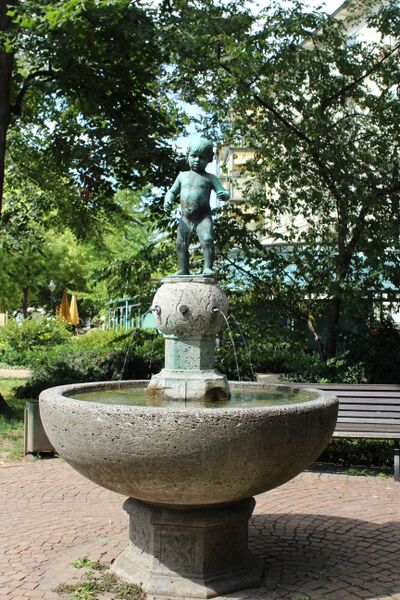 © Wendy Payne
If you are driving to Baden-Baden on A5 from Stuttgart, right before you arrive there is a full ESSO station with a Burger King and all. It has a Volksbank ATM and another CIRRUS ATM. Restrooms are very clean but do cost €.70 that can be used for an in-store purchase. When stopping at highway rest areas in Germany, always look for this perk. Most times, your "water closet" ticket can be used for an in-store purchase.
The Tour Information Center at Schwarzwaldstraße 52, is located right on the outskirts of town and was able to give us a preview of what was ahead. If traveling on weekends, remember to hit the information center early as it's only open till 1 p.m.
Author's Profile: Wendy Payne is a military spouse and lives with her family in Stuttgart, Germany. She is a freelance writer, blogger and photographer. She also enjoys gardening, hiking, yoga and sharing Europe with people.
Featured Image Photo Credit:  © Wendy Payne