Are you planning on going swimming in the Stuttgart area? Then you better know your "Bads." Last summer, when we arrived in Deutschland coming from hot Alabama, my kids teased and teased to go swimming. Being the fun-loving, yet researching mom I think I am, I began asking around, "Where can I take the kids for a swim?"
Several friendly people directed me to the Böblingen Schwimmbad, near Panzer Kaserne. I thought I had the correct directions, but I somehow ended up at the very nice, palatial Böblingen Mineralbad. Although we had a wonderful time, I would say that this is more of an "adult" experience. My little 12 year old is still "sauna" shy today. In some areas "al fresco" means a different thing. They have a military special day every month, but you will need to go on their website for the dates. You might want to hit your significant other up for a day at the spa. You will both enjoy it.
Today I'm writing to help you find one of the many family-friendly swimming holes that I hope make your summer just a little bit better. My older daughter Katy is quite the swimmer, so when I asked her to help me research this, she jumped at the chance.
Know Your Bads…
While in Germany, it's important to know the difference between all of the aquatic options available and there's a lot. Here is a quick list to help you out.
Schwimmbad- swimming pool
Freibad– outdoor swimming pool (it's not free.)
Waldfreibad– outdoor pool in the forest
Hallenbad– indoor pool
Gartenhallenbad– indoor pool surrounded by woods or garden
Mineralbad– spa, indoor and outdoor swimming pools, with other amenities
For more information about hours, days of operation and cost, I have attached each title with a hyperlink below. This does not constitute a complete list, but just ones I found around town.
Near Patch and Panzer
Böblingen
Indoor and outdoor swimming pool and sauna, slides, zero entry pool
Schönaicher Straße 75
71032 Böblingen
Telephone: +49 (0) 7031 219 211
Sindelfingen BadeZentrum
Indoor and outdoor swimming pool, sauna, slides, restaurants
Honhenzollernstraße 23
71067 Sindelfingen
Telephone: +49 (0) 7031 860 216
Maichingen Gartenhallenbad
Garden Natatorium
Förderverein Gartenhallenbad
Berliner Straße 32
71069 Sindelfingen
Telephone: +49 (0) 7031 38 30 51
Hallenbad and Freibad – Vaihingen
Hallenbad
Rosental Straße 15
70563 Stuttgart
Telephone: +49 (0) 711 216 4837
Freibad Rosenthal
Rosental Straße 21
70563 Stuttgart
Telephone: +49 (0)7042 970 130
Waldfreibad Holzgerlin
Open air heated swimming pool, 72 degrees
Böblinger Straße 5-7
71088 Holzgerlingen
Telephone: +49 (0) 7031 680 80
Near Robinson Barracks
Alfred-Kercher Bad
Indoor and outdoor pool, mermaid course, children's swim lessons
Theodor-Heuss-Straße 4
70806 Kornwestheim
Telephone: +49 (0) 7154 806 1595
(directly on the B 27, exit Kornwestheim Middle-East)
Freibad Hoheneck
Otto-Konz-Weg
71642 Ludwigsburg
Telephone: +49 (0) 7141 5 78 27
Freibad Zuffenhausen
Hirschsprung Allee 12
70435 Stuttgart
Telephone: +49 (0)711 380 4638
Höhenfreibad Killesberg
Outdoor pool with a lazy river and Api-Ball (wave generator), paddling pool, beach volleyball, ball games, table tennis, children's area with water / mud playground, bottom bubbler, children slide, terrace restaurant
Höhenfreibad 37
70192 Stuttgart
Telephone: +49 (0) 711) 216 66 250
Near Kelley Barracks
Freibad Möhringen
Outdoor pool with spring boards, three paddling pools, baby slide, small trampoline, slackline, super swinger
Hechinger Straße 112
70567 Stuttgart
Telephone: +49 (0) 711 216 66 344
Sonnenberg Hallenbad
Kremmlerstraße 1
70597 Stuttgart
Telephone: +49 (0) 711 216 99 777
Stuttgart's Swim Team
Can't get enough water time with the local pools? Stuttgart is also home to the Stuttgart Piranhas Swim Team, a premier member of the European Forces Swim League. With over 100 members, the team practices locally in the mornings before work/school and travels Europe competing in swim competitions. The team also has a Masters program and even a water polo clinic. For more information you can visit their website or contact their President, Patricia Huebschman at email address.
Other Notes
– Most pools are not heated. If they are, the water is only between 71-79º F.
– Most pools include a locker-key-bracelet. Carry a lock just in case.
– Most pools offer a STUDENT discount.
– If you travel between indoor and outdoor pools, look for foot showers and rinse off before entering either.
– Most pools have bike racks as well as ample parking.
– Most of the hyperlinks include price link as well as season passes.
– Most (if not all) pools have a restaurant or snack bar on premises.
Special Note
We recently visited the Sindelfingen Badezentrum (close to the Sindelfingen Marriott) and we were delighted with this marvelous recreation center. In the United State it would be considered almost a fun park. We were welcomed at the front door with smiles by Frau Schubert, who indulged me in my broken Deutsch even though she speaks perfect English.
Badezentrum indoor and outdoor pools have many swim lanes as well as whirlpool baths. For an extra €2 for 30 min bath, you can enjoy yourself for a few moments of rest and relaxation. The water climbing wall looked super fun, especially if I was 20 years younger. There are also "floor board games" surrounding the indoor pool, including chess, checkers and Parcheesi.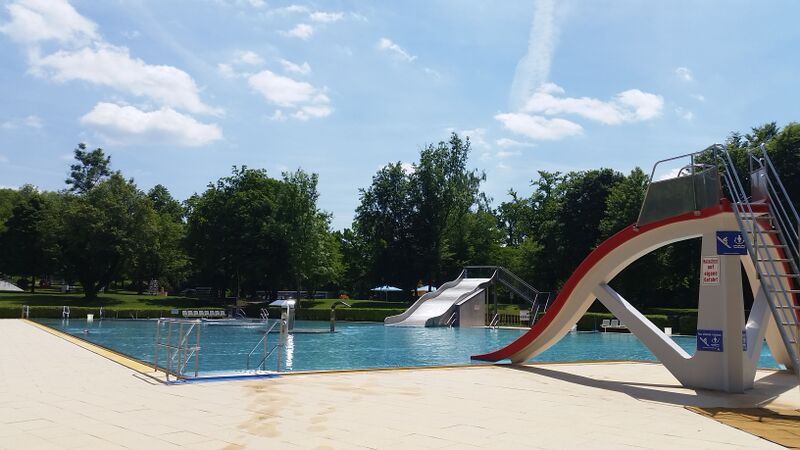 The outdoor pool for smaller children has smaller slides making it a perfect place to keep an eye on the kiddos while sunbathing too.
Despite the fact that I struggle with bathing suit season, I do enjoy a good swim. This summer may be a hot one, but you never know. I hope this article helps you discover some of the pool places in the Stuttgart area.
Author's Profile: Wendy Payne is a military spouse and lives with her family in Stuttgart, Germany. She is a freelance writer, blogger and photographer. She also enjoys gardening, hiking, yoga and sharing Europe with people.