Did you know that Opel Neroberg has a hidden paradise perched high above the city of Wiesbaden? Here you can sun worship and swim then also dine in their restaurant.
Dining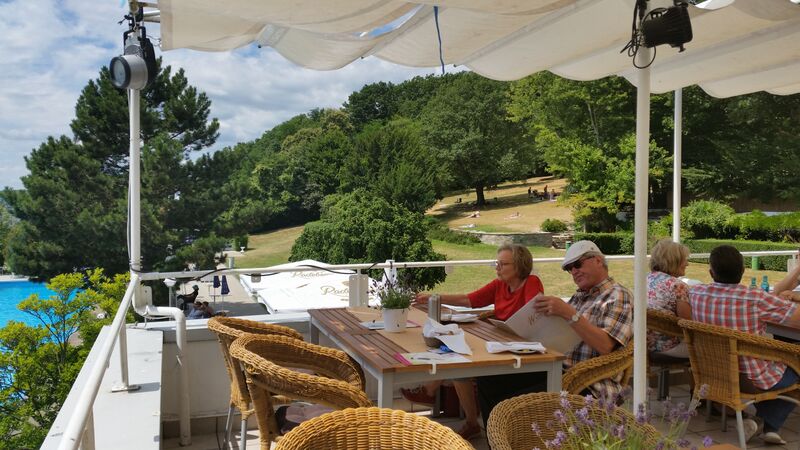 © Gemma
The Opel Neroberg restaurant is called Wagner. You can dine and sip wine while looking at possibly the best view in Wiesbaden. On a clear day the view of the horizon is just breathtaking. With tables on the patio and also inside, the restaurant offers quality food with a beautiful presentation. The meals and drinks are reasonably priced for the location but could be perceived as more expensive than dining in the city.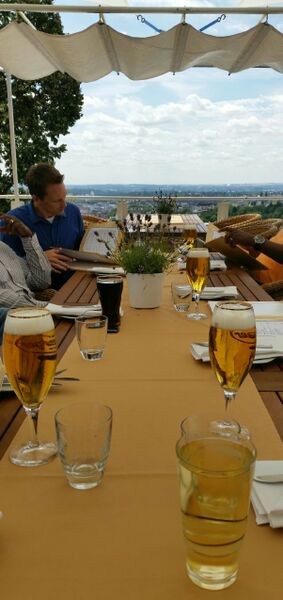 © Gemma
We went for lunch at the Opel Neroberg and I felt like I was on vacation. It is a pretty surreal place to go for your lunch break from work. We were pointing to buildings we could recognize and were guessing which hills were in the distance. I could sit there all day with a friend taking in the view and enjoying a good bottle of wine. It's worth to mention that the wait staff was very friendly while they treat you like a longtime friend.
Swimming

© Gemma
Directly below the restaurant and surrounded by hillside is the Opelbad Neroberg public swimming pool. Here you have the same spectacular view of Wiesbaden while you swim or sunbath.
Bookmark This Page Today for Exclusive Deals
The pool was created and funded by Dr. Wilhelm von Opel in 1934. With today's technology, it now has solar technology to keep the water at a constant temperature of at least 24 degrees Celsius (75 F). The pool area atmosphere is very calm and it is a great getaway destination which is conveniently right in our own city!
General Information
Opel Neroberg opening hours from May to September are the following:
Daily: 7 a.m. – 8 p.m.
Final admittance: 7 p.m.
Closing time: 7.30 p.m.
Single ticket prices are the following:
2 Euros (Children 3 – 13 Years)
3 Euros (Young People 14 – 17 Years)
8.20 Euro (Adults)
Address:
Opel Neroberg
Auf dem Neroberg 2
65193 Wiesbaden
Telephone: + 49 (0) 611 17 29 885
Author's Profile: Gemma is a mom, a veteran and an Army civilian living in Wiesbaden, Germany. With New Jersey roots, she is enjoying her extended European vacation.
Featured Image Photo Credit:  © Gemma