Frankfurt is one of the most interesting cities in Germany, a financial powerhouse and incredibly culturally rich, it is also the smallest metropolis in the world. Frankfurt architecture is filled with bold high-rise buildings that dominate the skyline but taking a trip down Main and you'll see the 13 museums that have been developed to keep the cultural heritage of Frankfurt alive. It's easy to think that this vibrant city has no green space, but Frankfurt has some of the plushest parks in all of Germany. Here are 5 that you have to visit.
1. Grüneburgpark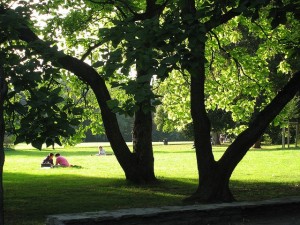 The Grüneburgpark used to be part of the huge Rothschild family estate, years before the family had 29-acre landscaped park developed there, now the park is sectioned in sizable lawns. The park is scattered with intersections of shrubbery and trees, it also features intersecting winding paths which make it a perfect for runners and cyclists. The lawns are home to families and couples relaxing and having picnics, locating in the middle of the park is the Schönhof pavilion which is home to a quaint café offering refreshments and nibbles to park attendants.
Image Flickr: timitalia
2. Frankfurt City Forest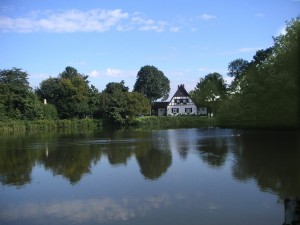 Frankfurt is one of Germany's most densely wooded urban areas, it's surprising to think that this capital of financial institutes also houses the largest communal city forest in Germany. The forest is a very popular among native Frankfurters and tourists who come to visit the six playgrounds, nine pounds and 25 resting hunts which are housed in the vast expanse. The park is also popular amongst runners, cyclists and anybody who wants the adventure of a forest in a city setting.
3. Botanical Garden (Palmengarten)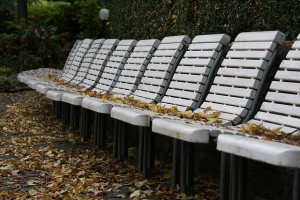 The Botanical Garden's history really shows of the care and love Frankfurters have for their city, the gardens were founded and cared for by a group of citizens in 1869 and today the garden is widely acclaimed. Over 5,000 types of outdoor plants can be viewed in this scenic park, there is also a special greenhouse erected to house the tropical plants purchased for the gardens so visitors can take a trip through a jungle-like tropic.
Image Flickr: Rene Schwietzke
4. Adolph von Holzhausen Park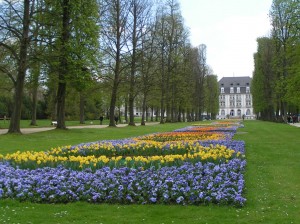 Located in Frankfurt's North End district the Holzhausen Park is oasis of green in the typically urban area. The main attraction to this park is the small castle located within it, belonging to the Holzhausen family the castle was built in 1728 and the park and the castle was only sold to the City of Frankfurt in 1920. Whilst the park lacks in facilities, its impressive views are what makes it a must-see.
5. Bethmannpark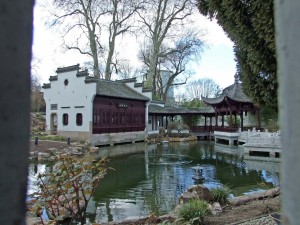 Bethmannpark is the calmest park in the city, shrouded from the big-city by thick walls this park is an oasis for tourists looking for peace and quiet or stressed office workers looking for a break. Featuring plush floral displays the park also has the famous Chinese Garden, landscaped according to the principles of feng-shui, it is the biggest attraction in the park. Still ponds and quaint wooden bridges serves as a place for great serenity so don't be surprised to see meditation taking place in this park.

Frankfurt has some fantastic green spaces, however you sometimes feel like you need to get away from the hustle and bustle of the city. There are lots of gorgeous camping and caravan sites surrounding the black forest, closest is the Camping Belchenblick site owned by The Caravan Club which borders the Baden vineyards, one of the sunniest areas in Germany. The Black Forest is located a short drive away from Frankfurt is The Black Forest, this plush evergreen is famous for its tranquillity and is famous for its points of interest such as the Triberg waterfalls and the gorge of the River Wutach.

(Visited 8,033 times, 1 visits today)

Tags: