Sonnenbühl is a little town nested in the Swabian Alb, located just south of Reutlingen in Baden-Württemberg. Sonnenbühl is one of the friendliest towns in which we had the privilege to discover its overwhelming hospitality. We were immediately greeted with smiles and warmth when we started the day at Albkorn (local bakery) on Market Street, near the beautiful church (Kirche).
The gorgeous drive up the mountain to Sonnenbühl lets you slow down and discover other interesting destinations on the way. While travelling through Reutlingen, we noticed several shops of interest to explore and discover on our next trip to Sonnenbühl (Sunny hill).
Just like the crocuses popping up all over the region, this light yellow building greets you like the flowers of spring. You will see signage for the museum as soon as you enter the town, and find easy parking right across the street. Upon entering the museum, you will be greeted by their welcoming staff, Susanna and Anna. Admission costs €4.50 for adults and  €2.50 for children 6-14. There are special rates available for groups as well. The exhibition of Easter Eggs is unforgettable as you wonder how in the world these talented artists can create such masterpieces on a single egg. The day's most-posed questions was "how do they do that?"
Exhibition and Children Activities
The museum is hosting on-site artists for the spring exhibition from all over Europe, with a special exhibition until November 2018: cars in goose eggs. Check out their website for a glimpse at these masterpieces. One of the working artists we met was Jana Wendt, a porcelain painter with exquisite designs. The museum also offers several children's activities including an egg roll. We had a little fun in participating in this game too. The museum staff told us a tale of how young men of the town would roll an egg down the hill for a friendly competition to win the heart of a potential girl. Fun fact!
Restaurants in Town

Once we were done touring the museum, we strolled down to Hotel Hirsch. The romantic hotel has an excellent Michelin star restaurant. We were able to meet the chef and snap some photos with him as well. The wait staff was impeccable and friendly. The food was phenomenal and the atmosphere was cozy and inviting. We enjoyed our lunch in the Dorf Stube immensely. It was decorated with warm paneling, fresh flowers and candles on our table.
Other Tourism Opportunities
Sonnenbühl-Erpfingen also has several cross-country skiing trails and is a perfect destination for a winter staycation. During spring and summer, there are two caves to tour. The Barenhohle (bear cave) and Nebelhohle (fog cave) are perfect for exploring for your young explorers in the clan.  The Schloss Lichtenstein (Lichtenstein Castle) is also very close to Sonnenbühl.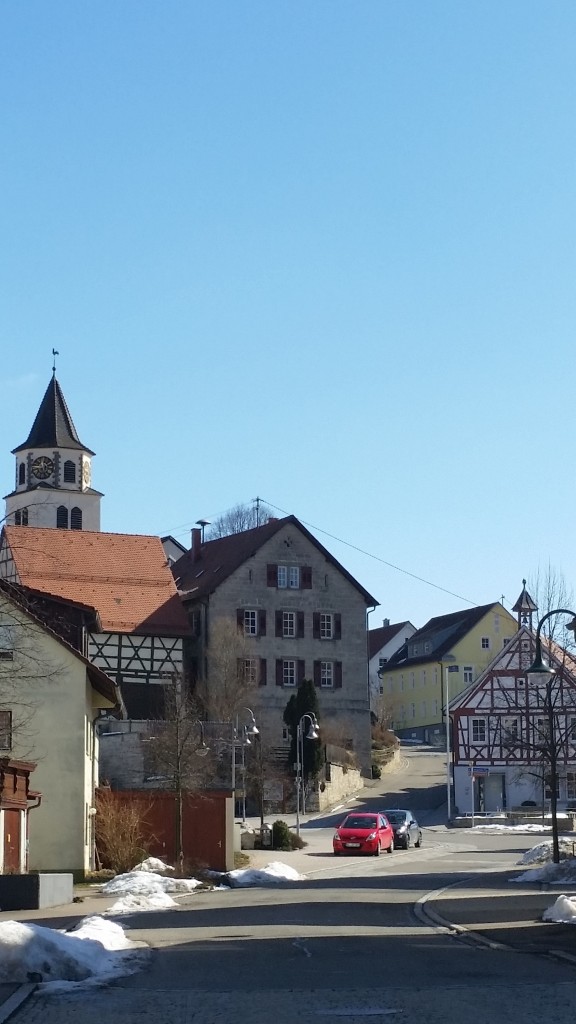 A visit to Sonnenbühl in Baden-Württemberg  should be a "must do" this spring or summer season. The friendly town has a spectacular Easter Egg Museum, caves to be explored, ski trails to be enjoyed during the winter,  great restaurants, a neighboring castle and more.
How to Get There
Sonnenbühl is less than one hour south of Stuttgart, under three hours southeast of Kaiserslautern and under three hours south of Wiesbaden.
Author's Profile: Wendy Payne is a military spouse and lives with her family in Stuttgart. She is a freelance writer, blogger, and photographer. She enjoys gardening, hiking, yoga and sharing Europe with others.