When you think of Switzerland, you are probably thinking of a relatively small Western European country with delicious chocolate, the Red Cross, the United Nations and watches. But it's also full of breathtaking landscapes and rich cultural treasures that you will not want to miss during your stay abroad.
There are several must-do attractions across Switzerland like skiing the slopes of Zermatt in July or canyoning in Interlarken. While making your way around the country, don't forget to make time to explore some of the culturally rich cities along the way. More specifically, don't overlook Switzerland's international hub, Basel. This city is a great way to start or end your Swiss adventure.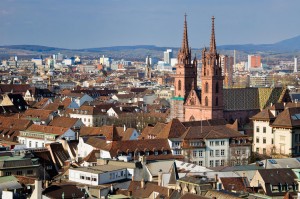 Getting There & Getting Around
The city of Basel borders both Germany and France. It is not uncommon to country-hop for dinner and shopping in this area of Europe. For those of you who are not looking to walk across the border, you can reach Basel by plane, train, floating down the Rhine or braving international roadways in a rental car. Many visitors fly into EuroAirport Basel-Mulhouse-Freiburg, which is split into two sections serving France on one and Switzerland on the other. But for those of you already here in Germany, you can reach Basel easily via rail using Deutsche Bahn directly to Bahnhof SBB.
Once you have arrived in the city, the public tram routes are easy to navigate and find. If you wonder off the the main roads, don't be afraid to ask the friendly people of the city for directions. The official language in Basel is German but you will also find that many Baslers speak German, English, French and Baseldytch (local dialect) as well!
Arts & ArchitectureAfter finding your way to the Basel, it is time to take in one of the most diverse art hot spots in Europe. Known for its international touch, the art scene in Basel spans the fine arts showcasing famous paintings and architecture. Museums in Basel are home to significant artistic contributions including works from Picasso, Monet and Rembrandt. Of the many museums located throughout the city, Kunstmuseum Basel and Museum für Gegenwartskunts (Museum of Contemporary Art and Media Art) will show a breadth of significant pieces of art spanning history. You can also explore some one of the many contemporary art shows located in smaller galleries throughout the city.
Chocolates & Cheese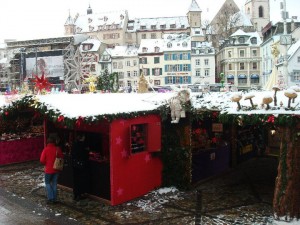 When you are trying to tour the best of Basel's cuisine, take the tram to the center of the city. You will find that the majority of the tram lines stop at Marktplatz (Market Square). Whether you are looking for a full meal or a pastry on the run, you will find Swiss favorites all over this part of the city.

If you are looking for the real Swiss experience, you can find restaurants with heated outdoor tables fully stocked with fur and wool blankets for diners to stay toasty under. If you are looking to eat the traditional Swiss meal, be sure to order cheese fondue. Enjoying a long lunch of hot, melted cheeses with crusty bread is a must when visiting Basel. While passing the shops and art galleries around the city, stop in one of the many chocolate shops and pack a snack bag for your next train trip.

Whatever your plans are for your Swiss adventure, take some time to walk the cobble stone streets of Basel, boat along the river, explore the holiday market in Market Square, eat delicious traditional Swiss food, and explore one of the many museums this historically rich city has to offer. It is an international experience full of surprises.

Author profile:

For more information about military travel to Switzerland, contact

Freedom Travel

. Freedom Travel offers travel discounts, financing and planning services for military members and government personnel. We work to help customers around the world plan and finance their travel.

(Visited 799 times, 1 visits today)

Tags: