One of the biggest complaints of the military families is that there are not many fun events or places to go with children. To make your family experience in Germany more enjoyable, we have listed some locations in the Kaiserslautern region that offer fun activities and events for families.
1. Gartenschau (Garden Show)
If you live in the Kaiserslautern Military Community (KMC) you have likely driven past the Gartenschau and wondered what was going on. Perhaps you caught sight of a brontosaurus against a rock cliff backdrop, or maybe saw the blooming flowers and skatepark and wondered what this was all about.
The Gartenschau is open from April 1st through October 31st each year and covers a huge area of both flat and hilly terrain in Kaiserslautern, not far from the city center. We don't have many things like this back in the states and this is a place you should definitely plan to spend some of your days when the weather is warm in Germany!
For the price of admission (or a seasonal pass) the Gartenschau has something for kids of all ages and adults alike.
Attractions include: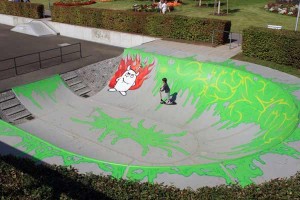 Sports areas – skate park, beach volleyball area, basketball courts, soccer field and playgrounds for the youngest of your group to climb and explore. The water playground is the perfect place to cool off on a hot day!
Neumühle Park – whether old or young, everyone will enjoy the well-kept walking trails along the Lauter (channelized underground) Creek. Attractions include beautiful flowers (tulips, daffodils, muscari, hyacinths and crocuses), a cactus garden (approximately 1000 cacti), dinosaur replicas (80 life size models), water treading in the Kneipp basin, sports fields and playgrounds, shady area with many deck chairs, picnic area, a beer garden and much more.
Restaurants (family-friendly of course!)
Children's programs are often held during the weekend and on German holidays to keep the kids busy as well so feel free to ask at the admission gate what is going on the day you arrive.
Dinosaur Park – the far end of the park holds over 80 life-size dinosaur statues nestled into the foliage and right beside the paths.
Indoor and outdoor attractions – in case the weather isn't cooperating (or you need a break from the summer sun), there are two permanent indoor flower exhibits and several traveling shows that change throughout the season.
Miniature golf
Kaiserberg – hike up the hill and around the Gartenschau for some extra exercise and some beautiful views of Kaiserslautern and the Palatinate forest. There is even a place to grab a Bratwurst at the top of the hill.
– Free classical concerts often take place in the open air theatre on weekends in the warmer months.
4 tips to help you make the most of your visit:
Wear sunscreen! The park is large and once you arrive, the kids won't want to leave anytime soon. Be sure to apply sunscreen and reapply if the sun is beating down.
Bring your camera. If you don't, you are seriously going to regret it. Between the flowers, the play structures and the dinosaurs, you'll be missing out on some fantastic photos!
If you are planning to play soccer, skateboard, or take part in any of the other sports facilities, be sure to bring your own equipment (ie: soccer ball, volleyball, etc).
Leave Fido at home. Dogs are not allowed in the park.
Bring cash. As with many things in Germany, cash is king. At time of publication, the Gartenschau does not accept credit cards for admission.
Hours of Operation:
Monday to Friday: 9 a.m. to 7 p.m.
Saturday & Sunday: 10 a.m. to 7 p.m.
Visit their website for up to date opening and holiday hours by clicking here.
Location:
Kaiserslautern Gartenschau
At the Kalause 9
Kaiserslautern, Germany 67659
Admission:
For updated admission costs (and seasonal pass prices)
click here for the Gartenschau website (in English).
TIP: If you live off base in the Kaiserslautern area, the local utilities company sometimes has a free or highly discounted pass that you can purchase for the Gartenschau. It's worth a call to see if one is currently being offered.
2. Water Park Monte Mare
This is a sport pool with 6 lanes (25 m at length) with a 3m diving platform. The pool also comes with the following: a 1m diving board; a water slide; starting blocks; artificial waves; a restaurant/snack bar; a sauna; a parent child area with toys; a squirting figure and a small slide; classes, a whirlpool as well as massage. Additionally, there is a separate non-swimmer pool.
Hours of Operation:
Monday, Wednesday, Friday; 10 a.m.-9 p.m.
Tuesday & Thursday; 6:30-8 a.m. & 10 a.m.-9 p.m.
Saturday & Sunday; 10 a.m.-9 p.m.
Location:
Mailänder Str. 6
67657 Kaiserslautern
www.monte-mare.de
Telephone: 49 (0)631 3038-0
3. Outdoor Swimming Pool Freibad
An 8 lanes sport pool with a length of 50m. There is a 10m diving platform in a separate diving pool. The heated outdoor pool includes a beach volleyball area as well as a separate baby pool. A separate non-swimmer pool is also available.
Hours of Operation:
Monday, 12-8 p.m.
Tuesday, Thursday, Friday, Saturday & Sunday; 8 a.m.-8 p.m.
Wednesday; 7 a.m.-8 p.m.
Location:
Am Warmfreibad 1
67657 Kaiserslautern
www.kaiserslautern.de
Telephone: 49 (0)631 414 6884
4. Dynamikum
Transforming from a shoe factory to a science center, Dynamikum offers intuitive exploration with 160 exhibits. The main theme is "motion," including "move something" and "moving yourself". Movement is distinguished by eight divisions: friction, impulse, energy and its use with motional machines, research of natural motion, aspects of biological mechanics and the power of mind and in dance.
Hours of Operation:
Monday-Friday, 9 a.m.-6 p.m.
Weekend & German Holidays, 10 a.m.- 6 p.m.
Closed; Christmas Eve, Christmas, New Year's Eve and New Year's Day
Location:
Im Rheinberger
Fröhnstraße 8
66954 Pirmasens
Telephone: 49 (0) 63 31 / 23943-0
Website
E-Mail: info@dynamikum.de
5. Gondwana – Das Praehistorium
At Gondwana visitors will find the largest worldwide dinosaur show with animatronics dinosaurs as well as a very interesting exhibit on paleontology. This prehistoric museum brings the history of life on Earth and the evolution of our planet including the sight, sound and smell with convincing robotic animals and plant life. Gondi's Dinowelt, a play ground area for toddlers and kids, offers a fun obstacle course that guides kids through tunnels and more. You will also find frozen in time the following: space station ISS, industrialization, the age of discoveries, Egypt, a mammoth during the ice age and more.
Hours of Operation:
Das Praehistorium: 10 a.m.-6 p.m. (last admittance at 4 p.m.)
Gondi's Dinowelt 10 a.m.-7 p.m. (last admittance at 6 p.m.)
Location:
Bildstockstraße
66578 Schiffweiler
Saarland
Website
Phone: 49 (0) 6821 93163 -25
5. Burg Nanstein
Nanstein (built around 1162) is one of the most famous castles in the Pfalz due to a siege during the Knights' Revolt in 1523 in which the lord of the castle Franz of Sickingen died. Nanstein's fall was a symbol for the decline of castles in the Palatinate. Its grounds offer fantastic views of the town and surrounding countryside. It has been said that this castle is great for kids around the age of seven. The restaurant just outside the caste is relatively inexpensive but does not take debit or credit cards. Contact the Sickingen Tourism Office at 49 (0) 6371-495-311 or tourismus@landstuhl.de for a guided tour.
Hours of Operation:
Monday: Closed
January 1 to March 31: 10 a.m.-4 p.m.
April 1 to Sept.30: 10 a.m.-6 p.m.
Oct. 1 to November 30: 10 a.m.-4 p.m.
December 1-31: closed
(The cashier closes 30 minutes prior to closing time.)
Location:
Burg Nanstein
66849 Landstuhl
Telephone: 49 (0)6371 830
6. Burg Hohenecken
This 12th Century castle is a short hike up a hill and provides a wonderful view of the village below and surrounding mountains. The castle has a checkered history including buried treasure, a tragic love story of Hildegard von Hoheneck, a siege by insurgents and then being blown up by French troops in 1689. Though this will be a wonderful outing for families, it is a difficult trek for strollers and wheelchairs. Make sure you bring water or something to drink!
Special tours can be arranged by calling 49 (0) 6331-872135 or emailing touristinfo@pirmasens-land.de.
Location:
Burg Hohenecken
67661 Kaiserslautern
7. World of Fun Freizeitpark
World of Fun offers fun for all kids young and old!  In the Arena kids up to age 12 can enjoy an 11 meter long slide, a mini locomotive, trampolines, a climbing tower, a giant ball pit and a trapezoid. There is also a separate area just for toddlers. The Bowling Arena is equipped with a high tech system including black night light and animated screens. The Mini Golf Arena comes with custom made sculptures, illuminated installations and elaborate airbrush backdrop of 18 exciting theme worlds. Enjoy ice skating in style at the Ice Arena with hockey, disco, family afternoons on the ice and ladies night. Grab a bite to eat or request catering from one of the three restaurant styles-American snacks, Italian pasta or traditional German dishes.
Hours of Operation:
Monday-Saturday, 2 p.m.-1 a.m.
Sunday & Holidays, 10 a.m.-1 a.m.
(The Ice Arena has seasonal opening times.)
Location:
Europaallee 11
66482 Zweibrücken
Website
Telephone: 49 (0) 6332 48179-70
8. Campingpark Ohmbachsee
This family camping park (caravan site) offers a walk or bike ride in a beautiful and untouched nature area. On the premises include an outdoor pool, table tennis, mini golf, bowling alley, trampoline, volleyball court and a soccer field. A hotel is also available for those who do not want to use the camping grounds.
Location:
Am Ohmbachsee
66901 Schönenberg
Kübelberg
jungfleisch@campingpark-ohmbachsee.de
Telephone: 49 (0)6373 4001
9. Warmfreibad Waldmohr
This water park families can enjoy the following: an adult pool; 50m water slide; a separate diving pool; spring rockers; swings; a jungle gym; a baby pool with a water mushroom; children's slide; a parent-child with an animal slide; a lounging area; beach volleyball; soccer and basketball court; a restaurant; a pool bar; and tennis table.
Hours of Operation:
Daily: 9 a.m.-8 p.m. (except opening 7 a.m. on Wednesdays)
Location:
Badstraße 12
66914 Waldmohr
Telephone: 49 (0)6373 2686
Email: info@freibad-waldmohr.de
10. Fun Forest AbenteuerPark Homburg
Fun Forest is a two acres climbing park featuring an easy climbing course, a more advanced course as well as a children's course. One of the best adventures of the park is to zipline over the lake! Pirate Island is the new theme course, offering pure adrenaline with unique climbing elements and challenges. Night climbing events are available for about 60 people and require advance reservation. Non climbers can enjoy a day on the water or take a stroll in the recreation area.
Hours of Operation:
March 16 to April 7: open daily 10 a.m.-6 p.m.
April 8 to July 5: Tuesday-Friday, 12-7 p.m.; Weekends & German Public Holidays, 10 a.m.-7 p.m.; Closed on Mondays
July 6 to August 18: open daily, 10 a.m.-8 p.m.
August 19-October 3: Tuesday-Friday, 12-7 p.m.; Weekends, 10 a.m.-7 p.m.; and closed on Mondays
October 4 to November 3: open daily, 10 a.m.-6 p.m.
Location:
Kleinottweiler Straße 148
66424 Homburg / Jägersburg
Website
Telephone: 49 (0)6841 70 30 257
11. Wawi Schoko-Welt
Take a trip to Wawi World of Chocolate to experience up close how handcrafted chocolate is made and explore the small chocolate museum. Children's birthday parties can be booked coming complete with decorations, a personalized birthday cake and chocolate fondue. Visitors can top off their visit with a bite to eat with snacks or arrange a champagne reception and more.
Location:
Landgrafenstr. 29
66953 Pirmasens
Website
Telephone: 49 (0)6331 27460
Email: info@wawi.com
12. Saarbrücken Zoo
There are more than 1,000 animals, around, 150 different species representing Africa, Madagascar and South America at the Saarbrücken Zoo. From Africa animals include the following: giraffe, zebra, eland, cheetah and crowned cranes. Many birds, monkeys, emus and kangaroos are from Asia and Australia. Domestic animals breeds and owls are from European countries. The educational aspect of the zoo wants to introduce the behavior and ways of life of the animals. Visitors of all age can learn and have fun with guided tours, animal games, quizzes and exhibitions and more. Kid events are birthday and photo safaris, playground, petting zoo, nocturnal excursion "Zoo at Night", holiday programs and more.
Hours of Operation:
March 1 to October 31: 8:30 a.m.-6 p.m.
November 1 to February 28: 9 a.m.-5 p.m.
December 24 & 31: 9 a.m.- 12 p.m.
Location:
Graf-Stauffenberg-Straße
66121 Saarbrücken
Website
Telephone: 49 (0) 681 905-3600
13. Yabadoo Indoor Playground
A huge indoor soft play area for children to jump around and that includes a trampoline jumping, a climbing mountain, a soft mountain, a dragon castle, toddlers' play area, a softball shooter, indoor soccer and much more. Great for rainy days and play dates. There's a snack bar if you want to have lunch but you can also bring your own picnic too.
Hours of Operation:
Monday – Friday: 2:00 p.m. – 7:00 p.m.
Weekends & public holidays: 11:00 a.m. – 7:00 p.m.
Closed December 24, 25 and January 1.
Location:
Hauptstraße 86
D-67678 Mehlingen (near Kaiserslautern)
Website
14. Kaiserslautern Zoo
The Zoo is situated on 17 acres and includes the habitats of 110 animal species and 631 wild and domestic animals. You can experience exotic animals as well as wild and domestic animals from various countries around the world. The Zoo's priority is to keep the animals in their natural environment and by demonstrating biospheres, animal activities, detailed information, animal education science and youth work, giving visitors an understanding of nature conservation and the protection of species. The playground for little guests together with the nature adventure trail and the restaurant top off a typical day at the Kaiserslautern Zoo.
Hours of Operation:
April – October: 8:30 a.m. – 6:30 p.m.
November – March: 9:00 a.m. – 5:00 p.m.
Location:
Zum Tierpark 10
D-67661 Kaiserslautern
Website
Tel: 06301-7169-0