If you want to feel like part of the Munich community, head to the Viktualienmarkt. This huge outdoor market is a centuries-old tradition that makes for a great family-friendly activity right in the center of town.
Conveniently located near Marienplatz in Munich, the Viktualienmarkt features food, drink, and other goods from Bavaria and beyond. Whether you just amuse yourself with browsing (and some free samples) or spend hours visiting with the locals and collecting delicious products, the Viktualienmarkt offers something for everyone.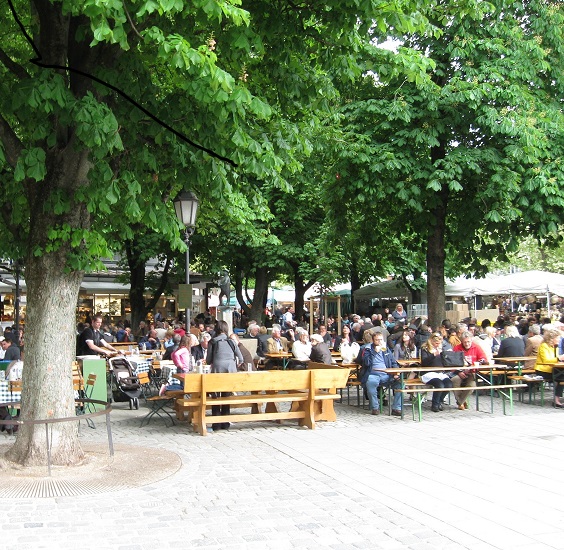 Shopping at the Market
The stalls of the Viktualienmarkt are loaded with delicious fresh foods from nearby farms, including cheeses, meats, eggs, fruits, and vegetables. The number of goods produced in Bavaria and sold at the Viktualienmarkt is amazing, and you are sure to encounter many varieties that you've never tried – or heard of – before. Bavaria's famous honey, beers, and local wines are also offered here, making it a perfect place to shop if you're looking for good gifts to send back home.
In addition to fresh foods, you will also find prepared dishes ranging from German specialties to simple deli sandwiches. More adventurous visitors can try one of the many innovative dishes being developed by the Viktualienmarkt's creative vendors. You could spend every day at the market and never get close to sampling the huge variety of delicacies it has to offer.
Accompany your meal with a dessert from one of the stalls selling homemade pies and cakes or with a fresh roll of bread from one of the market's many bakers. There are benches and tables located all around the square for you to stop, take in the scene, and try out some of your purchases. Kids will have a great time exploring the stalls and perhaps sampling treats like fresh ice cream or the juicy local strawberries. You can also join locals and tourists relaxing and chatting in the central beer garden.
Besides food, the Viktualienmarkt also features beautiful flowers and plants, clothing vendors, and stalls selling handmade goods, beautiful antiques, jewelry, and souvenirs. People across the city come to the Viktualienmarkt to find quality and unique items.
When to Visit
Open year-round, the market is busiest from late spring to early fall. It is open Monday through Friday from about 8 a.m. to 6 p.m., although some stalls open a little earlier or stay open later. Saturday's hours are 8 a.m. to about 3 pm. Six days a week, the Viktualienmarkt is an essential stop during your visit to Munich.
Author Profile: Elizabeth Raczkowski
is a freelance writer who loves travel stories and biographies. She aspires to journey around the world and has been lucky enough to shop at the wonderful Viktualienmarkt, even if she can't pronounce it very well. She can be contacted through
www.elizabethraczkowski.com
.