Bavarian Munich to the small traditional town of Goslar up to the north and over to the east, the following five markets are my favorite in Germany, as I believe they offer the most variety. Families with small children, groups of adults, friends and families alike – there is truly something for everyone!
Münchener Weihnachtsmärkte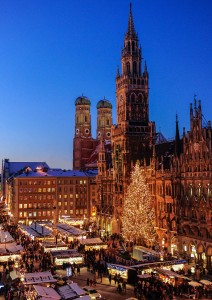 In Munich, the main market is held in Marienplatz (where the famous Glockenspiel can be seen every day). During the month of December, live advents music will play from the balcony of the Town Hall in Marienplatz, every day between 17.30 and 18.00 nearby the famous Christmas tree which graces the town square and is roughly 27 meters high and was cut down in Bad Kohlgrub!
The Children's Museum sponsors free Christmas workshops in the town hall for children aged between 6 and 12.  While the kids are there, busy with baking cookies and crafting decorations, don't forget that the Christkind (Christchild) is accepting mail from the 28th of November through to the 7th of December between noon and 18.00 in the inner courtyard of town hall. Rumor has it that the Christkind even replies!
A few steps from Marienplatz you will find a small market along Neuhauser Strasse that specializes in wood carved figures and everything else you would need to create a Manger.
Another notable market can be found by the Chinese Tower in the English Garden.  Nikolaus will be there on December 6th, and there's a carpenter who will show your kids how to carve something out of wood in his very own workshop, while horse drawn carriages depart for a romantic one hour ride through the stunning English Garden.
Other Munich markets can be found at Sendlinger Tor, Schwabing (features many artists and also live music), Wittelsbacherplatz (with a Medieval theme), Rotkreuzplatz, Kaiserhof der Residenz (near Odeonsplatz. Very traditional with live music daily), Weißenburger Platz, Rosenkavalierplatz (Bogenhausen; also specializes in artisanal crafts), Stephansplatz has a "Pink Christmas" (gay/lesbian). And of course, the famous ice skating rink in Karlsplatz.
Last but certainly not least: don't forget the Winter Tollwood festival on the Theresienwiese (yes, where Oktoberfest is held) which showcases organic ethnic food specialties, live shows, concerts and other unique treats!
Image © München Tourismus , Lukas Barth, Christkindlmarkt auf dem Muenchner Marienplatz
Nürnberg Christkindlesmarkt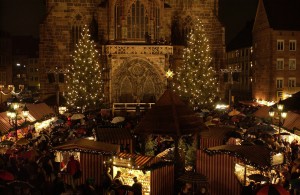 Nuremberg is host to one of the most charming, and oldest Christmas markets in Germany, which is opened every year by the Christkind (Christ Child) herself, in the main market square. This this year it will take place on the 28th of November at 17.30.
Between the 2nd and 23rd of December, children can visit the Christkind (with the exception of Saturday thru Monday) – the German alternative to sitting on Santa's lap!
The 11th of December sees a traditional and heart-warming children's' lantern parade which starts at the Christmas Market and ends at the Castle.
Food related specialities from Nürnberg, are the Nürnberger Bratwurst (sausage) and the Nürnberger Lebkuchen (gingerbread) which are both hallmarks of the advent season! Pepping up the regular mulled wine, Nuremberg offers its visitors the biggest Feuerzangenbowle in Germany which contains a glorious 9,000 liters of red wine punch! Make sure to check the market's website for a calendar of events listing the many live advents music concerts, which are truly enjoyable.
Image © City of Nuremberg Press and Information Office.
Goslar Christmas Market
Nestled near the Harz mountains, Goslar is an enchanting little UNESCO world heritage town laced with cobblestone streets and traditional German Fachwerkhäusern (timbered houses with slate roofs). In addition to a traditional Christmas Market, there is also a Christmas Forest where you can enjoy a host of regional specialties in-between 60 lit Christmas trees in a Forest atmosphere. Climb the stairs of the Himmelsleiter for a cozy and festive view over this beautiful little town.  The market opens on the 26th of November with a traditional Latern parade for children and their parents at 17h (starting at the Volksbank). The town of Goslar offers a calendar of events which lists opening times and musical performances. In addition to the Christmas market booths, the town of Goslar offers over 200 little stores and an artisanal market in the Großes Heiliges Kreuz building.
Dresdner Striezelmarkt
Dresden's Christmas market is known as the Striezelmarkt and is the oldest in Germany, dating back to the 1400's. Along with Dresdener Stollen (a famous dry Christmas time bread with dried fruits and marzipan), the market is also famous for hand carved traditional and treasured ornaments from the Erzgebirge region. The Christmas market has caught up to the times and is also known for the world's biggest nutcracker, as well as the world's biggest Christmas pyramid (a candle-powered pyramid featuring Christmas scenes, all hand carved out of wood in the Erzgebirge). Close to Dresden, on the banks of the Elbe river lies a small city (founded in 929) notorious for its porcelain; Meissen.  An advents calendar adorns the Rathaus and the market is opened on the 28th of November. The medieval finesse and the rich history and culture of this region, make the Christmas markets in both Dresden and Meissen a very memorable experience.
Aachener Weihnachtsmarkt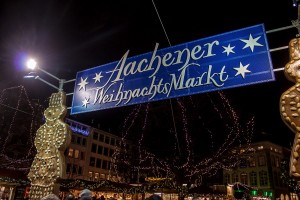 Aachen is best known for its stunning Cathedral; the Dom, which is not only the burial place for Charlemagne, but The Cathedral's treasury houses religious relics that attract thousands of pilgrims each year, such as the clothes used by John the Baptist, a loincloth that is said to have belonged to Jesus Christ, and pieces of Mary's cloak. However, Aachen's Christmas market is one of the best kept secrets. For those stationed in Belgium, it is not a far drive to reach this historically significant city, and the array of smaller markets dotted all around town will make the trip worthwhile. Its possible to purchase a wide variety of gifts here, as this market offers a lot of artisanal and handmade goods in addition to the traditional Christmas market gifts such as soap and lanterns! Live music events take place almost every evening; check their website for details and don't leave without a good supply of Aachener Printen (type of Gingerbread).
Image © MR / Shutterstock.  
Author profile:
Eva Gold
from
Passports and Pamplemousse
(also on Facebook) blogs about
Wanderlust, Epicuriosity, and all things in between
. Although she was born in Germany, she spent her entire life growing up across 5 continents. A whole host of countries and "homes" later, she recently landed back in Germany with her Ecuadorian husband and is only now getting to know her motherland! In addition to blogging about the places and dishes that have inspired her, Eva is a freelance photographer, language consultant and budding entrepreneur with hopes of opening her first shop in the spring.