Channel your inner Tarzan! Swing down ropes and climb within the trees at the Wiesbaden Neroberg Kletterwald! Located on the top of Wiesbaden in the beautiful Neroberg, this high ropes course offers adventure for the thrill seekers as well as those who have a slight fear of heights. 
While on this absolutely beautiful course, you will feel so close to nature among the vast trees. The smell of the fresh and soft woodchips on the ground only adds to your outdoor experience. In addition, experienced staff teaches you the proper belays for hooking your rope during each part of the course. You can have one on one training, a work team building event or a small family group.
What to Expect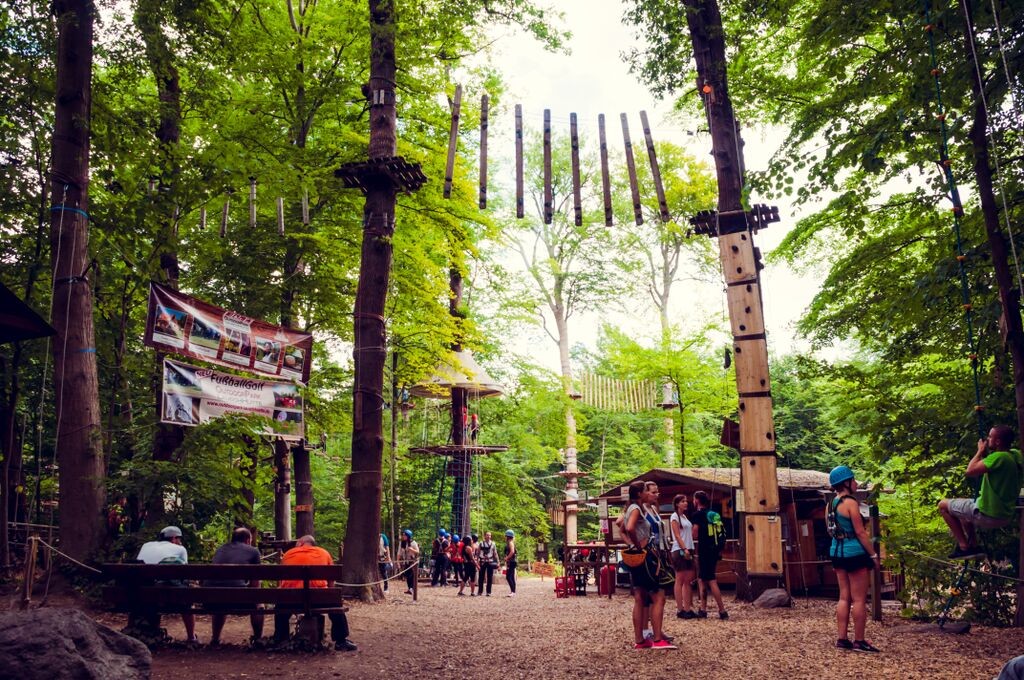 © Gemma
First you will pay at the ticket booth before receiving your equipment. After the trained staff conducts a 30 minute instructional and safety briefing, you are given three hours to explore the ropes course. If you would like to stay longer, you just have to pay more. It's worth noting that trainers are always watching below to offer any assistance and of course come help you at any time.
Eating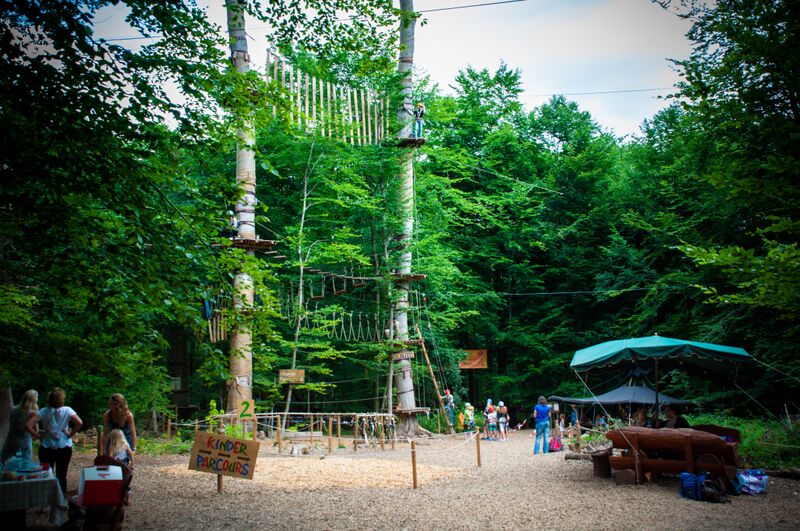 Gemma
Snacks and drinks are available for sale on site as well as you are allowed to bring in your own food. You can sit in the fest tables area or in a gorgeous park surrounding the ropes course. In this huge park you can have a picnic or use one of the public BBQ pits. And if you aren't one for eating on the lawn or at the fest tables, the option is to eat at the restaurant right next to the course. Click on Wagner for more information.
More Information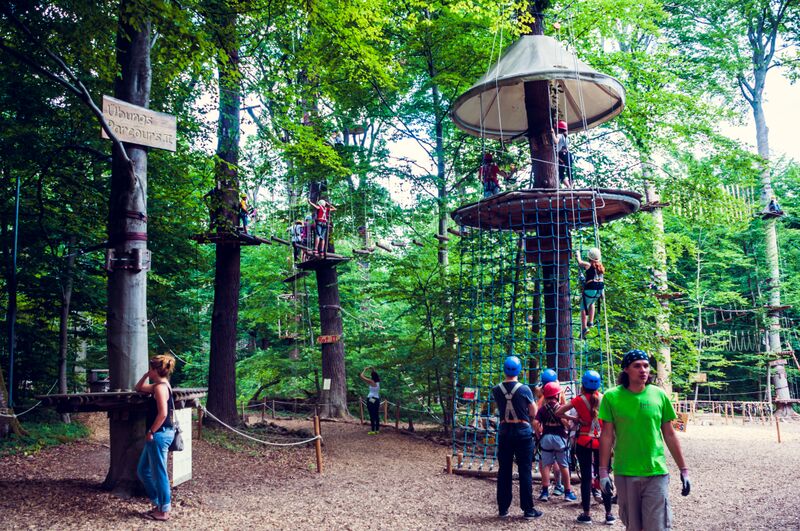 Gemma
You will leave the course feeling energized, exhilarated and also so proud that you accomplished a course like this! Don't forget to wear comfortable clothing and shoes. You can climb even in the rain with rain gear.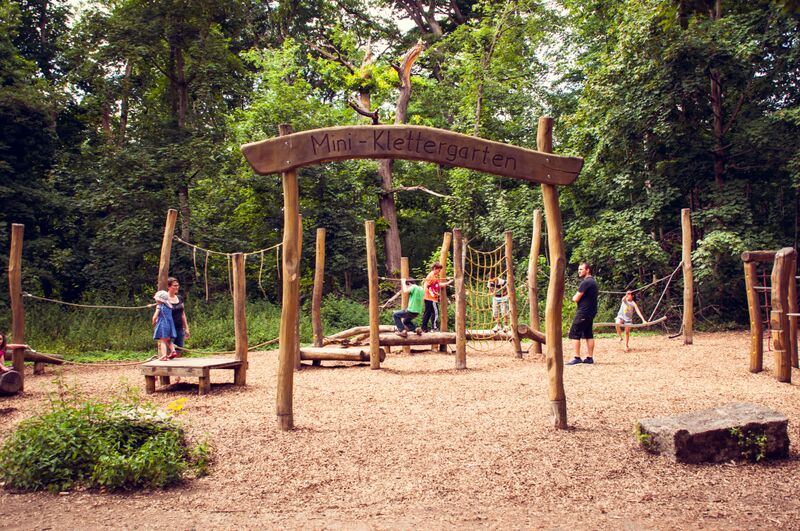 © Gemma
They even have a playground area free of charge for the younger ones or if you are just exploring the Neroberg area.
To find out additional information, click on Kletterwald's website. You can also follow them on their Facebook page for updates and videos.
Prices for three hours of climbing time, instructions and climbing equipment are the following:
€ 22, – Adults
€ 16, – anyone under 18
€ 8, – children's course (from 4 years old)
€ 68, – Family ticket: 2 adults + 2 children (each additional own child 10 €)
* If you use the Neroberg train to get up there, you will receive a 10% discount.
On the next beautiful (or not so beautiful) day literally climb your way to the top of the trees of Wiesbaden at the Neroberg Kletterwald! When you are on the final zip line, don't forget to belt out your best Tarzan yell! Aaaaah-ah-ah-ah-aaaah-ah-ah-ah-aaaah!!
How to Get There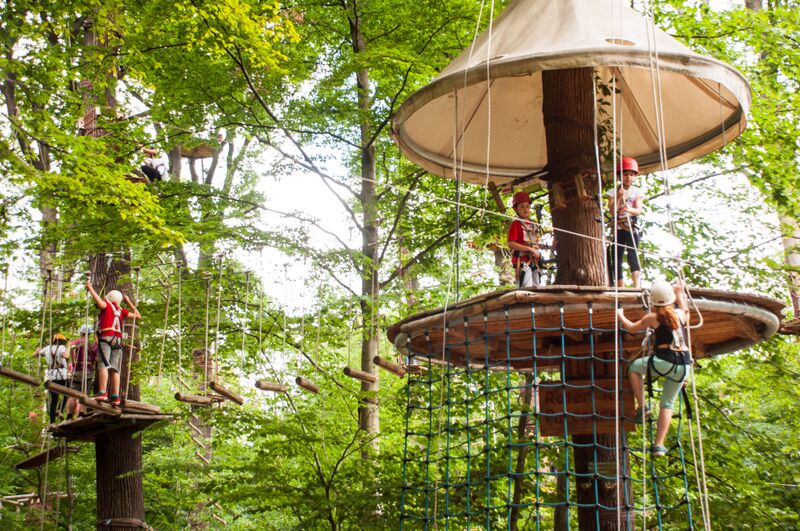 © Gemma
The address is the following:
Neroberg 1
65183 Wiesbaden
Opening hours:
Wed, Thu, Fri: from 2p.m.
Sat, Sun: from 10 a.m.
Neroberg Kletterwald is under a 15 minutes drive north of Wiesbaden, 1 hours and 15 minutes northwest of Kaiserslautern and 2 hours and 30 minutes north of Stuttgart. Click on DB Bahn for train details.
Author's Profile: Gemma is a mom, a veteran and an Army civilian living in Wiesbaden, Germany. With New Jersey roots, she is enjoying her extended European vacation.
Featured Image Photo Credit: © Gemma