Schloss Vollrads is one of the oldest wine estates in the world, dating back to the 13th century. It is located near Wiesbaden and Frankfurt, just a short drive from the KMC.
The estate includes a castle, beautiful restaurant and a working winery. Throughout the year, Schloss Vollrads holds wine tastings and other public events in its Vinothek and produces award winning red and white wines.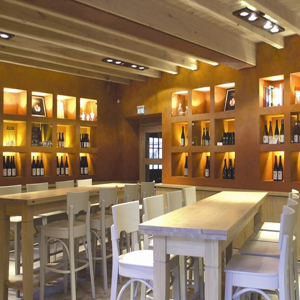 Vinothek hours:
Monday through Friday 9am – 5pm
Saturday, Sunday, Holidays 12am – 5pm
Phone: 06723/6626
Email: christof.cottmann@schlossvollrads.com
The Restaurant at Schloss Vollrads
The estate's restaurant is a real treat. Beautiful, traditional decor greets you inside and a large patio overlooking the grounds welcomes you on the large outdoor premises. The food is a creative take on both a modern and traditional European favorites. Perfect for a special night out.
The menu includes 3-5 course meals ranging from 42-59 Euros.
Make a reservation, dress up a little and treat yourself to a night out in style!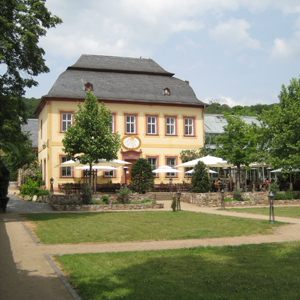 Restaurant hours:
Open: Wednesday to Sunday 12 – 10 pm
Days off: Monday and Tuesday
Reservations:
Phone: +49 (0) 6723/5270
Email: info@schlossvollrads.com
On spring and summer days, the courtyard, terrace, Vinothek, and restaurant at Schloss Vollrads are popular destination spots. The estate is surrounded by leisurely walking paths, a nature trail through the vineyards, and the Schloss Vollrads forest, which is a nature reserve.

Learn more:
Get directions to Schloss Vollrads here.