Food is the most essential part of absolutely any party but when it comes to the Fourth of July, there are only three colors that your guests want to see on their plates: red, white and blue. (Mimosas are excluded from this rule.) Of course you can throw a regular barbecue with burgers and hot dogs and call it a day yet if you really want to win this holiday once and for all, you need to bring out the big desserts.
Caramel cupcakes with cream cheese frosting
Aside from a sublime alliteration, these cupcakes offer the perfect blend of sweet, salty and red, white and blue. If you're in a hurry, you can always use a cake mix and follow the box's instructions instead.
Ingredients:
For the cupcakes:
1 2/3 cups flour
2 eggs
1 cup milk or 1/2 milk, 1/2 buttermilk
1/2 cup softened butter
3/4 cup sugar
2 tsp. baking powder
1 tsp. vanilla essence
1/2 tsp. salt
12-15 pieces of caramel candy, regular or salted
For the frosting:
1/2 stick salted butter
4 oz. cream cheese
2 cups powdered sugar
1 tsp. vanilla essence
Instructions:
Beat the eggs and sugar until fluffy, then add the butter.
Mix the dry ingredients in a separate bowl and add milk.
Fold in egg mixture last.
Fill 1/3 of the muffin sleeve with batter, place a piece caramel candy in the middle and fill another 1/3, repeat until batter is empty
Bake for 20 to 25 minutes at 375°F (ready when a toothpick comes out clean)
Prepare the frosting while they are in the oven.
Mix all the ingredients and whip for a minute until there are no more lumps.
Keep the frosting in the fridge while the cupcakes cool at room temperature.
Assemble cream and cake and use red, white and blue sprinkles to decorate them.
Optional: If you want to go all out, you can use food coloring to dye the frosting and arrange the cupcakes on a big tray to make them look like a flag. Just do a few rows alternating red and white frosting and about a quarter of blue frosted ones in the top left corner.
Tip: Use melted white chocolate to 'draw' stars on a baking sheet and let them harden before topping your masterpiece with them.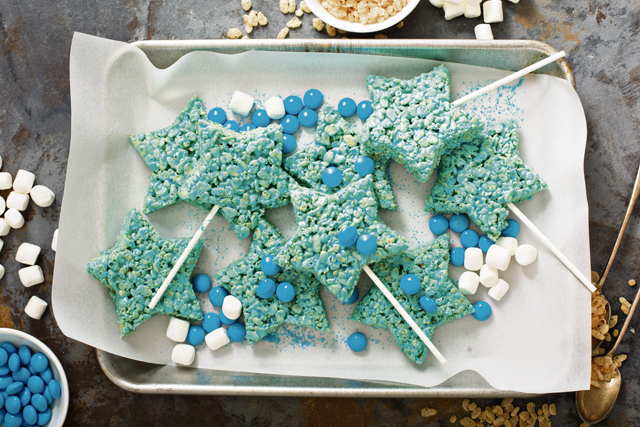 Elena Veselova / shutterstock.com
Rice Krispie Stars
Ingredients:
7 tbsp. Butter
6 cups mini marshmallows
6 cups Rice Krispie cereal
Pinch of vanilla
Food coloring
Instructions:
Melt butter and marshmallows on low heat, add a few drops of red and/or blue food coloring.
Remove the pot from the heat and add cereal.
Mix evenly.
Coat your hands with a bit of butter and either spread on a buttered baking tray and use a cookie cutter to get stars or form them with your hands.
Optional: leave the stars colorless, coat with melted white chocolate and add colored sprinkles. You can get creative here too and try to paint a flag with the sprinkles.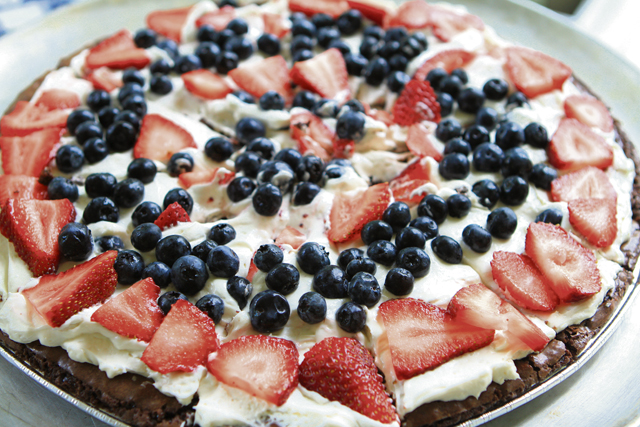 KennStilger47 / shutterstock.com
Fruit Pizza Brownie
This heavenly combination of gooey brownie, fresh cream cheese and fruit is everything you need on a summer afternoon. Again, you can get creative with your choice of fruit and adjust it to your personal preferences.
Ingredients:
Base:
2 cups sugar
1 cup butter
4 eggs
1/2 cup cocoa powder
1 1/4 cups flour
1/2 tsp. baking powder
Pinch of salt
Optional: 1/3 cup of chopped nuts, e.g. walnuts
Topping:
2 cups whipped cream
8 oz. cream cheese
1.5 tbsp. sugar
1 tsp. vanilla extract
1/2 tsp. lemon zest
Berries or fruit of your choice
Instructions:
Melt the butter and let cool while you mix the dry ingredients with the eggs.
Add butter, mix thoroughly.
Bake at 350°F for 25 minutes.
Let the brownies cool off for at least 2 hours.
Whip the heavy cream and cream cheese separately, then fold together.
Add sugar, vanilla and lemon zest.
Garnish with fruit and some mint leaves.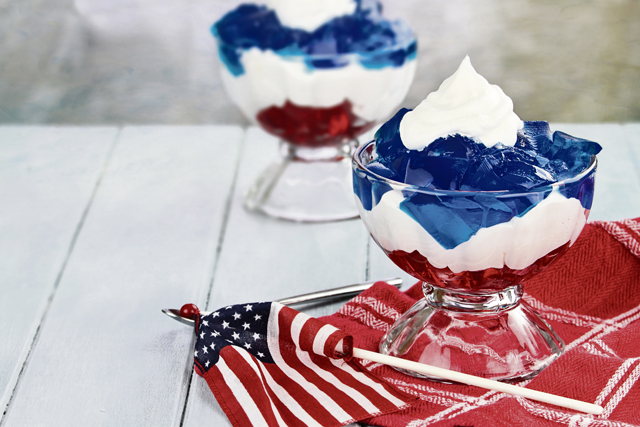 Stephanie Frey / shutterstock.com
Jello Trifle
This majestic Jello Trifle can be prepared in individual sizes, or a trifle bowl.
Ingredients:
1 packet blue gelatin
1 packet red gelatin
1 packet unflavored gelatin
Blueberries
Raspberries
1 cup heavy cream
2 cups sour cream
5 tbsp. sugar
Instructions:
Prepare the blue gelatin according to its packaging and add blueberries.
Pour into bowl while still hot.
Let it sit and cool down before adding the next layer.
Sprinkle unflavored gelatin over 1/2 cup of water in a small pot, let sit for one minute.
Add cream and sugar.
Put it on low heat and stir frequently until the gelatin is dissolved.
Add sour cream.
Pour over blue layer and let sit until cooled completely.
Prepare red gelatin according to its packaging and add raspberries.
Pour into bowl while still hot.
Optional: Garnish with whipped cream and more berries.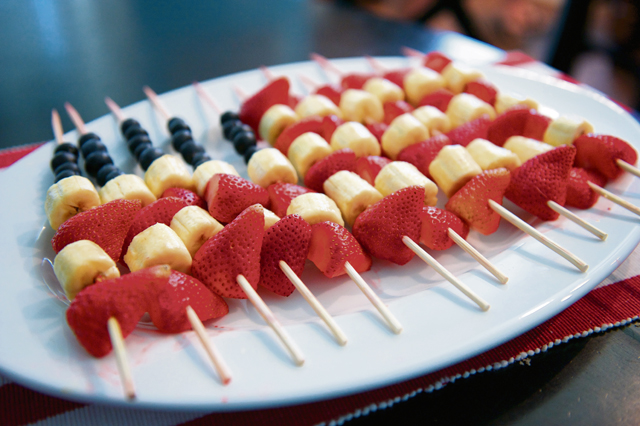 pixelsnap / shutterstock.com
Star Spangled Fruit Skewers
A super simple but equally spectacular staple on your buffet table: star spangled fruit skewers. You can have your pick of red, white and blue fruit like blackberries, dried plums, blueberries; cherries, watermelon, strawberries, raspberries; bananas, pears, apples or spice things up with candy, marshmallows or sponge cake squares. Make sure they are long enough for multiple lines to perfect your artistic masterpiece and don't forget to use wooden skewers instead of plastic ones.
Cherry Stuffed Oreo Cake Pops
So much is happening in the title already but these are actually simple and quick to make, great for keeping children busy and taste fabulous.
Ingredients:
1 package of regular Oreos
8 oz. cream cheese
7 oz. white chocolate
1 tsp. coconut oil
24 cocktail cherries
Instructions:
Crush the cookies with a rolling pin or blend in a food processor.
Add the cream cheese and mix thoroughly.
Take a tablespoon of dough, shape a flat circle with your hands, put a cherry in the middle, form balls.
Let cool in the fridge for at least 20 minutes while you slowly melt the chocolate and coconut oil on low heat.
Dip the cake pops in chocolate and add sprinkles and decoration of your choice
Optional: Add cake pop sticks before coating them.
Cover photo by Supergilr Justfly / shutterstock.com