Portugal is a country of stunning variety. Landscapes range from granite topped mountain chains to golden sand laden coastlines. The history of its people covers everyone from the Moors to the Romans, Christians and Celts. The Portuguese produce some of the best and most complex tasting wines on the planet while simultaneously having perfected the art of eating simply. If you are looking to get away for a short break or full-fledged holiday; cheap flights make this incredible country a fantastic choice.
Whether you want to escape with just the two of you or bring the entire family, Portugal offers up a multitude of phenomenal sights, culinary adventures, and a laid back culture that will have you going back again and again. Don't miss these four places that epitomise the beauty of Portugal.
1. National Palace of Pena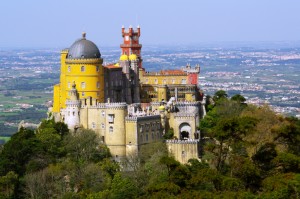 The National Palace of Pena, Palacio Nacional da Pena, is a remarkable UNESCO World Heritage Site overlooking the town of Sintra and is the closest thing you will find to a Portuguese fairytale castle! The Palace was built in 1847 on the ruins of a 16th century monastery. The property boasts one of the finest examples of 19th century Romanticism in the world and is surrounded by a park which covers almost 500 acres – featuring trees and plants from all over the world. The Sintra Festival takes place in June and July. This festival attracts music lovers from around the world. It is definitely an event you won't want to miss.



2. Ponta da Piedade
The enchanting coast of Portugal's Algarve region is dotted with caves and rock formations formed over thousands of years. Ponta da Piedade is a very picturesque location; you can see captivating sandstone towers jutting from the turquoise waters below in harmonious contrast. For the best view you can rent a boat or kayak from Praia da Batata beach in nearby Lagos.
3. Monastery of Alcobaca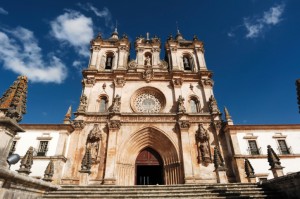 Another one of Portugal's most famous UNESCO World Heritage Sites, the Monastery of Alcobaca, was founded by the very first King of Portugal all the way back in 1153. The church and monastery were the first Gothic buildings ever built in the country, and have had close ties with Portuguese history and culture up until present-day. The Monastery of Alcobaca is an architectural masterpiece with much of the property left intact and in remarkable shape.
4. Douro River Valley
One of Portugal's most beloved scenic landscapes, the Douro River Valley is the centre of Portuguese wine country. A great area for a road trip, where you could easily spend weeks wine tasting, exploring nature, and taking in the slow way of life that the locals practice every day. Thanks to military auto loans on the move, more and more military personnel are enjoying car ownership and this is an ideal location to test out those new wheels.
Bookmark This Page Today for Exclusive Deals

Late summer and early autumn is the best time to visit if you want to see the terraced vineyards overflowing with produce. Be sure to check out the Douro 'vinhateiro' region, a UNESCO World Heritage Site and home to the best vineyards Portugal has to offer. 

Portugal has a thousand places worthy of seeing and things to do but this sampling represents some of the best and most popular in the nation. If you have a few vacation days coming up, why not escape the rain and cloudy skies and head south for sunshine and a healthy dose of adventure?
Check out Ryanair.com for cheap flights from Frankfurt-Hahn (about 1:20h from Kaiserslautern and 1h from Wiesbaden) to four destinations in Portugal.
Author Profile:
Jessica Galbraith
is a writer, American expat, and author of the travel blog The Fly Away American. Find her on Twitter at @flyawayamerican