So the World Cup 2014 Final is approaching this Sunday.  Unless you have been in a time warp in the last few days, you can hardly have missed the news German team just utterly annihilated host nation Brazil with a 7-1 victory to secure their place in the finals.
Although critics have questioned the quality on display, this soccer tournament has undoubtedly been entertaining. From the triumphs of the so called 'lesser nations' such as Algeria or Costa Rica to the failings of the sports' masters such as England and Spain. Much respect went to USA for their courage, skill and athleticism. They were narrowly beaten by a Belgian team, whose players play at some of Europe's top clubs. Judging by the millions of Americans watching this year's World Cup, both the National Team and the sport is certainly on an upward trend.
So why should we get excited for Sunday's match off between Germany and Argentina?
Mixed Emotions
Both Germans and Argentinians will look back on past matchups with mixed emotions. They face each other for a record third time in a final. Germany have had the upper hand in their most recent World Cup contests, defeating Argentina on penalties in Germany in 2006, before beating them again 4-0 in the last World Cup in South Africa. Germany has reached the World Cup final seven times, winning three and losing four. While Argentina has done so four times, winning twice and losing twice.
Mixed Run Up
Argentina have only scored eight goals on route to the final. Whereas, Germany have scored 17. On Tuesday, Germany beat hosts Brazil 7-1 in their semi final, which makes them the highest scorers in World Cup history. The Argentines on the other hand have conceded no goals in knockout stages of the competition and only three in total during the World Cup.
Making History
If Germany wins Sunday's final, it will be their first World Cup title since the country's reunification of West and East. It will also be the first World Cup hosted in the Americas to be won by a European nation. All other World Cups in the Americas were won by South American teams. Finally, it will also mark the first time that three consecutive World Cups are won by teams from the same continent, following Italy and Spain in 2006 and 2010 respectively.
M&M
Argentines will be hoping that the greatest player of his generation, Lionel Messi, will build on the 4 goals he has scored so far in the competition. Whereas Germany will look to their frontman, Thomas Muller, who has scored 5 goals thus far, for inspiration. Both teams have great talent in all areas, with no outstanding weaknesses. So expect a tight affair. Although the Argentines do depend too much on Messi. In contrast, Germany have 4 or 5 creative players that can deliver. Argentina will be hoping that their South American intensity will drive them to victory. Whereas Germany will use their strategic approach in an attempt to win the most coveted trophy in soccer.
Know the Team
Want to impress people around you with your knowledge of the German team? Memorize this list. 11 of these (except the manager) will be in the starting line-up on Sunday. You can also expect 2-3 substations depending on how things progress. The numbers refer to the players' shirt numbers, which also help to identify them when in play:
1. Manuel Neuer – Goalkeeper
2. Kevin Grosskreutz – Defender
3. Matthias Ginter – Defender
4. Benedikt Höwedes – Defender
5. Mats Hummels – Defender
6. Sami Khedira – Midfielder
7. Bastian Schweinsteiger – Midfielder
8. Mesut Özil – Midfielder
9. André Schürrle – Midfielder
10. Lukas Podolski – Midfielder
11. Miroslav Klose – Forward (holds record for most goals scored at a World Cup, which was until Tuesday night held by Brazil's Ronaldo. Ouch)
12. Ron-Robert Zieler – Goalkeeer
13. Thomas Müller – Midfielder
14. Julian Draxler – Midfielder
15. Erik Durm – Defender
16. Philipp Lamm – Defender (Captain)
17. Per Mertesacker – Defender
18. Toni Kroos – Midfielder
19. Mario Götze – Midfielder
20. Jérôme Boateng – Defender
21. Shkodran Mustafi – Defender
22. Roman Weidenfeller – Goalkeeper
23. Christoph Kramer – Midfielder
Manager: Joachim Löw (lovingly referred to as "Yogi")
Get Behind The German Team
Indian Prime Minister Narendra Modi recently said: "Sports brings about a spirit of amity and belongingness among nations of the world. May the FIFA World Cup become a bridge for connecting nations together!". With home nation Brazil recently exiting the competition, you can be sure that their supporters will be routing for a German win over their bitter soccer rivals Argentina. If you like watching goals, creativity and strategy combined together, then you too should get behind the Germans. And besides, they are your second home team!
Where to Watch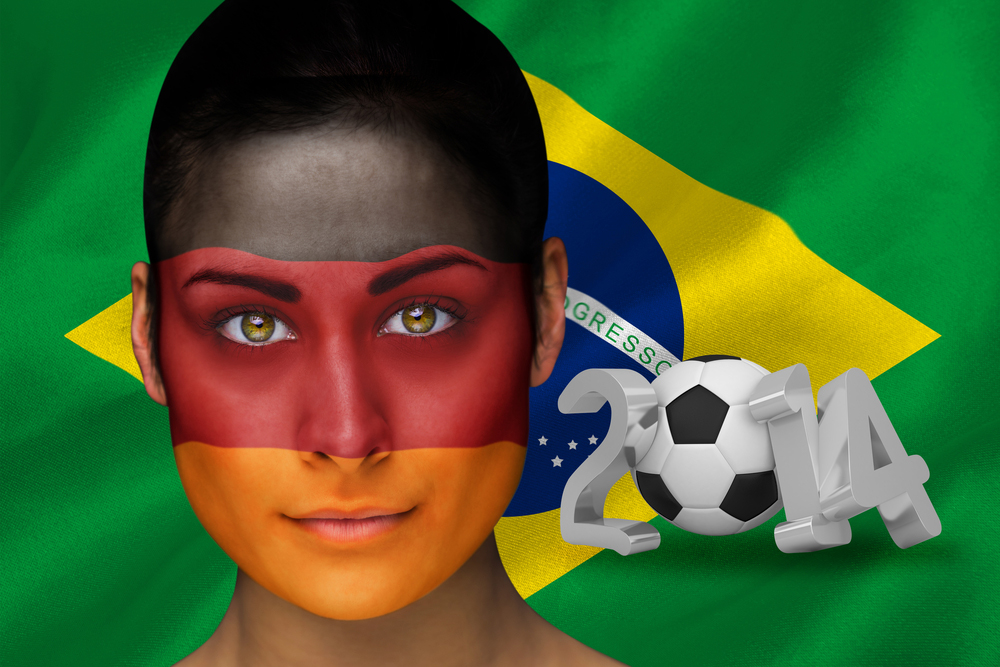 Final; 9pm (German time), Sunday 13th July, Rio de Janeiro
But if you can't make it to Rio… here's some local public viewing areas. Be sure to wear Schwarz-Rot-Gold (Black-Red-Gold) to show your support!
KMC
Brauhaus, Kaiserslautern
Dubliner, Rammstein
FCK Stadium, Kaiserslautern
Fritz-Walter-Stadium, Kaiserslautern
Hannenfass, Kaiserslautern
Chuck's, Kaiserslautern
Stuttgart
Schwabengarten, Leinfelden
Biergarten im Schlossgarten, Stuttgart
Wiesbaden
Kurpark, Wiesbaden
Der Turm restaurant, Neroberg
Magic Bowl, Oberursel (USA vs. Germany game, hosted by U.S. State Dept)
Others
Café Kostbar, Saarbrücken

Viehmarkt Square & Arena, Trier

World of La

zer, Frankenthal