Featured image credit Nick Biemans
Konstanz (Constance) is a lively, yet relaxing famous university town offering a wide range of leisure activities for visitors of all ages. A visit to the old town of Konstanz, which has remained almost unchanged since the Middle Ages, reveals how this traditional trading town came to life. The town's unique location on the shores of what the Germans call Bodensee (Lake Constance) and the River Rhine, along with its proximity to Switzerland, Austria and Liechtenstein, make Konstanz an ideal holiday destination and touring base for excursions in the surrounding region.
Bodensee (Lake Constance)
Bodensee (Lake Constance) is the largest lake in Germany with a surface area of 536 km² and a volume of 48,5 billion m³ of water. At its longest, the lake measures 63 km and at its broadest it measures 14 km between Langenargen (in Germany) and Rorschach (in Switzerland). It's the third largest lake in Central Europe.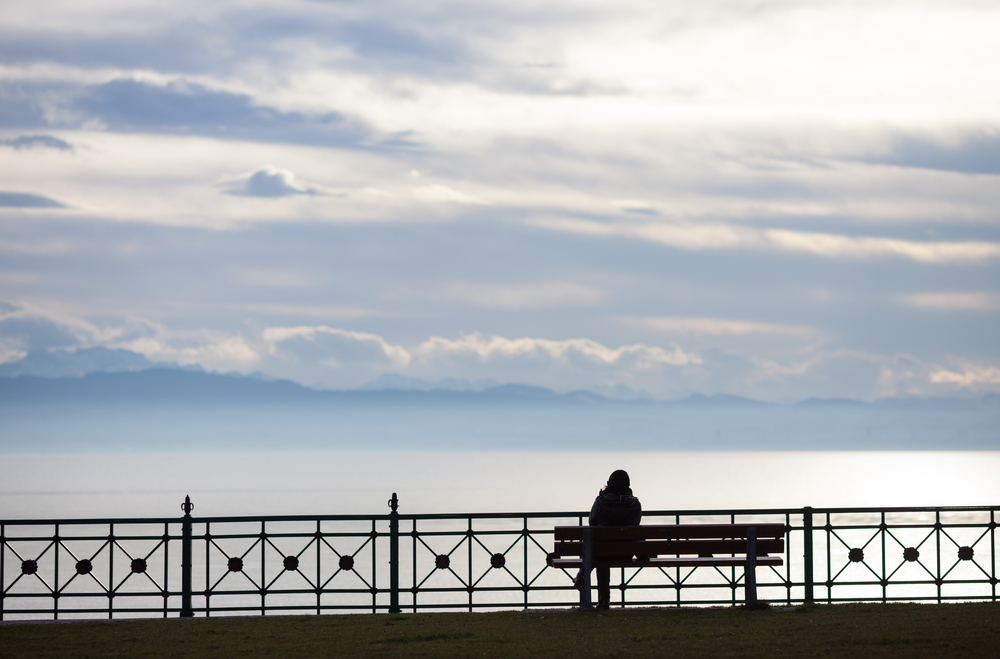 Alex Emanuel Koch / shutterstock.com
Konstanz has had settlers since the Stone Age and became established around 40 AD when the first Roman settlement on the area was recorded. It is home to the University of Konstanz, which for over 1,200 years used to be the Roman-Catholic residence for the Diocese of Konstanz.
The Rhine River as it begins its journey from the Swiss Alps runs across Lake Constance where the north part of the river houses the largest area of the city including the University of Konstanz, Industrial estates and residential areas. Towards the Rhine River's southern side is the old town, lots of shopping facilities and administrative center including the University of Applied Sciences.
There are car ferries available on Lake Constance to connect you with Meersburg, or a Catamaran shuttle service for pedestrians to reach Friedrichshafen.
What to do in Konstanz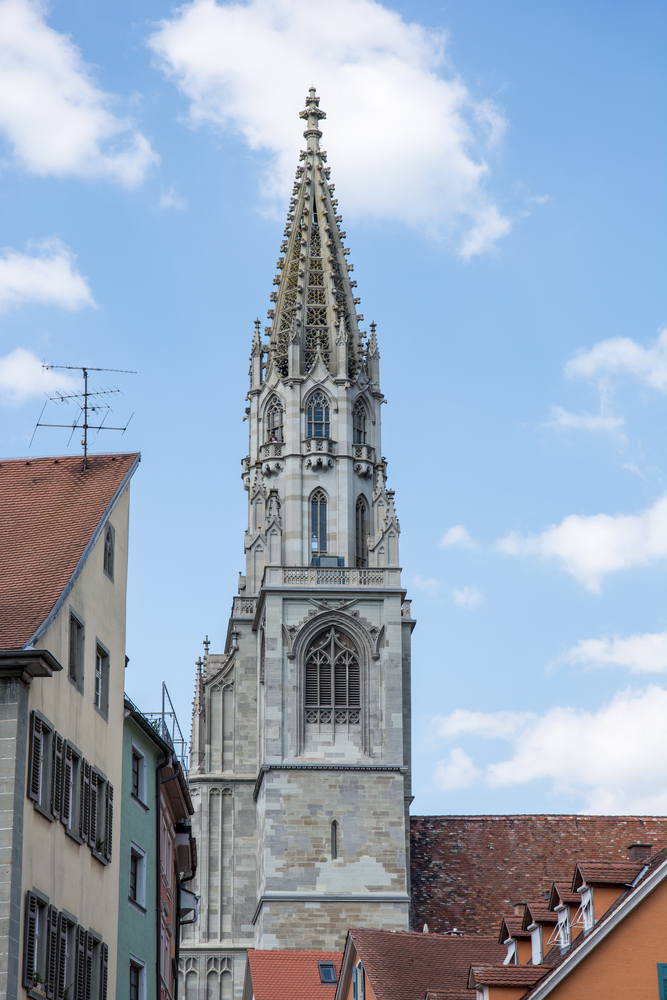 manfredxy / shutter stock.com
There are so many things to do in Konstanz that you might like to grab a guide book as your itinerary or even take a guided tour organised by the tourist office (available in English).
If you prefer independent travel then you might start by visiting Insel Mainau (Island Mainua) by taking a boat where you can view the famous butterfly house, a huge selection of flowers, exhibition halls, souvenir shops, picnic facilities and some beautiful spots for lunch.
The lakefront promenade in Konstanz offers a superb platform for all kinds of outdoor activities. Pedestrians, roller skaters and cyclists all enjoy the perfectly paved promenade and adrenalin junkies looking for a bigger rush will find this is a hot spot for a variety of water sports.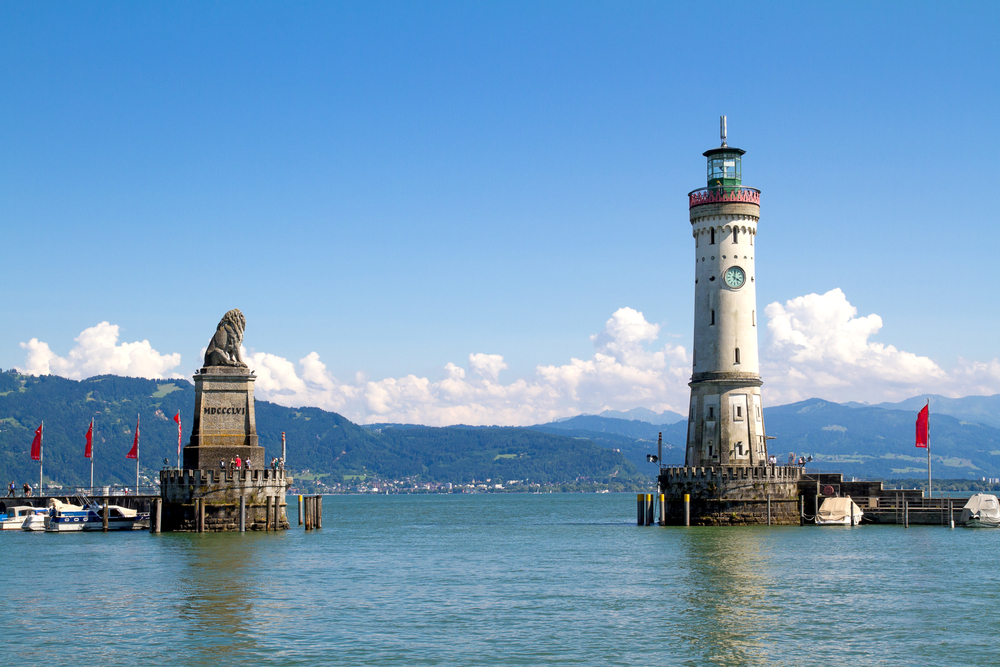 1eyeshut / shutterstock.com
Konstanz is a top lakeside destinations so taking a boat trip is a must once you are there. You can take a boat to such destinations as Bregenz, Lindau, Friedrichshafen, Rohrschacherberg and Mainau. There are boat excursions departing for Schaffhausen and Sten am Rhein for anyone interested in viewing the Rheinfallen (Rhein Falls), the largest plain water waterfall in Europe.
The Petershausen Abbey, a Benedictine monastery was founded in 983 and is well worth a visit. As is the Rosgarten Museum. Once a butchers' guildhall it now highlights regional art and history, with an emphasis on medieval panel painting and sculpture.
If impressive buildings are your thing, then you must see the restored proto-cathedral, Konstanz Minster, which has stood in Konstanz for centuries and is a rather magnificent piece of architecture.
Other main sights in the city include the Konzil edifice that goes back to the 15th century; Niederburg or the Lower Castle, the remains of a Roman fortress; the Schnetztor, a fortified gate which was a part of the old city walls; the 9 meter-tall sculpture known as Imperia; an Archaeological Museum; and the Jan Hus Museum where the life of John Hus is documented. Hus was a Czech priest and philosopher who is considered the first Christian reformer (he lived before Luther and Calvin) and was crudely burned at the stake in 1415 for heresy because of his rebellious attitude towards the catholic church.
A Cycling Holiday
Without a doubt, one of the best ways to experience the whole of Bodensee is to cycle around the lake, taking in several stops along the way. The Bodensee-Radweg (Bodensee Cycle Route) begins in Konstanz and includes three countries and 273km along the way. The cycle path is usually flat, very well maintained and perfect for beginners and families. It's of course possible to do smaller sections of the path if the full 273km seems a bit too much!
Nightlife in Konstanz
Konstanz is a laid back town that will suit anyone looking to party or just relax and soak up a great atmosphere. You can begin with the wonderful atmosphere of the Die Cocktailbar – don't miss the daily happy hour between 6pm – 8pm. Klimper Kasten is another lounge/bar in the old town and a place that blends good music and retro decor with standard beer choices and cocktails.  Also recommended is Heimat and Seerhein to discover something new each time.
Where to Eat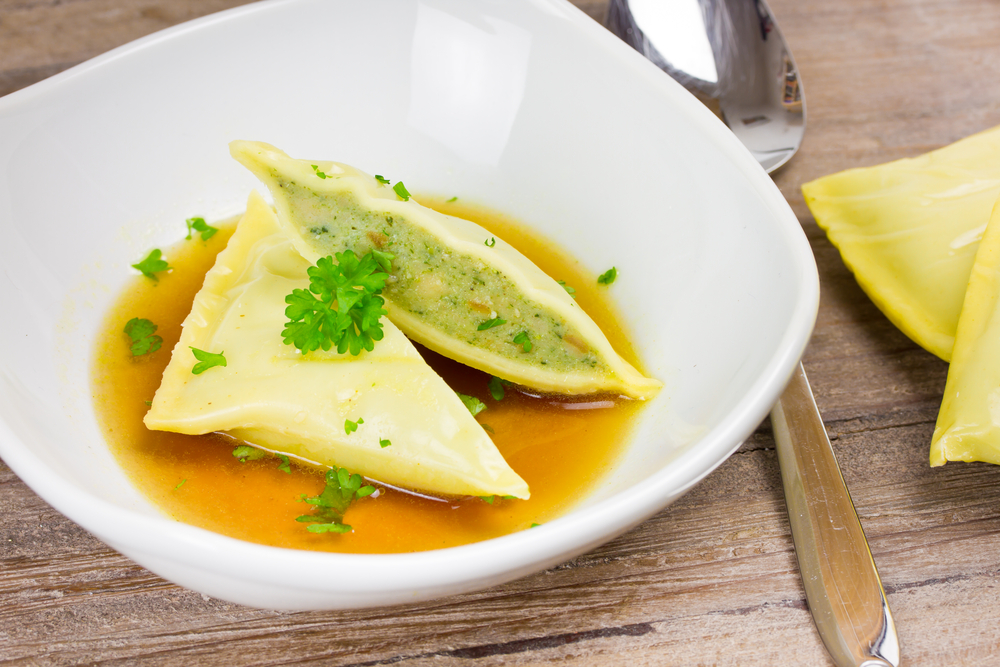 Thomas Francois / shutterstock.com
There are many places to eat in Konstanz and there is no better place to begin your cuisine adventure than Hafenhalle – a wonderful beer garden and restaurant, where you can try the local dish known as Maultaschen (stuffed pasta). The beer garden is a chance to enjoy great German beers and German pub food such as schnitzel, half chickens, wurst and pommes.
There is also a lakeside cafe known as Hote Riva with a sunny terrace and known as one of the coolest places you can be seen in. To grab a lunch time light bite, try the Suppengrün for a fantastic selection of Soups. It has a very kid-friendly modern interior which is great for families.
Konstanz's main square is the home of the Cafe Münsterhof, a very inviting cafe where you can also catch a glimpse of the Minster Church as you feast on apple strudel. You can also get some delicious Singaporean food at the Meera Restaurant. Or try Le Bento, which offers fresh and healthy food, such as salads, smoothies and fresh sandwiches.
Getting There
Driving to Konstanz from Kaiserslautern or Wiesbaden is a surprisingly short 3.5 hour drive. From Stuttgart it's a mere 1.5 hours drive which even makes it suitable for a day trip. But the most relaxing way to arrive is to take the train and start your trip from the minute you leave home.