by Kat Nickola
"I see it!" my son yells. He adjusts his backpack. It is full, with his sleeping bag, mat, and clothes for the night.
"Where?" I ask, hustling along the trail to join him at a bench.
"Over there!" He points through a break in the trees.
Below us, a hidden tree-filled valley opens up to reveal an old castle perched on a cliff. Deep below it, a river has carved a U-bend nearly around the entire castle cliff. This is the Ruine Schmidtburg. A cool crumbling castle ruin, and our campground for the night.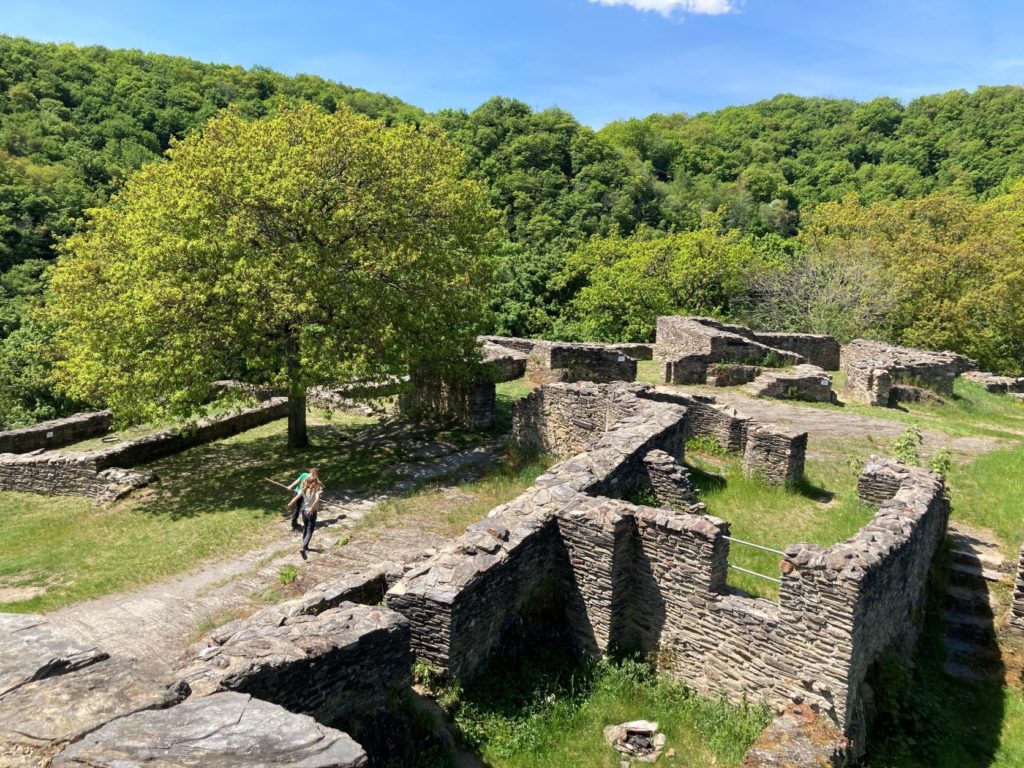 | Military in Germany
The Keyword Here is Trekking Camp
Tent camping can be a bit elusive in Germany. Sure, there seem to be campgrounds all over the place, but they primarily cater to the RV crowd.  It's a bit tough to find nature-inspired places to pitch your tent and have some solitude, especially if you're like my family and enjoy backpacking.
We load our packs with all the essentials – tent, sleeping bags, food, tiny stove, and emergency gear. Then we hike miles into the wilderness and set up camp. And while that type of wild camping isn't allowed in Germany, there is an alternative!
In Germany, if you'd like to 'backpack' camp – search for trekking. Trekking camps are specific natural locations, only accessible via trail,  where you may tent camp. Usually, you must book them ahead of time.  Think along the lines of backcountry campsites in the larger US national parks.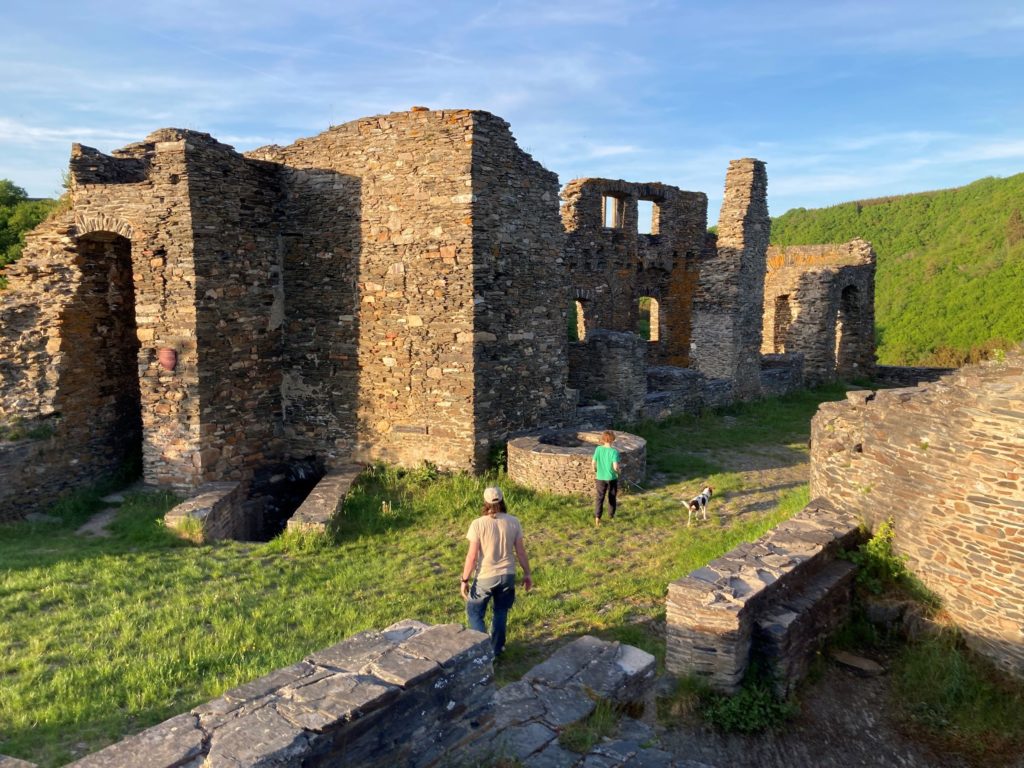 | Military in Germany
A True Medieval Castle
One such site is at the Schmidtburg castle.  The castle was built sometime around the year 926, above a tributary of the Nahe river. It was primarily owned by the Wildgraf family throughout the middle ages, with much family feuding over the ages about whom should control it.
Eventually, it fell into disrepair and was destroyed in 1688 during the Nine Years War (also called The War of the Great Alliance). The area found itself at the fringe of the Holy Roman Empire, and under invasion from France as King Louis XIV attempted to claim Germanic lands.
Restoration in the 1970's and 80's stabilized the castle walls and created an incredible place to camp.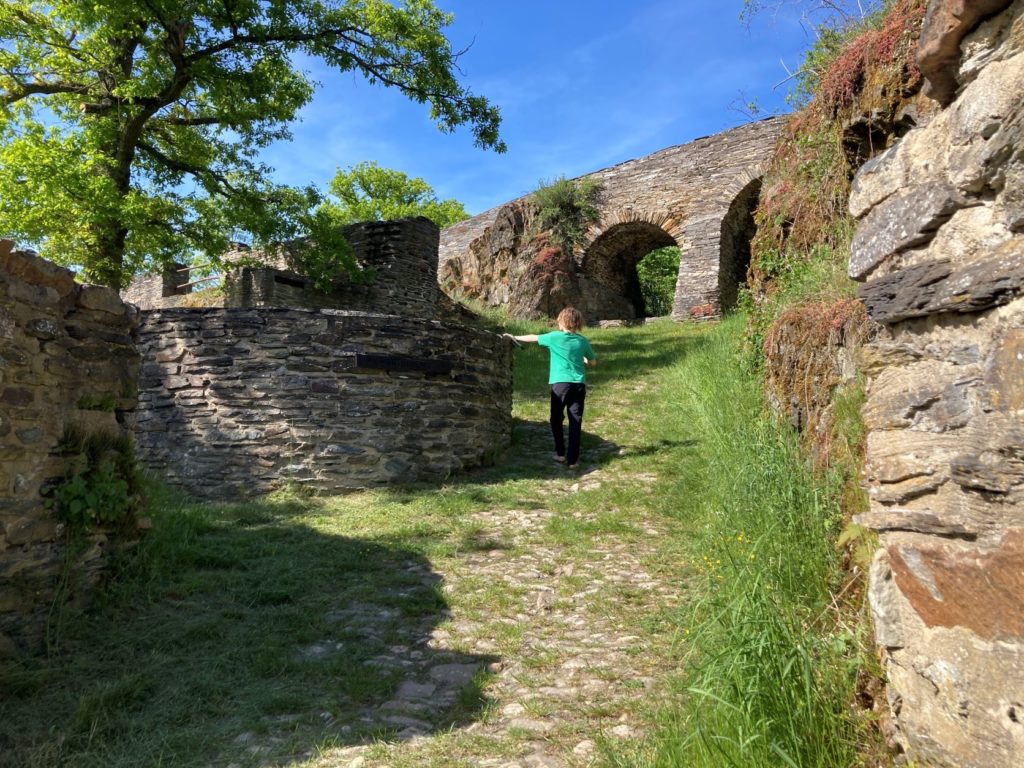 | Military in Germany
Inside the Castle Trekking Camp
Our site, the Nordturm (the North Tower), had four tall walls. All the campsites are also enclosed in former castle rooms with names like Kapelle (Chapel), Zwinger (Kennel), and Mühlenweg (Mill Way). They are open and fairly exposed. So, it was hot on the sunny day we camped.
One small tent may occupy each site. And, while the website said that meant 3 people, we were told 4 people was fine as long as we were in a single small backpacking tent. In addition, there are a few shared-use metal firepans in communal areas.
The castle also has two group sites for multiple tents – one in the burggarten (castle garden) and one in the burghof (castle courtyard). Both sit at lower levels than the single tent sites, so they are a lot shadier. They are still within the castle walls.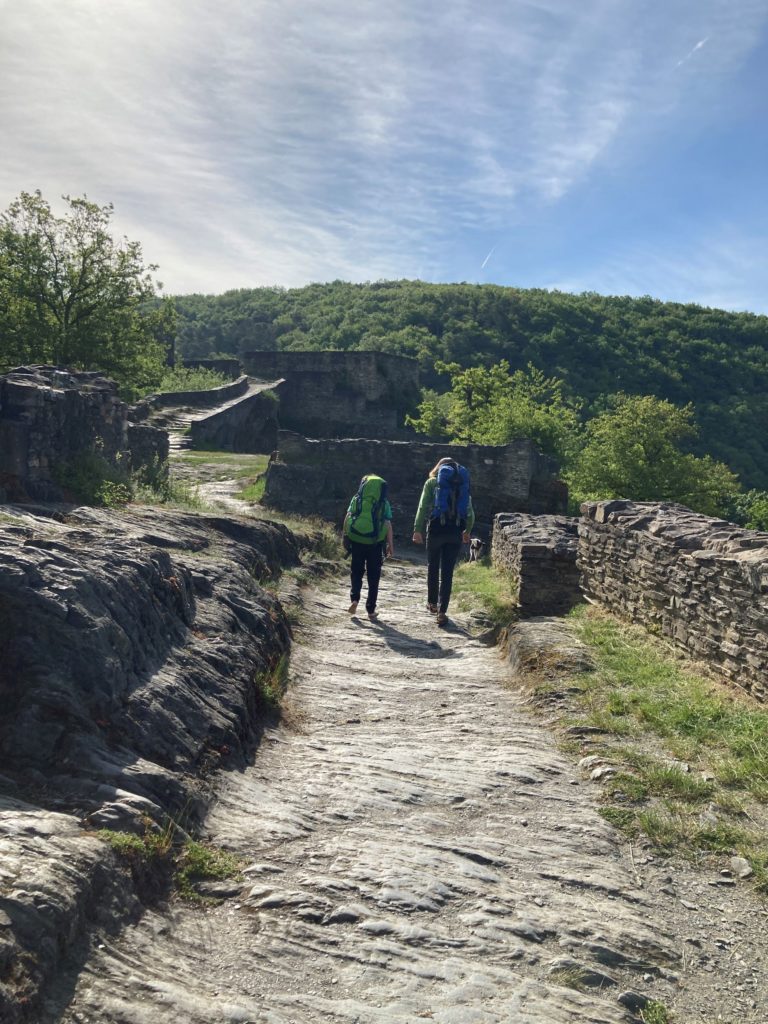 | Military in Germany
You Must Hike In
To get to the Schmidtburg castle trekking camp, you must hike. This can be as close as roughly 1km or a lot further, depending on where you start.
It's important that you are able to carry in a backpack everything you will need for camping, eating, and safety. There are two very clean pit-toilets available. There is also a water spigot which is officially labeled non-potable because it is not treated, but the camp host told us she trusts it as it comes straight from a spring. Use at your own risk. We did!
The castle is intended for use on the Soonwaldsteig long-distance trail. The entire trail runs 84km from the town of Kirn through the mostly wild Soonwald (Soon Forest) along ridges and then down to the Rhine river into the town of Bingen. There are 3 other trekking camps along the trail as well.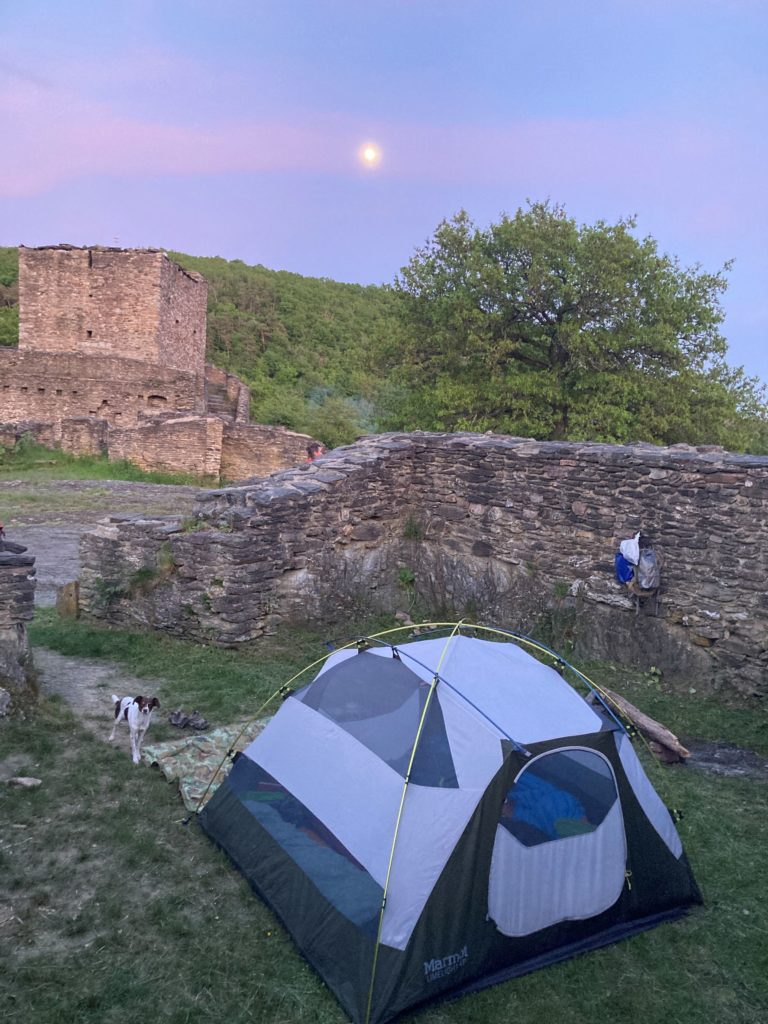 | Military in Germany
A peaceful and relaxing place to camp
After arriving at our campsite and setting up the tent, we spent a quiet day looking around. The castle was a great place for the kids to run around and explore.  It is a pretty big ruin, and you have access to most spaces plus a trail that skirts the entire outer wall.
The lower section, where the camping is, has lots of low-walled rooms and stairways into fun spaces where it's cool to imagine daily life in the middle ages. The upper portion was a defensive area and sits quite high with amazing views.
We also hiked down to the river to cool off and skip stones. In addition, there is a Celtic village and mining museum further along the trail nearby.
There was a full moon during our visit, but I'd expect plenty of stars on dark nights. We slept well listening to the forest and surrounded by medieval castle walls.
For more information