Koblenz combines two features that are fundamental to Germany: history and beauty. This is a city, after all, that was founded by the Romans, and that celebrated 2,000 years of continued existence…in 1992.
This is also a place where two of Germany's most famous rivers, the Rhine and the Mosel, meet: Koblenz is derived from the Latin word for "confluence." With so much water, the hills, riverside, and land surrounding Koblenz teem with life. But it is what Koblenz offers that makes the city worth seeing: plainly put, Koblenz will entertain you and enlighten you.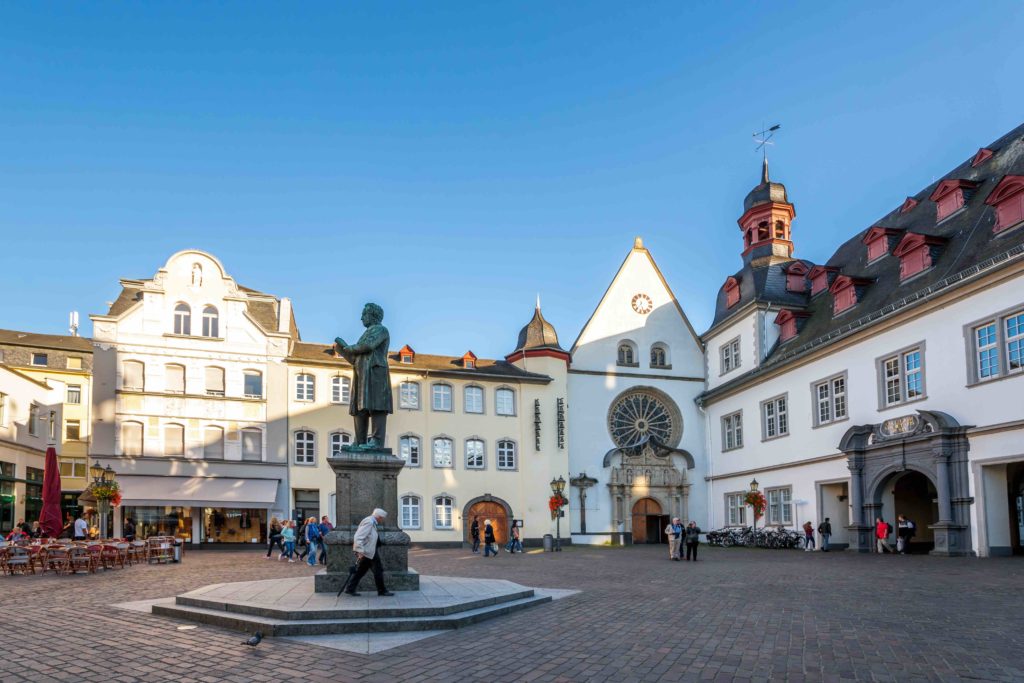 Sina Ettmer Photography
A Short List of Things to Do
It makes sense that transportation is important in Koblenz. After all, goods and services have been transited and traded up and down the rivers for two millennia. Here's a list of to-do's in Koblenz that will get you and your fellow travelers in motion.
Stroll the Rheinanlagen. The Rheinanlagen, or Rhine Gardens Park, offers a 3.5-kilometer stroll along the banks of the Rhine river. It's brilliant any of time of the year, with parks and well-manicured greenery nestled next to the water.
Ride the Koblenz cable car…to an awesome cliff-top fortress. The Koblenz cable car takes visitors more than 300 feet upward, across the Rhine River, and to the famous Ehrenbreitstein Fortress. The fortress offers astounding views, a great park for children, and a chance to wander the fortress grounds.
Keep your eye on this one. Especially relevant for those who appreciate military history, the Wehrtechnische Studiensammlung Koblenz, or Scientific Collection of Defence Engineering Specimens, houses an excellent collection of defense-related items. Unfortunately, the collection is currently closed for COVID-related reasons. But check their website before you go to Koblenz to see if things have changed.
The One Thing You Have to See: The Deutsches Eck
Seeing the Deutsches Eck from the bluff above Koblenz is impressive: a triangular platform juts like a stone arrowhead into the dark water where the Rhine and Mosel rivers meet.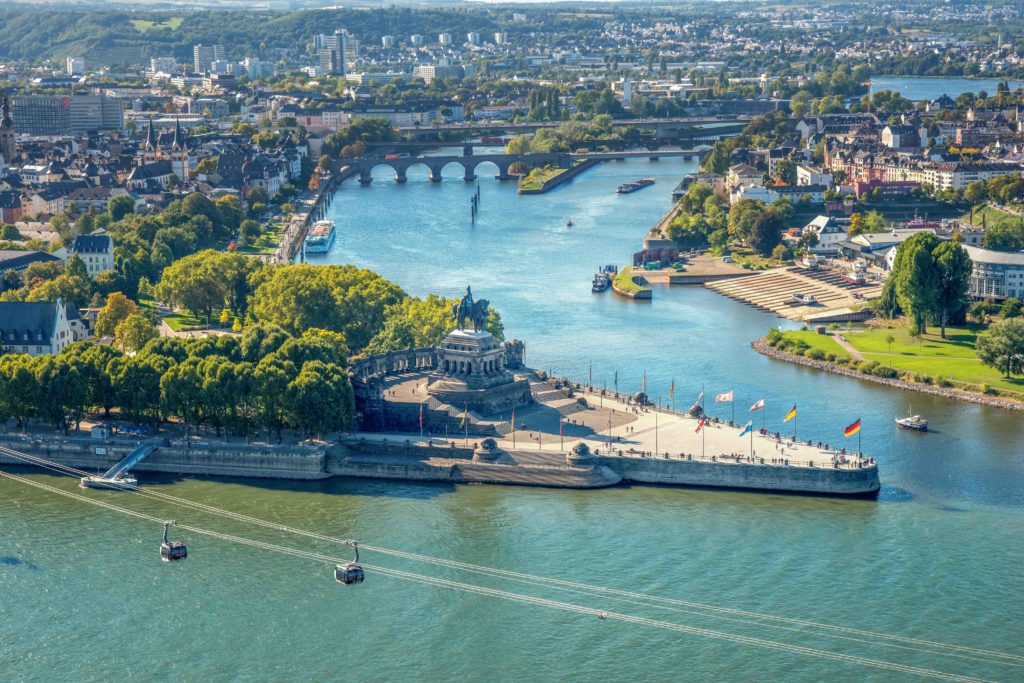 Sina Ettmer Photography/Shutterstock
However, seeing it from that platform is even more impressive. When you're there, faced with the dark flowing water, you get a true sense of the depth that exists in Koblenz. You'll feel a connection to generations of human beings who have stood in that exact spot, just gazing at the water and letting it lead their imaginations downstream. As a bonus, the Kaiser Wilhelm memorial, located in the same spot, is pretty incredible, too.
Getting There
By car, Koblenz is one hour and thirty minutes north of Kaiserslautern, just a bit more than an hour northwest of Wiesbaden and just over three hours northwest of Stuttgart. Visit the Deutsche Bahn website for train information.