Forests are an essential part of Germany. Naturally, autumn is one of the most beautiful seasons around. Golds, oranges and reds are yours to be had all over the country. Get out there and immerse yourself in autumn's grandeur!
One of the chief benefits of living in Germany is that nearly everyone is close to trees. That may sound odd, but consider this: few natural wonders are more wondrous than Germany's forests in autumn.
Germany is famous for its forests, and with good reason. They can be found nearly everywhere, and can be appreciated from almost anywhere. When you drive beautiful two-lane roads through, say, the Black Forest, it's like you've entered into a whole new world. It is literally incredible.
Best of all, you can almost always find (free, no-fee) hiking spots along the way. If you stop and go for a walk (or run, or mountain bike ride), you can lose yourself for hours and come back refreshed.
Since autumn is upon us, here are four great places to begin your leaf appreciation tour.
Black Forest
Even though the Black Forest is famous for its evergreen trees, autumn colors can be found in abundance. Best of all, the ambiance of the Black Forest is perfect for the fall season. There are golden fields, long shadows, gothic villages and comfortable gasthauses in which to warm yourself. As night begins to fall, things might even start to seem a little spooky.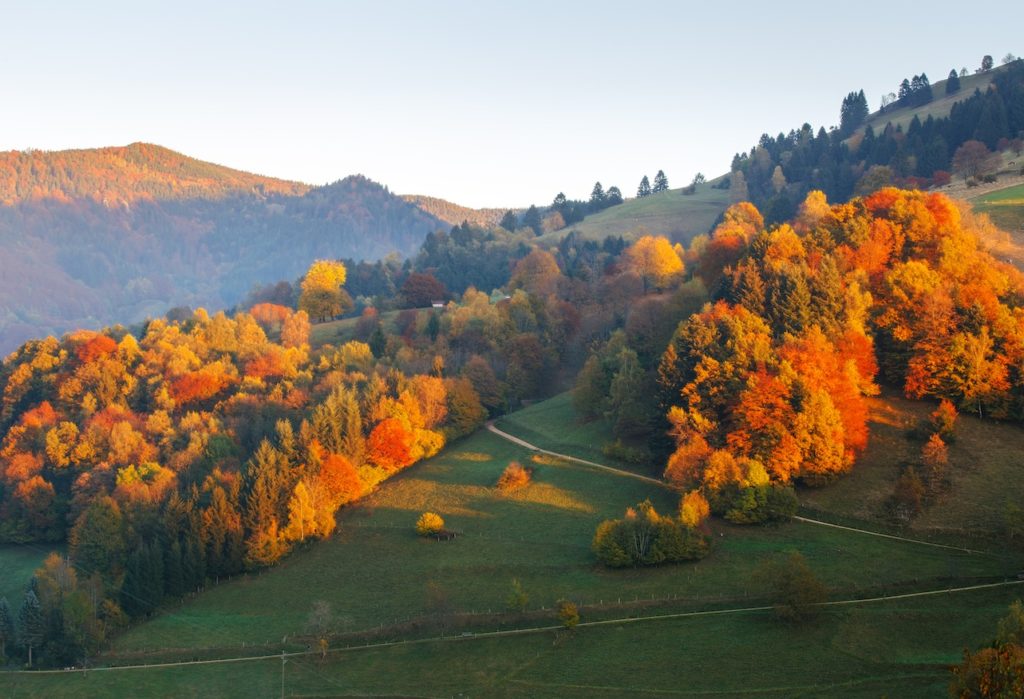 Funny Solution StudioShutterstock
Where to start: This region is ideal for driving, and there are a ton of jumping off points. Start in Pforzheim and wind your way south along Highway 294 to Freudenstadt. Or begin in Baden Baden and dive into the heart of the forest along Highway 500. Whatever route you choose, you won't be disappointed.
Palatinate Forest
For those who live in or near Kaiserslautern, you have natural gold right in your back yard. The Palatinate Forest is absolutely beautiful during the autumn. From a distance, the hills can almost seem like a painting: grand splotches of gold, green and orange intermingle. It's outstanding. And there are an abundance of places to hike and bike in the forest. It's a must-do.

German Wildlife PhotoShutterstock
Where to start: For adventurers, plug "Johanniskreuz" into your GPS and just start driving. Once you get there, pick a direction, go, and enjoy. For those who need a little more precision, Highway 48 from Kaiserslautern to Burg Trifels is tough to beat.
Hessen Spessart Nature Park
The Spessart is a heavily forested range of small, old mountains that stretch from northern Bavaria into Southern Hessen. Going there is like visiting an ancient, almost archetypal version of Germany. Autobahns and large cities disappear, replaced by vast stretches of what feels like well-cultivated wilderness. Parts of the forest are populated by hundreds-year old oak trees, towering beech trees and deep silence. It's especially gorgeous in autumn.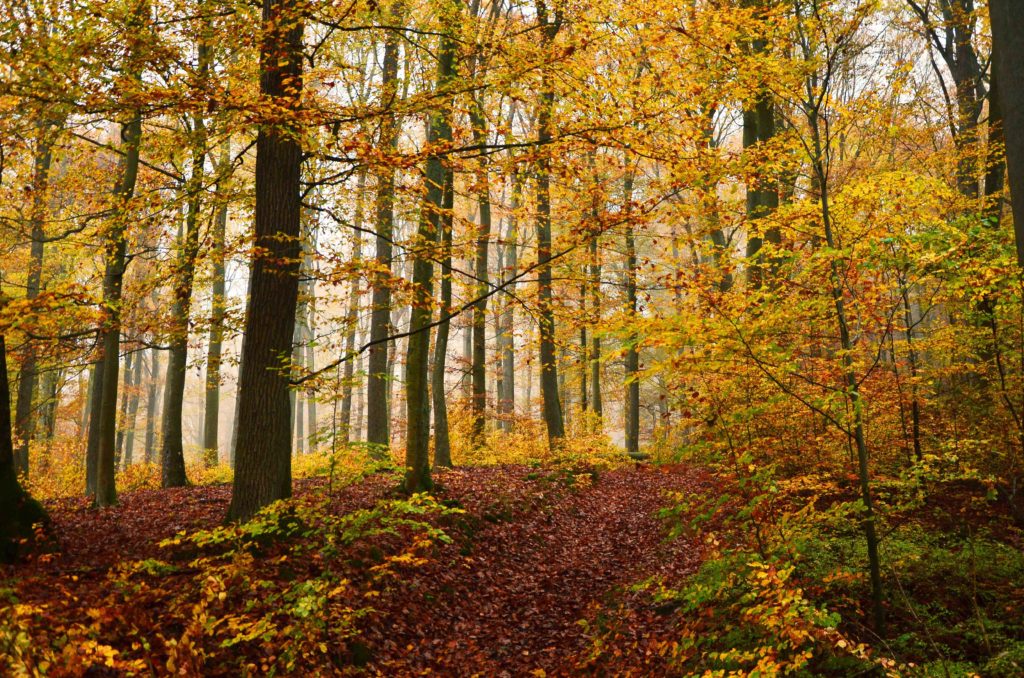 Huy Xiao/Shutterstock.com
Where to start: Begin in Biebergemund, and wind your way southeast along Highway 276 to Lohr am Main. It will give you a great taste of the Spessart, and will provide ample opportunities to take small side roads north or south into the forests.
Vineyards
Autumn is harvest season for German vintners. This much is true. But for anyone who has witnessed hillsides of vines packed with golden leaves, autumn is also leaf-peeping season. Fortunately for most Americans living in Germany, you're rarely far from great wine regions.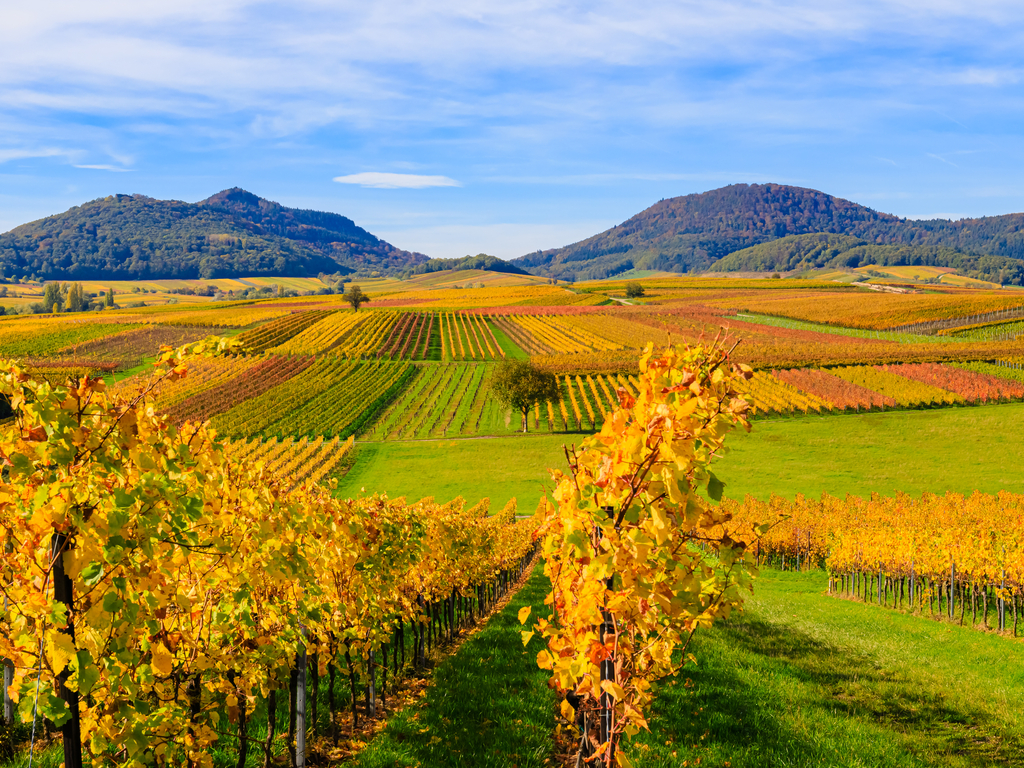 nnattalli/shutterstock
Where to start: The Mosel Region has loads of picturesque views, especially above towns like Piesport or Bernkastel-Kues. Of course, there are also amazing vineyards to see in the Pfalz region or the Nahe region.