The GREATest BRITAIN Road Trip, my favorite destinations in England, Wales and Scotland: read part 1 about Bruges, Dover, Stonehenge here, part 2 about the Roman City Bath here, part 3 about Wales here, part 4 about The Lake District here, part 5 about Hadrian's Wall here, part 6 about the West Coast of Scotland and part 7 about Scotland's Castle Trail here.
I first fell in love with the Outer Hebrides, or Hebs as I call them for no reason at all, during a class trip when I was 18 years old. Do you know how beautiful a piece of nature has to be to convince a social-media addicted, fresh-air-allergy-sufferer and overall hard-to-impress millenial that its cold, rainy, wifi-less shores are the epitome of heaven on earth? Pretty damn beautiful, I tell you.
The islands boast wildlife such as eagles, red deer, otters and spectacular marine life including dolphins, orcas and humpbacks if you're lucky. And I haven't even gotten started on shooting stars and northern lights that can shine so brightly over there because of a complete lack of light pollution. Thanks to the infamous rainy weather, rainbows are extremely likely, sometimes even two at once, and always worth the soaked boots (I called them feet bathtubs throughout my whole trip but that's enough of my travel jargon for one article).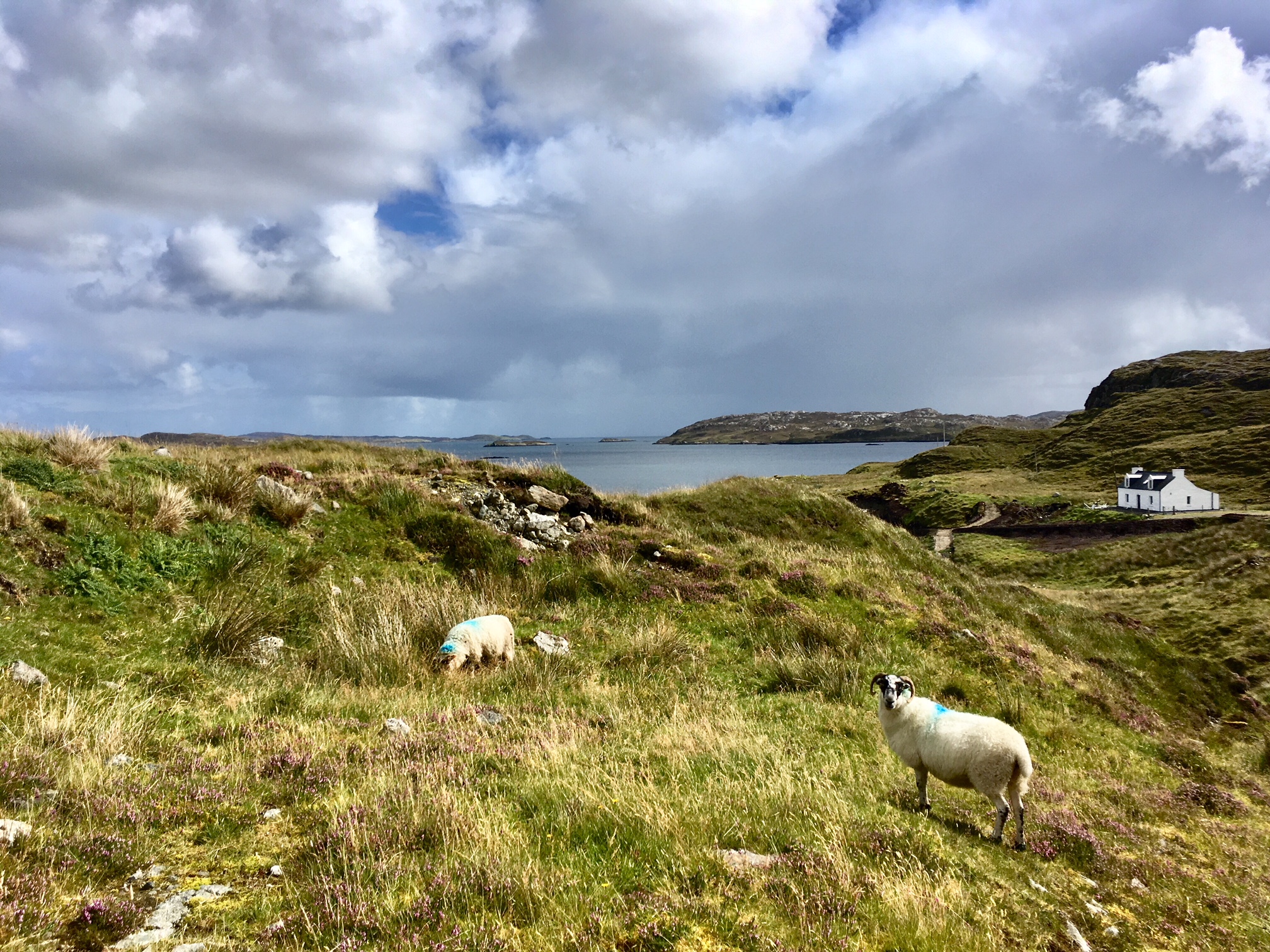 | Military in Germany
The Outer Hebrides are a few small islands off the west coast of Scotland, the biggest one being split into two: Harris and Lewis. North Uist, South Uist and Barra are smaller islands in the south of Harris/Lewis. Additionally, there are more than fifty uninhabited islands that belong to the Outer Hebrides. Its average annual temperature is 44°F/6°C so you can imagine that it's not the ideal place for tanning but summers are quite mild and without uncomfortably cold air, we would never be able to see the Northern Lights so we can't really complain about that either, can we? It rains a lot, which only makes the sunshine that much more appreciated.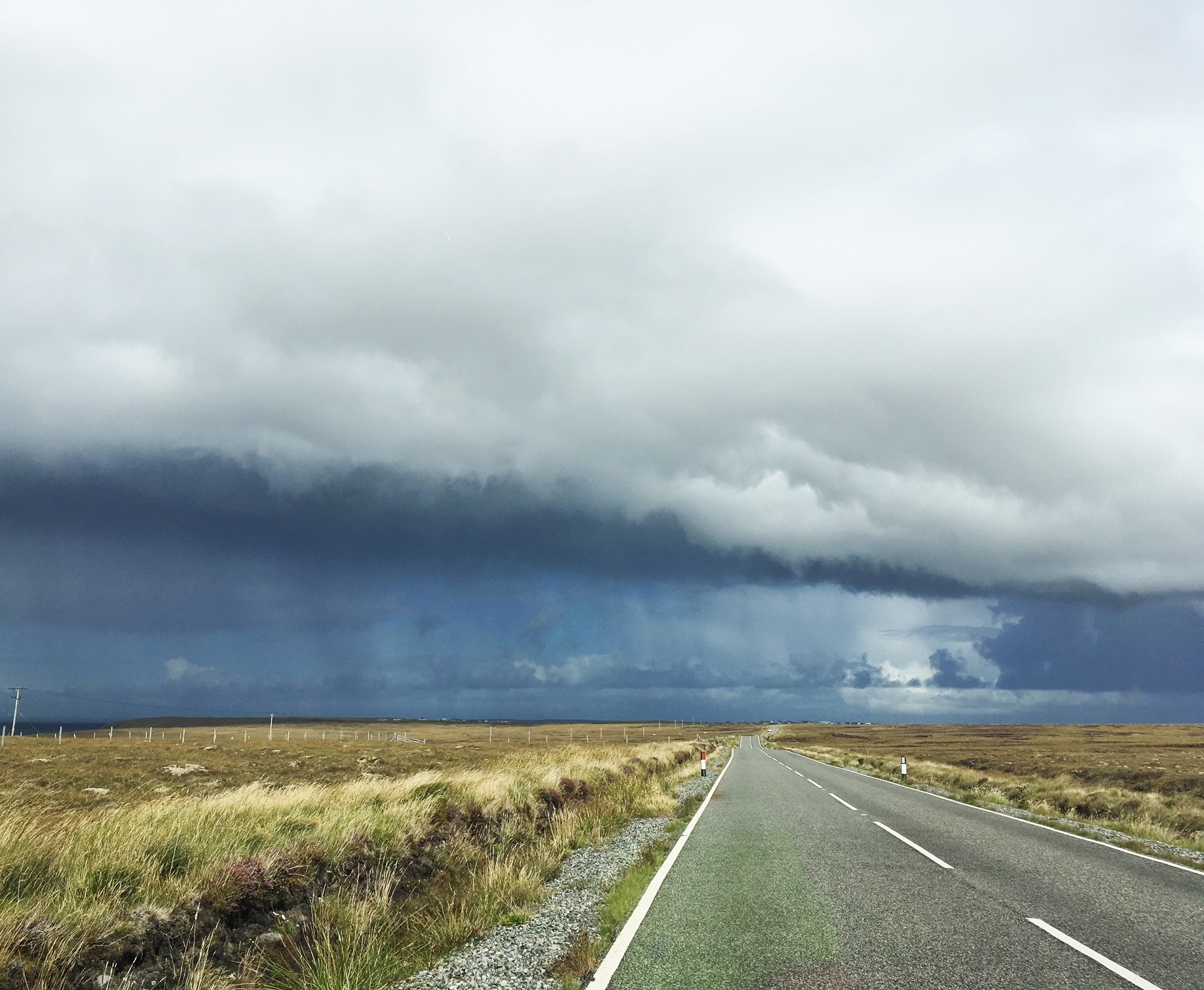 | Military in Germany
Streets are shared with sheep and it's a very wholesome experience. The only kind of traffic jam I want to be stuck in on my morning commute, to be honest.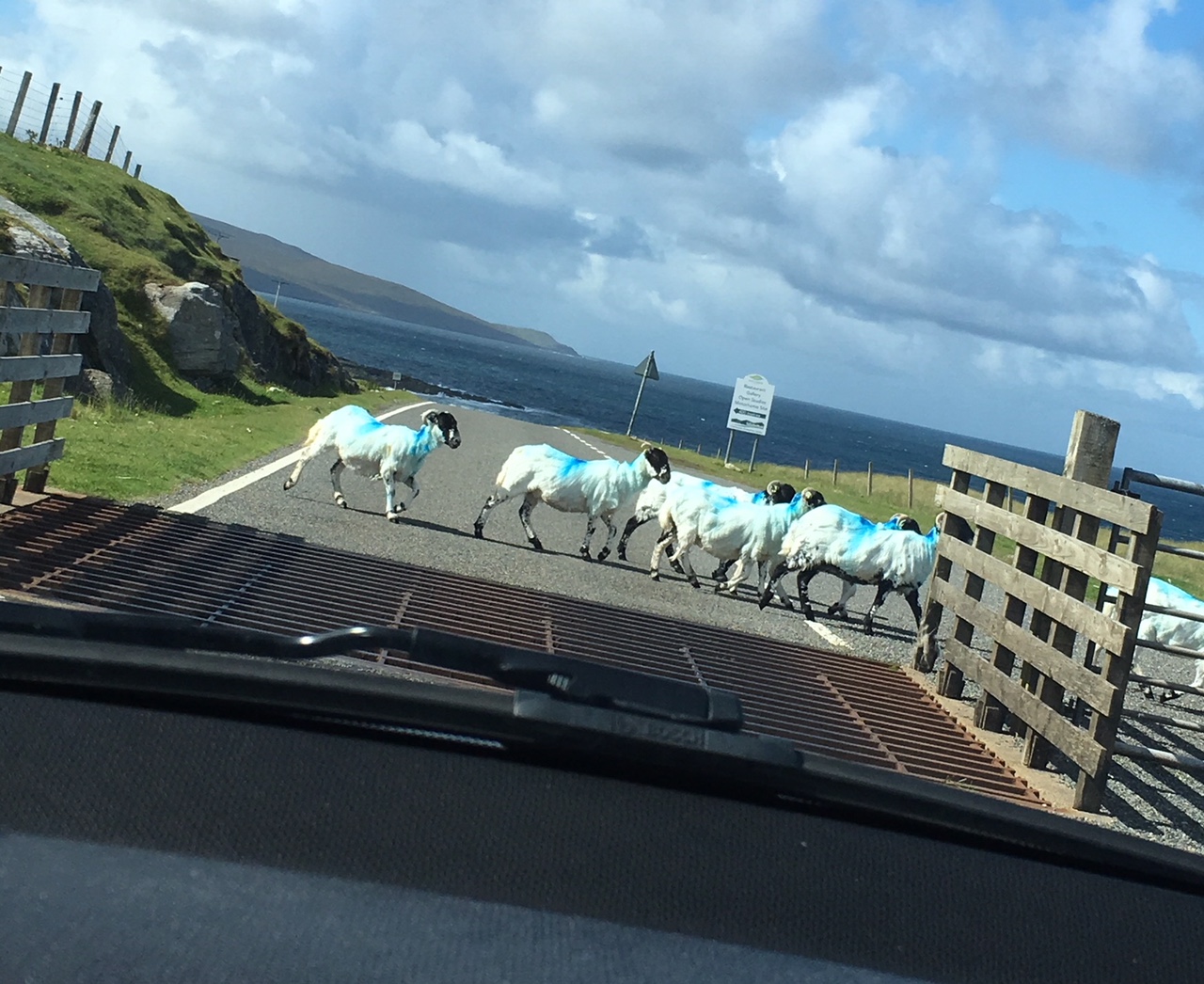 | Military in Germany
Landscape
White, sandy beaches that can compete with the Caribbeans or Bahamas line the western coast of South and North Uist and Harris, while rough waves hit the cliffs and shores of Lewis in the north. During the summer months, the ferries are always packed with cars and travelers but most of the time you will find yourself all alone with the ocean. Where do all these people and camper vans go once they get off the ferry? I have no idea.
All I know is that this is the place to go if you want to become one with nature. There is exactly one large grocery store in Stornoway and about three mini shops spread across the rest of the island so elaborate six-course meals aren't really on the menu here and planning ahead is key. However, you'll find lots of egg boxes along the street where you can just pull over and take some in return for a small fee so a lack of protein is not one of the island's main concerns. Other than that there's not much left to do but listen to the waves and breathe that fresh sea air while you unplug for a few days.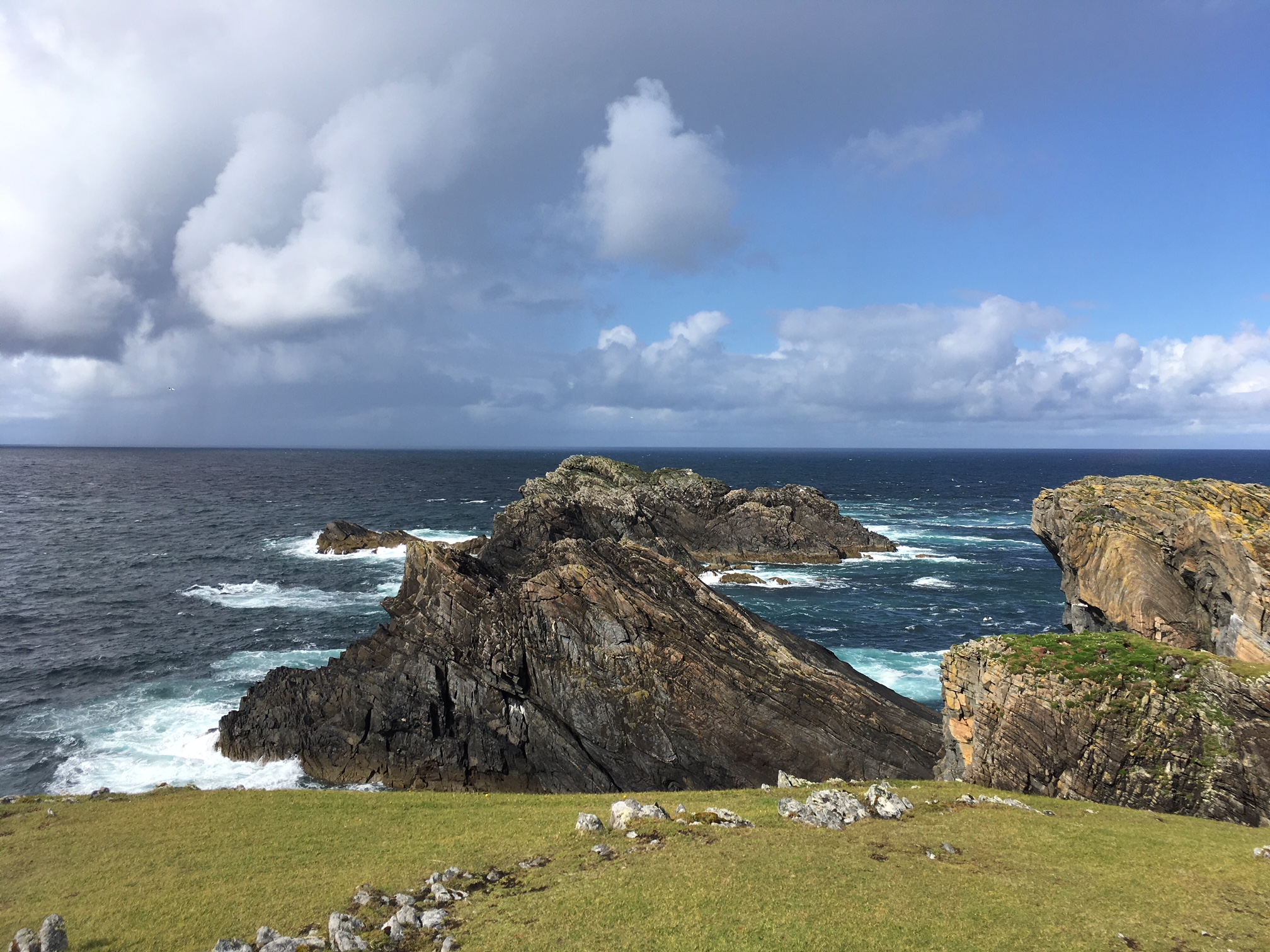 | Military in Germany
History
Stepping onto the island is almost like stepping back in time. Overpopulation, industrialization and nature-desecrating block buildings have not reached the Outer Hebrides, making them an oasis for nature and wildlife lovers. A short drive takes you from Stornoway, the island's biggest and quite modern town with a whopping 8,000 inhabitants, through 4,000 years of history to the Standing Stones of Callanish, which were erected in Neolithic times and aided in rituals during the Bronze Age. Some of the oldest rocks on earth can be found on this little piece of land.
At small shops and cafés (there are very few of them so maybe bring some tea bags just in case), you will hear people nonchalantly speak Gaelic with each other as the islands have the biggest amount of people still able to speak it in all of Scotland. Efforts are made to keep the language alive and the number of speakers did not decrease in the last decade, which I believe is a beautiful sign of the Scots' desire to keep their history alive.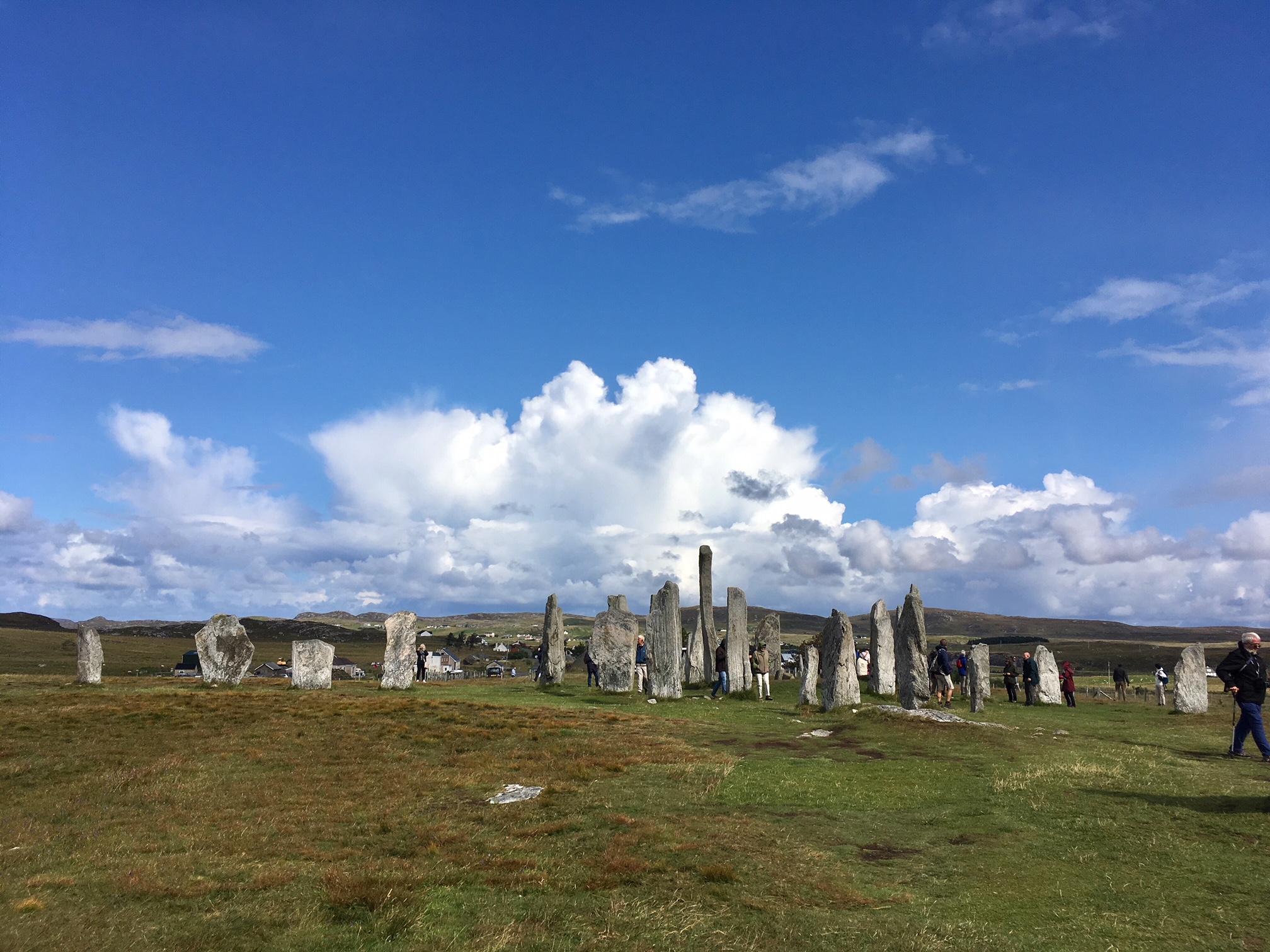 | Military in Germany
Black Houses
If you're interested in finding out more about the island's history and how its inhabitants lived for many years, you may want to visit the fully furnished Arnol Blackhouse on the Isle of Lewis, which shows you inside both a traditional blackhouse (only vacated 1966) with an open peat fire in the center and the more recent answer to it, the Whitehouse just across the Street. Fun fact: there are virtually no trees on the island so dried peat was the only way to make a fire. Nowadays you may only know the scent from whiskey.
Blackhouses are thick-walled dwellings where animals and sometimes multiple generations lived gathered around one fireplace. Thatched roofs made of twigs and heather and overlaid with straw were weighed down with stones. "Communal living" is a key term here as it is hard to imagine how tight the space would have gotten with your pet goats, cattle and even horses, grandma, grandpa and your annoying little siblings sharing one bedroom. To this day, the museum makes sure the fire never goes out. As you can imagine, the island wasn't the easiest place to live back in the day and keeping the fire going was absolutely essential.
Whitehouses didn't house animals inside anymore as a new health bill was introduced in the 1900s and forbade this type of living arrangement. They also contained multiple fire sources throughout the house and chimneys transporting the black peat smoke outside rather than covering the walls, ceilings and lungs in a thick layer of ashes. As a matter of fact, they were named white houses because the interiors were so light and pleasant thanks to wallpapers and windows, which then caused the older houses to be referred to as blackhouses. Before Whitehouses came along they would have been simply called houses. Fascinating, right?
Visit virtualheb.com to take a virtual tour through one of these houses.
Where to Stay
Gearrannan Blackhouse Village is as unique an accommodation as it gets. The historic blackhouses are fully modernized inside with all the charm of two hundred years ago and all the heating, plumbing and comfort of modern times. You can either rent an entire cottage for your family or rent a room or even just a bed in the bunkhouse, which has three bedrooms, two bathrooms, a fully equipped kitchen and seating area. During the summer months, a small café and gift shop as well as a museum depicting traditional island life are open on the premises, too. The houses are for rent in the winter months as well.
The five-house village is *right* next to the ocean with fantastic sunsets over the water, spectacular hiking trails starting right there on your doorstep, sheep greeting you in the morning and an unparalleled serenity all around.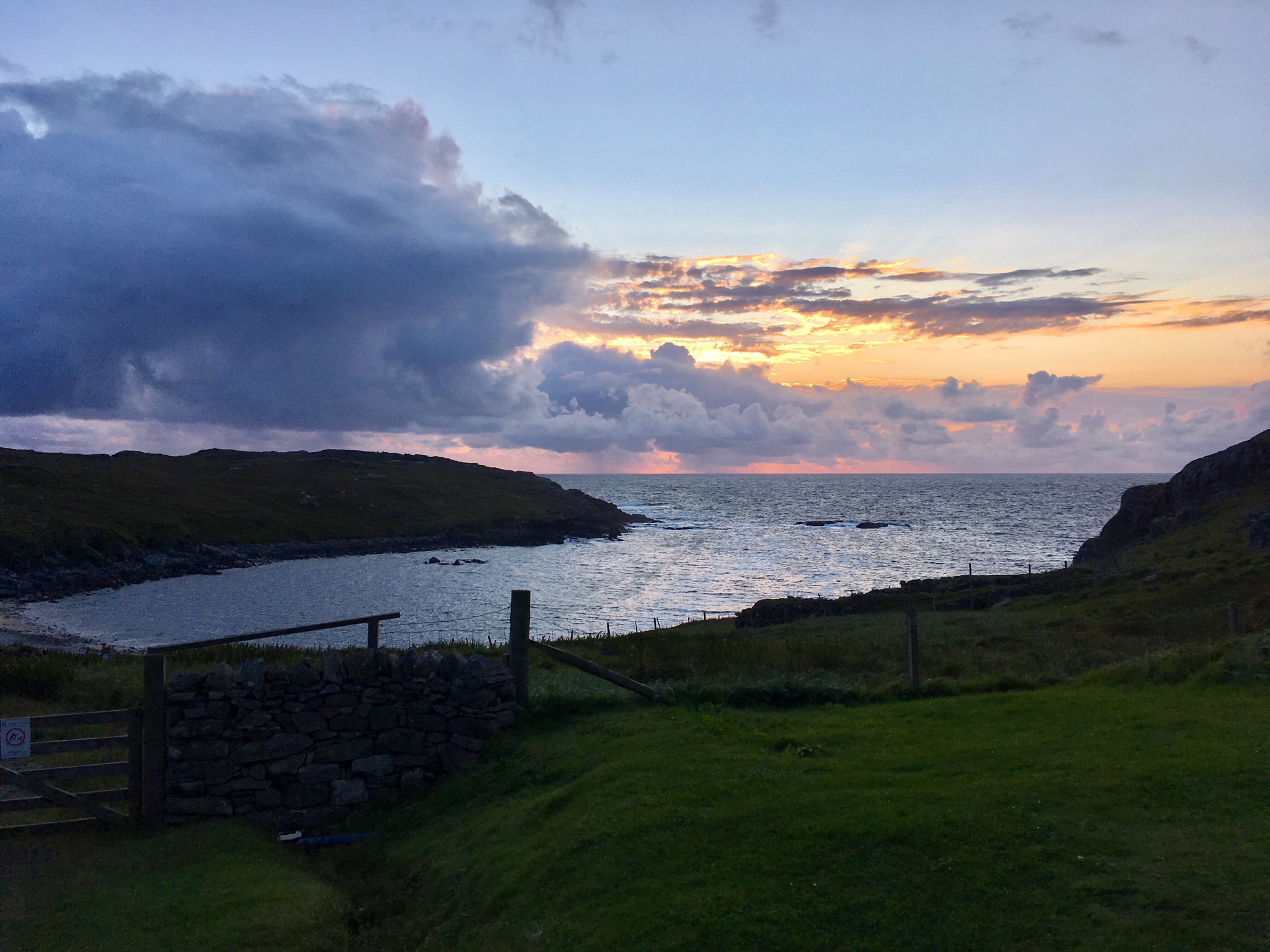 | Military in Germany
Vigadale Guest House
The best place to stay on Harris might be Vigadale Guest House. The B&B is located close to Tarbert Ferry Terminal, only a short drive from the beaches and in the middle of majestical hiking or cycling areas. It is run with love and the famous regional hospitality that will make you feel right at home. There is a guest living and dining room, a guest kitchen, an outdoor seating area and a wooden hot tub from which you can watch the Northern Lights dance it out on a clear night. The owner's daughter learns Gaelic at school and if you ask nicely she might introduce you to a song or two.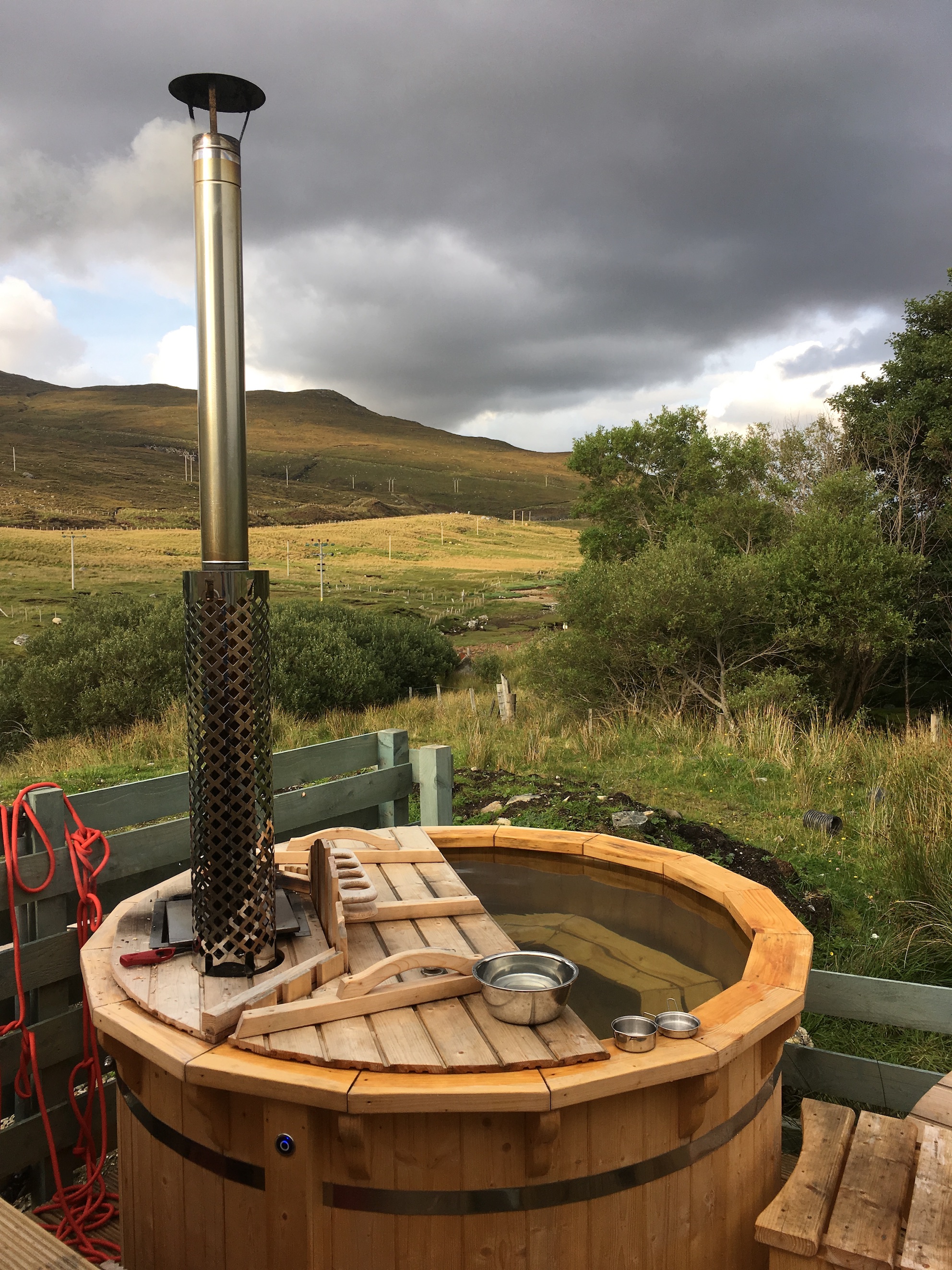 | Military in Germany
There really aren't that many B&Bs or even hostels spread across the four main islands so it is recommended to book in advance as they get really busy during the summer months and failing to spontaneously find accommodation might result in either a very expensive one or you driving all the way up to Stornoway where proper hotels will have availabilities for you. Alternatively, you can always bring a tent or spend the night in your car. For an honesty fee of £5 a night, you can park in many designated areas right next to the beach.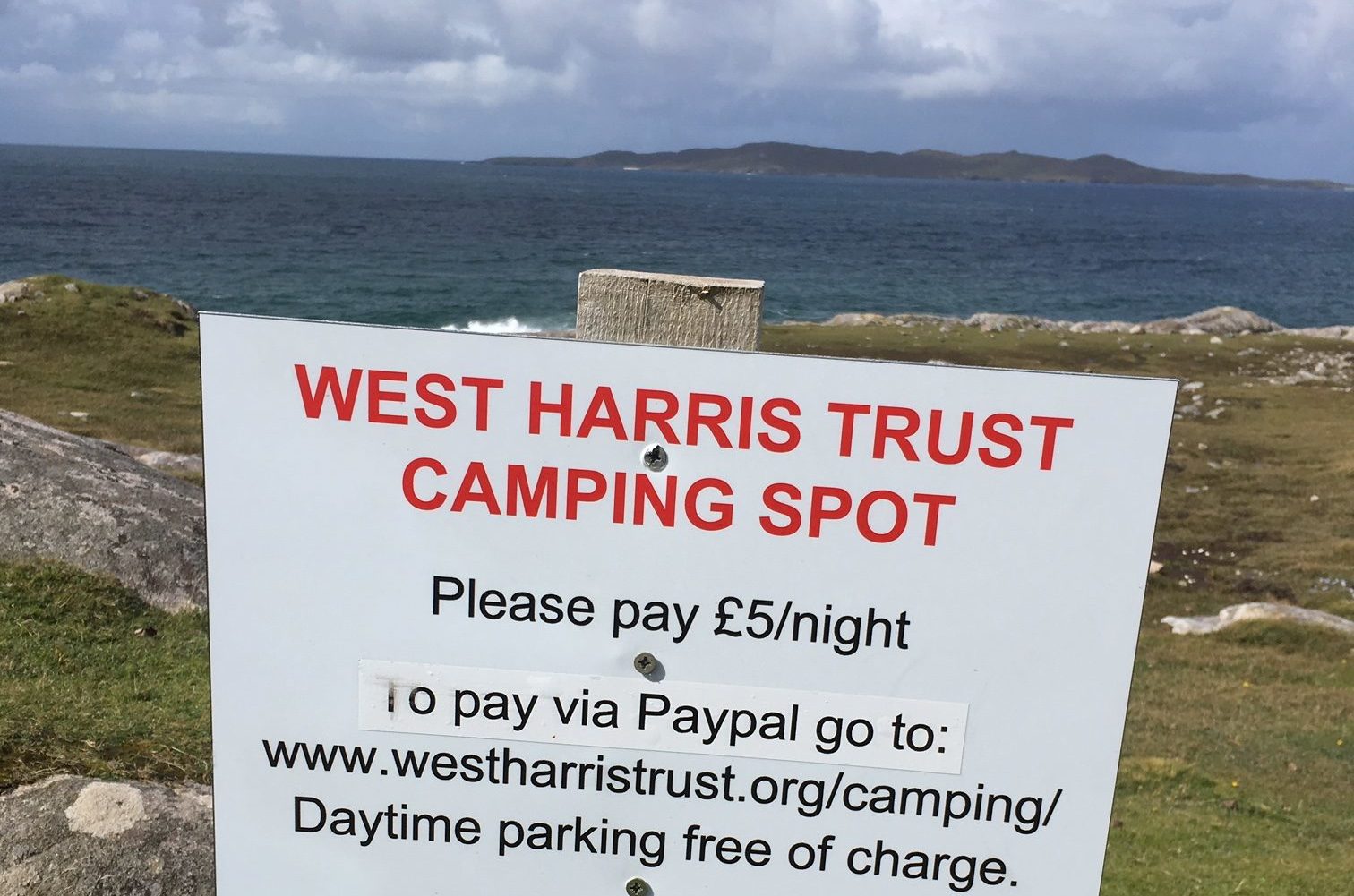 | Military in Germany
Check out booking.com and airbnb.com for private accommodations and see hostel-scotland.co.uk for shared dorms and bunkhouses.
The Temple Café
This beautiful café is located on Harris, south of the Tarbert ferry terminal and en route to the southern islands like Uist and Barra. It has a changing lunch menu, super fresh and homemade dishes with a lovely view of the island's signature scenery. Outdoor seating is perfect for a sunny afternoon while the interior is ideal for cozying up with a mug of hot chocolate. It's open Tuesday through Sunday and now accepts card payments as well!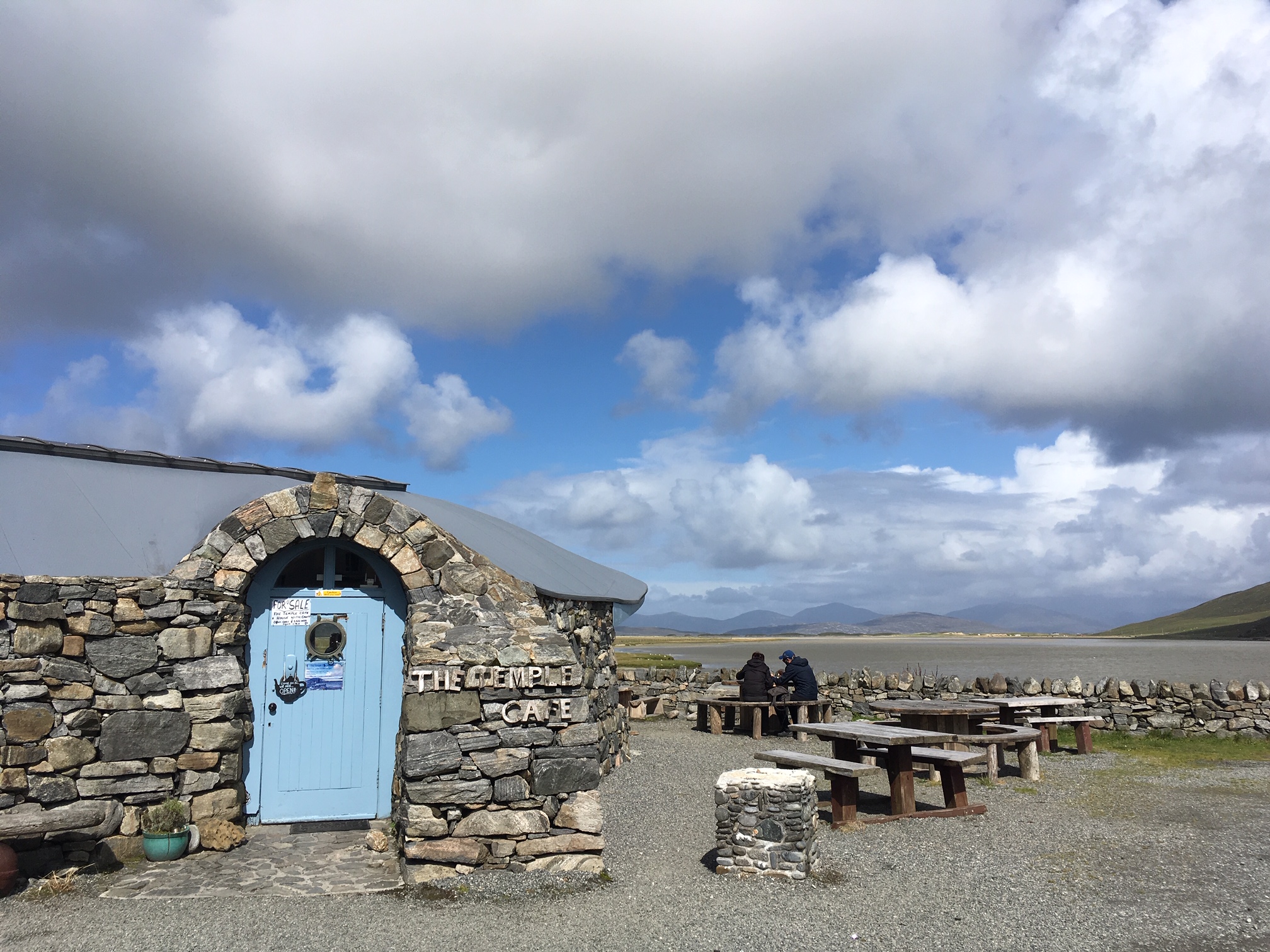 | Military in Germany
Bookmark This Page Today for Exclusive Deals
Stornoway Black Pudding
While you're in Stornoway, you might want to try a Scottish delicacy fittingly called 'Stornoway Black Pudding', which has been called the best sausage made in the UK by The Guardian. It's very similar to the German 'Blutwurst'/ blood sausage and certainly not for everyone but if you can eat a deep fried Mars bar (another one of those weird Scottish delicacies that I actually tried myself and will recommend if you're crazy enough), you can handle a Stornoway Black Pudding, which, another fun fact, may only be called that if produced on the Western Isles.
Getting There
You can drive to Scotland with your own car and while it's certainly a spectacular road trip, it does take quite a while and might not be ideal for a one-week vacation as it includes 2 ferry trips and crosses about 4 countries.
There are flights to Stornoway on Lewis from Manchester and car rental options on site. You can also fly to Edinburgh or Glasgow and explore the beauty of the Scottish Highlands on your way to the island. If you do rent a car on the mainland, make sure to gas up before going on the ferry as Hebridean gas stations are spread out and often more expensive. Ferries leave from Uig on the Isle of Skye (to Tarbert, Harris) and Ullapool in the north of the mainland (to Stornoway, Lewis). You can also get a ferry from Oban, which takes about 4 hours and will take you to beautiful Barra, the southernmost island of the Outer Hebrides. From there, you can take another ferry up to South Uist, drive to North Uist and hop on another quick ferry from North Uist to south Harris. There are special island hopping tariffs so check that out before booking each ticket separately.
P.S. I've already booked my next trip to the Hebs and I can just smell the peat fires whenever I think of it!
Cover Photo by Helen Hotson
Author's profile: Author's profile: Leonie is a poetry-loving literature student with a passion for small towns, road trips, and self-timering photos of her back where she acts like she has no idea a photo is being taken even though she just spent 25 minutes leaning her phone against a patch of grass. When she isn't hopping from one bargain flight to the next, she is making sure you're hanging with the locals and staying updated on events in your area.