It's officially spring and that means the Ludwigsburg Schloss is hosting their annual Straw Sculpture Easter Festival. It runs from March 16 to April 22, so you still have a few weeks to enjoy.
Entering through the main gate, we walked past the bird sanctuary and spring gardens, which led us to the Fest grounds. We noticed the over-sized stuffed hay animals immediately as these amazing sculptures could not help but catch our eye. This exhibit is not only fun but educational. We learned about several different types of hay including hay used for feed, bedding, ground cover and, of course, for stuffing very large sculptures.
Fairytale Garden & Children's Activities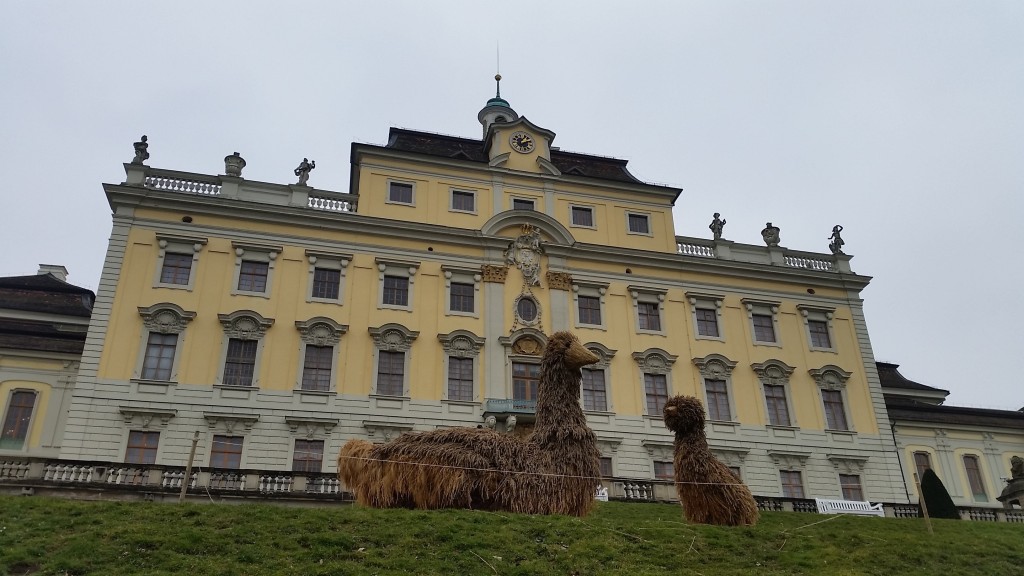 © Wendy Payne
Perfect for families with smaller children, the Fest borders the Fairytale garden area which has several small houses that each tell a story with animated characters. It was super fun trying to guess which fairytale was being told. Please note that the photos shown here are from two years ago. This year's theme is Noah's Ark.
Other activities include:
• Boat rides through the Fairytale garden area
• Rapunzel's castle tower
• Goat petting area and other animal pens (bunny rabbits and sheep)
• Egg painting (this might be on the weekends only)
• Hay maze (not very tall, so it's easy to keep an eye on your little ones)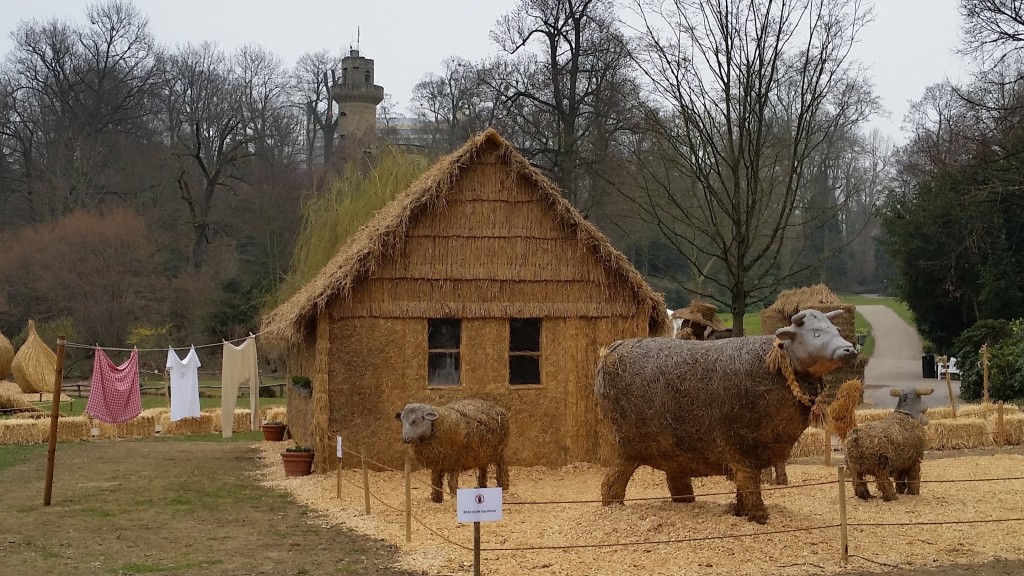 © Wendy Payne
(Little house made of straw… Hmmm, which fairytale?)
• Hay Maze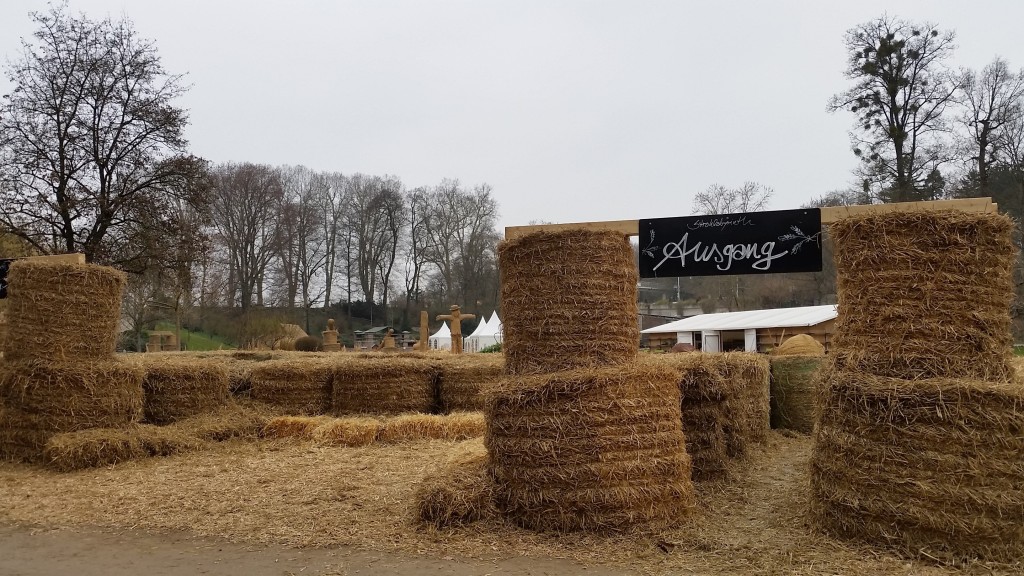 © Wendy Payne
Food and Treats
It wouldn't be a Fest in Germany if it didn't have great food. Flammkuchen, roasted pumpkin seeds, nuts, cakes and other treats are available. Take heart, there is an indoor café if you happen to go on a chilly day. We also saw a great gift shop that had several hand-made crafts including goat's milk soap.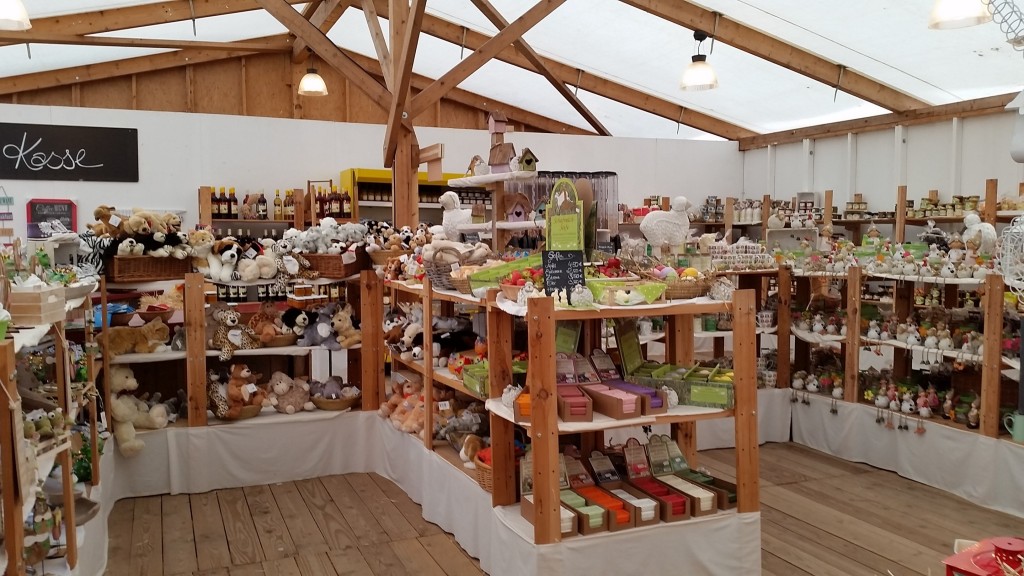 © Wendy Payne
Tickets & Information
Ticket and other information can be found on the Blühenden Barock Ludwigsburg  website.
Day tickets Blooming Baroque with fairytale garden for the following are:
• Adults € 9
• Children (4-15 years), students (with valid ID) € 4.50
• Family card 1 (one adult and 2 children (4-15 years)) € 17.00
• Family ticket 2 (two adults and two children (4-15 years)) € 25.00
• Each additional child in a family (not applicable to groups of children, such as, for example, kindergartens, schools or children's birthday parties and only in connection with the purchase of the family pass 1 or 2) € 3.30
Additional information for groups and special needs individuals can be found on the website as well. Our ticket also included the Ludwigsburg's Favorite Schloss (directly opposite the Ludwigsburg Schloss), which had goats just roaming around. This hunting lodge and summer residence was built in 1717 and was never intended as a permanent residence. Tours run on the hour this time of year, so you'll want to plan accordingly if you would like to take a tour.
Directions and Parking
Ludwigsburg has several parking garages close by. We went midweek and found street parking. I know, rare. This is the link for a parking map for the entire Ludwigsburg area, you can punch the address into the GPS or an App. From Stuttgart, it took us about 35 minutes with some traffic. It really does help if you know where you are going to park ahead of time. By car Ludwigsburg is just under 2 hours southeast of Kaiserslautern and approximately 2 hours south of Wiesbaden. Click on DB Bahn for train details.
Hay, I hope you have a great time!
Author's Profile: Wendy Payne is a military spouse and lives with her family in Stuttgart, Germany. She is a freelance writer, blogger and photographer. She also enjoys gardening, hiking, yoga and sharing Europe with people.
Featured Image Photo Credit:  © Wendy Payne