Passau is one of eastern Bavaria's best destinations. Located at the confluence of three rivers (including the mighty Danube), the city has history, an amazing castle, brilliant Baroque churches, and a rocking downtown. It's also a stone's throw from Austria and a short drive to Czechia, which makes it a perfect stop for travelers heading east.
Shaped by rivers
Passau has been inhabited for millennia. Celts settled here thousands of years ago, and the Romans made it theirs, too. This ancient love for Passau's location is not surprising, considering that the city sits at the confluence of the Danube, Inn, and Ilz rivers.

Karl Allen Lugmayer / Shutterstock.com
For modern travelers, this confluence is fantastic, because it offers natural beauty, culture, history, education and entertainment. There are also chances to get up close and personal with the water. Not surprisingly, boat tours are plentiful, and really well done. There are also loads of riverside walks, which offer peace, quiet (sometimes), and lovely views (almost always). The famous Schaibling Tower is a popular destination on the Dreiflüsseeck (three-river confluence) peninsula.
The peninsula itself is awesome. A sprawling, wonderful pedestrian zone – loaded with shops, restaurants, bars, and more – covers most of it. Naturally, there is a feeling of perpetual positive energy in downtown Passau. It's as if the ceaseless motion of the three rivers affects all who encounter them.
A fortress worth exploring
The mighty Fortress Veste Oberhaus is located just across the Danube from the Dreiflüsseeck. More than 800 years old, the Veste Oberhaus is one of the best-preserved hilltop castles in Europe.
It also offers the best views in Passau, and the best views of Passau. Once inside, visitors can enjoy the fascinating Oberhausmuseum, which provides insights into the east-west cultural mix that defines Passau. Kids (and lots of adults, too) will love the antique fire truck exhibit, the suits of armor, the crowns, and the jewels. They'll love exploring the castle even more. Visitors have a lot of leeway to look around once inside.
One cathedral, one organ, 17,974 pipes
St. Stephen's Cathedral is probably Passau's most-visited landmark. For good reason, too: the place is incredible. Located in the heart of the pedestrian zone, its green bulb domes are the defining feature of Passau's cityscape, and the interior is gilded and massive. Even for veteran European church tourists, St. Stephen's is impressive.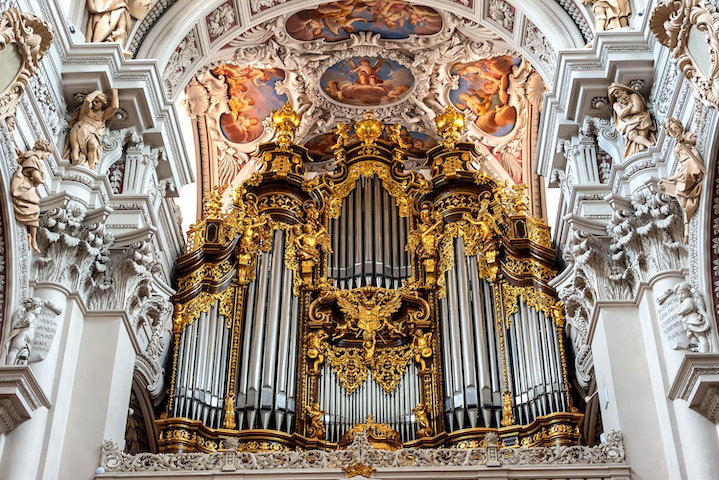 Karl Allen Lugmayer / Shutterstock.com
It also lays claim to the largest organ in the world, with nearly 18,000 pipes (for comparison, Paris' famous Cathedral de Notre Dame "only" has 8,000 pipes). Accordingly, catching an organ concert is a once-in-a-lifetime experience.
Wander-ful Passau
Mostly, Passau is a magnificent place to wander. After seeing St. Stephen's, visitors can relax in the adjacent Residenzplatz and admire the outstanding Wittelsbach Fountain. Not far away is the Höllgasse, with the unexpectedly colorful (and beautiful) Art Alley, where visitors can find dozens of artists. All around, there are places to shop, eat, drink, and explore.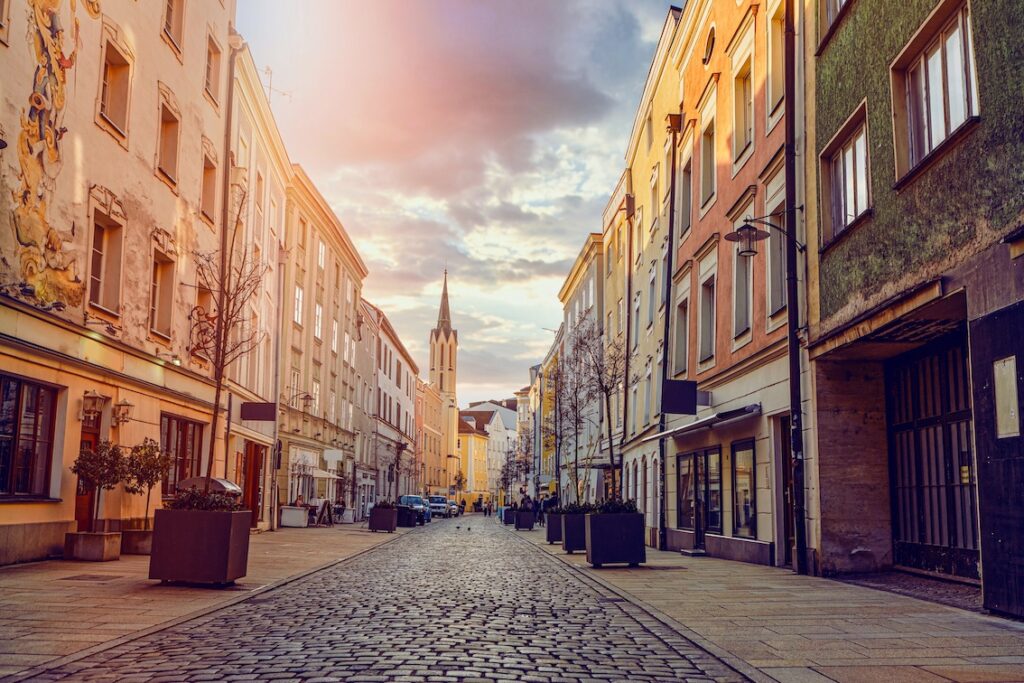 Annabell Gsoedl / Shutterstock.com
And, once you've grown weary, there are always riverside benches. You'll never want for a place to relax and watch the world drift past in Passau.
Getting there
By car, Passau is just over 5 hours from Kaiserslautern, just under 5 hours from Wiesbaden, and 4 hours from Stuttgart. Check with Deutsche Bahn for train information