Whether you're a pro on skis or have never given them a try, your tour in Europe is an excellent time to hit the slopes. A long weekend or a full week in the atmospheric ski villages of Austria will lift your spirits and add a wonderful memory to your life's scrapbook.
The Tyrol is known the world over as one of the "must ski" areas in the Alps. You can walk from your chalet/hotel to many of the slopes or drive a short distance to as many as 250 lifts! An abundance of superb ski areas ensure maximum skiing with minimum waiting. Snowboarders are welcome at all resorts.
Don't know how to ski? That's not a problem! There are plenty of ski classes in English for skiers of all ages and levels, including classes for first-timers and for children.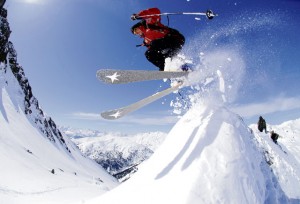 Our partner Tyrolian Tours has been arranging trips for American skiers and their families since 1962. We have uncovered a few specials from Tyrolian Tours that can help you make big savings when planning a trip to the Tyrol with your family:
1. Family Specials
This great family program is offered at the hotels and during time-frames indicated at each hotel on weekly packages. One child per adult is free (if sharing parents' room). This offer applies to children born after 1998. If a separate room is required for the children, or if there are no sufficient family rooms available, one child has to pay (adult rate). There is no charge for children (born after '98) with a six-day area lift pass (Schneewinklpass) from March 15 onward (per purchased adult/parent ticket).
2. Early Booking Bonus
Take advantage of an early booking bonus on regular prices at the hotels Furtherwirt and Seiwald via Tyrolean Tours. Those making reservations and submitting the required deposits at least 75 days prior to their scheduled arrival date will receive a 4 percent discount on the cost of their accommodation at these hotels. This offer does not apply on the following dates:
Hotel Furtherwirt — Dec. 21 to Jan.4 and Mar. 2 to 8 / Hotel Seiwald — Dec. 28 to Jan. 4 and Feb. 15 to 22
3. Mini Club — Ski Adventure
Due to the ever-increasing demand, ski lessons are now offered to children from the age of 3. This program is especially tailored to the needs of the little ones who want to explore the snow and winter sport in a safe surrounding but who are too young to do a regular, full-day skiing course. Experienced personnel will join your little ones on their trip to the bunny slopes! Outdoor lessons are limited to two hours (in the morning) per day in small groups. Children must be potty-trained for safety reasons and must be willing to listen to and obey their instructor. Available in Kirchdorf, Oberndorf and St. Johann.
4. Early Birds
Winter season starts Dec. 14 in Austria! This pre-Christmas period, also known as Advent, is a good time to get together with friends and family. Seize this opportunity to ski on almost empty slopes, visit the traditional Christkindlmarkt and enjoy a cup of warm glühwein! In the evenings, cuddle up with your dear ones in front of a roaring fire. Please note that some of the lifts may not be in operation and there will be limited free ski bus service.
To take advantage of these great offers, contact Tyrolian Tours on +43-5352-631340 or visit www.tyroliantours.com
Story and photos courtesy of Tyrolian Tours.