…but were afraid to ask
You've just arrived in Germany and want to make the most out of your tour in the heartland of Europe? Then Alpine Skiing should be on your list of things to try. Here is our quick guide to everything you need to know about skiing…
The Alps
Ah, the mythical Alps…. once you have lived in Europe for a while you will soon develop that all-knowing look whenever anyone mentions the Alps. What are the Alps? And where are they?
The Alps are one of the great mountain ranges of Europe stretching approximately 750 miles across eight countries from Austria and Slovenia in the east, Switzerland, Liechtenstein, Germany, and France to the west, and Italy and Monaco to the south.
Mont Blanc spans the French–Italian border, and at 4,810.45 m (15,782 ft) is the highest mountain in the Alps. The Zugspitze, at 2,962 m (9,718 ft), is the highest mountain in Germany. It lies south of the town of Garmisch-Partenkirchen, and the border between Germany and Austria runs over its western summit.
Alpine Skiing
Alpine skiing refers to the type of skiing as opposed to the location. It's the most common type of skiing which involves a stiff boot being secured to a ski and skiing down a mountain.
The other downhill alternative is Telemark skiing which is where the boot is only attached at the toe and the heel is free. Sometimes these skiers also walk up the mountains in their skis before skiing back down.
Nordic or Cross Country skiing uses lighter shoes, narrower skis and is also open at the heel. It takes place on marked, flatter trails or loops. It is generally considered a lower impact sport – but still very aerobic.
The Piste / Slope / Trail

Pistes are marked and patrolled snow paths. The snow is compacted and flattened by machines so that skiers and snowboarders do not sink. Pistes are graded to give a rough guide to their difficulty and steepness. Here are some of the grading systems from Europe:
Nursey slopes – learner slopes – usually at the bottom of the slopes or in a separate area.
Green (France, Scandinavia, and Spain) – Very easy, and gentle slope.
Blue – Easy slope and not usually very steep (some in Austria some can be more challenging).
Red – Intermediate slope, for more confident skiers and snowboarders.
Black – Advanced slope, steepest slopes, for good skiers and snowboarders only.
Ski route – Marked and patrolled off piste route.
Off-Piste
Off-piste refers to unprepared parts of a mountain, basically anywhere that is not a marked and groomed piste. If it has snowed recently the snow here will be very soft and deep, and you will sink into it. Additionally, off-piste skiing is considered high-risk due to rocks and avalanches. These pistes are not patrolled, so if you get into difficulty, it can be hard to get rescued.
Piste Basher / Groomer / Snowcat
A machine that is used to compress, prepare and flatten the snow that is on the piste. They are active after the slopes close (around 4:30pm) and through the night, but in cases of heavy snowfall, they also work during the day. It is terrific to follow them after they have just groomed a slope, but don't get too close – lethal!
Lift Pass
A list pass is a ticket that allows you use the lifts in a ski area. Usually like a credit card-type plastic card which you store in an outside pocket or sleeve of your jacket to allow ease of passage through the electronic gates at each ski lift.
Expect to pay between 35 – 45 Euros per day for a lift pass. If you are taking lessons you may not be required to have a full pass for the first few days of your class. Check first before you buy it. You can buy lift passes at the base of the mountains, next to the entrance to the ski lifts.
Apres-Ski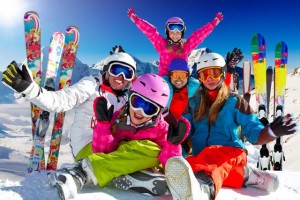 Apres-ski means going for a few drinks in the afternoon, after a day of skiing. The best apres-ski starts near the bottom of the mountain and can end with dancing on tables in your ski boots to cheesy europop tunes! Normally the festivities are all done by 8pm when you can stagger (or get skidoo taxi) home, eat and fall into bed!
Avalanches
Avalanches occur where an unstable layer of natural snow breaks away and travels down a slope. They can be started naturally or by skiers and snowboarders, and they can be of many different sizes and types. Resorts prone to avalanches show warnings to indicate the daily risk factor.
Packed Powder
Blissful for the skier is packed powder. This is when snow has been compressed down so that it will not compress much further.
Powder
A snowboarder's heaven is powder. This is natural snow that has not been compressed, which you will sink into a lot.
Slush
This is snow that is melting (after having melted and refrozen before) and formed out of ice crystals rather than snow crystals. Slush often happens in areas that are busy with lots of skiers and spots which seem to attract a lot of sun towards the end of the day. This is something that we all have to live with but it often feels a little like skiing in wet concrete.
Ice
When it has not snowed for a while, the piste will become more solid and icy. This makes it harder to push the skis into the snow and generally reduces your control. Experienced skiers with good skis don't fear this at all. For a beginner it can be a little skiddy and faster than normal.
Moguls / Bumps
These occur when lumps of snow have been created by lots of skiers turning in the same place, pushing the snow into piles. Moguls and bumps are a skier's nightmare – but something boarders enjoy. They are also hard work on the legs.
Artificial Snow
These man-made snow crystals are artificial and are not as fine as in natural snow. Although the snow's properties are more like ice than snow, it does allow skiing even when there is not fresh snow.
Snow Cannon
A cannon that sprays water into the air at pressure to create artificial snow. Modern technology is a marvel.
Glacier Skiing
This does refer to location. Glaciers are made up of fallen snow that, over many years, compresses into large, thickened ice masses. Glaciers form when snow remains in one location long enough to transform into ice.
There are many glacier resorts in Europe and it is possible to ski almost all-year round on many of Europe's glaciers. Expect to pay a little more than a normal resort for the privilege though. Whilst Glaciers tend to be at quite high altitude, it does not mean that there will not be beginners slopes and can be a terrific place to learn to ski.
Here are some recommended Glacier Skiing reports in Europe:
Zugspitze – Germany
Tinges & Les Deux Alpes – France
Stubai, Kaprun, Hintertux, Solden – Austria
Zermatt, Engleberg, Saas-Fe – Switzerland
Passo Tonale – Italy
Kit & Clothing
There is no question that kitting yourself out for a ski trip isn't cheap and if you are not sure it will be a hobby for life then you might question the wisdom of doing it at all. But do not fear! For your first trip, try to beg and borrow kit from friends until you are sure it's something you want to do again. Once you are sure, there are still some low-cost ways to kit yourself out.
Skis/Snowboards/Boots/Bindings/Poles
All of this equipment is required to ski – but you can rent it all from any of the resorts that you visit. The staff there will ensure that you are kitted out with everything you need – they are quite used to beginners.
Helmet
Rent or buy your own. But never ski without it. In Germany and Austria almost everyone uses one to protect his or her head against falls and collisions. Wearing a helmet is mandatory for children.
Salopettes / Skiing Pants
These are waterproof trousers that are worn for skiing, often with straps that go over the shoulders.
Ski Jacket
This is a heavily lined and waterproof jacket to wear over your fleece and thermals to keep you warm.
Thermals
Base layer of warm and ideally active clothing (to draw away sweat from your body after vigorous exercise).
Fleece
Fleece is worn over your base layer and under your jacket to keep you warm. The thickness of this will depend on how cold it is where you ski. It is better to be warmer and remove a layer than be too cold.
Gloves
An essential article of your kit is a pair of good waterproof gloves that are designed for skiing or boarding. Snowboarding gloves tend to have a little extra protection for the wrist.
Goggles
Also essential to your kit is a pair of goggles. In poor visibility they help to define the contours of the slope, in bright sunlight they protect your eyes from the sun and reflections off the snow. Sometimes it is possible to rent, but don't assume you can.
Scarf / Storm Mask / Buff
Depending on the weather you might want to pack something to protect your face. Getting snow directly into your face at 3000 meters is no fun at all.
Lifts
Lifts are not something to fear – once you move off the nursery slopes you will soon start to view them as a nice little break between runs, and a great way to take in the stunning view! Opening times of the lifts vary between resorts, but most open by 8:30am and close by 4:00pm.
Magic Carpet
This is a moving carpet that skiers and boarders can stand on, and get taken up a slope. You will often find one on nursery slopes.
Rope Lift
This lift is where the skiers or boarders have to hold onto a rope which moves and pulls them up a slope. Although often used on nursery slopes, they can be a bit tricky to master the first couple of times.
T-Bar
This lift that pulls skiers and boarders up a slope, with a T shape bar hanging from an overhead cable. Snowboarders don't like these as they have to hook the 'T' between their legs and take the full force against one thigh as they are pulled upwards. Skiers put the bar behind both of their legs, which is altogether more comfortable.
Button Lift
A lift that pulls skiers and boarders up a slope, with a button shape attachment hanging from an overhead cable. Snowboarders don't like these either!
Chair Lift
Everyone's favorite type of lift is the chair. It takes skiers and boarders up the mountain with them sitting on a chair and resting their skis or boards on a bar.
Gondola
A gondola is a lift where people take off their skis and get into a gondola – which is a cabin, that can hold up to 8 people standing or sitting at a time. These cabins are attached to a cable and are taken up a mountain. There are many of these on one cable.
Cable Car
This is a lift where people get into a large cabin to be taken up a mountain, but with only one cabin on a cable. These normally carry up to 40 people at a time.
Ski Lessons
Do yourself a favor and don't try to learn by yourself or with a friend – it's the quickest way to end marriages and friendships. Take group or individual lessons with a qualified instructor – it pays off in the end. Prices start from €35 per day for lessons – it's a very worthwhile investment.
Almost all resorts cater for English speakers and will have group lessons in English, but it might be best to book ahead to be sure.
The first two or three days are not always pleasant. Beginners tend to tire quickly as they do a lot of 'stepping' up to the nursery slopes until they feel confident enough to take the lifts. The irony is, once you start using the lifts you waste less energy and are able to use that energy for your skiing instead. So progression to even the basic lifts is a massive help.
Allow a week to get from total novice to being able to ski a blue run from top to bottom. It's often ideal to have lessons daily in the morning, then you can rest at lunch time and practice at your own pace in the afternoon – but don't give up. There is a point where it clicks and you start to 'get it'. From that moment onwards, you will never look back. Then it's about confidence, practice and taking it to the next level!
Children can be booked into ski lessons from the age of 3 (as long as they are potty-trained). Call in advance to ensure they will be placed with an English-speaking group/instructor. If you are staying in a larger resort, then this should not be a problem.
Technique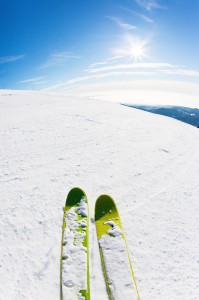 Snowplough / Snowplow (sometimes called 'Pizza' in kids lessons)
The position that the skis are in when the front tips are close together, and the backs of the skis are further apart, making a inverted "V" shape. It's a stable position that allows you to descend the mountain in control, but it does sap a lot of energy as there is continuous pressure on your thighs and knees.
Parallel Turning
This is the next level of skiing once you have mastered the snowplow – it's keeping your skis in parallel and turning using the edges of your skis without sliding – upper body should face down the mountain. It is less exhausting than a snowplow and the start of looking like a real skier!
Carving
The final stage after parallel turning – skis together, upper body stable, no loss of speed as you descent the mountain, but still in control. Absolute nirvana!
Ski Resorts
Crumbs, we could fill a book with this information – you are now officially in the epicenter of arguably the best places to ski in the world. So, here are a few highlights so you can become familiar with the names and do some additional research.
Germany
You don't have to venture too far to hit the mountains, and these places are pretty good value too.
Erbeskopf – Just an hour drive from Ramstein and an hour and half from Wiesbaden. This mountain gives you the chance to take off and enjoy a day of skiing without the expense or drive time involved with a weekend in the Alps.
Garmisch-Partenkirchen – or GAP as it's known to frequent-flyers is very US-friendly and home to two wonderful mountains in the town, plus is the base for the nearby Glacier, Zugspitze.
The Army R&R resort Edelweiss Lodge is based here so the town is very used to Americans, which is a big advantage. You can book ski passes and lessons via Edelweiss and get slightly better deals, plus you can hire a lot of kit if you can't muster it any other way.
However, if you want to feel a little more European and break out of the comfort of staying around Americans then head away from here as it can be very crowded, especially on the weekends.
Oberstdorf – The town is conveniently located between Munich, Stuttgart and Lake Constance. A great family-friendly resort with lots of options from beginners to Intermediate skiers – you can actually ski down to Austria from the Fellhorn area. There are lots of private apartments or good quality hotels available.
Find more places in Germany here!
Austria
In our opinion, no one does a ski resort like the Austrians – beautiful traditional mountain huts, great food, groomed pistes and modern lifts. They have it perfected to a fine art.
There are so many in Austria so we have picked out a few. Not all are suitable for absolute beginners so read around about your chosen resort before you book. Some are infamous for their hard-core apres-ski, others for tough slopes. But there are plenty of places for beginners and families too.
St Anton Am Alberg
Solden
Lech am Arlberg
Kaprun
Kitzbuhel
Ischgl
Mayrhofen

Obergurgl

Saalbach
Soll
Stubai Glacier
Westendorf
Zell Am Zee
Great places in the Austrian Alps here!
Switzerland
Switzerland also has so many ski resorts to discover, so we have selected our favorites. Expect everything to be a bit more expensive in Switzerland and note that they do not use the Euro – you will need to buy Swiss Francs.
Davos
Engleberg
Flims Laax
Gstaad
Lenzerheide
Jungfrau Region
Klosters
Sass Fe
St. Moritz
Verbier
Zermatt
Looking for a place to stay in Switzerland? Check out here!
France
The French Alps attract some of the best skiers in the world, with good reason – it does offer some of the best extreme and off-piste skiing in the world. But there is also plenty for those that like to keep it mainstream. Expect to pay a little more than Austria or Germany (perhaps not quite as much as Switzerland). Some of the resorts are a little commercial but the mountains are quite beautiful.
Alpe d'Huez
Avoriaz
Chamonix
Chamrousse
Courchevel
Flaine
La Clusaz
La Plagne
La Rosière
La Tania
Les Arcs
Les Carroz
Les Deux Alpes
Les Gets
Les Houches
Les Orres
Megève
Montgenèvre
Morillon
Morzine
Méribel
Risoul
Saint Martin de Belleville
Sainte-Foy Tarentaise
Samoëns
Serre Chevalier
Tignes
Val Cenis
Val Thorens
Val d'Isère
Find places to stay in France here!
Ski Clubs
If its you are thinking about skiing and its your first time, then why not go with a group? These local ski clubs are the perfect way for you to experience the adrenaline with like-minded Americans, without any of the stress of organizing the trip!
KMC: Kaiserslautern-West Pfalz Ski Club or Tannenbaum Ski Club
Stuttgart: Patch Ski Club
Grafenwöhr-Vilseck-Hohenfels: Bavarian Ski Club
Frankfurt: Hessen International Ski Club or Frankfurt Ski Club