Turin is one of Italy's best and most unexpected cities. Located at the foot of the Alps and packed with parks and tree-lined boulevards, this isn't hot, touristy Italy. This is a thriving city with food, culture, style, shopping, and outdoor activities galore. In Turin, you'll feel like you're in on a secret.
Italy is famous for piazzas, towers, museums, sunshine, and tourist shops around every corner. Turin is not like most places in Italy. The weather is generally temperate. Most tourist hordes in the north of Italy opt for Milan, Florence, and Venice. As a result, the city feels…different. In a good way.
Turin also has a cool history. Celtic tribes established a city in the same spot hundreds of years before the Romans (the Po River was a good place to be), and Turin was the first capital of the unified Kingdom of Italy from 1861-65.
The city has so many cool things to do, it's almost difficult to choose. Here are seven great places to start.
Must-see: Turin's Royal Residence
The crown jewel (almost literally) of Turin, the 'Royal Residence' is actually a series of gorgeous buildings that contain some of the city's best destinations, including a palace, library, armory, art gallery and archeological museum.
No royal residence would be complete without some spot-on royal gardens. Turin doesn't disappoint. Visitors to the Royal Garden will feel like they've stepped into another, very green, era.
Church of the Holy Shroud (St. John Cathedral)
The Holy Shroud (commonly known as the Shroud of Turin) has been rumored for centuries to be the cloth in which Christ was buried. Though definitively proving that claim isn't easy, the cloth still contains the image of a face and is treated like a holy relic.
No matter what you believe, the visit to St. John Cathedral is worth it. It's also incredible to see (and learn more about) the incredible high-tech approaches used to secure and preserve the Shroud.
Porto Palazzo
Love shopping? Love buying fresh vegetables or snapping photos of mouth-watering food displays? Then the Porto Palazzo is for you. Even if you don't love shopping or food, you'll still have a blast here. Located in the heart of Turin, Porto Palazzo is one of the biggest markets in Europe. You can get lost there. Seriously. But it's the best kind of lost.
Egyptian Museum
The oldest (and one of the best, after the Museum of Antiquities in Cairo) Egyptian museum in the world is in Turin. Founded in 1824, the Museo Egizio (Egyptian Museum) contains an excellent collection of sarcophagi, statues, and other relics from one of the oldest civilizations in the world. Open daily, the museum is also great for kids.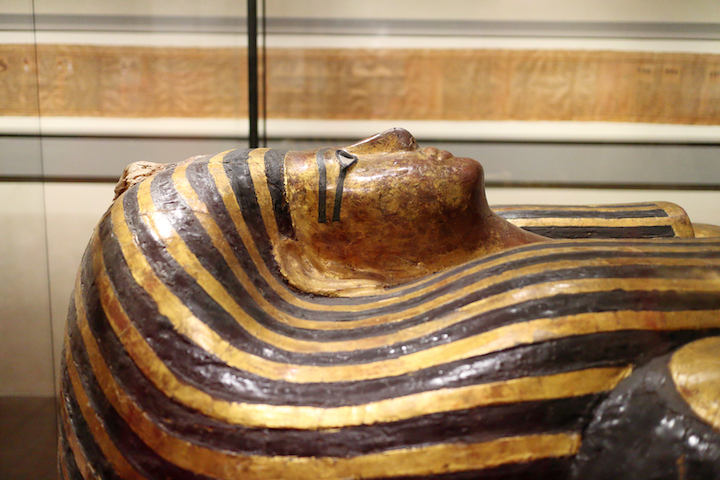 Nyo09 /Shutterstock.com
Catch a Juventus match
For soccer (or football, as it is called in Italy) fans, Turin's local team can be a bit polarizing. Some fans detest Juventus FC like they might detest the Dallas Cowboys or the New York Yankees, mostly because Juventus is (and long has been) one of the best teams in the world. The team also inspires something like religion among the locals, which is why catching a match in Turin is an incredible cultural experience. As a bonus, some of America's top players, including Tim Weah and Weston Mckennie, have recently played with Juventus.
Head to the Alps
Turin is the perfect jumping-off city for outdoor Alpine adventures during all four seasons. You're less than an hour from hiking, skiing, cycling, via ferrata, and some of the most extraordinary natural terrain in all of Europe. In a lot of ways, Turin feels like a very big mountain town – sort of like an elegant Italian cousin to a place like Denver.
Let's talk about food (and drink)
It's no surprise that a city in Italy might be famous for food. But Turin has a different scene than what you might find in Tuscany or the Veneto. Turin is in Piedmont, which means the food is exquisite and the people are down to earth, which is a brilliant combination.
If you love coffee and pastries, you're in luck. Turin is famous for its pastry shops, and rightfully so. The city's bakers and pastry chefs give the best French chefs a serious run for their money. Visitors will find an incredible selection of beautifully designed (and great-tasting) cakes, meringues, tarts, and so much more.
And then there are coffee shops. Turin is famous for having a dozen or so historic cafés, each of which is packed with cultural and political history. Some, like Café Al Bicerin or Café Fiorio, are more than 200 years old. And, of course, it's Italy. Great espresso can be had anywhere in the city.
If you like cheese, fine chocolates, gelato, and wine, you're in luck, too. The Piedmont region has dozens of delicious cheeses, and Turin has more than 200 shops that specialize in wine.
Getting there
By car, Turin is 7.5 hours from Kaiserslautern or Wiesbaden, and around 6.5 hours from Stuttgart. Many low-fare air carriers offer direct flights to Turin. For train options, check with Deutsche Bahn.