Try some of these tasty, healthy Halloween dog treats this Halloween season.  Human treats, chocolates and candy aren't good for your dogs but these make a good alternative.  Not only are they safer to eat but they contain some ingredients that are actually healthy and beneficial for your dogs!
Pumpkin
Puréed fresh or canned (natural, not sweetened) pumpkin is good for both constipation or diarrhoea and helps with indigestion.  They are high in fatty-acids and antioxidants, contain Vitamin A, beta-carotene, potassium and iron, and may even help prevent cancer.Eggs – Eggs will provide your dogs with a good protein boost.  They are also an easily digestible  source of riboflavin and selenium.
Peanut butter
A good source of protein and also containing heart-healthy fats giving a glossy coat!  It's also a source of vitamin E and H.  Use the natural unsalted smooth/creamy variety.
Carob
Carob is a healthy alternative to the chocolate which can be toxic for dogs.  It contains some protein and the minerals and vitamins necessary for healthy bones, teeth, eyes and coat.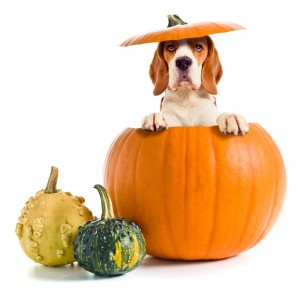 Igor Normann / shutterstock.com
Ghostly Puppy Pumpkins
Eerie Oat Cookies
Ingredients:
1 cup oat flour
1/2 cup rolled oats
1/4 cup peanut butter, organic is best!
1 tsp baking powder
1 cup water
Directions:
Preheat oven to 325 degrees. Combine dry ingredients into a large mixing bowl.
Add the peanut butter and water. Mix the ingredients together until it forms a dough.
Roll the dough into one quarter inch thickness. Cut into any fun Halloween shape, like pumpkins, witches, bats, or ghosts!
Bake for 20 minutes on a greased baking sheet until lightly brown. You can even whip up some yoghurt icing, add a dab of food coloring and start decorating!
Spooky Cookies Dog biscuits
Ingredients:
1 & 1/4 cup flour
1/2 cup pumpkin purée (natural canned)
1 egg
1 TBSP honey
2 TBSP Peanut Butter
Dash of cinnamon
Directions:
Preheat oven to 350. Mix all ingredients together thoroughly in a large bowl.
Drop by the spoonful onto a greased cookie sheet and bake for about 12 minutes. Makes about 24 "cookie" treats. Let cool and your dogs can enjoy.
Creepy Carob Cookies
Ingredients:
1 cup Rice Flour (or plain Flour)
1/2 cup Carob Powder
1 teaspoon Cinnamon
1 teaspoon Vanilla Extract
3/4 cup Water
Directions:
Preheat oven to 350 degrees F. Mix all ingredients in a large bowl and knead until dough is formed and smooth, you may need to add a little more water as the dough tends to be on the dry side.
Roll onto a heavily floured surface 1/4 inch thick and cut with  small cookie cutter of your choice.
Place on ungreased cookie sheet and bake for 10 to 15 minutes or the cookies start to crackle.
Allow to cool.
For more tips on human food that's suitable for your furry friends:
www.cyberpet.com
  Cover photo by Hannamariah / shutterstock.com