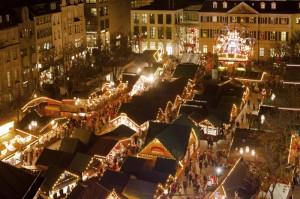 Every year, Bonn's Christmas fair conjures up a festive atmosphere on Münsterplatz and Bottlerplatz, on Windeckstrasse, Vivatsgasse, Friedensplatz and Poststrasse. Especially the atmospherically illuminated facades around the Münsterplatz form a festive scenery for the market booths.
Bonn's Christmas Markets prepare everybody to the coming festive days. Unmistakable adn welcoming aromas fill the centre of Bonn, a mixture of gingerbread, potato pancake, fried sausage, roasted almonds, Koelsch beer and Glühwein.
Not only do these seasonal fragrances of the central and district Christmas markets make them so attractive, but also the hustle and bustle of people and the good mood that reigns in these beautifully decorated "Christmas Villages" that offer a huge selection of crafted wares.
A fairly new addition to the market in the last few years, the popular ice-skating rink on Friedensplatz has now become one of its outstanding features. Every year Bonn's central Christmas market attracts visitors from all over Germany and from neighbouring countries.
Somehow, people seem to be a little friendly throughout the Christmas market – you will meet with old friends and acquaintances, or simply make new ones.
Bonn Christmas Market Opening Times
November 21 – December 23, 2014 (closed on Sunday 23rd November).
Daily from 11:00 – 21:00.
Images © Stadt Bonn – Foto: Michael Sondermann