The English Theatre Frankfurt, the largest English language theatre in continental Europe, was founded in 1979 by three Americans and one South African. The ensemble called themselves the "Cardboard Clowns." Two decades, three name changes and three moves later, the English Theatre Frankfurt settled into its current home in the center of the city.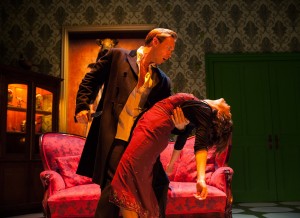 With four to five productions each season, the English Theatre's repertoire ranges from musicals and comedies to classics, tragedies, and thrillers. Recent and upcoming productions include classics like "The Invisible Hand" and "Animal Farm" (George Orwell), and musicals such as "Jekyll & Hyde." Each show is produced by the English Theatre, with casting done in London or New York.
In addition to six shows each week, the English Theatre offers a wide variety of other events such as monthly poetry slams, readings, film viewings, and parties at the theatre's bar, James. The American Election Results Viewing Party was a notable event that included a live band, food and drinks, a panel discussion, and words of welcome from the American Ambassador.
The English Theatre also has a long history of working together with the communities of Frankfurt and the surrounding areas. Working together with educators, the ETF has developed an extensive outreach program for young people. Each season the theatre presents a special play or musical for school children.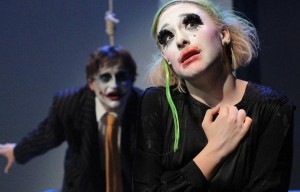 The education program also includes workshops for teachers and students as well as a Drama Club that, together with local professional actors, produces a show each season. These productions, offered at reduced rates, are wonderful events fort the whole family. Past drama club shows include musicals like "OLIVER!" and "Fiddler on the Roof," as well as classics like Shakespeare's "Romeo and Juliet" and Arthur Miller's "The Crucible."
The English Theatre's current production (from Nov. 11), "Jekyll & Hyde," a gothic musical thriller by Frank Wildhorn and Leslie Bricusse, is in its first weeks of showings. On March 14th, the highly-anticipated, hilarious, provocative and impolite new comedy Hand To God by Robert Askins will open at 7:30 pm. Tickets can be purchased online at: http://www.english-theatre.org/tickets/buy-online/