Their logo is "Ein Stück heile Welt,"translating in English to "a holy piece of the world." It's hard to believe that this unassuming, quiet oasis of a farm, restaurant, shop, flour mill, event center and geological museum is located just minutes from major city and an international airport. But it is and aren't we lucky! Eselsmühle is located right outside of Stuttgart in the little hamlet of Musberg, near Leinfelden-Echterdingen.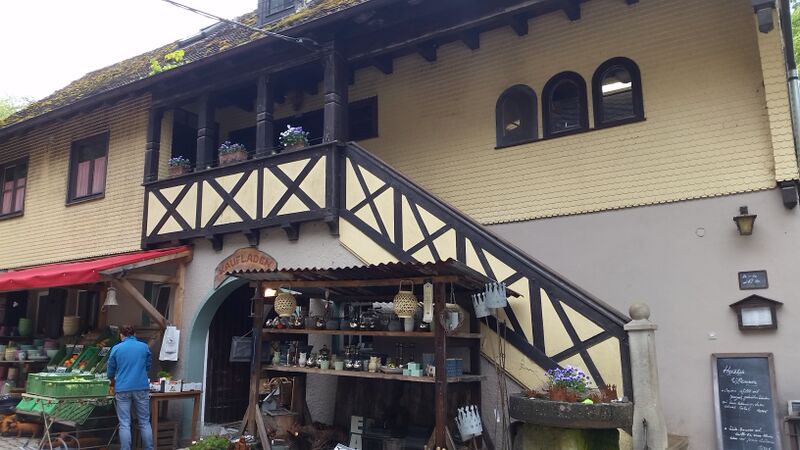 © Wendy Payne
We had such a sweet day of frolicking through meadows, cavorting with peacocks and eating a fantastically cooked meal. The Eselsmühle is also along the Seven Mills Valley, part of the Schönbuch hiking trail.
Animals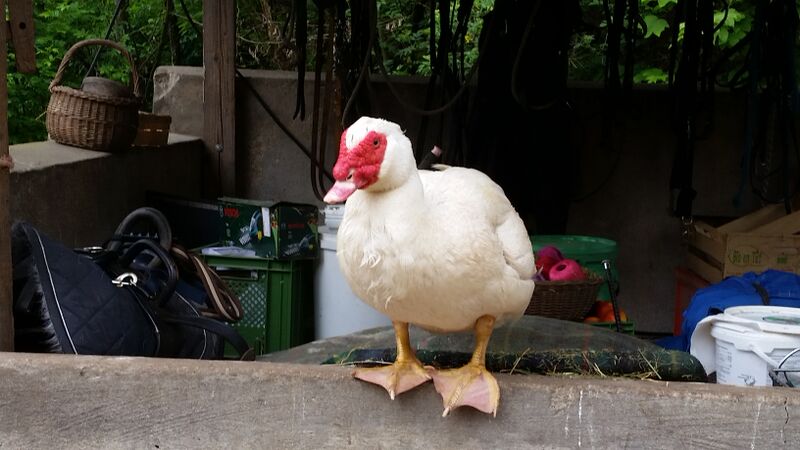 © Wendy Payne
Like Mother Goose herself, we were greeted by a gander who was eager for us to follow her as she lead us to the small farm grounds. There she introduced us to her friends, the scampering chickens and peacocks.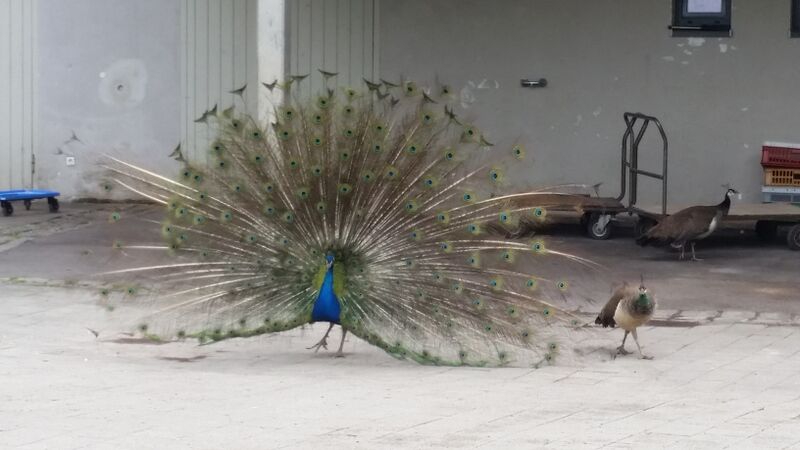 © Wendy Payne
I think we might have frightened Mr. Peacock himself as his feathers were riled up. We found the mules on the mountainside and a sign for horse rides. Being not appropriately dressed and arriving just as the restaurant opened, we decided against the mule ride.
Like Oma's (Grandma's) Kitchen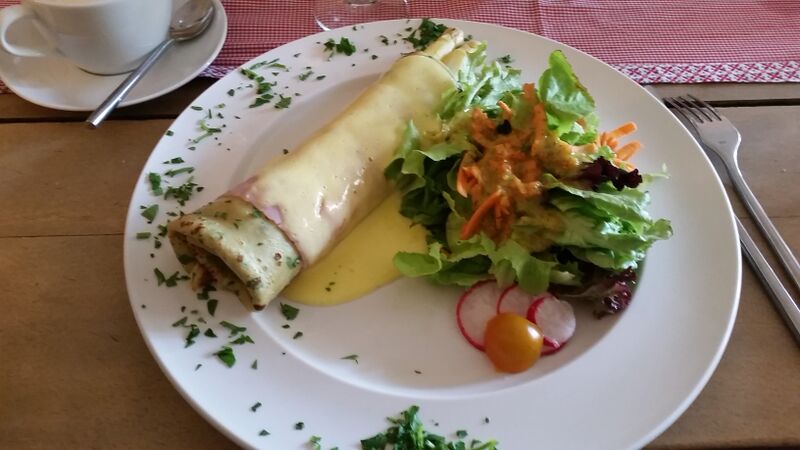 © Wendy Payne
Just like you would imagine an Oma's kitchen or a traditional German menu, the Mühlenstube (restaurant upstairs of store) serves a wonderful daily special. Today we had the delectable Spargel and Ham Barlauch Crepes in Hollandaise sauce. My daughter Katy suffered through the chocolate brownie with vanilla ice cream and fresh strawberries too. We all dove into the fresh baked bread that tasted like it was just made.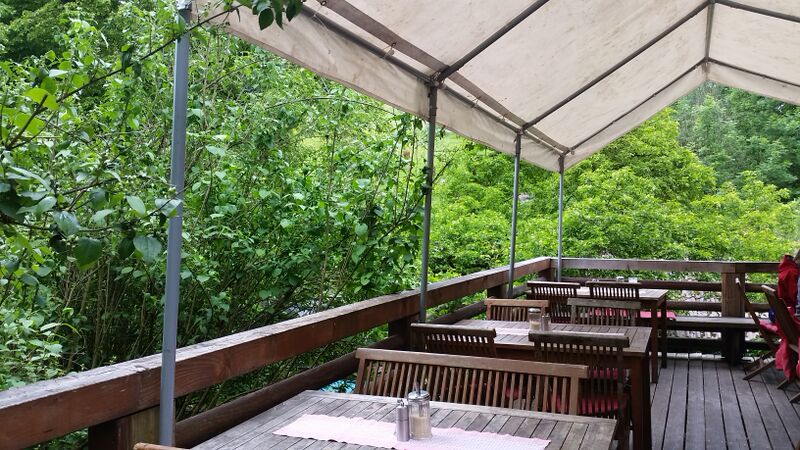 © Wendy Payne
We enjoyed our meal inside at picnic tables admiring the informal decor, but they also have sunny seating where you can enjoy the terrace/outdoor patio as it invites you to take in the fresh air.
Farmers Market & Gift Shop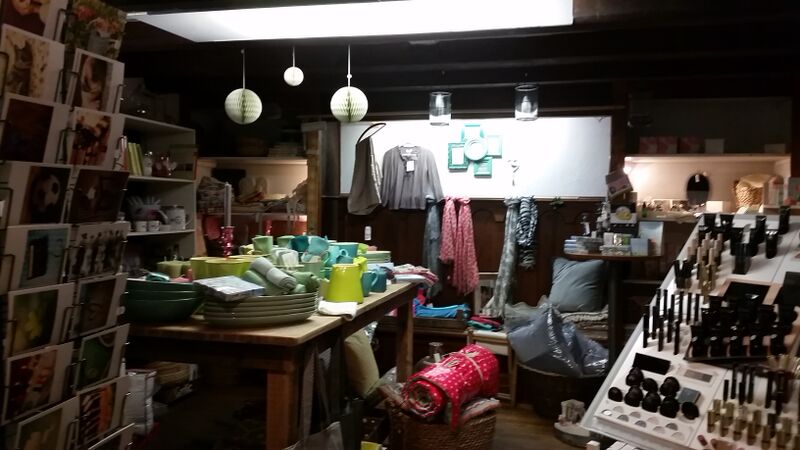 © Wendy Payne
Immediately we were greeted by the friendly store owner who helped us find our way around the grounds and restaurant. It is a small store but has many natural and wholistic items available to purchase. They also had several of their milled flours, grains, homemade candles, gift cards, honey and the like. We took our time strolling through the shop and stumbled on the geological education center.
Rudolf Gemlin Geological Center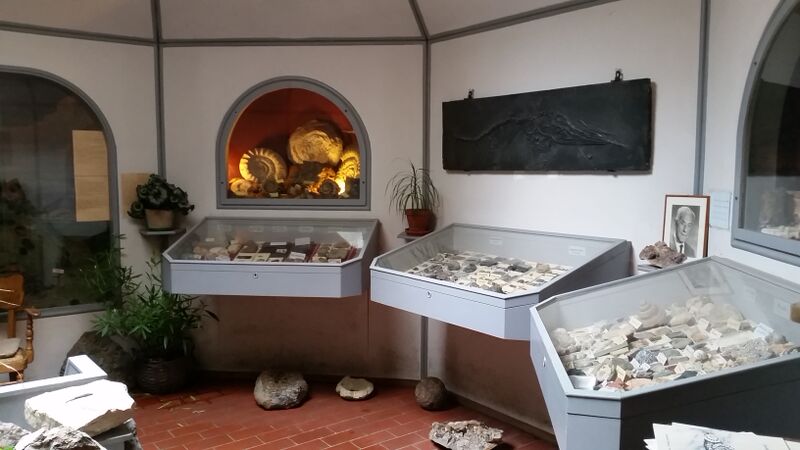 © Wendy Payne
The geological center is free to the public and is located inside the grocery/farmers market. A German booklet is available for €2 as well. The geological center has many fossils, stones and minerals that were excavated from this site. While we were there several elementary school groups were there for an Ausflug (field trip).
More Info…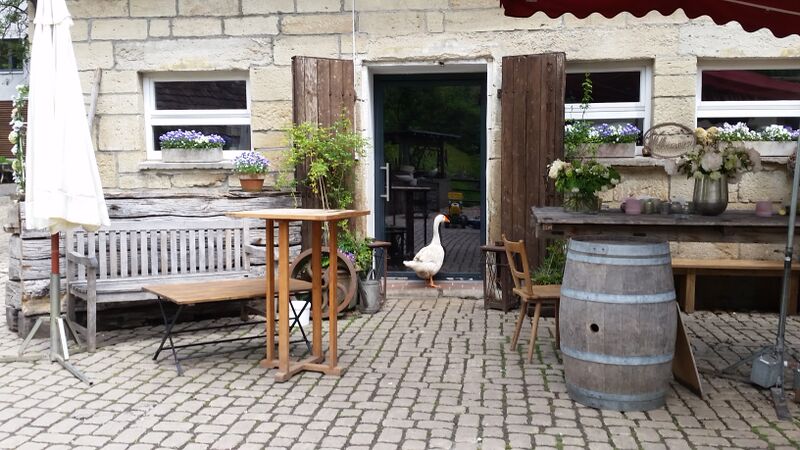 © Wendy Payne
If you are in need of a short day trip near the Stuttgart area, we highly recommend the Eselmühle. Parking right at the mill is difficult, but there is parking near the main entrance and a short walk along the road to the Cafe Eselmühle. There was no cost to wander the grounds, but there may have been a charge for pony rides.
Grocery Store and Geological Center
Hours: Monday – Saturday (9 – 6 p.m.) and Sunday (12 – 6 p.m.)
Donkey Farm, Mill and Restaurant
Hours: Tuesday – Sun (12 – 11 p.m.)
Telephone: +49 (0) 7117 54 2805
How to Get There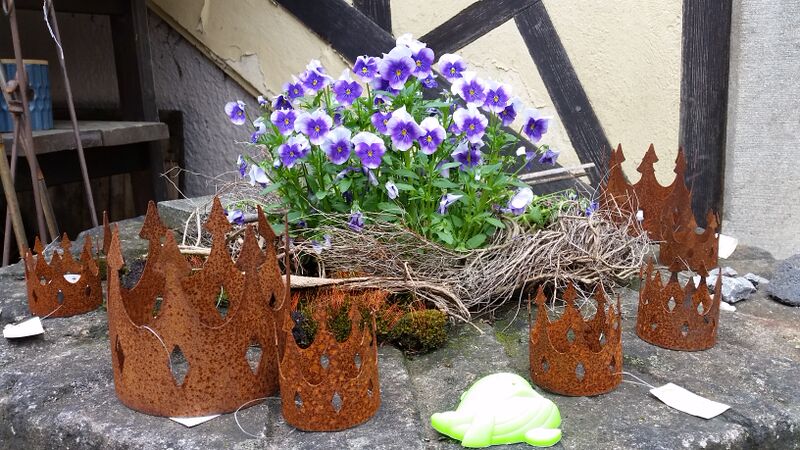 © Wendy Payne
Bookmark This Page Today for Exclusive Deals
The address is the following:
Eselsmühle 1
70771 Musberg
For your GPS, please make sure you enter Leinfelden-Echterdingen as the town. The drive to Eselsmühle is approximately 20 minutes south of Stuttgart, 2 hours and 15 minutes southeast of Kaiserslautern and south of Wiesbaden.
Author's Profile: Wendy Payne is a military spouse and lives with her family in Stuttgart, Germany. She is a freelance writer, blogger and photographer. She also enjoys gardening, hiking, yoga and sharing Europe with people.
Featured Image Photo Credit: © Wendy Payne