There's a children's show called "Die Augsburger Puppenkiste" (Augsburg's puppet box) featuring entire worlds that could fit inside a single wooden box. So when I was offered to tag along to Augsburg for a day, I jumped at the opportunity to meet my childhood heros in person. Little did I know, the city offers so much more.
Pretty houses line the streets, water veins run through the entire city and traditional Bavarian Biergärten (beer gardens) await on every corner. Extra: Eiscafé Tutti Fruity on Pfladergasse offers Nutella ice cream! You heard that correctly. It's not just Nutella flavored like other amateur flavors but comes with actual Nutella with every spoonful and, honestly, I'm mentally planning my next day trip as I type this.
Die Augsburger Puppenkiste
I'll start with this spectacular museum, since it was the reason I went in the first place. For only €4.50 per adult and €3 per child, you can witness my childhood dreams come true in person (Tuesday through Sunday, that is). All original puppets and stages are exhibited, several mini theatres play their most famous movies and a kids' corner invites little visitors to relax under a or star light ceiling. Even if you've never heard of them before, children of all ages will adore this interactive museum. Guided tours are available in English. Check their website to book an appointment.
Fuggerei
Family Fugger built social houses in the heart of Augsburg almost 500 years ago, which were then destroyed during the second world war and rebuilt after. It remains social housing to this day but also functions as a museum now. You can take a look at model apartments, from the 20th and 21st century, learn about the family's history and go underground inside a bunker providing information on life during the war. Even if history is not your thing, I stopping by for the interesting architecture in this little village. Admission costs €4 per adult and €2 per child.
Sightseeing
Spectacular pieces of architecture spike the city. The Renaissance Rathaus (city hall) was built in 1615 and functions as the city's landmark with pompous portals, coffered ceiling and mural paintings.
A number of churches including the cathedral (Dom) are definitely worth a visit as well.
Culinary Delights
Weißwurst (white sausages), pretzels and traditional German delicacies can be found at Biergardens all over town. Try Waldgaststätte Parkhäusl, Zeughaus Stuben or Bayerisches Haus am Dom for that typical Bavarian ambience.
If you're looking for healthier options, you'll love Mom's Table, a vegan restaurant offering delicious salads, bowls, soups, sandwiches and desserts.
Christmas Market
Its annual Christkindlesmarkt originated as early as the 15th century and continues to charm guests from all over the country year after year. Their unique fairytale street features different puppet settings that will enchant visitors of all ages. Live music, a heavenly post office, a nativity scene and much more await as well between November 26 and Christmas Eve, 2018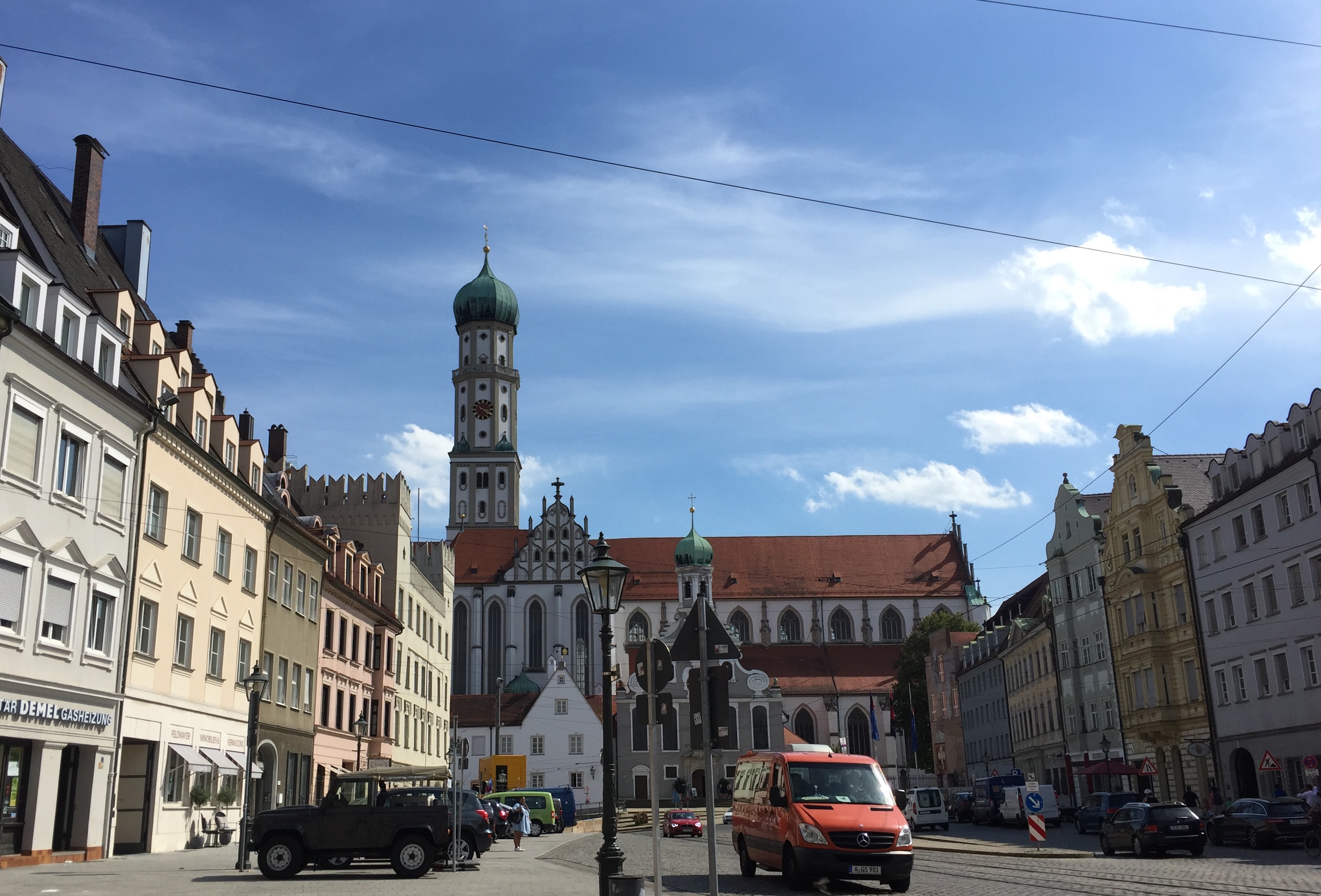 | Military in Germany
How To Get There
Augsburg is only an hour from Stuttgart, circa 2h from Kaiserslautern and under 3h from Wiesbaden. It's therefore very day-trip friendly for those Saturdays or Sundays you're looking to spend outside.
Train and bus connections are available from €8.
Questions? Check out their website fore more information.
Author's profile: Leonie is a poetry-loving literature student with a passion for small towns, road trips, and breakfast food that's being served at all hours of the day. When she isn't hopping from one bargain flight to the next, she is making sure you're hanging with the locals and staying updated on events in your area.
Featured image by Sean Pavone / Shutterstock.com