One of the classic (perhaps THE classic) German day trip destinations is Rothenburg ob der Tauber. You've probably seen pictures in guidebooks or on websites: half-timbered buildings, cobblestone streets, impossible cuteness.
There's a reason Rothenburg is so highly recommended: it has the power to transport even the most cynical traveler. Despite the tourists, it's not a tourist trap. It's just a beautiful, genuine, well-preserved medieval village that can be visited again and again without getting old. And though it shines in any season, Rothenburg can be downright magical around the holidays.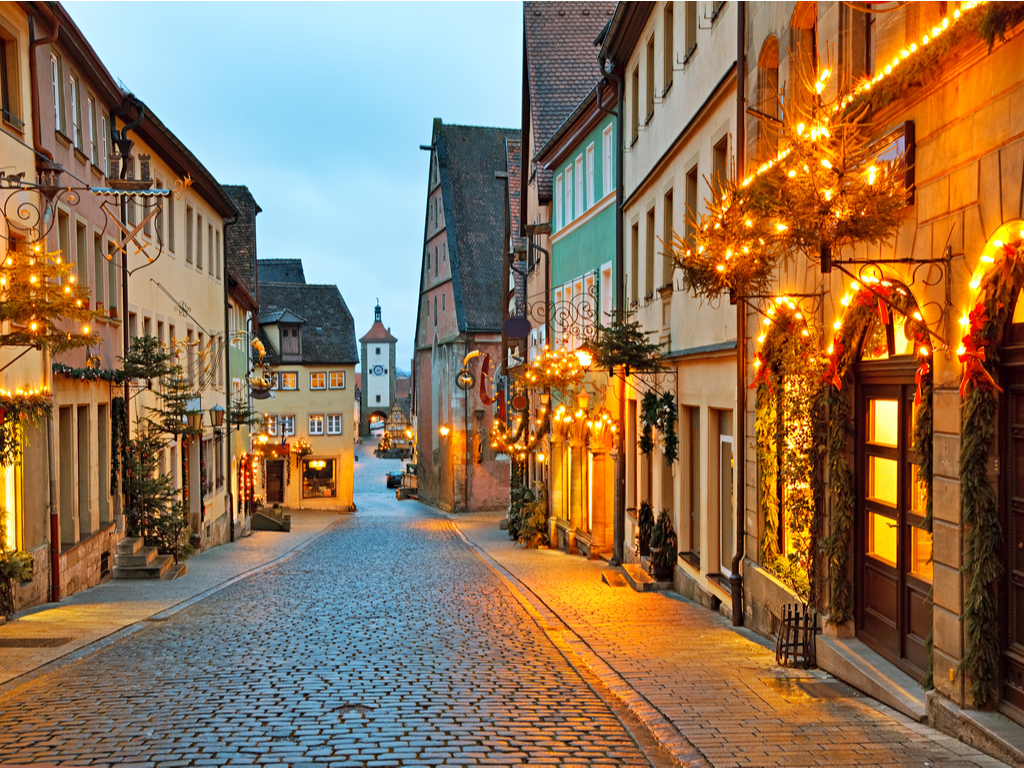 irakite/shutterstock
Rothenburg: Four Ideas
One mark of Rothenburg's quality as a day-trip destination is that it seems particularly well built to withstand the COVID era. Visitors can have amazing experiences while rarely setting foot inside an enclosed space. Here are four ideas for things to do in Rothenburg.
1. Be a tourist. In a town this lovely, there is no shame in gawking and/or snapping photos. In fact, one of the joys of Rothenburg comes from strolling the city and stopping every 50 steps or so to admire the scenery. Wander the streets. Admire the architecture. And share your images with the people you love.
2. Walk the city walls. Rothenburg has brilliantly preserved city walls that are outdoors and provide excellent views. Climb the steep steps and mind your head when you're up there.
3. Enjoy the food. For a town that sees its fair share of visitors, Rothenburg's gastronomic scene shows no sign of catering to the lowest common denominator. During ordinary times, you can find delicious hearty fare (think Jägrschnitzel and other warm, satisfying dishes) and delightful desserts.
4. Get medieval. Generously billed as a "Medieval Crime and Justice Museum," this Rothenburg staple is more aptly described as a "Medieval Torture Museum." Either way, it offers an evocative look at crime and punishment in the middle ages. And it makes visitors grateful they weren't alive during that time. Be sure to check opening information related to COVID mitigation measures.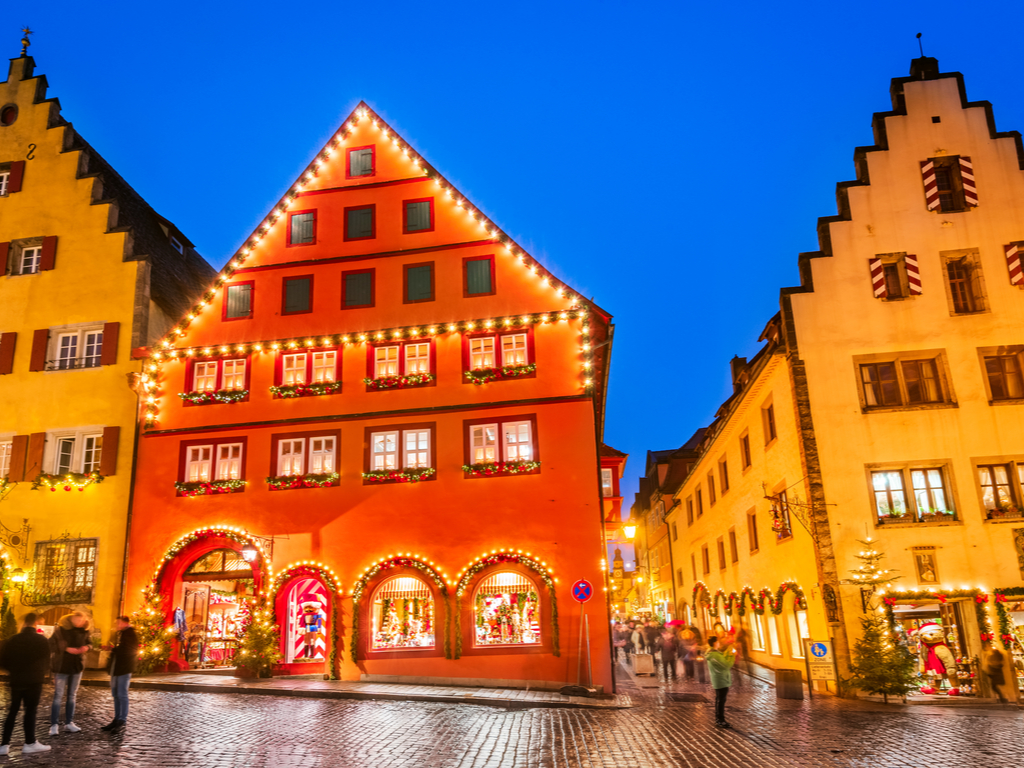 cge2010/shutterstock
The One Thing You Have to See: How Rothenburg does Christmas
Ordinarily, Rothenburg does Christmas like a boss. They have an excellent Christmas market, a German Christmas museum, and all the Käthe Wohlfahrt goodies you can handle.
Enter COVID, the ultimate Grinch. Rothenburg, however, refuses to be deterred. In the year 2020, the citizens are transforming "the whole city into a Christmas experience." Roughly translated, the city is going to shine outdoors, and give visitors rays of light and hope in whatever ways they can. Rothenburg in any season is great. But if you can swing a trip during the holidays, it becomes something altogether magnificent.
Getting There
By car, Rothenburg is 2 hours 30 minutes east of Kaiserslautern, 2 hours southeast of Wiesbaden and 1 hour 45 minutes northeast of Stuttgart. Visit the Deutsche Bahn website for train information.
For U.S. government employees, including service members, remember to always follow command regulations, which may be different than host nation policies when it comes to travel.