Rothenburg ob de Tauber (Rothenburg) is one of those towns in Germany that you may visit over and over again while you are stationed here. Rothenburg happens to be the "go-to" town for family and friends visiting you on their short trip to Deutschland. This is the perfect town to see a little bit of what we've come to know and love about Germany. If you haven't been before or would like to know the highlights, here is a personal walk through this endearing town.
Fun fact: filming of Harry Potter and the Deathly Hallows Part 1 and 2 took place in Rothenburg as well as scenes from Chitty Chitty Bang Bang.  It was also the inspiration for the village in Disney's 1940 Pinocchio.
Get a Taste of Southern Germany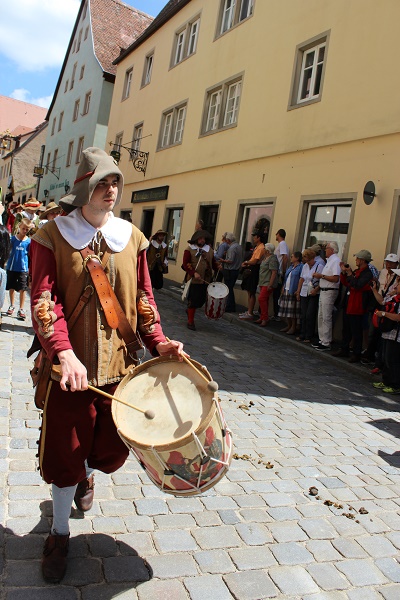 © Wendy Payne
Barely in Bavaria but very much a part of this region, Rothenburg is perfect for getting the taste of southern Germany without the drive and all the "Staus" (traffic jams.) For us in Baden-Württemberg, it's a short hour and a half drive.
History of Rothenburg ab der Tauber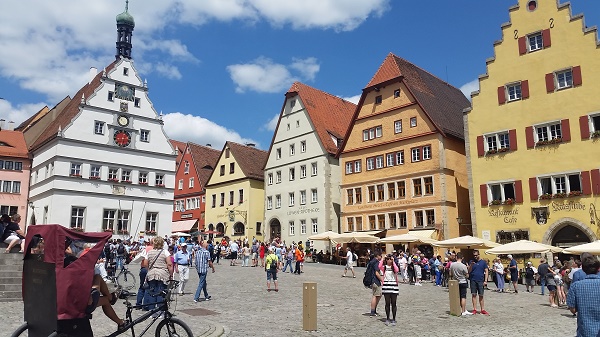 © Wendy Payne
Rothenburg is an ancient town that is part of the Franconia in Bavaria. One of the most well-preserved towns of Germany, it's a photographers dream. Plenty of shots for half-timbered houses, residents in Dirndl and Lederhosen and shops decorated in the 18th century style. Early settlements date back to 970 and continue to grow along the river throughout the centuries.
Summer Parades
Last summer we just happened to pick a weekend in July and drove to this ancient city. What we came upon was magical! During the summer, we found out Rothenburg hosts a town parade every Saturday from 8 to 11 a.m. celebrating the different clans, regional community groups and marching bands.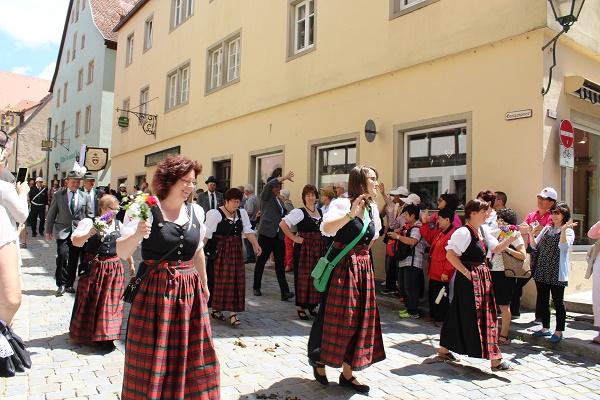 © Wendy Payne
Concerts
Another great surprise was the American youth band playing on the square. In the center of town in Rothenburg we were all entertained by the All-American Traveling European Band. A taste of being back in the States, it was nostalgic being here in July during our "Independence" month. Everyone seemed to enjoy this concert celebrating popular American songs including some from the "Sound of Music." What a thrill to be entertained in this beautiful city listening to such talented American music students.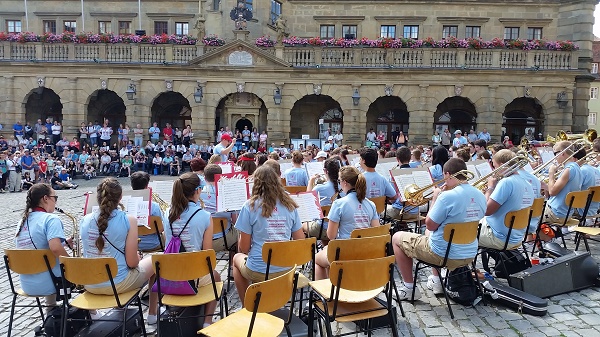 © Wendy Payne
Their repertoire included playing our national anthem and unforgettable classics, giving the tourists just a pang of "homesickness." This year, Rothenburg is also hosting the Ambassadors of Music, and you can find the calendar HERE. It makes for a wonderful day in the city.
Walled City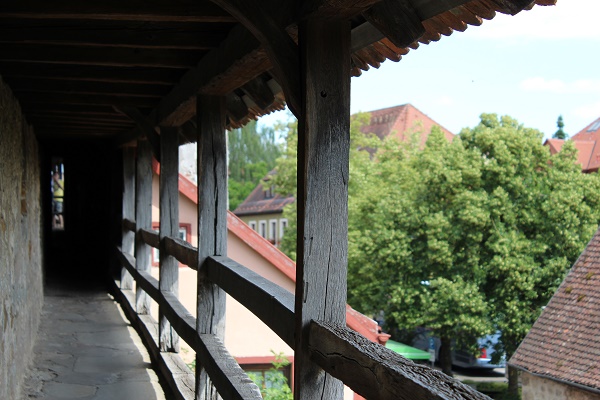 © Wendy Payne
Practically the entire city is surrounded by the original walls that once protected this beautiful town. You can walk and walk inside the wall on the top level giving you views of the town that are spectacular.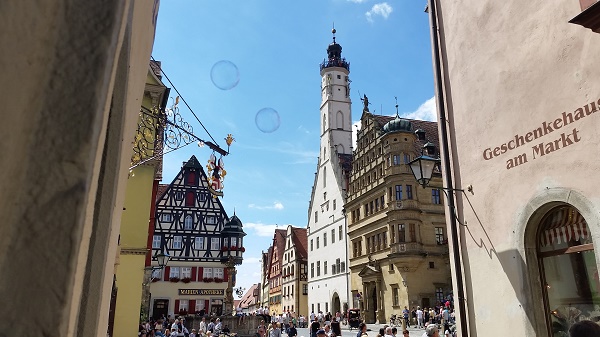 © Wendy Payne
Almost in perfect condition there seemed to be endless (Turms) towers, gates and fortifications for this pristine town. Walking the city is definitely worthwhile. Because the city is in great historical condition, wear a good pair of sneakers. Think original cobblestone.
Fests
Rothenburg also has several Fests throughout the year including a "Christmas Market." Because we have so many here in Baden-Württemberg I can't make it to all of them but have heard this one is really good as well.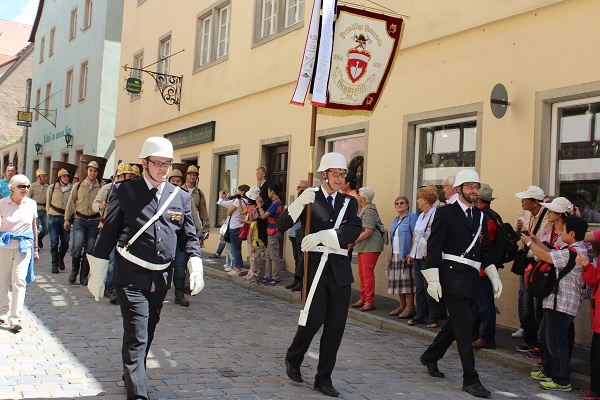 © Wendy Payne
Rothenburg has a festival for every season. For more information visit this great website of the Bavarian regional fests.
Shopping
Is Christmas on your mind? While in Rothenburg, you will find one of our American military favorite shops Käthe Wolhfahrt. Although pretty commercialized and set for tourists, I always happen to find something in this store I can't live without.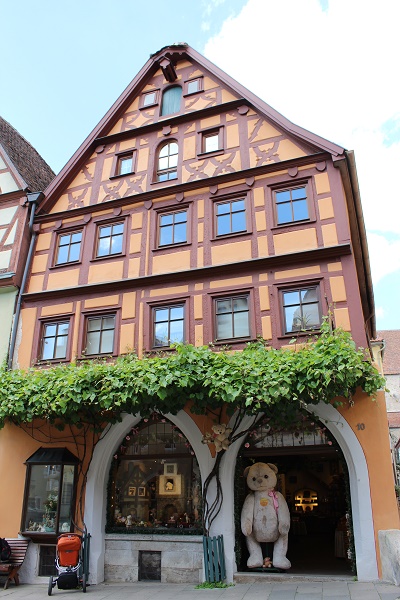 © Wendy Payne
Admittedly, when we head stateside I always find myself saying, "Oh, I shoulda picked up more ornaments! What was I thinking?" The Christmas Market, located right on the main square is super easy to find. Just look for the bear.
Museums
1) The Medieval Crime Museum (Kriminalmuseum) gives you a glimpse into the nature of criminal justice, including lots of torturing techniques and other devices you will secretly really enjoy staring at.
2) The Christmas Museum (Deutsches weihnachtsmuseum) / German Christmas Museum is open all year long and elaborates on the history of the holiday in different countries.
3) Try a Nightwatchman tour, which has received great reviews and thereby gained our trust! Check it out by clicking here.
Eating
One of the best attributes of Rothenburg is the location. Because it borders Swabia and is just inside Bavaria, the menus are always superb. You will be delighted to know most menus include Maultaschen and Jaegerschnitzel with fries and gravy. Another great treat are these pastry balls that are wrapped several times with layers of dough and either covered or tossed in brown sugar and cinnamon. YUM!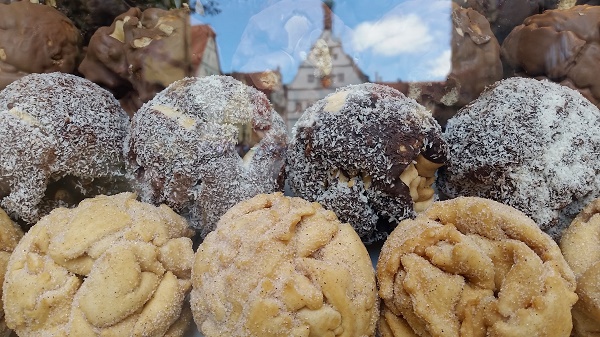 © Wendy Payne
We ate at the Baumeisterhaus right off the square. It was a very crowded Saturday but we were able to eat lunch after 2 p.m. If you've been in Germany for at least two weeks, you know this is right around cake and coffee time. So getting a hot lunch at this time can be a challenge. But happily, we enjoyed Bratwurst, Schnitzel and beer.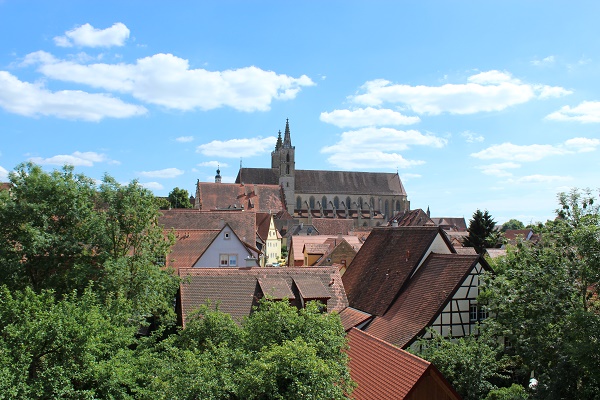 © Wendy Payne
You'll have a blast whether you decide to visit Rothenburg ob der Tauber for the day, the weekend or longer. You'll definitely see and experience a lot. But if you are looking to tour "Germany in a jiffy," Rothenburg is a perfect day trip. So if you are like me and have lots of visitors coming this summer, consider making it one of your "go-to" cities rich with culture, music and fun.
How to Get There
Rothenburg ob der Tauber is just under a 2 hour drive northeast of Stuttgart, 2 hours and 30 minutes southeast of Wiesbaden and 2 hours and 40 minutes east of Kaiserslautern.
Author's Profile: Wendy Payne is a military spouse and lives with her family in Stuttgart, Germany. She is a freelance writer, blogger and photographer. She also enjoys gardening, hiking, yoga and sharing Europe with people.
Featured Image Photo Credit:  © Pixabay-fbhk