It was hard to believe that it is only the 2nd week in October – the Stubai Glacier, just south of Innsbruck served up one of the epic days of recent autumn ski seasons on Sunday. Days earlier the Tirol had been hit by a freak early season storm that dumped challenging amounts of snow right down to 500m elevations – power lines were cut, trees lay across roads everywhere and autobahns were closed. On Sunday the storm chaos made a whole lot more sense with blue skies, cold temperatures and the skiers and snowboarders of the region dashing south to catch some powder action in the 80cm of new snow that had been gifted to the Stubai Glacier.

October powder days are far from unusual but this one was certainly special with the skies clearing to serve up this fantastic snow pack to visitors. On the slopes the snow was sensational with the Pisten Bullies packing the light snow down and skier and snowboarders were heading all the way down to mid-station – some even took the valley ski route all the way back to the base-station at 1700m.
Snow is forecast again on Wednesday and it is expected that more of what is one of the best glacier skiing areas in the Alps will open to the public in the coming week.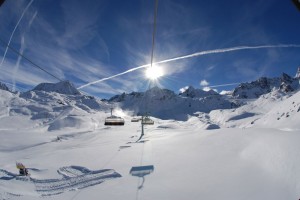 More information on the Stubai Glacier can be found at: http://www.skiingaustria.co.uk/stubai-glacier.html
Image © www.skiingaustria.co.uk
Author Profile:
Matt Brown
is a director of Skiing Austria. The company has an office in Innsbruck, ski the Austrian Alps from September through to June and arrange group ski trips to all Austrian resorts. Skiing Austria can be reached through
info@skiingaustria.co.uk