Although Germany doesn't celebrate Halloween in the same way America does, there are still amazing and spooky goings-on dotted around Deutschland. Those in search of Halloween fun don't have to look far. The country hosts a wide range of events for couples, families and singles. Here are five places to start!
1. Burg Frankenstein
For an authentically German – and terrifying Halloween – event, look no further than Halloween at Burg Frankenstein, otherwise known as Castle Frankenstein. Whether or not Mary Shelley was influenced by this distinct castle is still a controversial topic, but it doesn't stop the event from being thrillingly scary. We're talking the world's only Halloween party in a thousand-year-old castle ruin!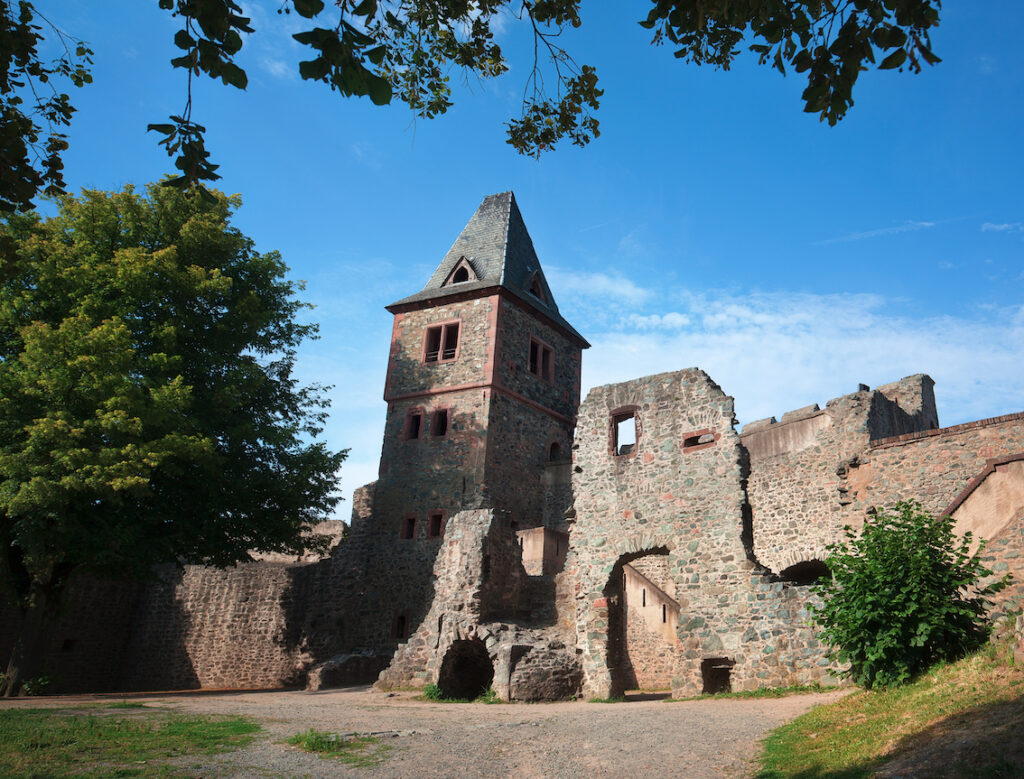 photo by Always Wanderlust / Shutterstock.com
An interactive experience, visitors get the chance to explore this historic castle while actors will roam around looking for willing victims. For an authentic experience explore the countryside surrounding Burg Frankenstein before the event. Please note that large backpacks are not allowed on the premises. Burg Frankenstein also offers a special kids program. Burg Frankenstein is approximately 1 hour 15 minutes away from Kaiserslautern.
2. MoviePark Horror Fest
If you're looking for an immersive experience for Halloween, then MoviePark Horror Fest is the place to be throughout October and into early November. Located north of Essen about 3.5 hours from Kaiserlslautern, the typically family friendly park will be transformed into Horrorwood studios.
Expect to be besieged by monsters, zombies and other gruesome creatures as night falls over the park. The park has hosted Horror Fest for more than 20 years, and this year's event features its famous horror labyrinth (tickets are required).
Afterwards you can take a calm nap at the local horror hostel, unless flesh-eating monsters find you first, that is. The park offers its own special accommodation for the event.
3. Burg Satzvey Halloween
Located 2.5 hours north of Kaiserslautern, the Eifel castle of Burg Satzvey is an excellent place for a Halloween adventure. This is the way to do Halloween. Families are welcome in the early afternoon for some "less scary" fun. But when the sun goes down at 6 p.m., the good (and more scary) times begin.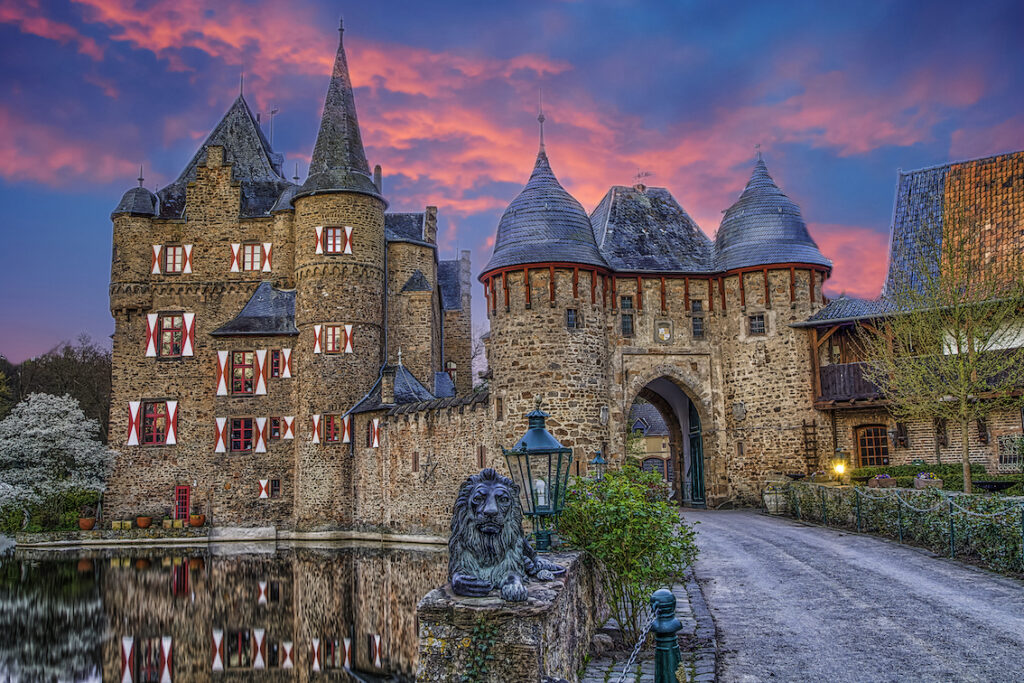 Behind Horizons / Shutterstock.com
Visitors are greeted by a spectral figure who haunts the lake outside the castle. It gets better inside. Mazes, monsters, jump scares, the works. Afterward, there's an outstanding party that lasts almost until November. If you act soon enough, you might even be able to book a room in the castle.
4. Tucherland Halloween
Tucherland is Nuremberg's only indoor playground with a huge outdoor area as well. Fun for the whole family, and a jaunty 3.5 hour east from Kaiserslautern, this playground turns dark on Halloween and becomes something altogether more sinister. But not too sinister. Kids can get their face painted, carve pumpkins to ward off evil spirits and hear ghost stories at night.
The park's doors open at 9:30 a.m. and the Halloween fun starts at 7:30 p.m. Admission is free for kids under two years old, and costs €12.90 for children ages 2-17. Admission for adults (16-64) costs €8.90.
5. Samhain at the Celtic village of Donnersberg
On any given autumn day, the Celtic village of Donnersberg makes for a fantastic day trip, especially since it is only 30 minutes from Kaiserslautern. The village does Halloween right, too, with a fantastic Samhain celebration on October 31 (from 5-11 p.m. this year).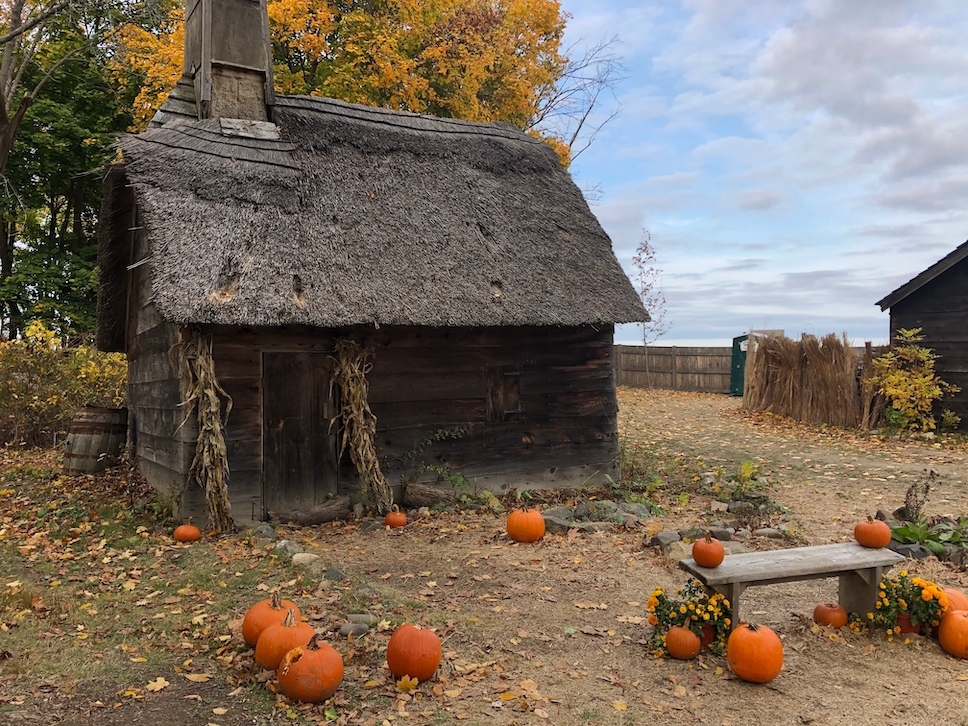 photo by Warda Hasin / Shutterstock.com
The Samhain tradition has existed in Celtic cultures for thousands of years, and marks the entry of the darker months. In Donnersberg, guests will be treated to food, drink, a bonfire, a spooky Celtic tour and much more. If you're looking for an ancient alternative to a traditional Halloween festival, this is it!