story and photos by John Thompson
As the capital of Germany, Berlin is, after London, the second largest city in the European Union with a population of over 3.5 million and a must-see for anyone living or traveling through Germany.
You can go on your own to selected sites, but we recommend that you take a city tour as soon as you arrive. This is the most cost (and time) effective way to learn the city's history and layout. All the following tours have great ratings, are in English, and are a unique way to see Berlin!
1.) City Segway Tours
This is the coolest, most modern way to see Berlin, but these tours are limited in size and you must have a reservation! We tried to book them one day in advance, but they were full. If you've never ridden a Segway, don't worry, almost anyone can do it! It begins with a 30 minute orientation session. You have to be at least 15 years old and have a valid driver's license. (Minors under 18 must either be accompanied by an adult or have an adult sign an insurance form before the tour.)  You must weigh between 100 lbs and 255 lbs to participate. There is a 200 Euro deposit required to use the Segway (credit cards accepted). Don't let these restrictions intimidate you – this tour has fantastic reviews!
Segway Tour options include:
Berlin City Segway Tour – 4 hours, 67 Euro per person, departs daily at 10:00 from March 1st – November 30th (from April to the end of October there is an additional tour at 15:00). Off season: Wed and Sat at 10:00.
Meeting point: At their shop around the corner from the giant TV tower on Alexander Square (Alexanderplatz).
Afternoon Mini Segway Tour – 90 minutes, reservations are required, 43 Euro per person, daily at 15:00 from March 1st to November 30th. Off-season: call or email for arrangements. Same meeting point as the City Tour above.
Private Segway Tours and Corporate or Group Tours are also available.
Check out City Segway Tours – Berlin

2.) Insider Tours Walks
These walking tours are great. The tour guides are very well informed, speak great English, and love their jobs. Insider Tour Walks have gotten outstanding reviews. They are easier to do than the Segway tours: you don't need a reservation, and you don't need to make a deposit plus anyone can go regardless of their condition, but you must be fit enough to walk a few kilometers. They offer several tours, but the "Famous Walk" Tour is a basic tour and recommended for those who have never toured Berlin.
The price is 12 Euro per person. It is 10 Euro per person if you are under 26 yrs old, a student or retired. You need to purchase a single ride U-bahn ticket (about 3 Euro) to get to the tour starting point.
It was billed as a four hour tour, but Jessica must have really enjoyed our group, because she kept going for five and a half hours! We saw almost all the most important sites. They have two meeting points – just give them a quick call for an explanation – everything is in English.
Check out Insider Tour by clicking here or call 030-692-3149 (in Germany)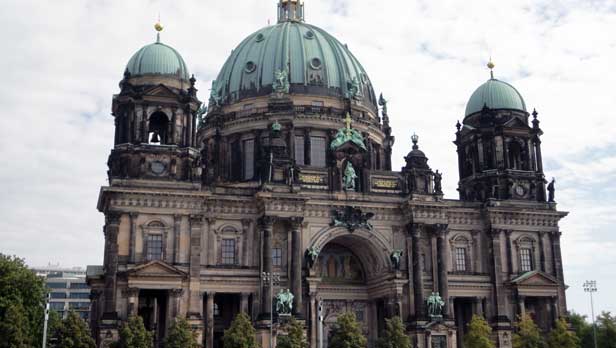 3.) Fat Tire Bike Tours
Berlin is a flat, bike-friendly city, and this tour takes you almost exclusively on bike paths and less-traveled roads. They are proud that their tours are not the least bit strenuous and much easier on your feet! You will see many of the most important sites. Often they take a break at a traditional German beer garden. Helmets are not required but will be provided on request free-of-charge. They also have child seats, child trailers, kids' bikes and helmets for kids. Several different bike tours are available, but the "All-in-One City Bike Tour" is the best all-around tour. This tour is 4.5 hours, covers about 6 miles. Reservations are not required. The price for adults is 24 Euro; students and retirees cost 22 Euro.
Visit the Fat Tire Bike Tours website by clicking here call them at 030-2404-7991 (in Germany) or email:Berlin@FatTireBikeTours.com
For more photos of Berlin, like us on Facebook and check out our travel albums.