Cover photo by Tatiana Popova / Shutterstock.com
Story by Ronnie Juhans
If you are looking for a change in scenery, culture, and adventure outside of Germany this winter season it can all be found in Zell Am See, Austria. Located a little over 7 hours by car from the KMC area this winter sport region is worth the drive.
My first visit to Zell am See was during the summer a few years ago for a group mountain bike adventure in Leogang. We explored the region, traveled to Zell and discovered what it had to offer after our last biking tour for the season.
We returned in December during Christmas and checked into a small villa. The owner even made us a Christmas dinner of goose, baked trout, potatoes, vegetables, and shots of Austrian Stroh Rum that gave a kick strong enough to keep us warm for several hours whilst out playing in the snow.
This amazing town by the lake has a public transportation system that is so easy to use and convenient you never have to worry about getting lost, caught up in traffic or dealing with challenging driving conditions during the height of the winter sport season.
There are ski busses that constantly run to the cable car lifts of the Kitzsteinhorn glacier and the Schmittenhöhe. Most stops are located either on the same street of your accommodations or just a short walk away.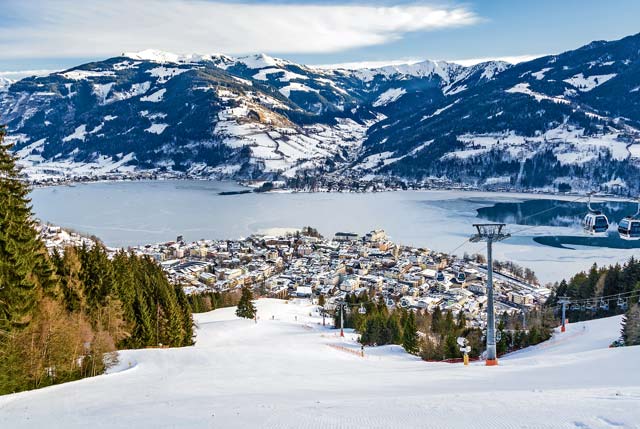 Yuriy Biryukov / Shutterstock.com
Kitzsteinhorn glacier: With over 60 runs for beginner to advanced skiers and snowboarders, this area has something for everyone. To let you know in advance, the gondola ride was a bit long and high for some folks in my group. The gondola takes you over very steep valleys and can tend to sway a bit when the glacier winds pick up during a snowstorm, so this ride is not for the faint at heart. The winds and fog can change weather conditions quickly, so always be prepared.
For more information, visit www.bergfex.com
Schmittenhöhe: 77 Kilometers of slopes for beginner to advanced skiers and snowboarders. This has always been my favorite area because of its weather conditions. The winds are relatively low due to the lower altitude, and it faces south, which places it on the sunny side of Austria, giving you a more pleasurable experience without spending your time on the slopes not being able to see where you're going, trying to stay upright in the wind. Also, the gondola ride is shorter and easy to take.
For more information, visit www.schmitten.at/en
If you are not a downhill skier or snowboarder there are plenty of other activities awaiting you in this region. Winter hiking around the lake, cross country skiing, snowshoeing trails, sledding, and more are just minutes away from the center of Zell.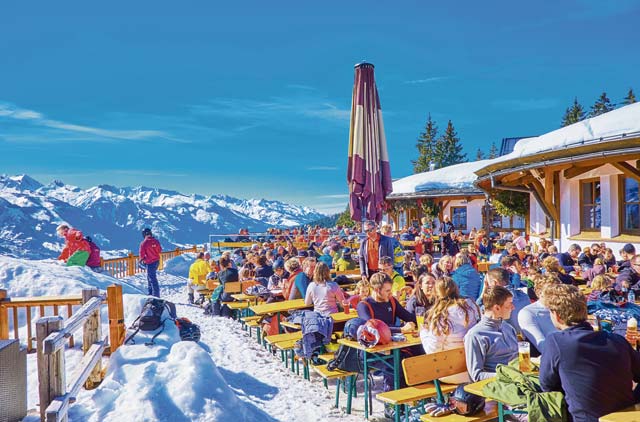 eFesenko / Shutterstock.com
If you don't want to play in the snow you can spend the weekend relaxing and staying warm in the region's two major spa facilities.
Tauern Spa Kaprun: The Tauern Spa is huge with approximately 20,000 square meters of space with 11 pools, as well as many saunas and steam baths and amazing food and views of the surrounding mountains. You can also have a drink while taking a dip in the outdoor saltwater pool to finish off the day.
For more information visit www.tauernspakaprun.com/en
The Zell am See Leisure Centre
This facility's indoor pool has water slides, diving platforms, relaxation areas as well as an organic sauna, a bistro, and infra-red cabin. If you want to give ice skating a try, the rink is located just next to the center.
For more information visit www.100freizeit.com
Things to consider:
Check snow and weather conditions first thing in the morning. High winds, fog, and snow can take you by surprise within minutes.
Check for updates on transportation fares, rental fees as well as closures due to weather.
What to wear: Warm clothing, a hat, helmet, gloves or mittens, snow pants, winter jacket, snow boots, and goggles.
What to bring: First aid kit, sunscreen, water, snacks, a change of socks, gloves, hat, cell phone, and euro cash. Plastic is not accepted everywhere.
Dos and Don'ts:
Do have snow chains and emergency kits in your vehicle. Also, water and snacks to tide you over in case of a long delay on the road.
Do take lessons if you are a first-time skier or snowboarder
Don't ignore the markers along the slopes with do not enter markings that are blocked by nets or tape.
Don't venture out alone especially when the weather takes a turn for the worse.
For more information on accommodations, equipment rental, bus schedules, lift prices, snow conditions, and other regional information and updates: www.zellamsee-kaprun.com/en