Wallender Born or Wallenborn (also known popularly as the Brubbel) is a cold-water geyser in the Eifel District of Germany. It is one of only three in all of Europe, two of which are located here in Germany.
My partner in crime (aka my BFF Linda) and I got a bit lost on our day trip to check out the geyser, but it was time well wasted. It was a beautiful sunny day and the drive is easy and very scenic. We arrived just moments before the geyser was ready to erupt, which was good news since the eruptions occur roughly every 35 minutes and I am not known for my patience.
Caution!
We paid our 1.50 Euro per person and waited excitedly for this display of nature. I have to be honest, I have never actually seen a geyser and since the sign reads "Caution! The fountain may erupt unexpectedly and violently. Mind your step", I was mentally picturing something out of Iceland or maybe even Yellowstone. I won't say I was disappointed. However, I will say that this is a baby geyser.
What to Expect
First, you hear a small rumble, and then the water starts to move almost like water coming to a boil in your stovetop pan. Depending on groundwater level and air pressure, the water being ejected results in about a two to four meter high water column. For roughly five minutes the surge varies greatly and then the water slowly sinks back into the vent.
Wallender Born is the result of volcanic activity seen in the Eifel region and the escape of carbon dioxide and traces of hydrogen sulfide. The spring water is very cloudy with sediment and smells distinctly like rotten eggs. No worries, this smell only lingers for a moment!
The Surrounding Area
The area immediately surrounding the geyser has benches and picnic tables and we noticed many families enjoying picnics and even toasting the event with champagne.
Just across the street from the geyser is a local honey shop (Imkerei Mehler) and a bee aviary. The store will allow you to sample all different kinds of honey and they sell several products made with honey ~ soap, lotions, candles, and honey of course.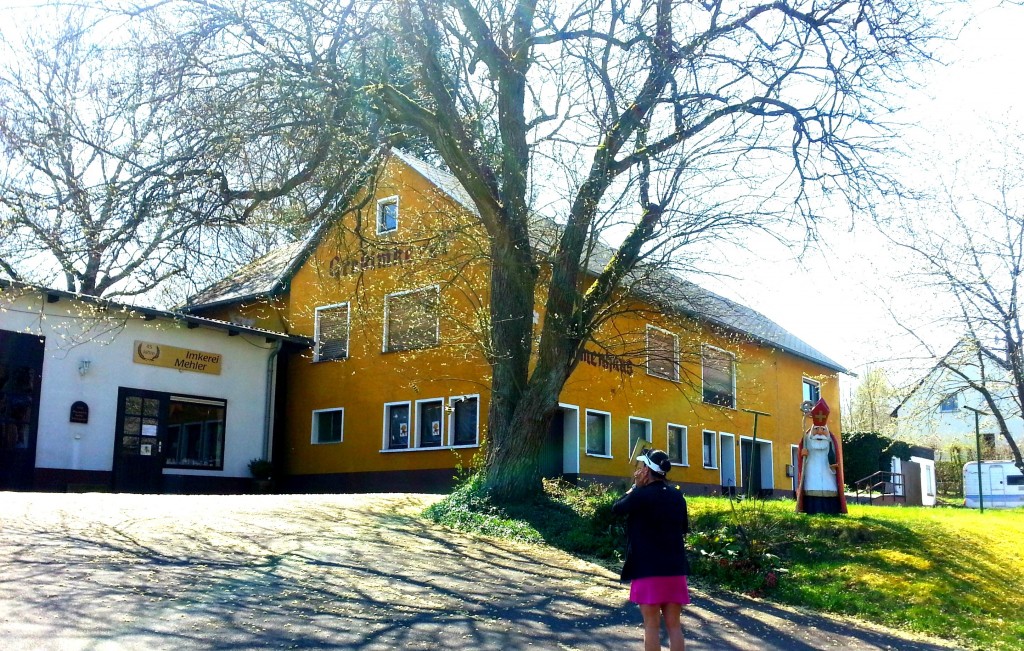 Along the path to the aviary are some interesting statues. This guy didn't have any description, but he clearly is some sort of bee tamer!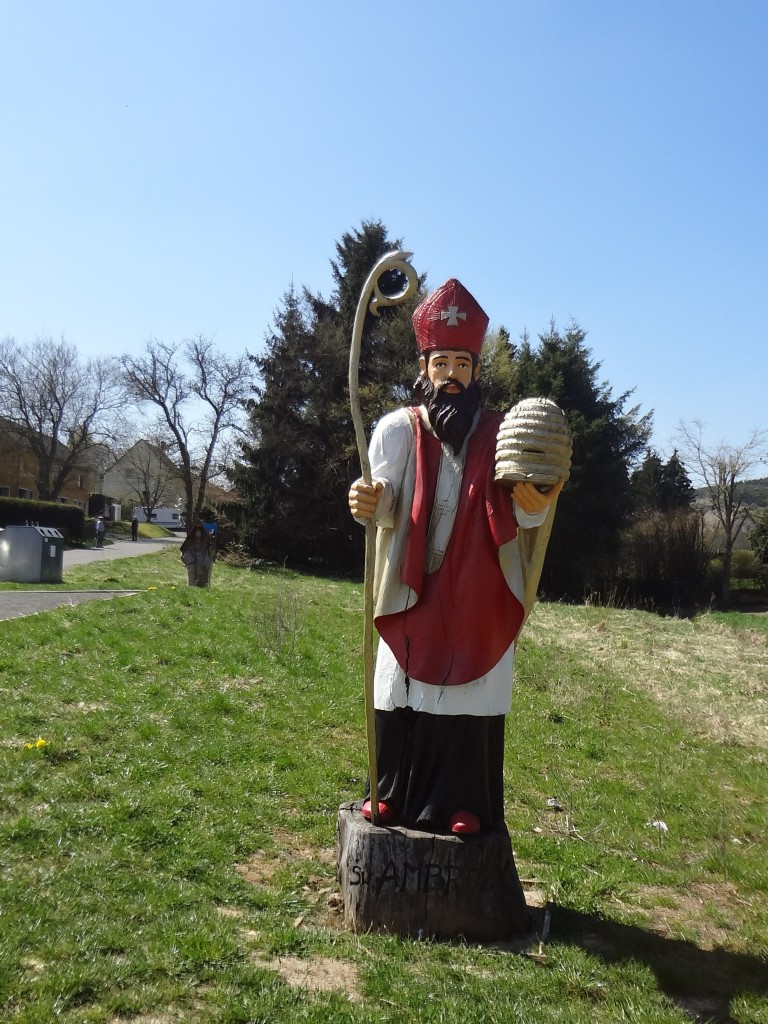 And this guy hanging in the tree is apparently there to demonstrate how honey was collected at some point in the past. Without google, I have no idea if this is a "sneak attack" or what.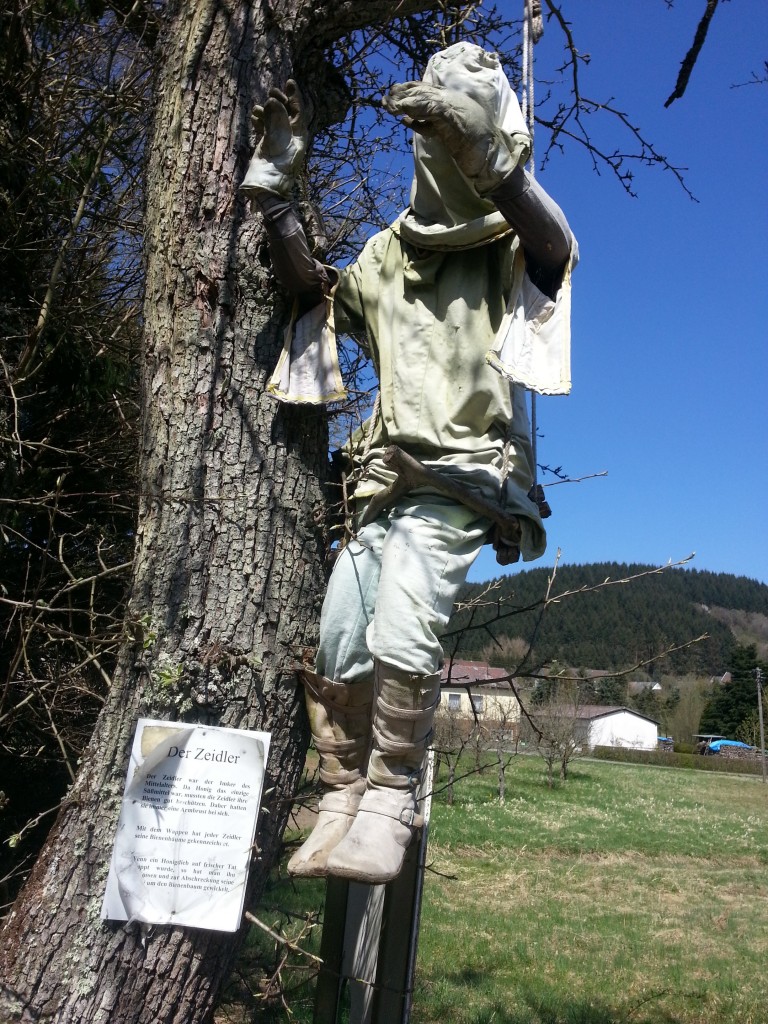 The store was unfortunately closed on the day that we went, but we did window shop. I did not notice any hours on the door, but my guess is that this is one of those businesses that is open mostly on the weekends until summer.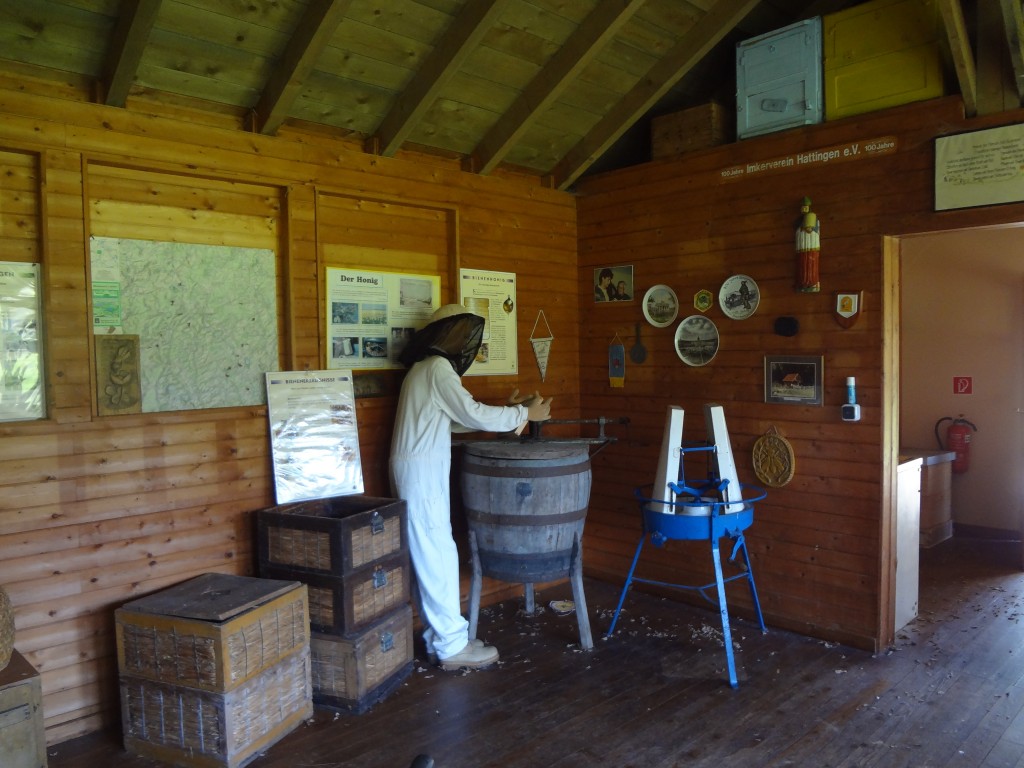 The bee aviary is to the right and behind the yellow building. The bees did not cooperate with us and the aviary is also closed until the bees show up. We did take a quick tour of the facility and it appears as if they give a full demonstration on the production of honey and a lesson on how many different types of honey are available. I believe this would be an excellent educational trip for young children.
How to Get There
Wallenborn is approximately 1 ½ hours from Ramstein (if you don't get lost) and 30 minutes from Spangdahlem. We used the address Weindenbacher Strasse 3, Wallenborn 54570 and it took us straight to the geyser. There is plenty of parking available. There is also a café and restrooms onsite. Cost is 1.50 Euro for adults and is free to children under the age of 14.
Wallenborn is approximately 1 hour and 40 minutes northwest of Kaiserslautern, 1 hour and 50 minutes west of Wiesbaden and 3 hours and 30 minutes northwest of Stuttgart. Click on DB Bahn for train information.
Just moments away and directly on our ride home, we stopped at the Pappelhof Hotel which has a café and a beautiful pond with a fountain. It was a perfect place to end our girl's day out with an hour of sunshine, a delicious turkey salad and of course some Weiswein.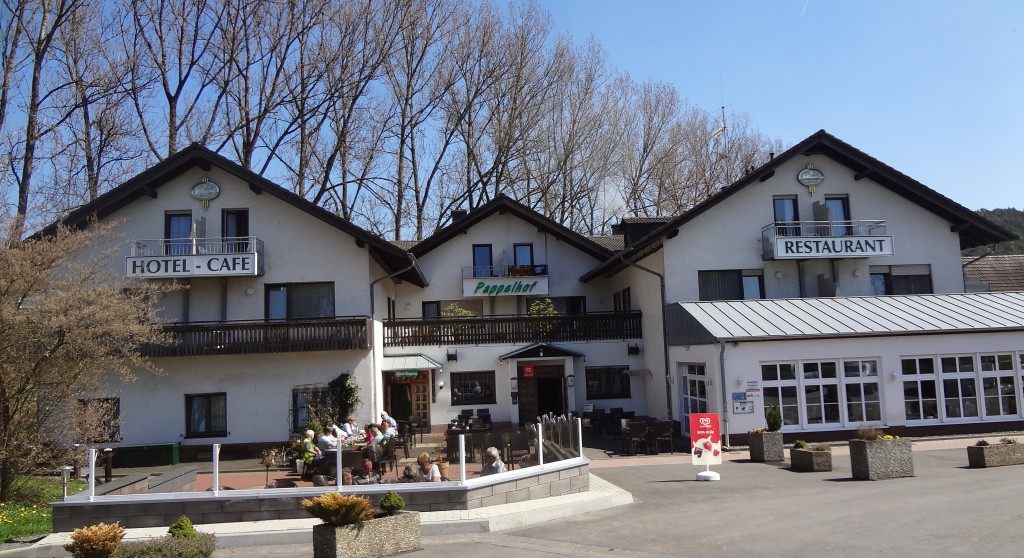 Author's Profile: Cheryl Koller is a native of Georgia. She is a DOD spouse, mom of 4 daughters (2 adults, 2 teens), thrill-seeker, avid traveler, and lover of food and wine. She is a self-proclaimed Freedom-Preneur and blogger currently living in Ramstein with her family.