Featured image by Olha Rohulya
Marburg is a University town just north of Frankfurt, nestling in the Lahn valley. You will find that it still retains its cobbled streets and the Hessian architecture of the 17-18th century that has been well-preserved, as the town luckily escaped the bombings of the Second World War, unlike its larger neighbor, Frankfurt.
You can wander through the old town and get a feel of how Marburg was in the past. Listen out for the church bells and soak in the atmosphere. This ancient town seems to come straight out of a tour guide, but it is real and very much art of the 21st century. Marburg is one of the few places where you can stroll at your leisure without hordes of tourists taking photos and jostling you.
Marburg is a small town and the best way to see it is on foot because of the narrow streets. Alternatively hire a bicycle or use public transport. If you find that you are lost, ask a local as they are particularly friendly. Please note that you need to be quite fit to walk around Marburg, as there are many somewhat crooked steps to negotiate, and as it is situated on a hill, some of the streets can be steep.
Must-See Places in Marburg
The Ancient University
Philipps Universitat founded around 1527 making it one of the oldest Protestant universities in the Western world. Marburg has a population of more than 81,000 with six thousands employed at the university which has around 21,000 students. There is a saying that while most cities have universities, Marburg is unique because it is a university in itself.
St. Elisabeth's Church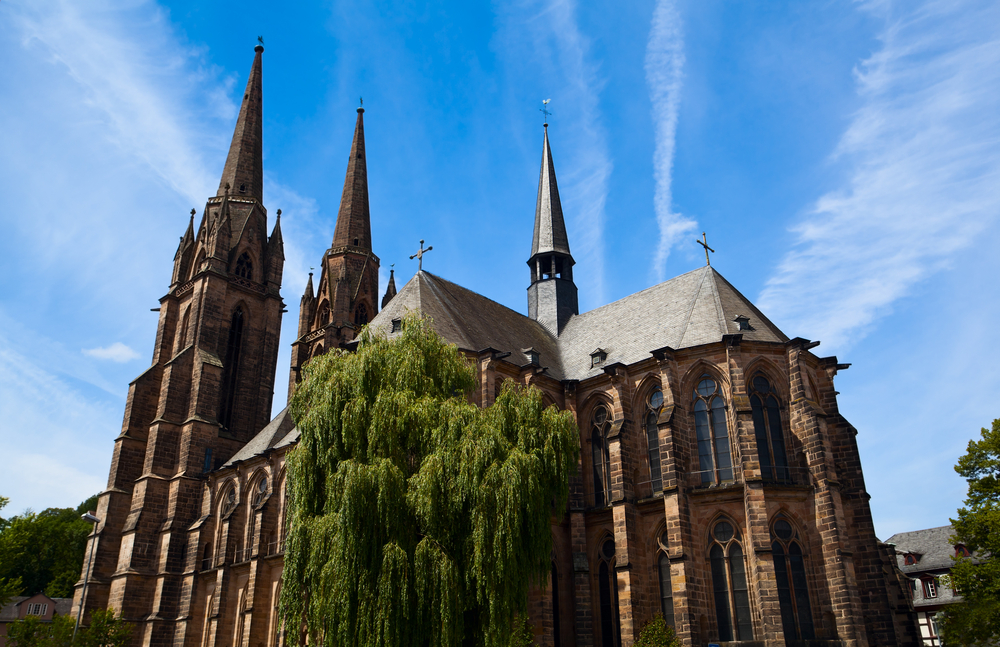 Olha Rohulya / shutterstock.com
If there's a river that runs through a German town, there will be boat trips, and you can take one of these in Marburg. The trips start at the bridge just across from the ancient university building.
If you aren't keen on boat trips, you must see Marburg at night and you could do this as part of a guided tour, although just wandering around the town might be more your thing. At night Marburg looks even more romantic than by day and you can grab a bite to eat, or enjoy a leisurely meal in one of the many restaurants in the town. If you want to buy wine to take home with you, go to the Kulturzentrum Waggonhalle where you will find most things you require, with entertainment on offer, as well as interesting flea markets to stroll around.
Places to Eat and Drink
As you would expect in a university town, there are many places to eat at affordable prices. If you have children, you might like to try the Café am Grün. You will also discover the Rotkehlchen restaurant where you can sample wonderful German cakes and also very tasty meals. If you don't want to eat German food, then try the Lebanese Imbiss. The Leppers Imbiss or the Currywurst offer the best French fries in Marburg and if you have a sweet tooth, check out the Konditorei Vetter café or the Klingelhoefer Konditorei, where you can also have a hearty breakfast.
It's easy to get a drink in Marburg as there are so many bars and pubs.
If you really want to get the flavor of a Marburg night out, visit the Delirium mit Frazzkeller; you won't be bored. The excellent Sud Haus bar in particular is the place to go if you are ojust so happen to be very friendly as well.
Travelling around Marburg
It may be worth you stopping at the Aquamar if you are into spas or perhaps you would like to explore other towns in the vicinity, in which case a trip to Rauischholzhausen might be just the thing to do. It is only about 15 km east of Marburg and you can visit the wonderful park and another ancient castle, Amoeneburg.
If you want to take a trip to a German market, take the train to Kirchhain (via Kasssel). The best time to go to these markets is around Christmas time and New Year.
How to Get to Marburg
By train: You can get to Marburg from Frankfurt by Inter City train very easily.
By road: It's just over an hour to drive to Marburg from Wiesbaden, just under two hours from Kaiserslautern and  about 2hours 40mins from Stuttgart.