Story and photos by Kat Nickola
So you want to visit Sicily? Of course you do! Roman ruins, crumbling Greek temples, good food, sunny beaches, vibrant cities, boating on the water, hiking up a smoking volcano …. I could go on and on….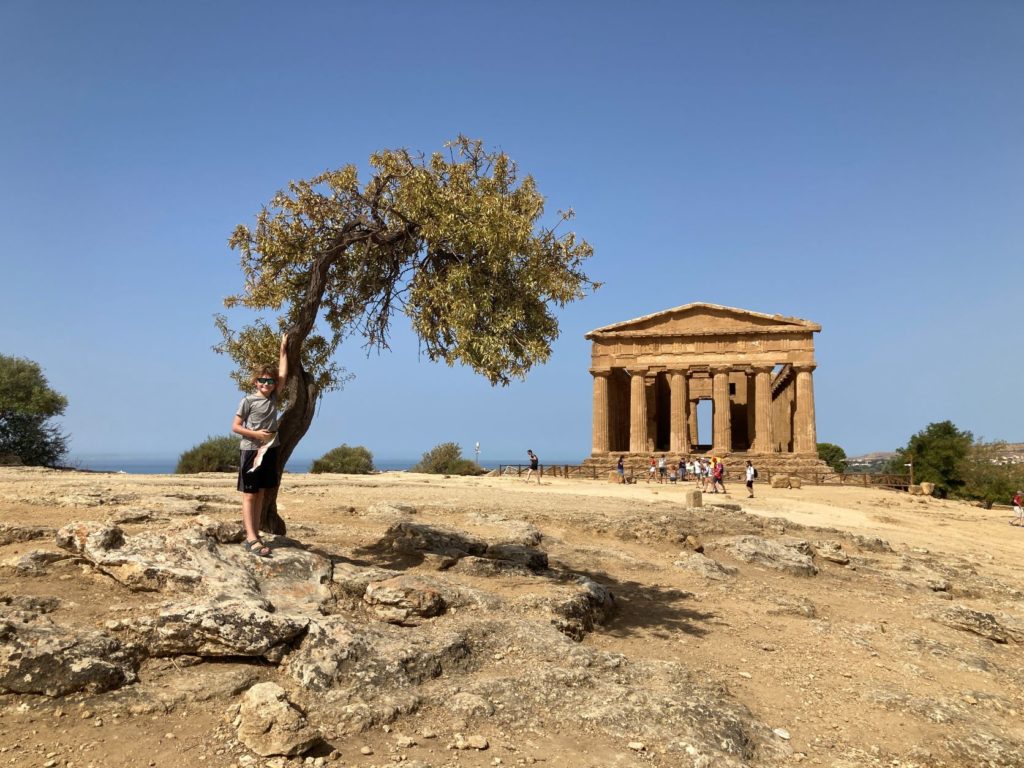 | Military in Germany
But how do you get there?
Most people would fly to Sicily, and possibly rent a car. But I'm here to offer another alternative. One that makes the journey just as fun and stress-free as the destination.
Take a Ferry!
I drove into the Palermo ferry port three hours prior to departure and found that I was in the wrong place.  However, the cordial Sicilian police officer at the gate did his best to explain where I was to go, and it worked out just fine. (to avoid my mistake below for GPS coordinates) At the correct port gate, I was directed into a line with only two other cars, my paperwork was checked, and then my son, my dog, and I waited another hour as the line behind us grew and grew.
It was my first time boarding an Italian ferry and I didn't want to get it wrong, but now I know that arriving 2 hours prior to departure, as recommended, is better. When it was my turn, I followed the helpful port staff who directed me to drive onto the ferry and down two ramps into the bowels of the ship.
"Grab your overnight bag," I told my son. "We can't return to the car until the trip is over." I got my own bag plus our dog in his backpack, and we headed for the stairway up to the passenger areas.
"How are we going to get out?" My son asked as more cars blocked mine like a master Tetris board. "Hopefully they show us," I replied. And they did. Being first on the boat actually meant we ended up being last off the next afternoon, but the loaders are well-rehearsed and give great directions. I was able to 10-point turn my Outback in a space the size of my patio, and easily drive off the ferry.
But, I'm getting ahead of myself. A ferry?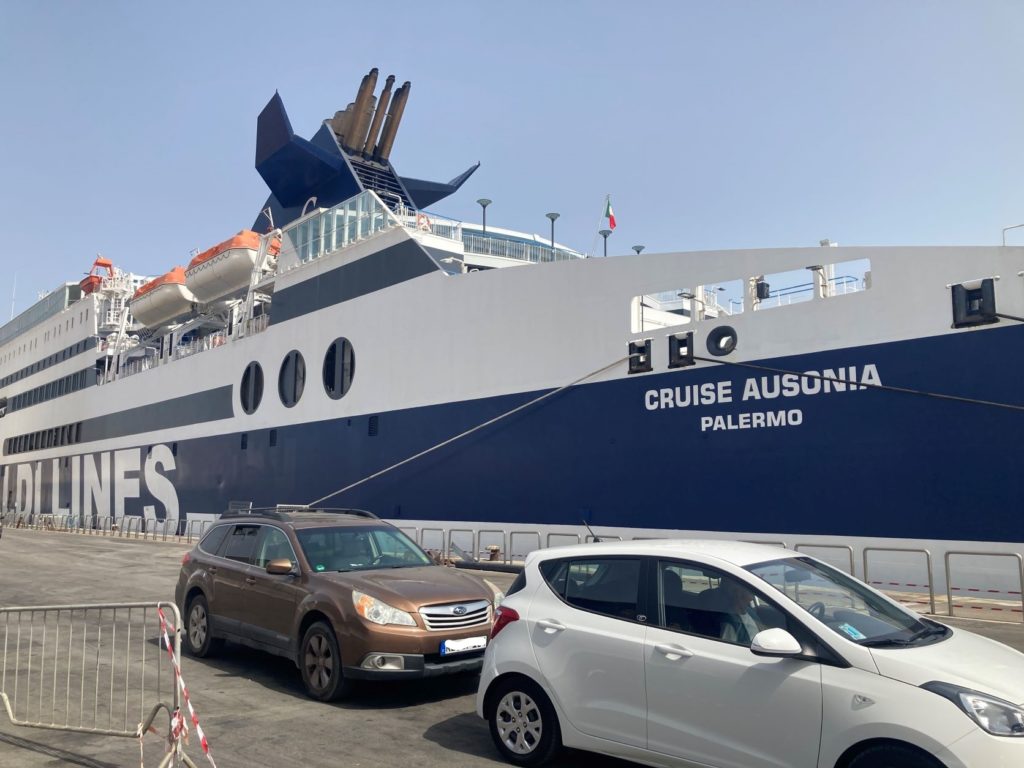 | Military in Germany
It's Better than Driving
My son and I were at the end of a road trip from Germany to Italy and back. We stopped along the way as we drove south through Italy to see the major sites and ended in Sicily. It was long. It was chaotic. The driving was stressful. The toll and gas costs added up to airfare. I don't recommend it.
But once we got to Sicily, things were different. It was necessary to have a car on the island. We were able to keep our own pace, spending mornings driving to historical sites, afternoons at the beach, and back to our room for a nice nap before a late dinner.
And we continued that holiday schedule on the ferry. After being parked on that low deck, we walked up to the reception desk on deck five and got our disposable room key card. Cabin 8038. Deck 8.
The cabin felt like a cruise boat cabin with a large window, two comfy single beds, a little desk, and a small bathroom. It was nice to have our own space to be quiet and sleep during the overnight ferry ride. We took a nap as the boat launched – it had been a long hot day of sightseeing.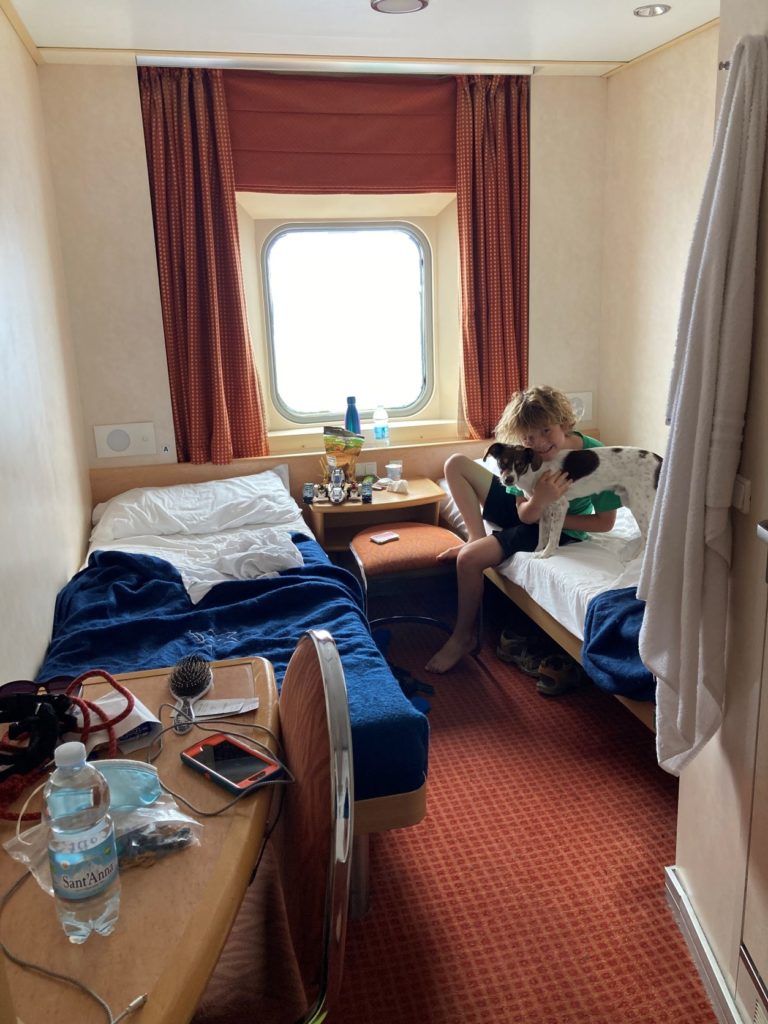 | Military in Germany
Ferry Perks
 As we returned from Sicily to northern Italy on the car ferry, I got to thinking about all the hours I had spent on Italian toll roads with white knuckles on the steering wheel. Let me just say, Lesson Learned. If I had to do it again, I'd take the ferry both ways and save Italy for shorter cheap-airfare trips.
Taking the ferry has definite perks. It's cheaper than driving the length of Italy and can include an overnight in a nice berth. Transportation and accommodation are all booked in one fare. It also gives you a safe way to transport your car without having to be behind the wheel.

Grimaldi
The ferry also saves time. During our car trip, it usually took us 40% longer than my mapping app estimated. There is simply a lot of traffic, construction, slowdowns, and even burning trucks on the side of the road in Italy. Driving is slow going. Instead, you could be on a ferry overnight; gaining ground while you sleep counts as a super perk.
Lastly, and for us this was extremely important, it meant we could still bring our dog along. Flying with a pet on vacation is not only costly but very stressful on the pet. However, a road trip is great fun for our pup Slim Jim and taking the ferry meant he could easily come along. In Sicily, he was welcome almost everywhere, too. If you travel with a pet, be sure to have their EU pet passport up to date.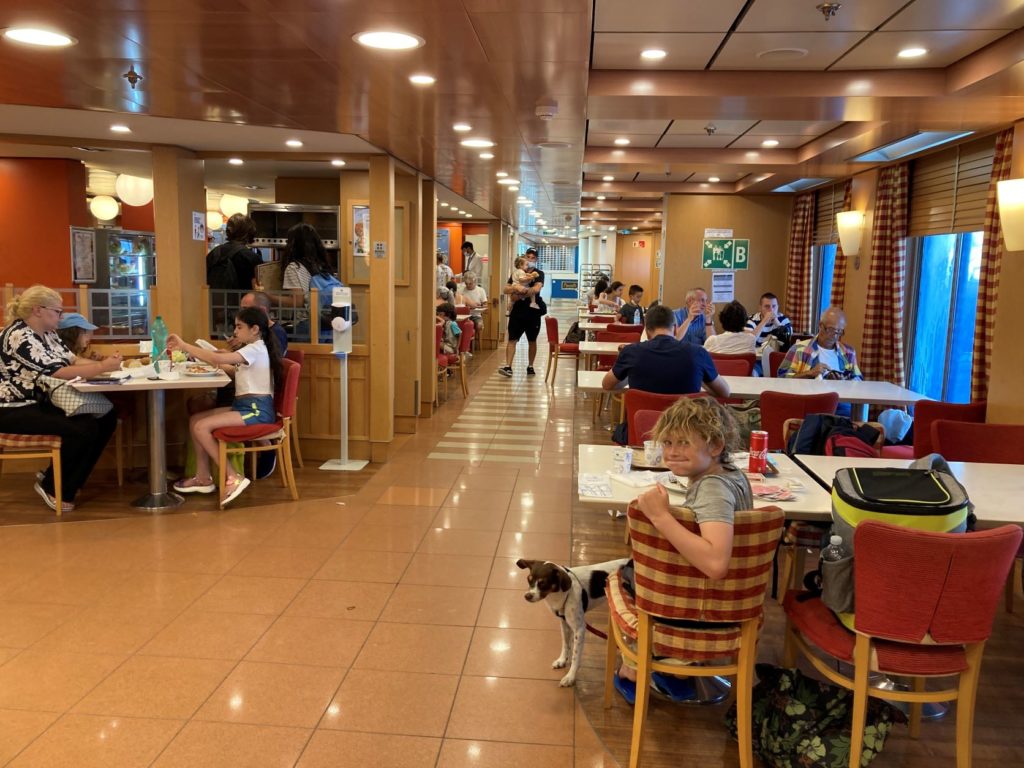 | Military in Germany
Available Sicily Ferry Options
There are lots of ferries around Italy; here I'll focus on car-ferries to and from Sicily from the north of Italy.
There are two options, two companies, and two different ports in the northern part of Italy that regularly service Sicily with car ferries. Both options are reputable, comfortable, and safe. Both options offer daily (not Sunday) departures in each direction.
To/From the Port of Genoa
Roughly a 9-hour drive from the KMC
Departs in the late evening (usually between 2130 or 2300) and arrives the following evening
20 hours and 30 minutes
Ferry Company: GNV, Grandi Navi Veloci. Ships: La Superba or Excellent
To/From the Port of Livorno
Roughly 10.5 hours from KMC
Departs early evening (usually 1830) and arrives the following afternoon
19 hours and 30 minutes
Ferry Company: Grimaldi Lines.  Ships:  Ausonia or Smerelda
I chose to book with the Grimaldi lines into Livorno; primarily because the cost was lower and the timing better. Both ferry companies have two ships doing the route – all ships are very comparable with comfortable seating areas, bars, restaurants, open decks, a small pool, and cabins. It has the feel of a toned-down cruise ship.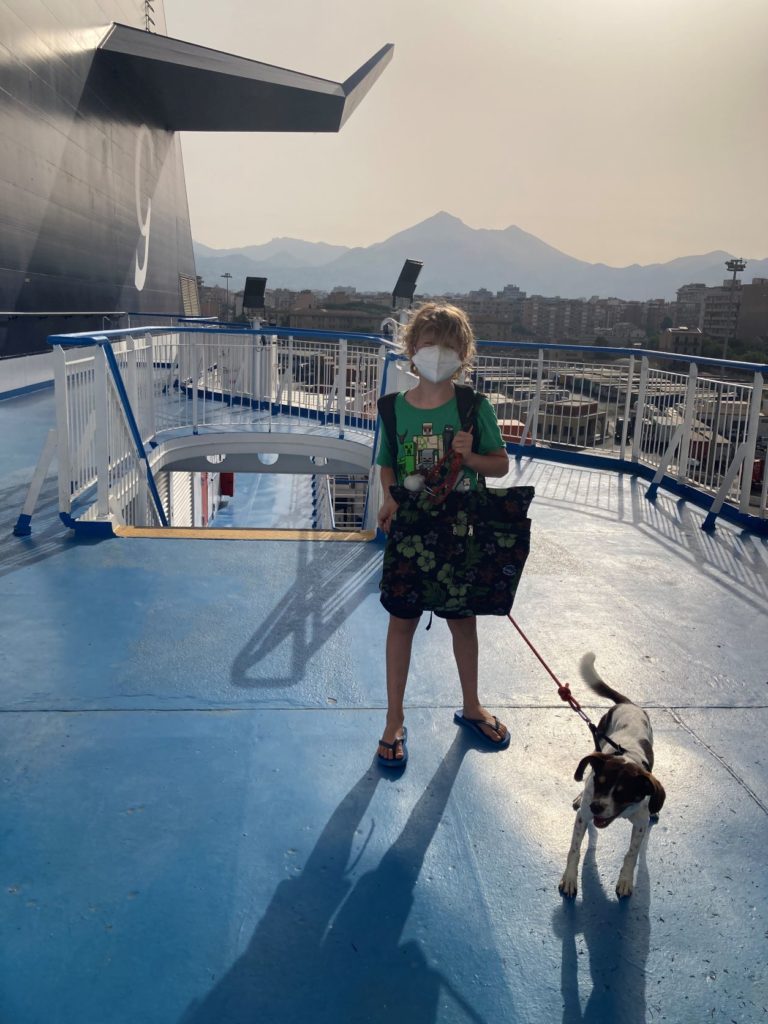 | Military in Germany
Booking the Ferry to/from Sicily Online
I recommend you book a ferry on the company website, not a third party. I also highly recommend making an account with them so you can use the app and easily access your booking later.
Both websites operate like an airline booking. You choose dates, add people (and pets), add vehicles, and then select from seating options. Your fair will be adjusted based on these selections. Choosing to add a cabin will be the biggest expense; an inside cabin without a window is cheaper than an outside cabin.
When it comes to pets, there are interesting options. There are special pet-friendly cabins for larger dogs. But, if you have a small pet (under 6kg) it may travel in any cabin as long as you have a carrier for it. There are also kennels, they are outside on a quiet deck, for any pets not travelling with cabin accommodations. The use of these is included in the pets' fare, but we didn't use it since we had our own room. Our ferry had lots of dogs, and even a couple of cats.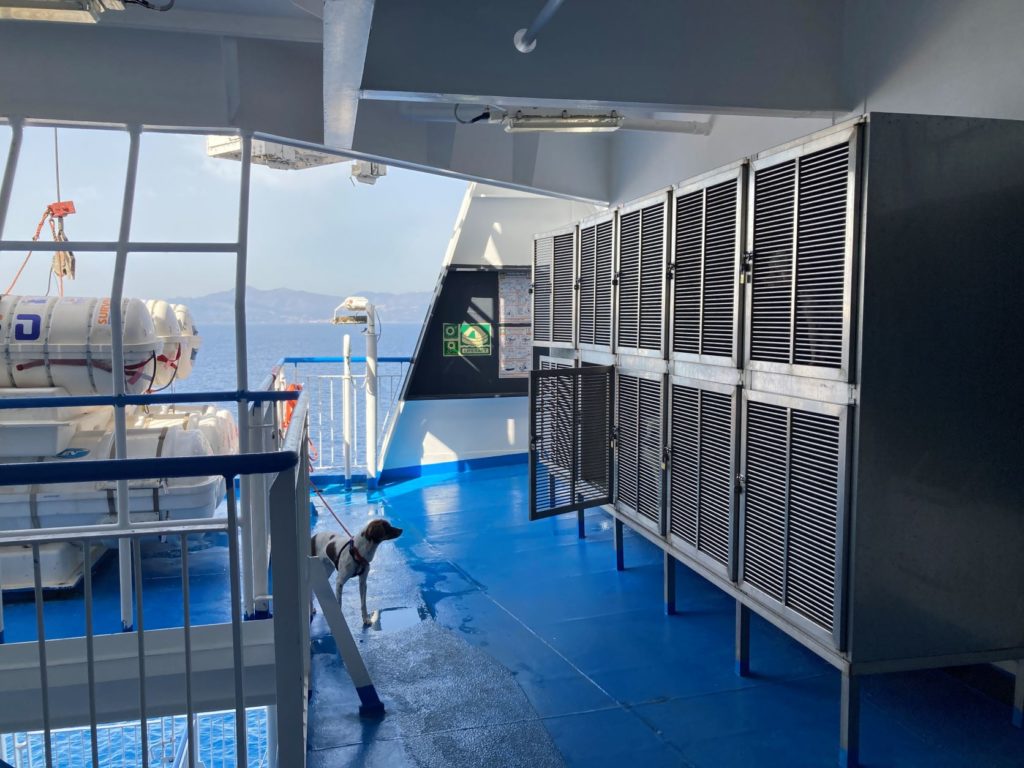 | Military in Germany
Another booking option is to prepay for meals. I chose to do this and was certainly glad for the cost savings. I purchased two breakfasts and the adult 'standard' lunch and dinner for our sailing. It included plenty of food for both me and my 11 year old son.
Lastly, you may be offered a cancellation policy. Some fares include this, some discounted rates do not. I recommend buying it. (roughly € 20) When I first looked into options for this trip, I booked a discounted ferry ride to a different port, then decided to change my plans – without the cancellation policy I wouldn't have been able to do so. My final plans included cancellation in the rate.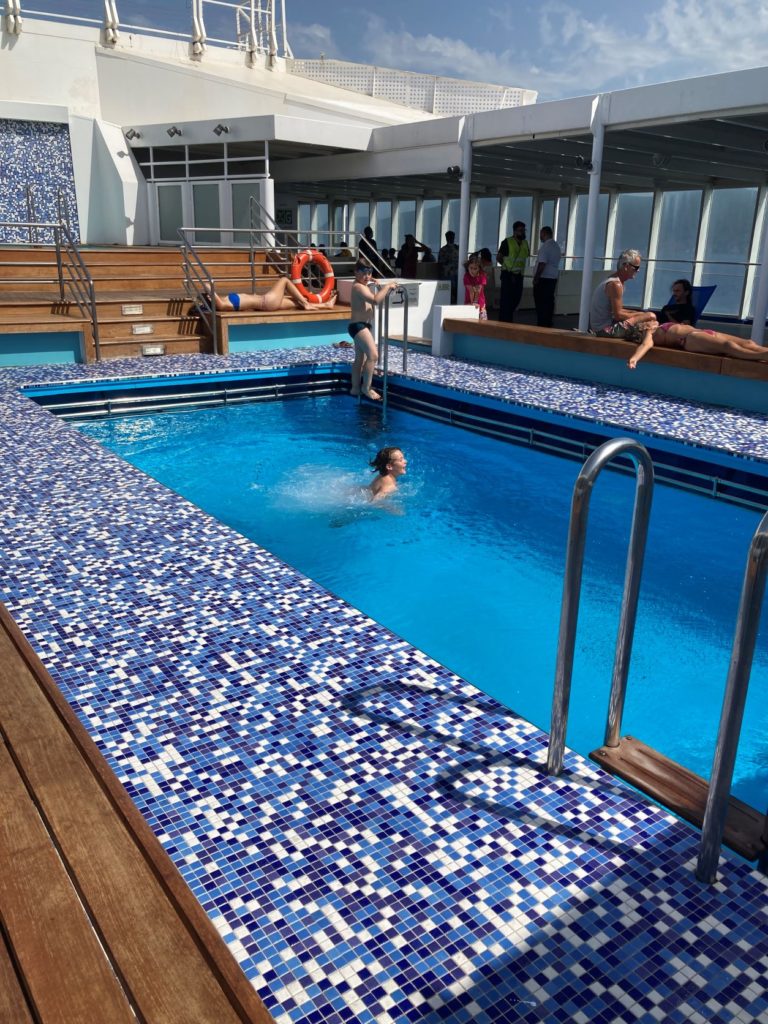 | Military in Germany
What to Expect on the Ferry
Back in our berth on the ferry, we heard an announcement that dinner service began. These announcements were in Italian and sometimes also English. We went to the cafeteria line. I had to ask a server to verify what was included in our pre-paid standard dinner, and we communicated well with pointing.
It was a lot of food! We got one selection for the first course: we chose lasagne, one selection for the second course: we chose meatballs with french fries, one huge roll, one piece of fruit, one drink: I chose a beer, and we bought water for my son.
After a nice long dinner, we wandered the boat, playing cards for a while on the outside deck looking for lights on the Italian coast. We got Slim Jim from the room and ran him back and forth on a vacant side deck. We played some video games and wandered the little shops.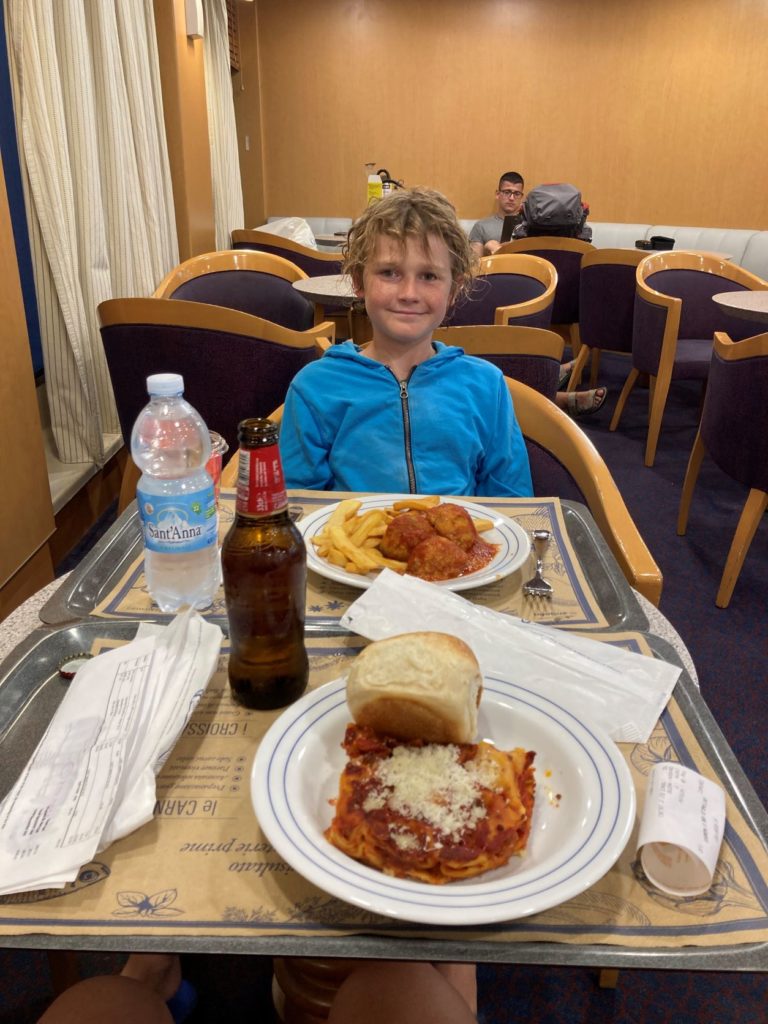 | Military in Germany
Overnight we both slept very well. I noticed no rocking on the massive ship. The next day went much like our time in Sicily; we had a nice late breakfast (a croissant or roll each, coffee, and water), and then relaxed at the pool. The small pool was on the upper deck and filled with clear cold saltwater that felt great after roasting in the sun.
We watched small islands go by, and read our books on lounge chairs. Lunch was much the same as dinner, but with different course options. And, after a brief afternoon nap, it was time to exit our room and go out on deck to watch the ferry pull into Livorno. It was right on time at 1530. We arrived well-rested and ready for a stress-free drive over the alps to home.
Information:
GNV lines (Genoa – Palermo) https://www.gnv.it/en
Grimaldi lines (Livorno – Palermo) https://www.grimaldi-lines.com/
GPS coordinates for ferry port entrances:
Genoa (GNV):     44°24'29.9″N 8°54'28.6″E,     44.408318, 8.907935
Livorno (Grimaldi):   43°34'50.3″N 10°18'03.9″E,           43.580642, 10.301091
Palermo (Grimaldi line to Livorno):    38°08'06.1″N 13°21'43.7″E,      38.135014, 13.362144
Palermo (GNV line to Genoa):   38°07'46.7″N 13°21'40.5″E,     38.129633, 13.361255
Direct Ferries is a good resource for any ferry research: https://www.directferries.com/italy.htm