One of the healthiest activities and habits my family has adopted here in Germany is hiking. Germany is a nation that's dedicated to creating, supporting and maintaining spectacular trails throughout the country. We are very blessed to take advantage of the awe and splendor enjoyed for generations by our German ancestors, friends and neighbors.
Hiking in Germany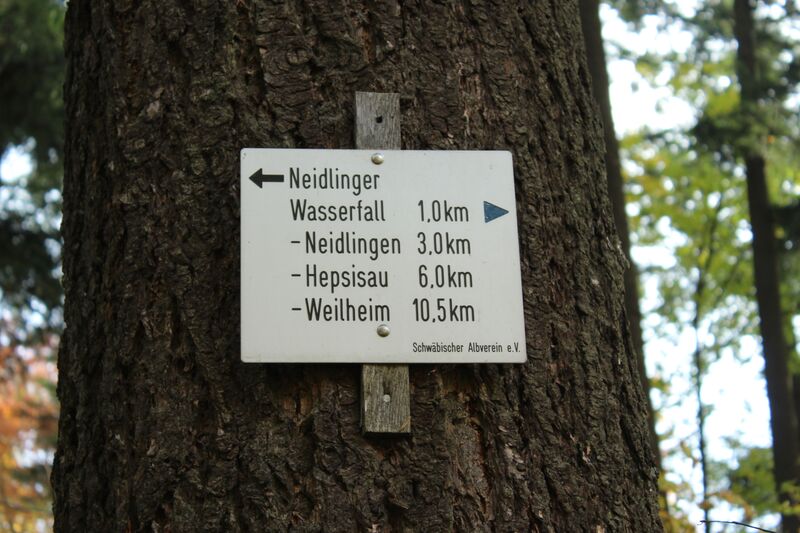 © Wendy Payne
Almost every country or side road will have trails dedicated for "wanderin" (hiking) or "vereinswanderin" (club hiking.) Websites and apps are everywhere and have every type of trail imaginable. Here are a few useful websites, which are mostly trail search engines:
tourism-bw
wandermap.net
germany.travel
everytrail
geopark-alb
If none of those work and you are out for a leisure drive, watch out for these signs below. They will indicate parking for hikers and usually a map will correspond with your location.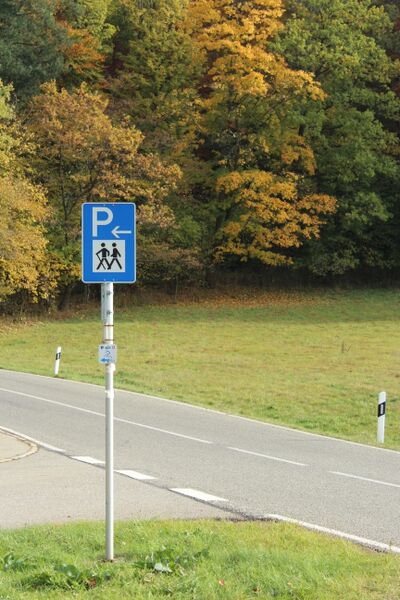 © Wendy Payne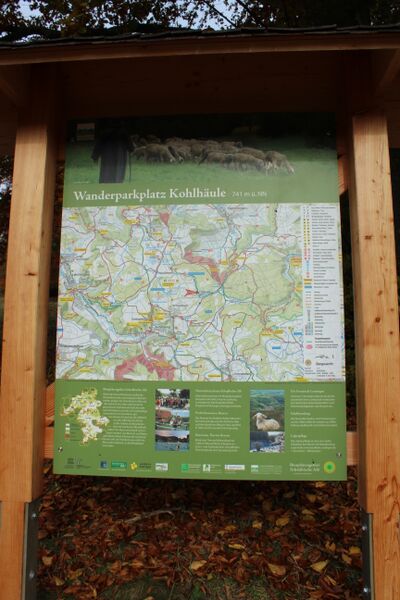 © Wendy Payne
Also, at the USO, there is a "Walking in Germany" brochure that helped get me started on my trekking obsession. Although I recommend this brochure with a bit of caution; a beginner trail for me was more like an "intermediate" level. I didn't realize I was such a rookie. Having hiked in northern Alabama in the Appalachians with friends, I thought I had this one covered. Well, I still had a lot to learn.
My Favorites in Baden-Württemberg
We have found many trails sometimes on purpose and other times by accident. Listed in order from easiest to most difficult, these are my favorites. We hike about once or twice a month. However, during the fall season, it's about once or twice weekly.
Barenschloße & Schloß Solitude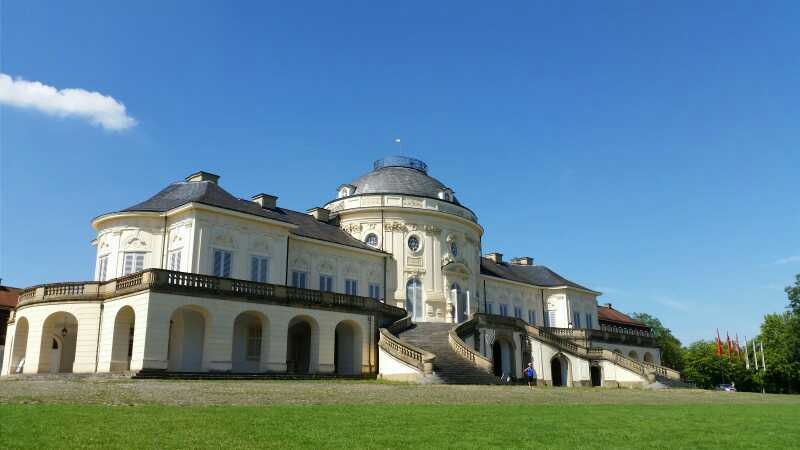 © Wendy Payne
These hiking trails can be picked up near the little town of Busnau (near Vaihingen) or at Schloß Solitude. Hiking to the Barenschloße (Bear Castle) is always nice because it can end with cake and coffee on the terrace or cozying up to the fireplace at the Bear Castle. And views of Stuttgart at Schloß Solitude are unparalleled and the trails around the castle lead you to the old gardens and beautiful paths and ponds. Very cool!
Hike length: >3km to Barenschloß, Hiking Schloß Solitude (trails vary)
Level of difficulty: easy (Runners are on these trails, so be careful.)
Time: depending on length
Parking: nearby (Barenschloß – on Magstadter Straße) (Schloß Solitude – at the castle)
Heckangäu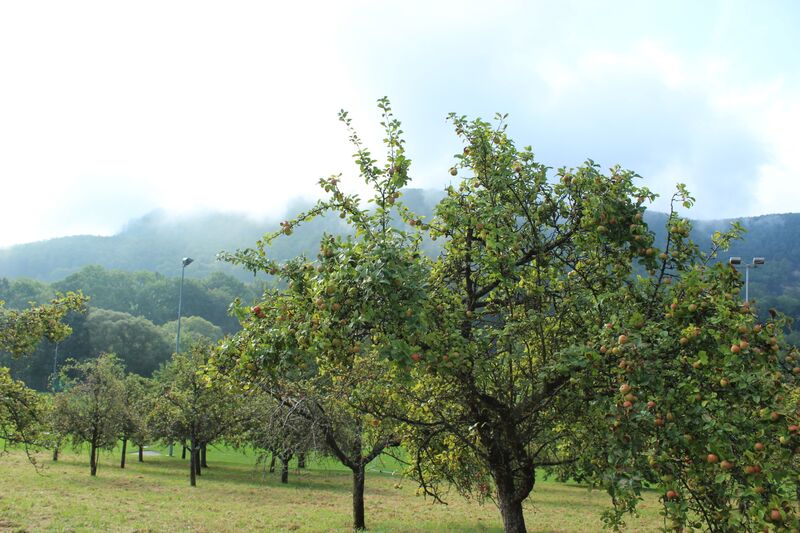 © Wendy Payne
Dedicated for hiking and biking, this nature preserve (close in proximity to Stuttgart) has well marked trails and is protected by a preservation society. Regardless of weather, events are held continually throughout the year here. My daughter and I picked up a trail near the adorable town of Weil der Stadt during apple orchard season. We were blessed with walking through a sheep pasture and finding an old deserted castle tower. For more information, check out this website.
Burg Teck
In the little town of Owen, just passed Kirchheim Unter Teck, is Burg Teck. I love this hike so much that I dedicated a whole blog on it. It is absolutely worth a day trip and you won't regret going on this one. If you've got little ones, you can go on the sloping hill trail especially since it is not as steep and toddler friendly. To grab a bite to eat, you can pack a lunch or stop by little snack shop or restaurant.
Hike length: 5km or depending on how many trails you want to cover (click on wandermap.net for more trials)
Level of difficulty: intermediate
Time: 1 hour
Reußenstein Ruins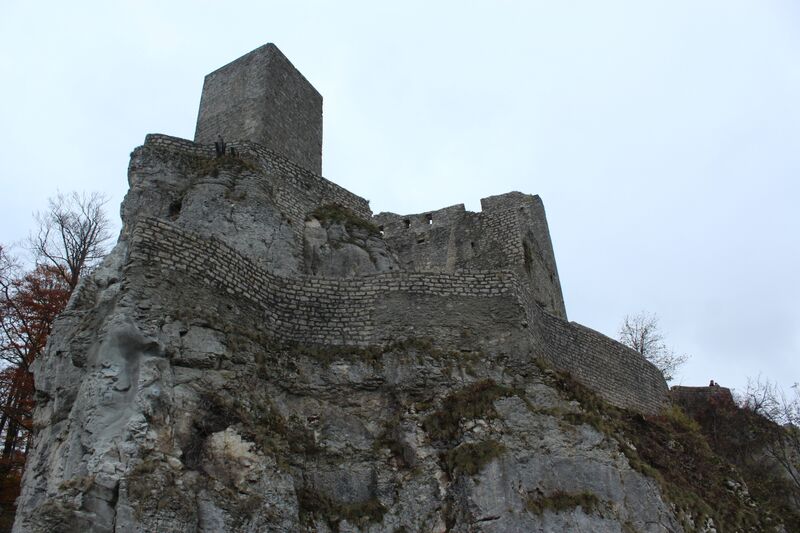 © Wendy Payne
The recently discovered and romantic ruin in the Nuertingen valley is just breathtaking. This once very humble castle was only for provincial upper class nobility and clergy. Reußenstein became a castle for respite and relaxation for writers from 1300 – 1700. I was immediately struck with images of the classic "Wuthering Heights" (classic English novel) and the moors and cliffs of England. As a writer, I was speechless and yet drawn to this mysterious, empty shell of a stone fortress.
Hike length: 8km
Level of difficulty: intermediate to advance
Time: 1 hour
Parking: Take the L1200 and follow to hikers parking lot, for more information visit this website.
Bad Urach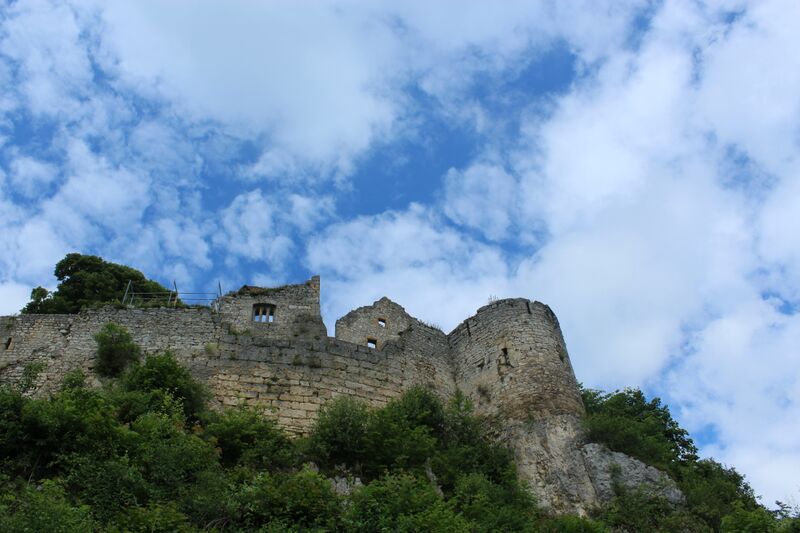 © Wendy Payne
Here is one of my absolute favorite hikes but definitely not an easy one. There are many trails in Bad Urach to hike, in which my most favorites are the castle ruins and the waterfall trails. This region is especially kind to hikers and is well marked. Another trail also leads to a nice snack shack at the top of the waterfall where you can catch a bite to eat and use the "out" house.
Hike length: 3 to 8km
Level of difficulty: intermediate to advanced
Time: 1 hr to 1 hr. 30 min. one way
Tips for a Safe and Happy Hike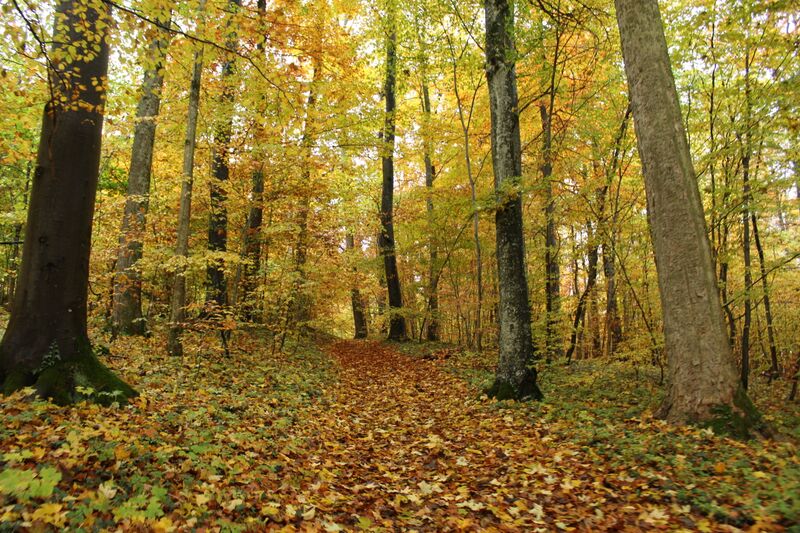 © Wendy Payne
Here are my tips for safe hiking:
Don't hike alone, besides it's so much more fun with friends.
Always have a full water bottle with you.
Carry a charged cell phone.
Scout your trail ahead of time (either on the internet or with signage). If
a map is available at the parking lot, take a picture with your phone. This has helped me on more than one occasion.
Tell someone not hiking with you where you are going or text them when you get there.
Enjoy, stop and smell the roses, flowers, leaves, etc.
Discover Germany a New Way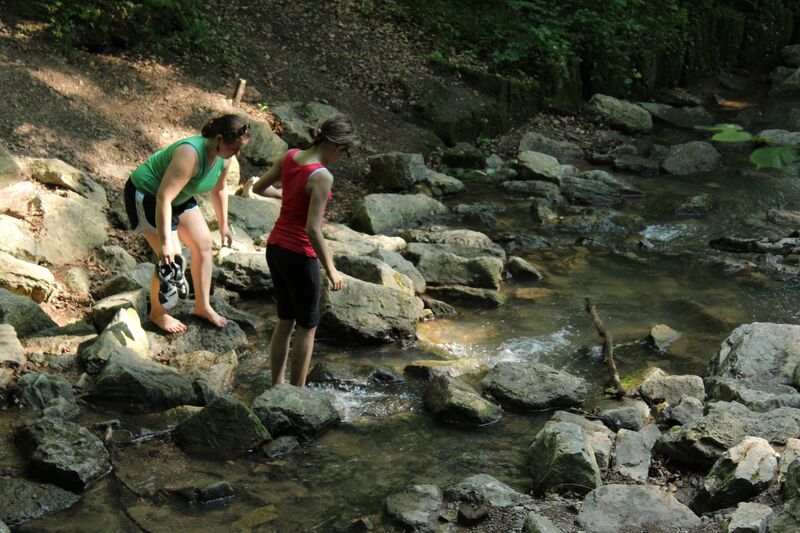 © Wendy Payne
Whether you take a hike for an afternoon; a half-day; or decide to find a hostel and spend the night, go for it! I can't get enough as I am now turning into a nature freak, especially during the changing of the season. Don't be afraid to grab your boots or some really good sneaks to take an outdoor adventure. Discover Germany in a whole new way! It's so much more than beer, fests and castles…oh wait a minute, scratch that last one!
Author's Profile: Wendy Payne is a military spouse and lives with her family in Stuttgart, Germany. She is a freelance writer, blogger and photographer. She also enjoys gardening, hiking, yoga and sharing Europe with people.
Featured Image Photo Credit:  © Wendy Payne