by Ronnie Juhans contributing writer

The German-French border is the perfect hiking getaway, boasting beautiful trails, 12th century historic architecture and best of all, it's right on our doorstep.
The Alsace region of France on the border of Germany has over 700 hiking trails including short and long distance routes from beginners to advanced.
One of my favorite hikes in the Alsace region is the Fleckenstein Castle route, a trail that I have hiked many times over the past 10 years, in every season, and I still enjoy it every time. Each season brings a change of scenery on this 10 to 15-km-long trail, depending on which routes you select.
The hike along the coal burner's and ghost trails will take you on a journey from the village of Gimbelhof past four castle ruins. Signs are posted that direct you along the hiking trail to Fleckenstein Castle. Before arriving at the castle, you will come upon coal burning kilns made of logs with a description of them in German, French, and English.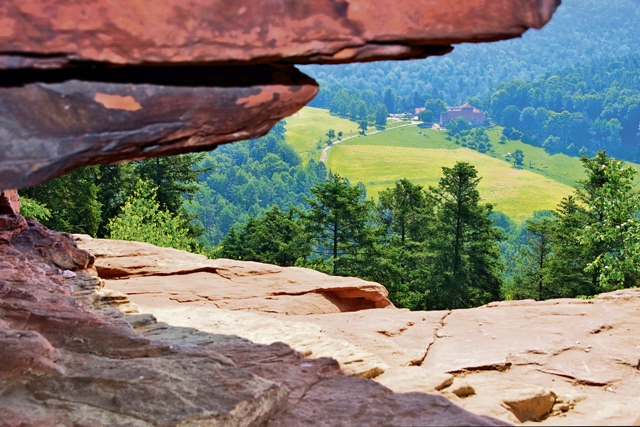 LianeM / shutterstock.com
Once you reach the visitor center you can purchase tickets and get information from flyers in English, shop for souvenirs, gather information about the surrounding areas, as well as a castle hut with bathroom facilities, hot and cold beverages, ice cream, French pastries or full meals.  Fleckenstein castle is an adventure within itself along the route. The entrance corridor has a vast display of pictures of the Fleckenstein family as well as historical information also available in English.
As you make your way inside you will come upon the ruins of horse stables, the human hamster wheel, a watchtower, the dungeon, prison, moat, water well, and the dark enchanted staircase that leads you to the upper levels to the kitchen, bath and latrine areas, as well as an amazing view of the Northern Vosges forest, valleys and numerous sandstone rock formations. If you hike this trail in the fall, take along an extra bag for apples, pears, and chestnuts which are free for gathering starting in September.
After your visit to Fleckenstein castle head back towards the visitor center and trek upwards on the Ghost Trail towards the Loewenstein, Hohenburg, and Wegelnburg castle ruins. This leg of the hike can be a bit challenging due to steep terrain, slippery roots and rocks especially during damp weather.
This part of the trail is not stroller or small child-friendly. Suggested age is nine and above for kids that can handle a full-day hike without being carried or dragged along. Follow the blue and white Ghost Trail signs to the five corners area that has different routes which are clearly posted.
This a good place for a break before following the trail to the right that leads you to the other castle ruins. There are information signs posted at the base of the ruins in German, French, and English. You can take the stairwell to the top of the ruins and enjoy more amazing views.
However, be cautious of the steep and narrow steps especially during your descent. Along the downhill trek from castle Hohenburg to castle Wegelnburg, you will find a slow flowing natural spring and a small gazebo area to take a break or use for shelter if the weather takes a bad turn. From this point, you will cross the border back into Germany and see the German flag painted on trees and sandstone formations as well as border crossing stones that lead you back into Germany as you trek uphill to Wegelnburg.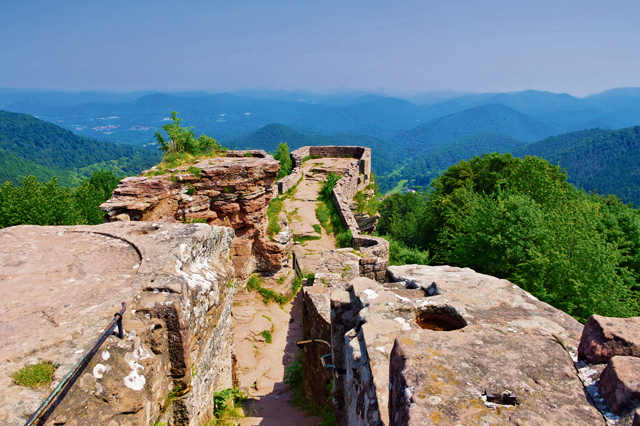 LianeM / shutterstock.com
After visiting Wegelnburg castle, make your way back into France to the five corners and follow the sign for Gimbelhof. This is a narrow downward trail taking you back to your starting point. Along the way, you will reach a medieval playground with swings, zip lines, slides and a lot of fun if you bring the kids along. The best way to wrap up this adventure is to enjoy some French pastries, food, and wine with a view of the region at the Restaurant Gimbelhof which is located at your starting point.
The start point is a little over an hour away from the KMC via A62 towards Pirmasens. GPS address and other info is listed below. Parking is free at Restaurant Gimbelhof.
Parking GPS Location:
Restaurant Gimbelhof, Ferme du Froensbourg, 67510 Lembach, France
For more information, visit http://www.fleckenstein.fr/en/ or http://www.gimbelhof.com/E/index.html
Featured image credit: Leonid Andronov / shutterstock.com