I remember when we first moved to Germany, I found myself mesmerized by castles. I actually saw a Facebook post where someone mentioned that they had lived in Europe for over two years and they were tired of castles. What? I was seriously offended. How can you ever see too many castles??
Most Impressive
Fast forward three years and I get it. However, a visit from my daughter prompted a day trip to a medieval castle nestled in the hills above the Mosel River between Koblenz and Trier. Burg Eltz is owned by a branch of the same family (the Eltz family) that lived there in the 12th century and 33 generations ago.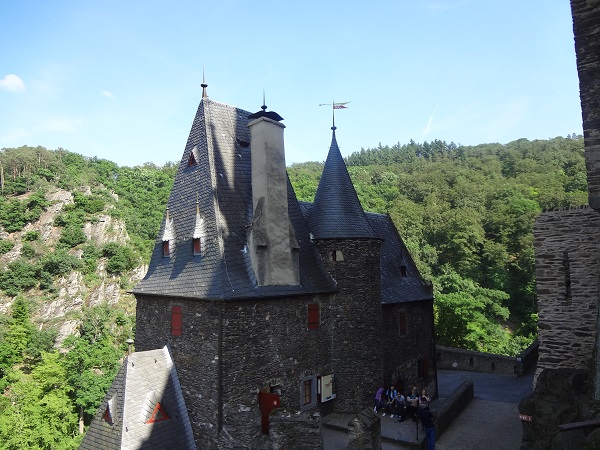 © Cheryl Koller
Burg Eltz is the castle that has impressed me the most and is now my favorite castle in Germany. Even in a region where it is almost impossible not to stumble over some castle ruins, this castle really stands out. Not many things are more associated with Europe than castles; and after visiting Burg Eltz, I have to say it's one of the best I have ever seen. Why? Well, let me tell you why.
That WOW Factor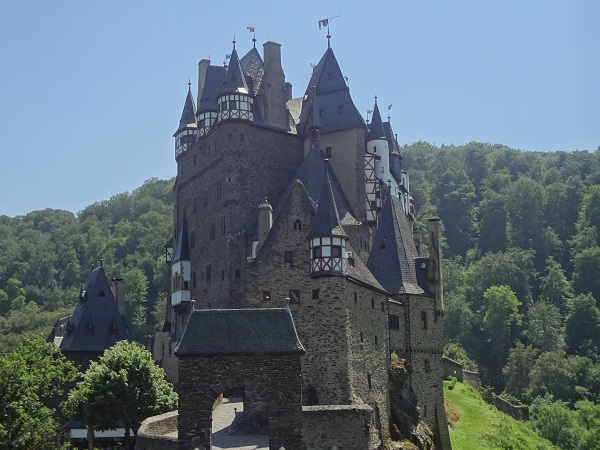 © Cheryl Koller
Burg Eltz sits in a lush green valley, hidden away from main road traffic. It is the first castle that has ever actually taken my breath away as we rounded a corner in the shuttle and got a look at the view. Unlike the vast majority of castles along the Mosel and Rhine Rivers, this was one of the few that has never been destroyed or badly damaged.
Burg Eltz's setting is simply stunning, as it sits perched on a rock and surrounded by thick-wooded hills and the babbling Elzbach Creek on three sides. This was apparently a strategy, since the location was perfect for exacting tolls on passing traders, which provided much of the early wealth to Burg Eltz's residents.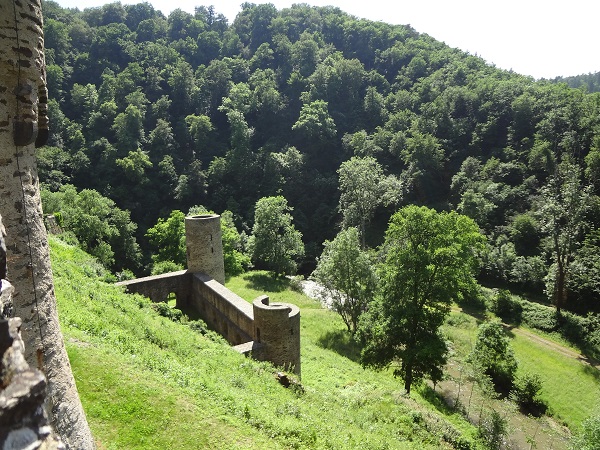 © Cheryl Koller
Getting There
You can reach the castle on foot by the scenic fifteen-minute walk through the woods from the parking lot or taking a much longer hike from a nearby town. On the other hand, you can cheat like we did and take the shuttle.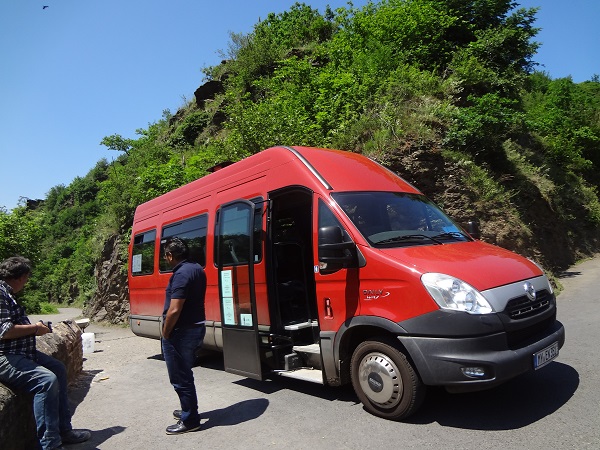 © Cheryl Koller
Either way, you will have a "wow" moment when you round the corner and see Burg Eltz lying before you.
The History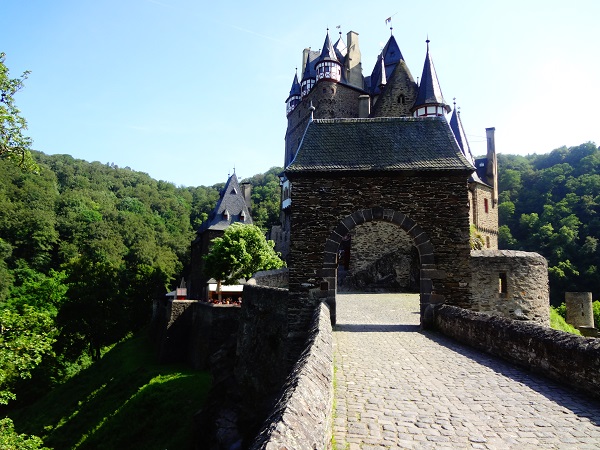 © Cheryl Koller
Unlike many castles that have been handed back and forth, or created only as an escape for royalty, Burg Eltz has been a real, live, lived-in castle since the first day its medieval construction. Yes, the same family has lived here for thirty generations, and during this time, Burg Eltz has never been destroyed. It was attacked once, but never conquered. And in the world of castles, this is rare. It allowed Burg Eltz to remain much as it was in its earliest days, and to be home to a vast collection of authentic family heirlooms and artifacts. I was able to take these photos before our tour guide came in and gently reminded us that photos are not permitted. Woops.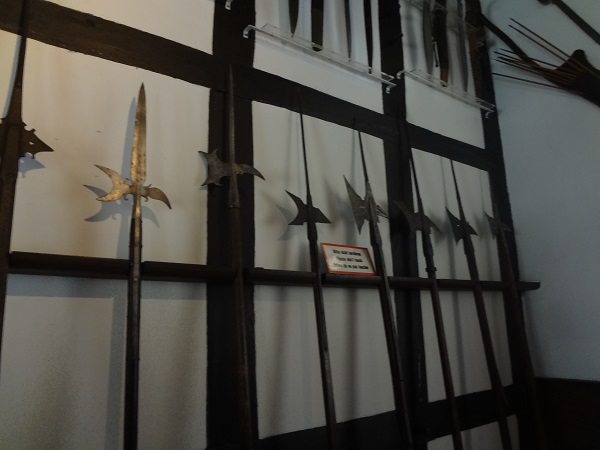 © Cheryl Koller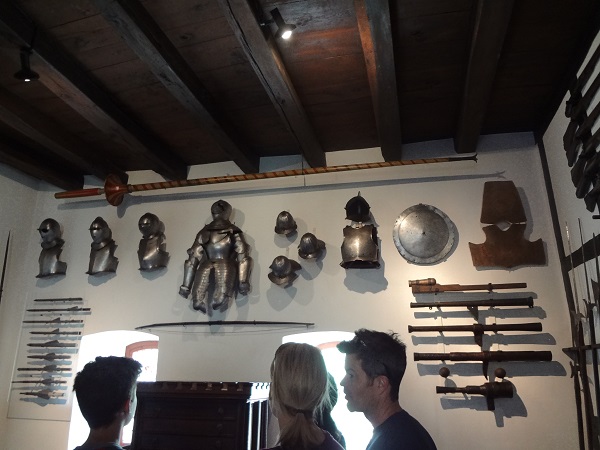 © Cheryl Koller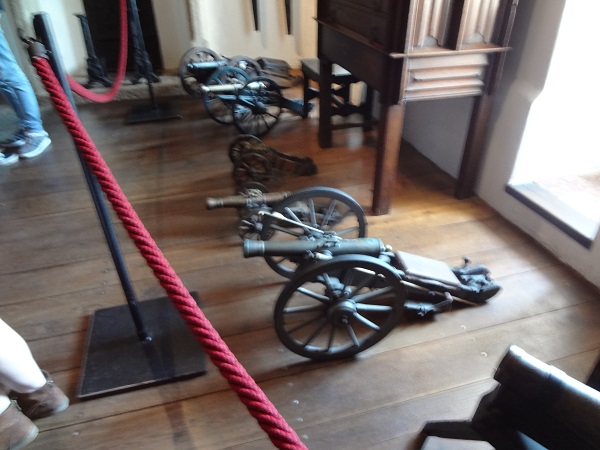 © Cheryl Koller
Inside the Castle Walls
Once inside the castle walls, the main courtyard is a hodgepodge of design styles, reflecting the fact that three different branches of the family once resided in the structure together.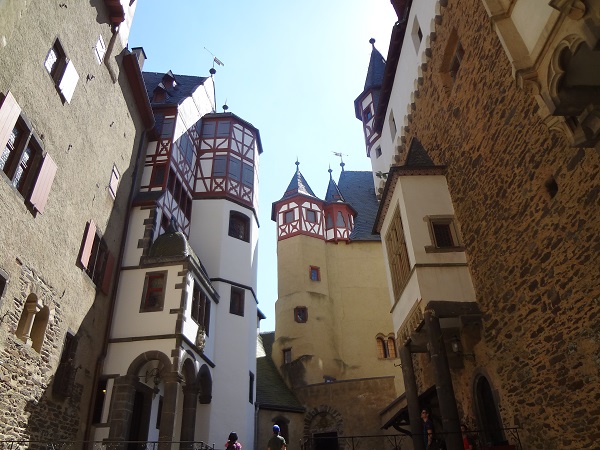 © Cheryl Koller
Guided Tours
All tours are guided and depart every 10 to 15 minutes in German. Guided tours in other languages, including French, Dutch, and English, are also available but depart less frequently. Even more gems are present inside the residential quarters, as all tours include a visit to the rustic medieval kitchen and stately Knights Hall, where the families gathered for large feasts and conversation.
Location
Burg Eltz is located in the Mosel Valley and is an easy drive, although the GPS address took us a bit off course. As you get closer to the castle, you will see signs for parking.
Address: Burg-Eltz-Straße 1, 56294 Münstermaifeld, Germany
The castle is just under 2 hours north of Kaiserslautern, 1 hour and 30 minutes northwest of Wiesbaden and 3 hours northwest of Stuttgart.
Hours
The castle is currently only open to the public from April until the end of October. The hours are 9 a.m. to 5:30 p.m.
Food, Restrooms & Souvenirs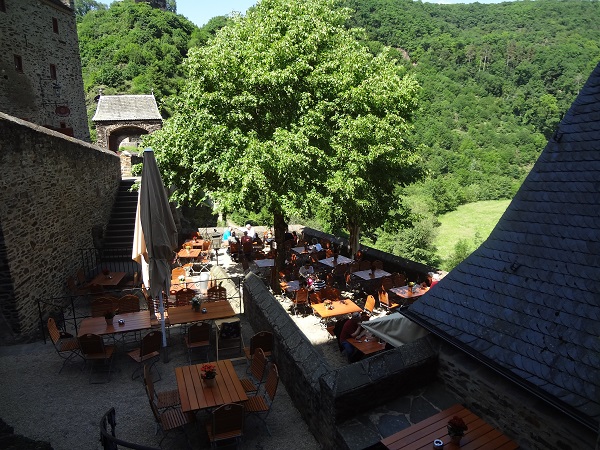 © Cheryl Koller
Burg Eltz has a gift shop and two small cafes that serve meals and snacks. They are open daily when the castle is open. Restrooms are conveniently located outside the castle, near the café.
Cost
Credit cards are accepted at the gift shop, but you will need to bring Euro for the entrance fees, food, shuttle bus, parking, etc.
Parking: 2€ Per vehicle
Shuttle Bus: 2€ per person (each way)
*Entrance: 10€ adults; 6,50€ students; 9€ group of 20
*Entrance fee includes admission to the Armoury & Treasury
Author's Profile: Cheryl Koller is a native of Georgia. She is a DOD spouse, mom of 4 daughters (2 adults, 2 teens), thrill-seeker, avid traveler, and lover of food and wine. She is a self-proclaimed Freedom-Preneur and Blogger currently living in Ramstein with her family.
Featured Image Photo Credit: © Cheryl Koller