Literally on top of Hochheim lies a fantastically fun mother of all playgrounds called 'Spielpark Hochheim'. Going here is a guaranteed fun day out for the whole family.
Super Playground
Hochheim is a super playground for many reasons. First of all, the location is so gorgeous! It has vast open space, green grass, trees for shade and it is nestled on a sunny hilltop. Around the park is even a path to ride bicycles.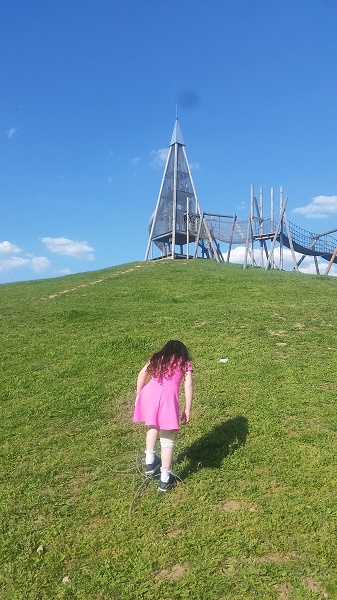 © Gemma
The actual playground structure is so creative and very well kept, it makes you feel like you are at a mini-amusement park rather than a playground. The climbing structure is like a metal maze. It is very sturdy and can hold adults. I was up for this climbing challenge and I was determined to climb to the top to get a look of that view!
The Climb to the Top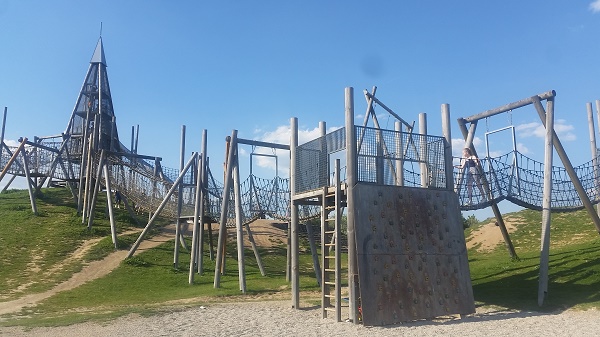 The climbing structure starts out with a suspension bridge and you are able to hold on to the sides for balance. Wearing sneakers or sturdy shoes will help with the climbing.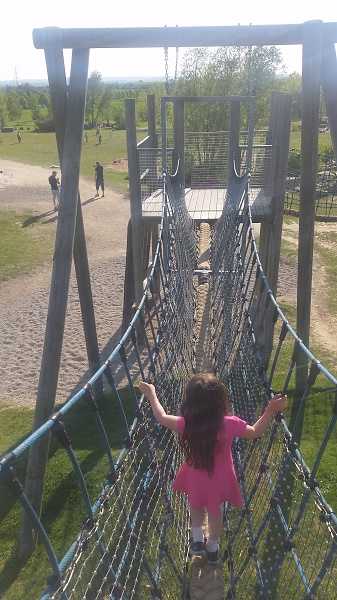 © Gemma
Then the path starts to be a steeper climb and then you are almost on the tower.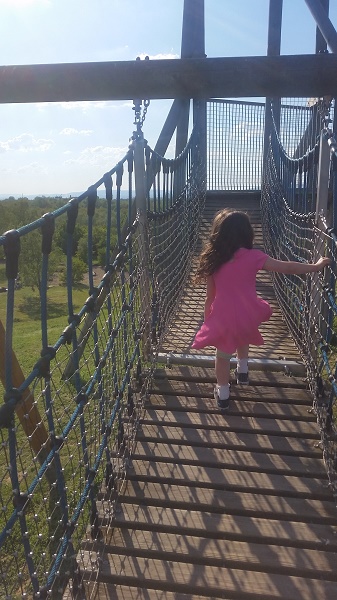 © Gemma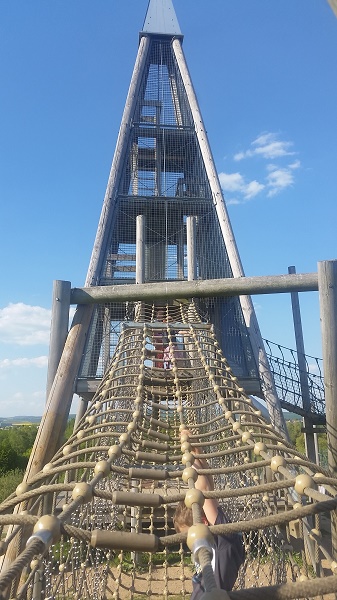 © Gemma
After climbing onto the tower, you have choice to either go down the (very fast) slide or be daring and go one more level up to see the view.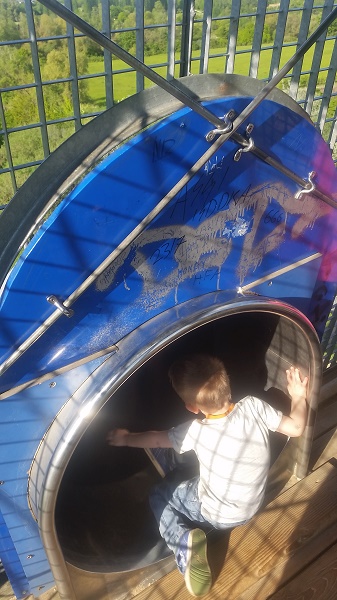 © Gemma
A 360 Degree View
I of course chose to keep on going up! The view is incredible. It is like a 'I can see my house from here' type of 360 degree view. I had to take a photo from every side.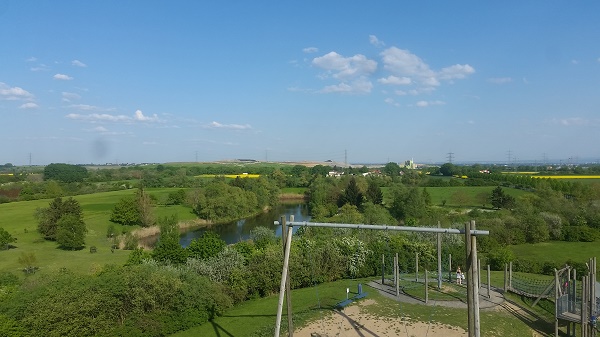 © Gemma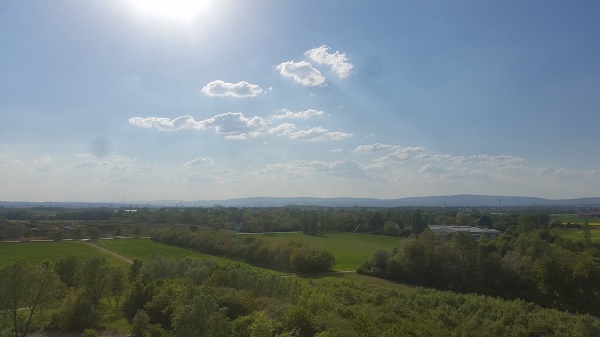 © Gemma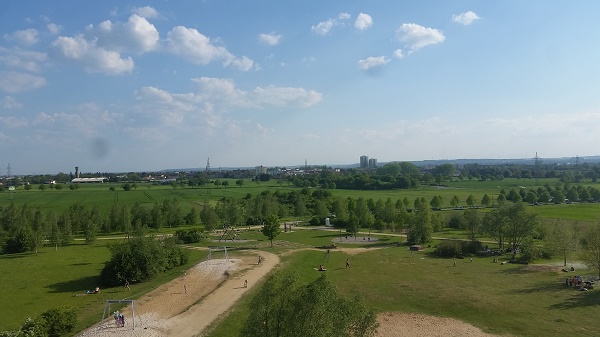 © Gemma
The fastest way down is on the slide so away I went.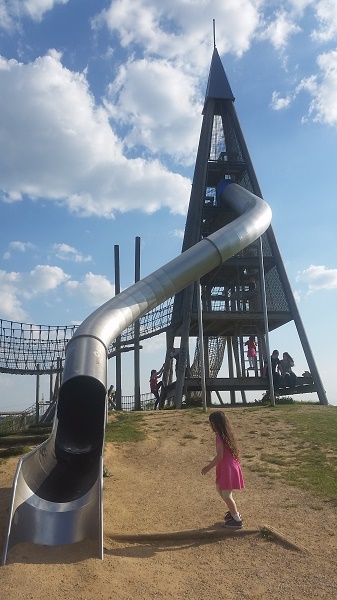 © Gemma
A Swinging Good Time!
Next to the tower is an awesome noteworthy rope swing. You can pretend you are Tarzan as you jump on the rope and swing back and forth in the not-so-jungle of Hochheim. Again, I was shocked on how well kept maintenance and safety of the whole swing area. This swing is a must if you visit the park!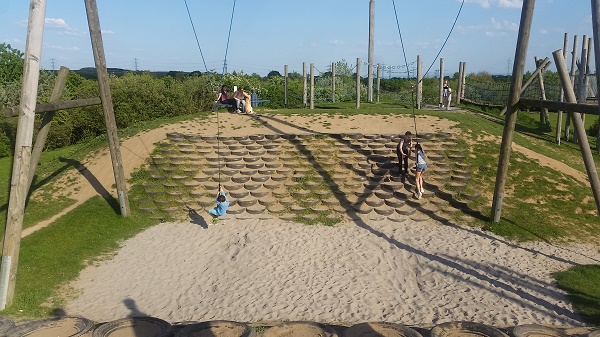 © Gemma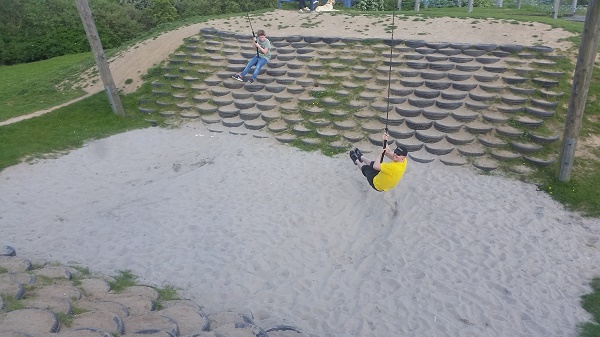 © Gemma
Bring a Picnic
Come like a playground pro and bring a picnic lunch and a picnic blanket! They sell blankets at most German stores. They are great because the bottom is waterproof and they also roll up nicely to fit in the back of your car. Bring light and refreshing food like fruit, sandwiches and chips. Other items to bring are sunscreen, bug spray, cooler with ice & water, baby wipes, band aids and trash bags. It is the perfect combo for a perfect day out in the sunshine with friends and family!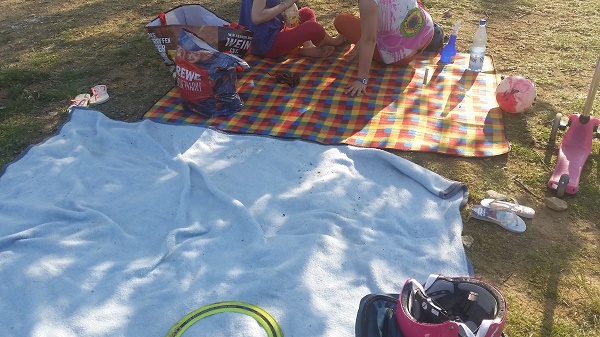 © Gemma
How to Get There
Spielpark Hochheim is less than 15 minutes southeast of Wiesbaden.
The address is the following: Mühlberg, 65239 Hochheim am Main
Author's Profile: Gemma is a mom, a veteran and an Army civilian living in Wiesbaden, Germany. With New Jersey roots, she is enjoying her extended European vacation.
Featured Image Photo Credit: © Gemma