Glühwein, which literally translates to 'glow wine', is a staple at every outdoor event throughout the winter months. It lets you continue to take advantage of your convenient location in the heart of Rhineland Palatinate's wine region without sacrificing any fingers as you're watching snow fall on the romantically lit Christmas Markets you will spend your holiday season at. And because we know there are days when you just don't want to go outside but still crave a cup of liquid Christmas joy, here are 6 ways to make it at home: all you need to do is heat the wine, making sure it never boils or the alcohol will boil away, either add all ingredients straight to the wine or put them in a tea filter and let it sit for at least half an hour before reheating. Pour through a strainer or take out bag of spices. Serve hot.
Red Classic
(Cover photo by Lisovskaya Natalia/Shutterstock.com)
You can never go wrong with a classic red wine and cinnamon!
1 bottle of dry red wine of choice
1 orange, sliced
2 sticks of cinnamon
3 cloves
2 – 3 tablespoons honey, agave syrup or sugar
White vanilla
Try a white take on the classic mulled wine.
1 bottle of dry, white wine of choice
1 cup orange juice
1 tsp. cloves
2 star anise
1 teaspoon cinnamon
1 tablespoon "gingerbread spice" (look for 'Lebkuchengewürz' at any German supermarket)
1 vanilla bean
3-4tablespoons sugar, honey or agave nectar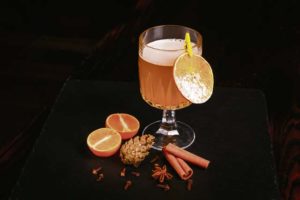 Lyudvig Aristarhovich / Shutterstock.com
Red Cranberry 
If you like sweet and fruity drinks, this variation was made for you.
1 bottle of dry red wine of choice
500 millilitres cranberry juice
80 millilitres orange liquor (Cointreau or Grand Marnier)
2 cinnamon sticks
1 apple, sliced
optional: dried cranberries (add before serving)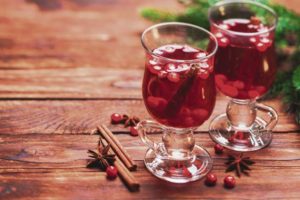 Oksana Shufrych / Shutterstock.com
White Apple
Apple and cinnamon will warm your heart on gloomy afternoons while the rum adds just a hint of beachy sunshine to your cup.
1 bottle of dry white wine of choice
400 millilitres strong apple tea
30 grams fresh ginger, sliced
1 organic orange, sliced
50 millilitres brown rum
3 tablespoons honey
2 cinnamon sticks
1/3 teaspoon ground cinnamon
1 apple, thinly sliced (add just before reheating)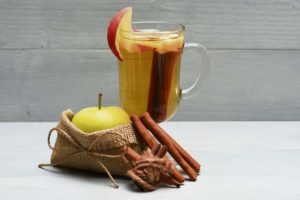 Roman Stetsyk / Shutterstock.com
Apple wine
Being a Hessian staple, this could not be missing on my list. Apple wine is far less sweet than one would presume and generally diluted with either lemonade or water so don't leave that step out or it may taste too bitter.
1 litre apple wine of choice
100 millilitres water
3 tbsp. sugar
3 cloves
2 lemons, sliced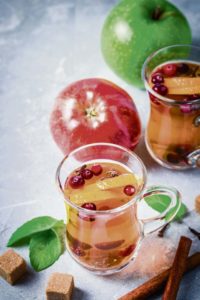 Irina Rostokina / Shutterstock.com
Orange Prosecco
Afraid that mimosas didn't fit into frosty advent brunches? "Mulled Prosecco" has your back! Sparkling and hot anything might sound like an interesting combination at first but you'll be positively surprised how well it tastes. Consider serving it in a regular Prosecco glass rather than a mug.
0,75 litre Prosecco
0,25 litre freshly squeezed orange juice
1 tablespoon sugar
40 millilitres elderflower syrup
60 millilitres orange liquor (Cointreau or Grand Marnier)
1 cinnamon sticks
6 cloves
Zest of one orange