Looking to score some of the 'best beer in the world'? Brewed by the Belgian Trappist Monks at the Abbey of Saint Sixtus, the Westvleteren Brewery is known around the globe to produce perhaps the best beer in the world. This is could be due to the monks esteemed reputation as brewers, the unmatchable taste and quality of their beer and the rationed/reservation style of ordering. 
According to Ratebeer and Beeradvocate, the Trappist Westvleteren 12 has complex dark flavors of caramel malt, figs and dark fruit which makes it one of the best beers on the planet. No scratch that, they have some of the best beer in the universe!
This beer is not sold in stores and it is only sold in small quantities (60,000 cases per year) every week right at the gate of the monastery. It comes from their hands to your trunk! So for beer enthusiasts or those who are curious to what the best beer tastes like, you just might want to make a trip to try it, especially while living in Europe (the Beer Capitol of the world).
Here's How to Get Some Trappist Westvleteren
The Call: First you have to check out their webpage to see the beer schedule and then you can call the 'beer phone' (yes kind of like the bat phone).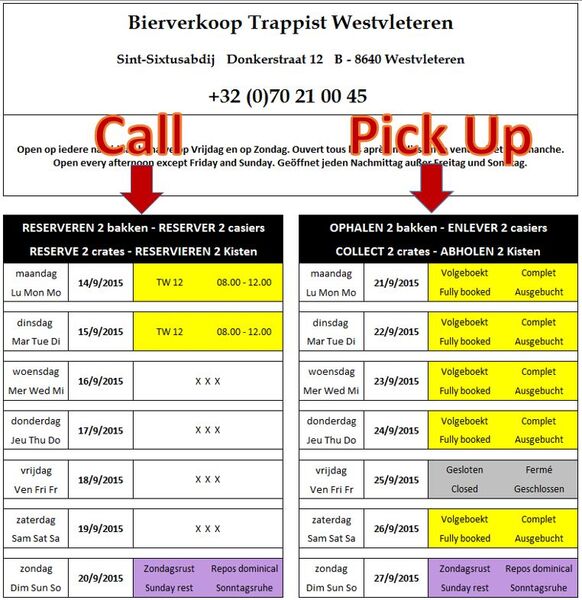 Credit: © Gemma
The website shows what beer is available and what time to call. So if you call for a yellow block "TW 12", then that is what you will get. If you get a busy signal, keep calling until you get through. And if you get a recording, press '1' to talk to someone.
Once speaking to someone,  you will be asked for your licenses plate number and what day and time for pick up. Your beer options online are indicated by different colors.
The Pick Up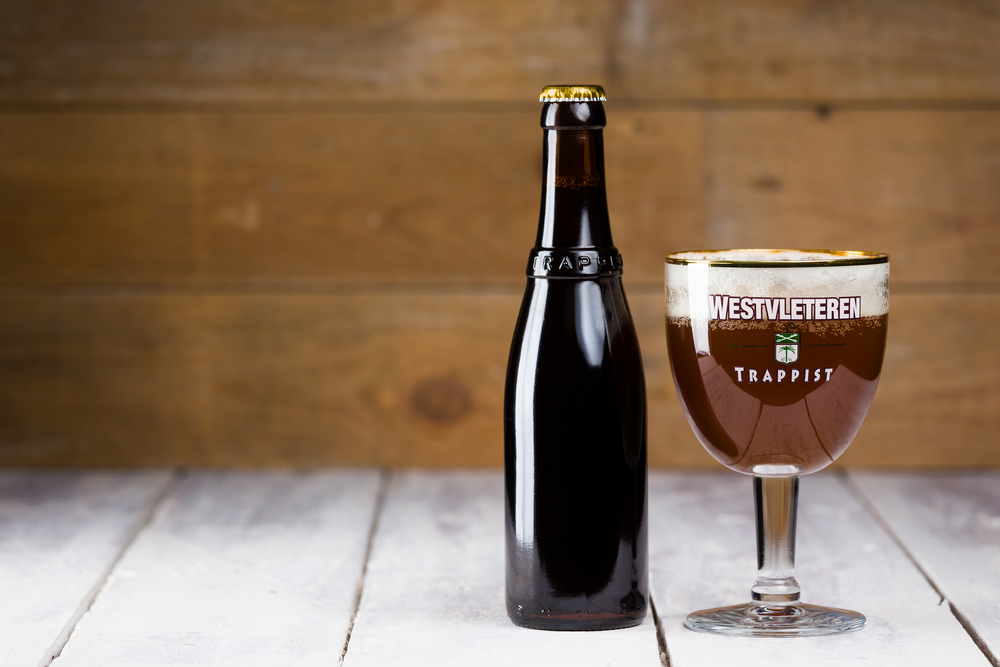 © Shutterstock- DanyL
You will receive two cases of the highly coveted beer and no changes are available! Don't be late for your order and do not show up with a car that has a different licenses plate or you will not receive your beer. You will be asked to pay with your credit card and your receipt will say that you are not allowed to resell your beer (Niet verder verkopen). Also you are not allowed to order beer with that license plate and phone number for the next 60 days. So you better make it last until then! 🙂
If you missed the calling times for the beer phone and you find yourself in Belgium one weekend, you can still try the Westvleteren liquid gold! You can order a glass across the street from the brewery at a beautiful café called In de Vrede. If you are lucky, at times you can purchase a 6 pack (per person) from the small gift shop.
To make a really beautiful day in the Belgian countryside when you pick up your beer, you can also take a historic walk in a gorgeous area.
Tibbit Information
24-bottle crate beer prices (excluding bottle/crate deposit) are the following:
Beer      Price
Blonde   €30
8°           €35
12°         €40
Deposit for empty bottles and crate is €12 (€9.60 for the crate plus €0.10 per bottle). However, most people keep the crate as a souvenir.
Follow on Reading: Check out The Independent's article "Monks who make world's best beer pray for quiet life." to find out how the monks "Make the beer to live but do not live for the beer."
How to Get There
Trappist Westvleteren address is:
Donkerstraat 13
8640 Westvleteren, Belgium
Telephone: +32(0)57 40 03 77
The drive to Westvleteren is approximately 5 hours and 20 minutes west of Wiesbaden, 5 hours and 20 minutes northwest of Kaiserslautern and just over 7 hours northwest of Stuttgart.
Author's Profile: Gemma is a mom, a veteran and an Army civilian living in Wiesbaden, Germany. With New Jersey roots, she is enjoying her extended European vacation.
Featured Image Photo Credit:  © Shutterstock- DanyL 
(Visited 1,162 times, 1 visits today)