Just 30 kilometers east of Kaiserslautern and 67 kilometers south of Wiesbaden lies the spa town of Bad Dürkheim, one of the most beautiful areas of the German Wine Route. It's known for wellness & health as well as wine and nature.
Wellness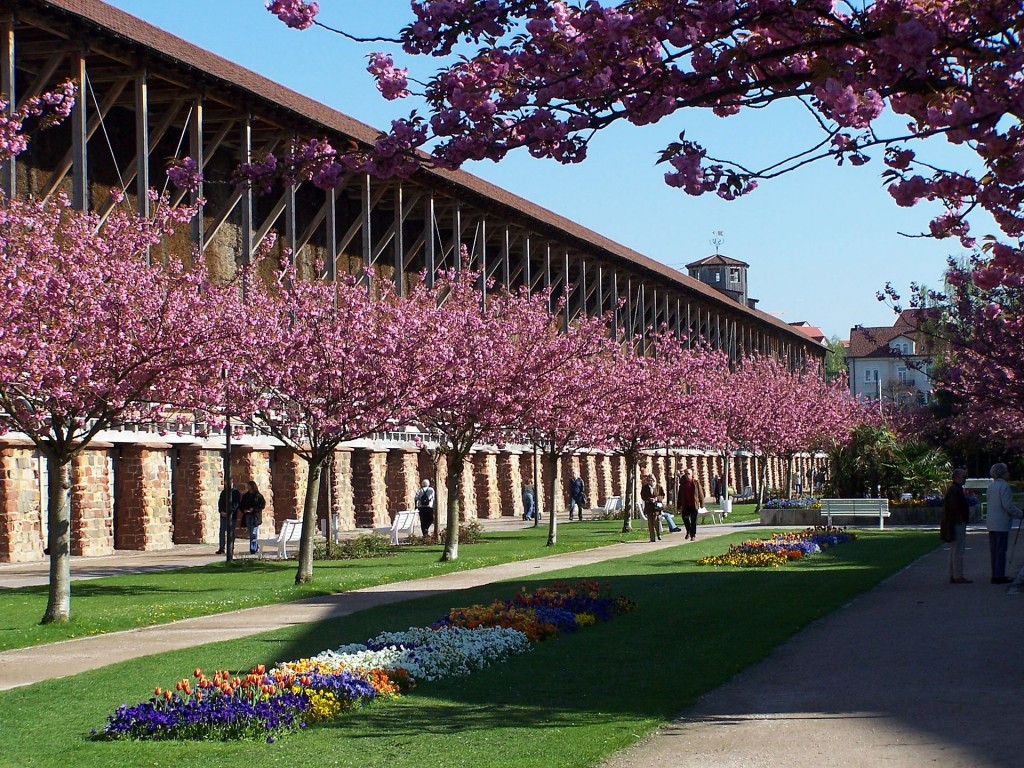 Bad Dürkheim has been known as a "spa town" for centuries as many people have flocked here to experience the healing waters of the town. The Kurzentrum and spa hotels offer various treatments to improve or maintain health as well as reduce stress, or perhaps just to enjoy. These wellness treatments include saunas, classical therapies, stone therapies, craniosacral therapy, Asian singing bowl massage, metamorphic massage therapy, special oil treatments, jacuzzis, fitness programs, sunbathing, swimming and so much more. Additionally, spa resorts offer various packages including accommodation and tasty food for your enjoyment.
Bad Dürkheim is one of few places that have a brine graduation tower (see picture above), initially constructed in 1736, which boasts many health benefits. The tower is used in the production of salt by removing water from a saline solution with evaporation. This process increases the concentration of mineral salts. The tower has a wooden wall-like frame stuffed with twigs of brushwood that become encrusted with mineral deposits over time. The salt water runs down the tower while it partly evaporates. Also at the same time some minerals from the solution are left behind on the brushwood. This process creates mineral rich water droplets in the air, which provide health benefits similar to that of breathing in sea air.
A single visit to the Gradierbau (graduation tower) costs just €1.50. A mere snip for this breath of fresh salty air.
Wine & Wurstmarkt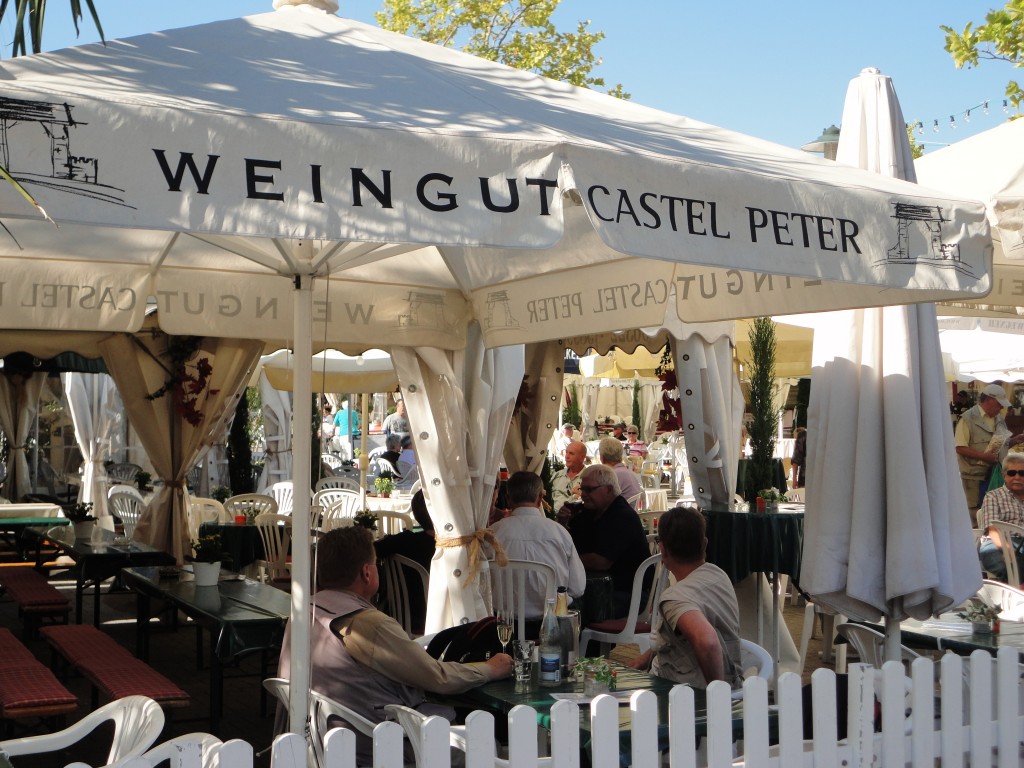 Bad Dürkheim, located between the Palatinate Forest and the Rhine Valley, is part of the German Wine Road and the second largest wine growing region of the country. Established in 1935, the German Wine Road is approximately 50 miles long and passes through the towns of Bad Dürkheim, Grünstadt, Deidesheim, Neustadt an der Weinstrasse, Edenkoben, Bad Bergzabern, and many other small and beautiful villages. Taking a drive on this road is like stepping back in time with medieval castles, half timbered houses, century old abbeys, ruins of Roman wine cellars and old taverns.
The vines in Palatinate region were actually imported during the Roman times, so you'll get a taste of 1000 year old viniculture in Bad Dürkheim. It offers more than 150 local wines from fine Rieslings to refreshing ice wines. It is also home to the world's biggest wine barrel (see main picture), which can hold 44 million gallons of wine. This barrel has been converted into a multi-level wine shop in the center of the town.
Something else quite unique about Bad Dürkheim is that it hosts the largest wine festival in the world, called the Wurstmarkt. Though the name literally translates to "sausage market", it should really be called "thirst markt" as this folk festival is famous for its celebration of excellent wines. Consider it like the Munich Oktoberfest but for wine!
Starting more than 590 years ago by local farmers and wine growers, Wurstmarkt attracts annually more than 600,000 visitors every second and third weekend of September. This festive event includes wine tastings, a huge selection of local food, live music, fun fairground rides and fireworks. Visitors can catch a bus or train from any direction around the clock during this great festival. Driving to and from the festival is not to be encouraged. Not just because you will want to sample the many wines on offer, but because the traffic jams in-and-out of the town are lengthy over the two festival weekends.
This year's Bad Dürkheimer Wurstmarkt takes place on the following weekends: 12 – 16 and 19 – 22 September, 2014. Discover more here.
Nature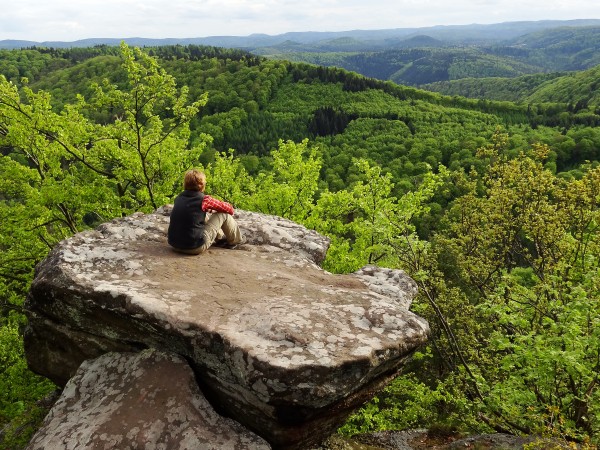 Bad Dürkheim is surrounded by the beautiful vineyards and nature trails of the Palatine Forest, making this a very popular walking region.
An outdoor experience here provides natural landscape attractions and historical sites. In this area hikers can select different trails and different tours (themed walks) and are rewarded by breathtaking views of the vineyards, the forest, beautiful blooming flowers, almond trees, fig trees, chestnut trees and more. Thanks to the Palatine Forest Club, there are over 100 managed walking huts and facilities to add to your outdoor experience. One historical site on the trail is the Heidenmauer (Heathen Wall), remnants of a Celtic settlement with a 2. 5 kilometer long ringwall which was built approximately 500 BC. You can also see the 4th century Roman quarry, Kriemhildenstuhl.
The town of Bad Dürkheim, in conjunction with Engelhorn Sports in Mannheim, provides various geocaching adventure trails in the vineyards to make your experience in nature more exciting. Geocaching is a global treasure hunt where individuals use GPS devices to find hidden treasures or caches hidden by others outdoors (read our article here to discover more about geocaching).
Bad Dürkheim has so much to offer that it should certainly be on your list to visit. Head to this beautiful town to improve your health with its centuries old salt water treatment or  be pampered at one of its sensational spa hotels. How about taking a ride on the scenic Wine Road to Bad Dürkheim this September to have fun at the largest wine festival in world? You can also have a fantastic time hiking through the various vineyards and the Palatine Forest. So much to discover!
How to Get there
Bad Dürkheim is only a 40 minute drive west of Kaiserslautern with the best route is by taking the B37. The the best route from Wiesbaden is by driving the A61 south, which will take just over an hour. This beautiful city is only a short train ride away on Deutsche Bahn.