story and photos by Nicole Pothier
Amsterdam is the capital and largest city in the Netherlands. It is also home to some of the most wonderful views and interesting history Europe has to offer. The intricate city planning that went into constructing this city on water is enough to astound any visitor. But, if the winding web of canals and waterways, spanning bridges, and impressive architecture aren't enough to keep you interested, keep reading for 4 things to keep you occupied while visiting Amsterdam!

1) Take a canal cruise
The best way to see this floating city is aboard one of its many sightseeing boats. The city offers not only hop-on, hop-off boat accommodations, but also canal cruises that provide tourists with the history of this amazing city. A quick Google search will help you find different options, but you can also book a cruise at one of the many stands once you've arrived in Amsterdam.
2) Visit the Anne Frank House
Come walk through the halls of the house where Anne Frank and her family hid from the Nazis during World War II. Anne Frank and her family were German Jews who fled to Amsterdam to escape deportation during the war. Now, the house where the family hid in silence has become a memorial and museum to this tragic point in history. Watch videos of Anne's father speaking of his daughter, view dioramas of what the secret hideaway used to look like during its occupation, and see the actual pages of Anne's diary.
Tickets cost 9 Euro for adults, 4.50 Euro for children 10 to 17 years old, and free for children under 9.
For more information, opening times or to purchase tickets, visit www.annefrank.org.

3) Explore the Heineken Experience
Enjoy four stories of interactive games, activities and videos at the Heineken Experience, the former brewery of this country's most prestigious beer. During your self-guided "experience," learn how Heineken is produced, watch a video about this international beer, and enjoy a cool beer at the end of the tour.
The Heineken Experience is open daily from 11 a.m. to 7:30 p.m. (last entry and ticket sales at 5:30 p.m.)
Tickets cost 17 Euro for adults, 13 Euro for children from 8 to 15 years old, and free for children under 7.
For more information or to book your tickets online, visit www.heinekenexperience.com.
4) Wander through a museum
– Rijksmuseum: Open every day from 9 a.m. to 6 p.m. Tickets cost 14 Euro for adults and free for children 18 and under
The Rijksmuseum is a national museum in Amsterdam dedicated to arts and crafts and history. The paintings collection includes works by Rembrandt, Johannes Vermeer and Jan Steen.
– Van Gogh Museum: Open daily from 10 a.m. to 6 p.m., except Fridays when it's open until 10. Tickets cost 14 Euro for adults and free for children under 17.
The Van Gogh Museum is dedicated to one of the most famous painters of all time, Vincent van Gogh. This museum features the largest collection of Van Gogh's paintings and drawings in the world and is the most visited museum in the Netherlands. This museum features such notable works of art as "Sunflowers" (1889), "The Potato Eaters" (1885), "Almond Blossoms" (1890) and much more.
Note: From Sept. 29 until April 25, 2013, part of the permanent collection will be shown in the Hermitage Amsterdam while the Van Gogh Museum is closed for major construction work.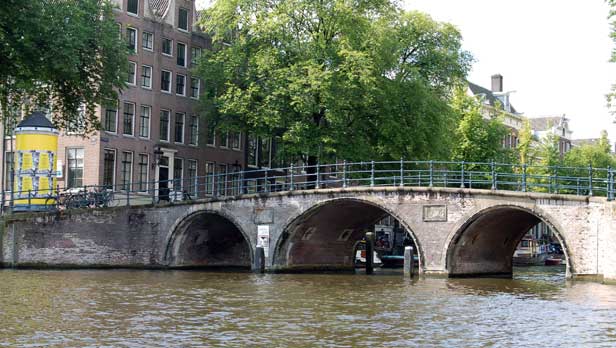 ____________________________________________
A note about the Red Light District:
Many visitors to Amsterdam want to catch a quick glimpse of the famed Red Light District, which is a part of the city extending for a few city blocks where prostitution is legal and women can be seen enticing visitors from inside their small, illuminated apartments.  But be warned, this area can be dangerous for tourists and should be approached with a degree of caution.  The rest of Amsterdam is safe and friendly though, so enjoy it!
Did you like this article?  Like us on Facebook and you'll get new travel ideas, destinations and local events each week.