The capital of the Republic of Ireland has lots to offer from riverside views, ancient Celtic history and what might just be the most beautiful library in the world. Dublin is only short a flight away and perfect for swinging by on an extended weekend trip. Before you waste precious vacation time on figuring out what to do: here is a selection of fun things to do and ways to see the city.
Trinity College
Having produced some of the country's greatest scholars, nobel prize winners, artists and writers such as Samuel Beckett (Waiting for Godot), Jonathan Swift (Gulliver's Travels), Bram Stoker (Dracula) and Oscar Wilde (The Picture of Dorian Grey) and many other personalities, this is the place to go if you like literature, architecture, history and wallowing in the aura of very smart people in the hope of even the tiniest amount of brilliance landing on your shoulder and giving you that last kick of motivation you needed for whatever project you're working on. Is that just me? Moving on then.
The old library also hosts the famous Book of Kells, Ireland's finest national treasure, a manuscript Gospel book in Latin from circa 800 AD. The staff flips one page every day so you'll need to come back a few (hundred) times to see the full masterpiece.
Pro tip: the campus is quite beautiful with multiple budget-friendly cafés to sit and enjoy the view.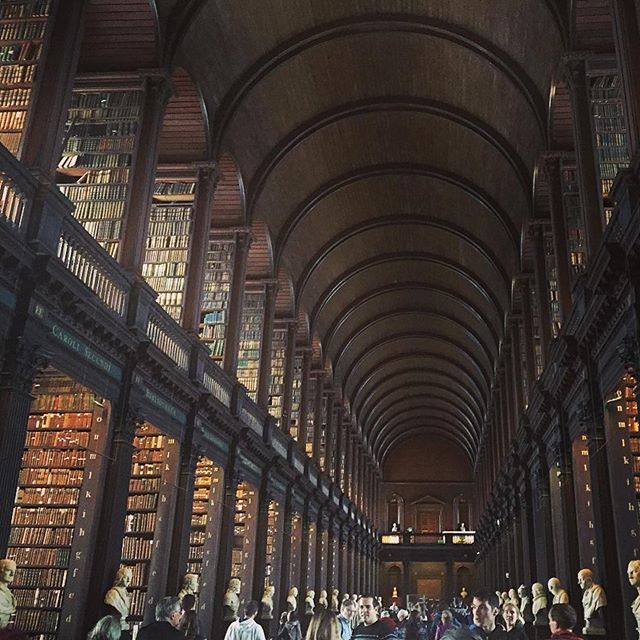 Leonie Milde | Military in Germany
Museums
The Writer's Museum honours the country's greatest literary geniuses with interesting exhibits dating back hundreds years. Its bookshop offers famous as well as lesser known gems of Irish literature.
The James Joyce Museum is a cozy little town hourse that gives a wonderful impression into Joyce's Dublin as well as his life. They also offer walking tours including a Joyce tour presenting the real-life inspirations behind places and people in the city. Admission costs €4.50 per adult.
The Guinness Storehouse might not technically qualify as a museum but there is plenty to see nonetheless. Admission costs €17.50 and includes a unique, interactive tour through the world's largest pint glass with a pint of your own waiting at the finish line.
Walking Tours
Any city is best discovered by foot, simply because of everything you'd miss by driving from one sight to the next. However, a city as versatile as Dublin cannot be explored with one standard walking tour. Thankfully, there are dozens of differently themed tours from Pub Crawls to Ghost Tours, South Side Tours and North Side Tours, Hidden Dublin and a Howth Hiking tour, which takes you to the countryside and back within 7 hours. Most of these tours are pay what you want and guided by locals who know the city, the culture and its people. You will get an overview of the city's most significant historic setbacks like the potato famine, its achievements like its independence and its greatest writers from Wilde to Joyce and everything in between.
Boat Tours
I know what you're thinking: traveling comes with enough walking as it is and why isn't there a way to get around while sitting down and not missing the city's charm? There is. While Dublin's not Venice yet and you will not be able to get everywhere by boat, a variety of Boat Tours gives excellent insight into the city and its history.
Temple Bar
Of course you weren't planning on leaving Dublin without having gone to at least one Irish Pub of which Dublin has so many, you won't even need to look for one. The Temple Bar District is located in the city center, right by the water. At night, you will find traditional Irish dance performances, live music and all the liquor you (or anyone) can drink. Some even have quiz nights to revive some of those brain cells that were about to drown themselves in a puddle of Whisky or Guinness
Food
Perhaps the most Irish dish of all is called Coddle, a sausage, bacon and potato stew that can be found at restaurants like The Woollen Mills.
The Pepper Pot Café is focused on locally sourced and traditional Irish dishes from scones to an Irish Breakfast (pretty much an English breakfast- but in Ireland), soups, salads and more.
Hatch & Sons Irish Kitchen on St. Stephen's Green is perfect for farmhouse cheeses, smoked fish and sandwiches.
Kaph has allergy- and diet-friendly coffee creations, baked goods and more in a modern, urban setting. (Yes, there's free WiFi, too)
St. Stephen's Green
This public park is perfect if you're looking for a place to eat lunch, people-watch, read or just take a few minutes amongst nature. It has a small pond, a variety of floral beauties and is located near the shopping mile, Grafton Street, for when you're relaxed and ready to hit the stores that haven't made their way to Germany yet.
Accommodations
Only you can decide which type of accommodation will complement your trip to your satisfaction (and your credit card's, perhaps).
A Hostel tends to be rather unluxurious but Abigails is located right by the river, very clean with a spacious kitchen and common area, fantastic views from most rooms and dormitories starting at €18 per night and person. Every attraction is in walking distance and I ended up not needing public transport at all during a 5-day stay.
Airbnb offers charming rooms or entire apartments to make you feel right at home in the new city. We stayed near the Castle in the city center and only paid €39 for two people
Find Hotels of all calibers through booking.com
Bookmark This Page Today for Exclusive Deals
Getting there

Ryanair is always a good (and affordable) idea. A round trip from Frankfurt will cost you about €30.

Cover photo by littlenySTOCK

Author's profile: Leonie is a poetry-loving literature student with a passion for small towns, road trips, and self-timering photos of her back where she acts like she has no idea a photo is being taken even though she just spent 25 minutes leaning her phone against a patch of grass. When she isn't hopping from one bargain flight to the next, she is making sure you're hanging with the locals and staying updated on events in your area.

(Visited 350 times, 1 visits today)

Tags: